Rich and Theda Rynkiewicz were not car people so they certainly didn't expect to be spending their spare time restoring and showing a vintage 1966 Plymouth Sport Fury. "It was the furthest thing from my mind on God's green earth," Rich said.
Nevertheless, the car found them in the form of a loan payment. The Plymouth's owner, who lived in Pennsylvania, had borrowed money from the Rynkiewiczes, who then lived in Tennessee. While visiting family in Pennsylvania, Rich decided to call on the owner, and that was when the Plymouth entered the picture.
"He said 'I've got this old car out in the garage,'" Rich recalled. "'It's a neat old car. I'll give you the car for the money I owe you.'"
Rich's expectation was that the Plymouth would be badly deteriorated and less than complete, but he agreed to see it.
"When we went into that garage to look at the car," Rich said, "a lot of the chrome and moldings were off the car, the engine compartment was dilapidated; it was half-running. You could make it start, but keeping it going was another thing. And the friend who owed us the money kept saying, 'The car's solid. It's not rusted. This car could be fixed up.'"
Fury Evolution
The 383-automatic coupe is probably representative of what a Sport Fury-buyer generally wanted in 1966. And it certainly had changed from the finned original Fury of a decade earlier, a performance oriented model that came only with white paint and gold anodized bodyside sweepspears and was powered by a 303cid V-8 with 9.25:1 compression, solid lifters, dual exhaust and a four-barrel carburetor, all of which added up to 240 horsepower and the ability to go from 060 mph in under 10 seconds.
The Fury nameplate lost its exclusivity in the 1959 model year with the division's move to offer a full Fury line in place of the previous two-door hardtop, which became the Sport Fury for one year before being dropped. Even after that happened, however, buying the equivalent of a Sport Fury was mainly a matter of ordering a Fury with the right equipment. Where the 1959 Sport Fury package had offered a 305-horsepower 361 as an option, a 330-horsepower 383 was available for the Fury in 1960.
The Sport Fury returned for 1962 but by that time a gradual turn was underway as luxury features grew increasingly important in the overall package and it was being slotted as a personal luxury car.
Anyone who needed further proof of the Sport Fury's direction could find it by studying engine availability for 1966, where the biggest powerplant available was a 365-horsepower 440. Meanwhile, in keeping with the mid-'60s movement toward big-engine-in-a-small-body muscle cars, a 425-horsepower 426 hemi was offered for the Plymouth Belvedere.
Settling a Debt
Since Plymouth Had changed the Fury from an extreme performance vehicle to a personal luxury car by the mid-'60s, it isn't surprising that the '66 Sport Fury feature car was more tired and worn out than damaged and abused when the Rynkiewiszes acquired it in 1990.
"The car was not beat up and rammed," Rich said. "There's no body filler in the car."
Finding it in that condition was a stroke of luck. Plymouths such as the feature car didn't generally stand up well against rust. And this one was in northeastern Pennsylvania, where winter conditions can be trying.
So, Rich said, "I came home and I said to Theda, 'here's the story.'
"She said 'well, you might as well take the car. You're not going to get your money,' so we did." Taking the car was a simple matter of moving it from one garage to another in Nanticoke, Pennsylvania, where it remained when the Rynkiewiczes returned to Tennessee.
After the trip, Rich told a co-worker about the Plymouth. Unlike Rich, his coworker was a serious Mopar fan, so it's no surprise that he asked to see the Plymouth the next time Rich made a trip to Pennsylvania. Rich described what happened on that trip.
"I cranked up the door in that old garage," he said, "and there it was, the Sport Fury was shoved in there. Dusty, cobwebs, etc., etc. He said to me 'you know, this old car isn't bad. You get to working on this and a little elbow grease and you could probably take this to a car show.'"
If nothing else, the friend was a man of vision. The car was covered with garage dirt and incomplete; the trim that was still on it had turned green. But, by 1993, his enthusiasm had rubbed off.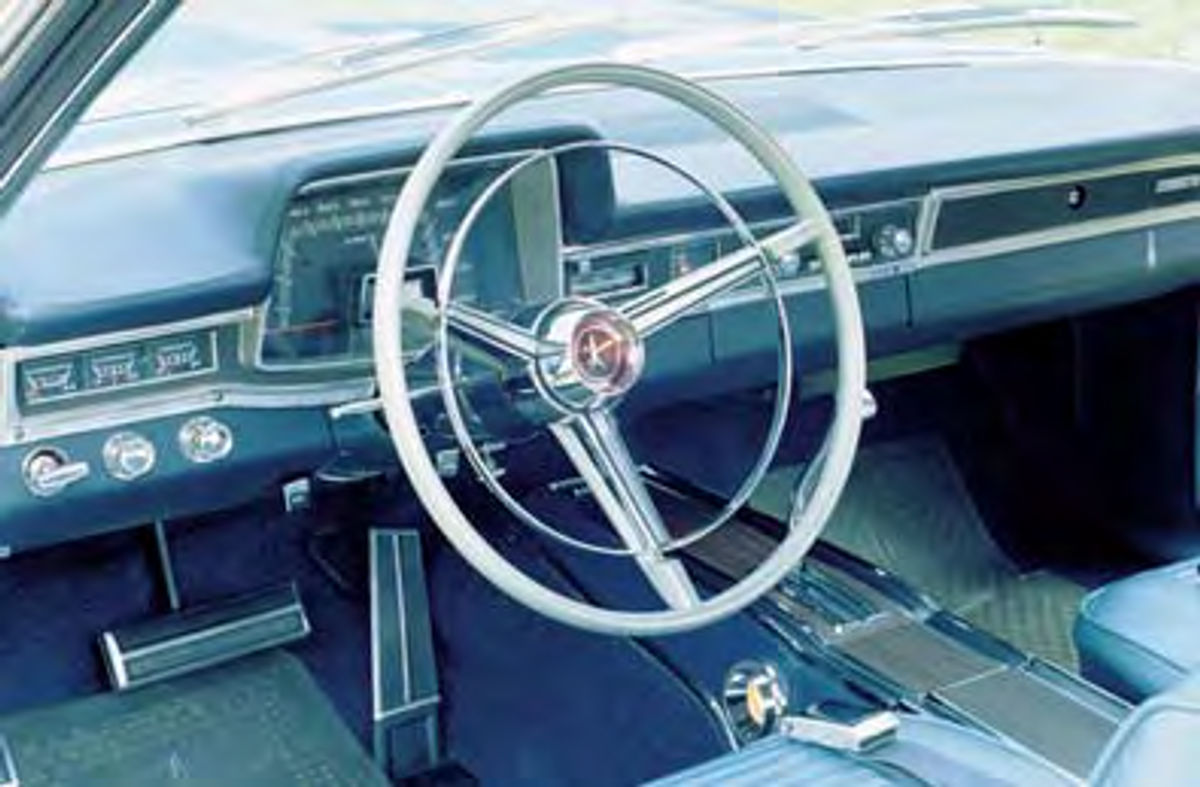 Much to Be Done Here
When he started to work on his car, Rich learned that the 81,000-mile Plymouth Had a broad range of problems.
"The car needed to be put back together, for one thing," he said. "A lot of parts were off of it. The wires under the hood were dry, rotted and cracked, the grounds were bad, the fuel system was infected, the suspension was worn out."
The engine was tired enough that a rebuild was in order. It was kept stock with the lone exception of hardened valve seats for unleaded gas. Given the fuel system's problems, everything back to the tank was replaced. The transmis-sion was leaking, so that was also rebuilt. Suspension bushings were replaced, and a leaf was added to each rear spring.
The fit and alignment of the sheet metal were improved before painting, but remember that Rich said the body had been solid. One reason for that, he explained, is that the factory undercoating had done its work. Another is that the Plymouth probably had been spared from heavy exposure to winter road salt by spending most of its life in New Jersey, where its previous owner found it.
"He was the second owner for a short period," Rich explained. "For all intents and purposes, the original owner had that car for a long time."
Once completed, the car was driven from Pennsylvania to Tennessee, where it went to its inaugural show. It was a local show, and Theda said that the Fury did well in such events, often winning first place or dealer's choice.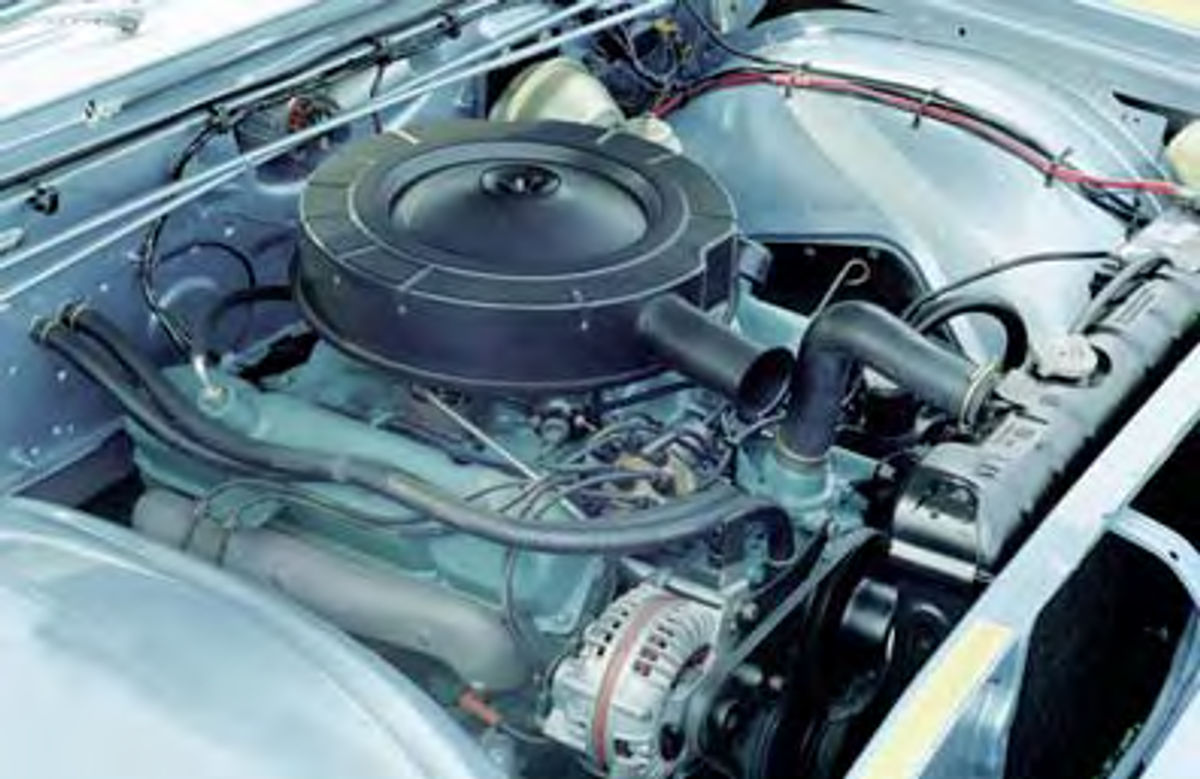 They Thought They Were Finished...
"It was done to what we thought was done," Rich said, "and then when we moved from Tennessee to Pennsylvania, we took it to Hershey because we were always hearing about Hershey and seeing it in magazines. Now we were only 100 miles from Hershey, so we went to fall Hershey in October."
Fall Hershey is the Antique Automobile Club of America's Eastern Division Fall National Meet. For many restorers, it's near the top on the list of the most important antique car events.
"We took the car to Hershey," Rich continued, "and we lost. We got second place... I wasn't used to losing. I was devastated. I said to myself 'what did I do wrong? What's happening here?' Again, you've got to remember that we weren't car people."
Despite the fact that it's hard to consider any award from Hershey as losing, Rich and Theda asked why the car had not done better. The answer came from an AACA judge.
"He wrote back, a nice letter," Rich recalled, "and said 'I would like you to go out there and look at your car as though you were judging it for someone else, not as your car.' He sent me a score sheet and there's a section for the interior, the exterior, the undercarriage, the engine compartment. That's how the AACA judges a car, in sections.
"I had it in the garage here in Nanticoke and it was a cold winter day by the time we got the letter back and I went out there. I was still sore from my wounds from October. I walked out in the garage, by myself, walked around the car and got under it and I was lying on a piece of cardboard with an extension light. I looked under the car and I looked up at the rear and I looked at the rear springs. I looked in the trunk and I looked at some of the trim and all of the little fine (detail), the corners in the interior and places like that... What he said was the truth. I did go down there and judge my car, and it didn't pass."
With that in mind, he placed the Plymouth on jackstands. The idea was to go beyond the first restoration's rebuilding and work that made the car look good, and move it as close to perfectly correct as possible.
"The interior is vinyl," Rich said, "and vinyl has a tendency to dry rot... We had the seat covers redone, we put a new carpet in there. What's left that's original on the car, believe it or not, are the headliner, the door panels and the back panel in the rear window. The door panels and the back panel in the rear window were all taken out, and they were repainted. They were not broken. There was no
reason that I had to go and look for another one... A lot of the trimwork that goes around the clock, the radio, all of that is plastic, chrome on plastic, and that was re-chromed."
Restoring the steering wheel and the console finished up the interior, while re-plating the bumpers and restoring the trim took care of the exterior. Under the skin, everything from the engine and transmission to the linkages received fresh paint and detailing.
Taking It On the Road
It worked. The Plymouth received its AACA Senior and Grand National awards as well as a National Chrysler Products Club Best of Show. After that, the car began to get out on the road a little more frequently.
Theda spoke of driving it to some shows in northeastern Pennsylvania, and said that Rich has taken his share of ribbing from those who feel that he's perhaps a little too protective of the car. It's a matter of setting priorities.
"That's the point," Theda explained. "You have to decide, 'am I going to drive it and enjoy it or am I going to keep it this way and maintain the value on it?'"
The best part is that with common sense, it's possible to have it both ways. "There's a lot of good shows to go to," Rich said. "We may go to a Grand National from time to time or to Hershey for a Preservation award, but other than that, I like going to the local gatherings, not necessarily for competition, but just to hang out. We have several of them here in the valley that aren't far. You pick a nice evening, enjoy the car and let
other people look at it and have fun." Those smaller events are relatively close to home. Not surprisingly, Rich said a 150-mile trip wouldn't require much more than getting in the car and driving. The Plymouth, like most of its full-size American contemporary vehicles, relies on mechanical components that are close to indestructible. Rich knows that it's roadworthy— nearly everything that can be rebuilt has already been addressed, and if not quite an economy car, it's capable of returning gas mileage in the high teens.
Getting Used to a Bigger Car
The Plymouth is certainly a pleasant car to drive, and with allowances for its size and the different feel of 1966 power steering and power brakes, it's not difficult. That statement needs some qualification though. If the driver is someone who's never experienced anything like it, the car, at first, would probably feel even bigger than it really is. It's very likely that this could produce embarrassing results at every stop and anything sharper than a slight turn.
"He could have difficulty, I think, not ever having driven something like that," Rich observed. "Yeah, he would have to do a lot of adjusting."
Some of that adjusting might have to do with the attention the car draws, as he said that it simply does not go unnoticed. "Most definitely," Rich said. "It's part of the fun. It's a real high spot." "The last time we went up to the Square," Theda added, "all those young kids went crazy over it. They were nuts over it. They just thought it was beautiful."
Check for Rust and Sagging Doors
Beyond a doubt, the car's all-but-perfect condition prevents it from blending into traffic, but on top of that, there's the fact that any 1966 Plymouth in any condition is an unusual find today in snow country. Winter driving was these cars' worst enemy, and few survived the road salt unscathed. Even in less hostile conditions, rust often took its toll.
The chance of finding one as solid as the feature car is not very good, and with the Plymouth's unibody construction, a truly careful inspection is critical before buying. Luckily, two of the most likely problem points are easy to spot: both the quarter panels and the fenders' heels are extremely prone to rust.
Rocker panels, too, might show easily visible signs of wear, but even if they don't, they need to be checked from underneath. Like rusted fenders and quarters, problems with the rockers aren't an automatic kiss of death, but dealing with them won't be easy.
There's also the matter of rusted floors in both the trunk and the passenger compartment, and, although it's not exactly common, the front inner fenders, supports and frame rails are sometimes damaged. The wheel well moldings and the fender skirts could be hiding rusted sheet metal.
The doors are heavy enough to sag, and that brings up another unusual but not unknown problem that could be serious enough to all but rule out the car for anything above a parts-donor. Since it's been used more often, the driver's door is the one more likely to sag. By itself that's not always an indication of a potential nightmare. On the other hand, if both doors sag or don't operate smoothly, it's possible that the car is rusted badly enough that it's literally collapsing.
Cracking along the leaded body seams, rusted floors and a leaking windshield or backlight could all be further evidence that the car is slowly twisting out of shape. It's rare that a car could be so deteriorated and not have other obvious problems, but, especially on a unibody hardtop like the Sport Fury, any suspicion is worthy of attention.
Rich summed it up well. "You want to make sure that the shell of the car is something that you can repair," he said. "You might not want to have to look for a whole quarter or something like that."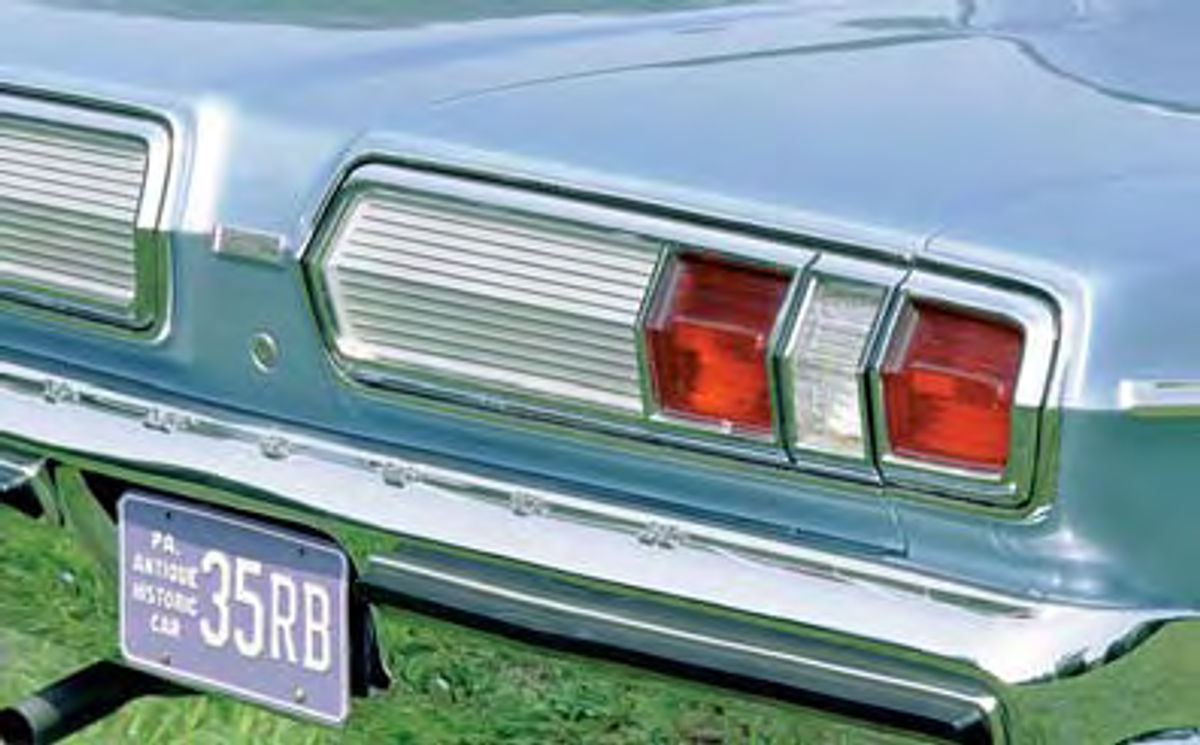 Trim Could Be a Problem
The fact that the feature car is both a coupe and a Sport Fury raises another concern because it limits the choices when it comes to parts.
Although Plymouth produced five different models in the series, only the Fury III, Sport Fury and VIP were available as two-door hardtops. A Fury I or Fury II would be far less useful in providing body panels. None of the other Fury models or the VIP would have all of the trim items required to restore a Sport Fury.
Although missing trim obviously won't derail a restoration or keep a car from running, it could be a particularly troublesome problem with a Sport Fury.
"These cars have a lot of add-ons in terms of moldings," Rich said. "The car has stainless steel on it, the car has aluminum on it, the car has diecast on it, and pot metal. "Those little spears where the white line meets the trunk (are) diecast. And diecast has a nature of pitting. It's not an easy car to restore."
His car had all of the Sport Fury-specific trim pieces when he got it, even if every one of them needed work. It also came with the correct finned wheel covers. Theda recalled the day when one of them was lost. "It took off on us," she said, "and he went back down there the next day and searched the fields. It was just a nightmare. He was sick."
For all of those reasons, Rich agreed that finding a complete example is important. "You might need two," he said, "to make one."
All of that could sound discouraging, but it shouldn't be. As previously noted, missing Sport Fury-specific pieces won't disable the car, and while finding them might not be simple, it probably won't be impossible. After all, Plymouth sold more than 32,000 Sport Fury hardtops in 1966.
Dependable Powertrains
For those who are not yet fully convinced, there's one last major point in the car's favor, and that's its drivetrain. In addition to being wonderfully uncomplicated, the combination of a 383 and a TorqueFlite is rugged, dependable and common. The 383 was around in some form from 1958 through 1971, and, although TorqueFlites vary considerably depending on the particular application, they're proven transmissions.
The 318 and 440 were also used in these cars, and would be equally safe choices. The rare four-speed could suggest that the car was driven hard, but, in that case, the transmission itself is unlikely to be the cause for concern.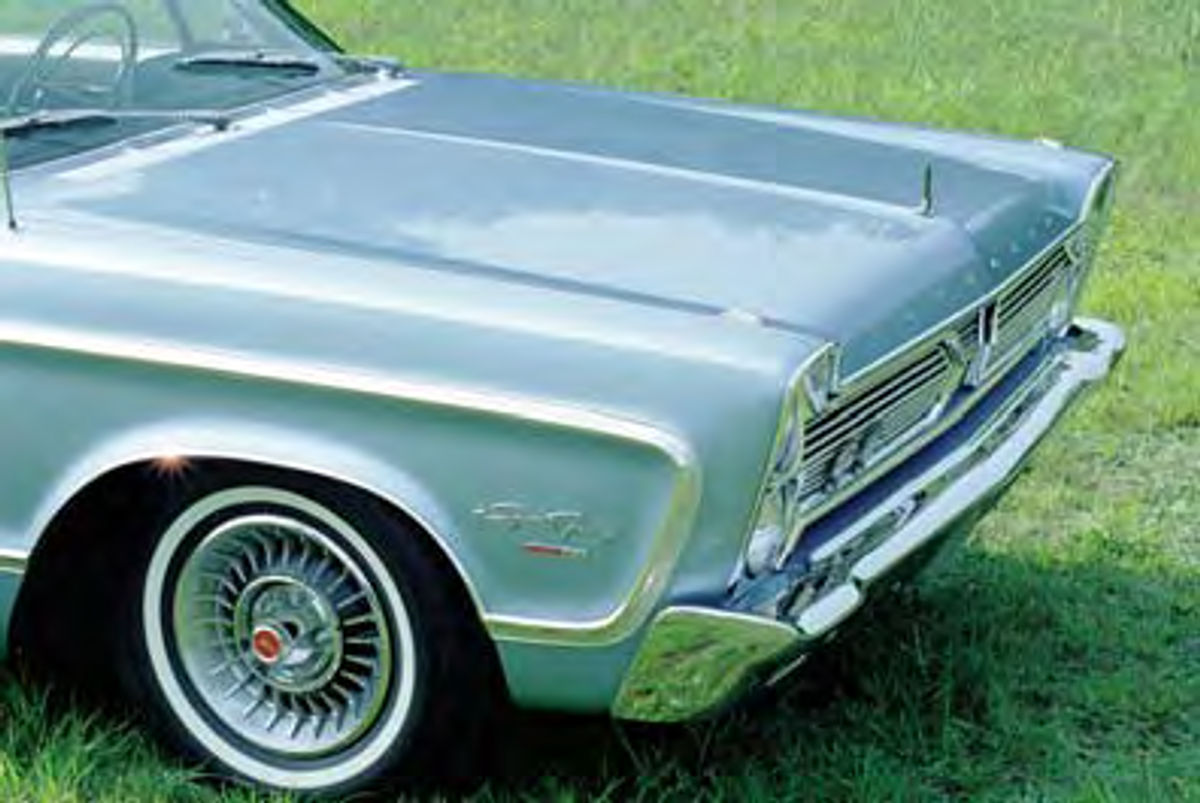 Always Start at the Beginning
Though it wasn't immediately obvious, Rich said that the Sport Fury proved to be the car that hooked him into the hobby. The hook was set deeply enough that a 1972 Plymouth Cuda came next.
"They're both numbers cars," Rich said. "Everything was original equipment. I have the build sheets for both cars. This Sport Fury, I have the build sheet, I have the owner's manual. On the '72 Cuda, it's a 340 four-speed; it's all original. Original motor, original trans, original rear."
The Cuda, the numbers and the build sheets aside, Rich said that the Sport Fury has been worth the effort of what ended up being, in effect, two restorations. It's also confirmed the wisdom of something he learned along the way.
"If I were going to do another car for myself or for anybody else," he said, "I would do it all the same way. I'd start from the ground up, and then when it's done, it's done and done right. You can't start in the middle and go up."