It Wasn't At All Like the First T-birds That Hit the Market In '55. Aren't You Glad You Have Such Vintage Variety?
DOUG HILTS HAS a clear memory of his first trip behind the wheel of the 1963 Thunderbird featured here—and of hitting the brakes…hard.
"I picked it up and was coming home," he recalled, "and it started raining coming back. A big power line had come right down and you didn't notice it until you were almost on top of it. I went 'I don't want to wreck it already. I don't want to wreck it.' My heart was in my throat."
He didn't wreck it, but some things— like a near miss in a car literally fresh out of the restoration shop—you just don't forget that feeling.
Follow That Corvette…
On the other hand, by the time Hilts' car was built, some people felt that Ford had forgotten the original Thunderbird and lost its way with the car itself. However, the transition from two- to four-passenger cars had been deliberate…even if some might have found it disappointing.
Ford launched the Thunderbird as a 1955 model in a time when significant developments among the Big Three and the few remaining Independents had grown almost commonplace. Among those developments, of course, was Chevrolet's decision to build a two passenger roadster.
The Corvette started as an entry in GM's 1953 Motorama and made the transition to production with a minimum of change. Unrelated visually to any other Chevy, itslook was aggressive, but it was the mechanical connection to its parent that came in for criticism. The division did not yet have a V-8, so its standard OHV 235-cubic-inch six was given modifications ranging from higher compression and triple carburetors to solid lifters and a high-lift cam. A sports car with a 150-horsepower six was not a big problem—Jaguars of the day used sixes while Porsches ran fours—but a sports car whose only available transmission was a two-speed automatic was another matter.
The Corvette was barely changed for 1954 and while the original style was continued for 1955, that still became a magic year for Chevrolet.
For '55, Chevy offered a 265-cubic inch OHV V-8 in both its full-size models and the Corvette, where it produced 195 horsepower. The six was thus in its final year as a Corvette engine and the automatic was finally joined by a three speed manual transmission.
But as noted above, 1955 was remarkable for another reason as the Corvette met with a serious threat from an American rival genuinely capable of a fight. The new Thunderbird was introduced by Ford and its potential for substantial sales was very real. This was not something that Chevrolet and General Motors could ignore. (In fact, it's been said that the Corvette, with its low initial sales, would have been dropped had it not been for the new competition from the Blue Oval.)
Bird vs. Vette
The Corvette and the early Thunderbird were at once alike and different. Room for two and open tops were common traits, the Thunderbird's 198-horsepower 292 V-8 was a fair match to the Corvette's 265, both cars' wheelbases measured 102 inches and prices were comparable at $2944 for the Thunderbird and $2934 for the Corvette.
From there, though, the cars diverged with the Thunderbird aiming toward a combination of luxury—or at least comfort—and performance. Unlike the Corvette, it didn't offer a six, but it did give buyers the choice of an automatic, three-speed manual or three-speed overdrive transmission. Its steel body was far more conventional than the fiberglass used to build the Corvette, it had handles on both the inside and the outside of the doors and its roll-up windows made the Corvette's side curtains seem quaint, to put it tactfully.
Purely from a business point of view, the real measure of a car's successis sales and there the Thunderbird quickly acquitted itself. Its 16,155 sales placed it near the bottom in the 1955 Ford lineup, but its segment was small to begin with and more importantly, Chevrolet sold only 700 Corvettes that year. In fact, total Corvette sales through 1955 totaled just under 4650. Setting aside arguments over the cars' individual merits, Ford clearly had found the better formula in the showroom.
The pair differed strongly in another way, although quantifying that difference with accuracy is a challenge. The Corvette's appearance was unique in the Chevrolet range, but the Thunderbird was very much a Ford. Its Round taillights at the ends of curved bulges trailing down the quarters were topped by stubby fins, much the same as on the other Fords. The grille openings were similar, as were the hooded headlights and even the shapes of the front wheel wells. In theory, the common design elements should have generated sales of full-size Fords among those who secretly wanted Thunderbirds and either could not afford them or were unable to justify them. For the most part Ford restrained itself when it came to changes for 1956, with one obvious exception being the addition of a rear-mounted spare tire; some liked the look and some disliked it, but hanging that weight so far to the rear was the wrong choice for the car's handling and for 1957, the spare went in the trunk. The fins grew a bit for 1957—but remained small compared to those on some of the competition—and emphasized the trunk's added length in what would be the two-seater's final year.
Sometimes, Being Square Is Popular
Ford could boast of more than 50,000 sales since the Thunderbird's 1955 introduction, but 1958 changed everything with the arrival of what would become known as the Squarebird.
At just under two tons, the new model was about 800 pounds heavier than the 1957 version, its 113-inch wheelbase was 11 inches longer and its 205-inch overall measure was 14 inches longer. Not one of those higher numbers was out of line, though, since the Thunderbird had become a four-passenger full-size car. It had made an almost-clean break from the previous model; only the general proportions, the shape of the grille and front bumper, the hood scoop, and the fins were similar. The taillights again were round, although the treatment at the rear was new, and dual headlights replaced the earlier singles. If all of that failed to shock the Thunderbird faithful, a closed model—a two-door like the convertible—was now available.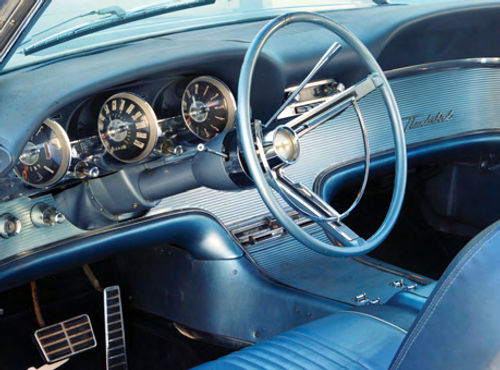 The sweeping changes could have brought a disaster and if some predicted that, they quickly were proven wrong as the Square Bird's first-year sales were just under 38,000 cars. That was a better performance than any of the two-seater years had produced and what might have surprised Ford as much as anyone was the fact that all but 2100 of the 1958 Thunderbirds sold were hardtops.
Just like that, the two-passenger Thunderbird was part of the past and would remain so until 2002, when it returned in a form influenced by the original and too nicely executed to be dismissed as merely "retro." Meanwhile, the Squarebird went on for 1959 and 1960 with mostly detail changes (although 1960 brought an optional sunroof) and new engines. The 300-horsepower 352 was the only choice initially, but the 350- horsepower 430 became an option for 1959 and 1960.
No doubt, some Ford fans had still not forgiven the company's decision to kill off the two-seater instead of continuing to compete head-to-head with the Corvette and while their position is not completely without merit, the Thunderbird's numbers tell the story; sales jumped to slightly more than 67,000 in 1959 and hit almost 91,000 for 1960. Convertible sales, while accounting for a higher percentage than in 1958, still trailed the figures for the hardtops.
More Changes for the Bird
Thatsuccess didn't eliminate the need for a fresh Thunderbird and the 1961 version was almost as radically new as the 1958 model had been at introduction. Its wheelbase was still 113 inches and its overall length was actually 0.32 inches shorter, but it seemed longer, lower and straight from a future in which a personal rocket pack was in every garage. Headlights were now mostly in the grille, whose downward rear curve was picked up and continued by the bumper, a minimally protective sort-of-wraparound. The hood sloped upward from the top of the bumper and was broken only by a fake scoop while at the rear, large round taillights evoked the image of jet exhausts. Like the grille, each taillight was surrounded by a part of the bumper and again as at the front; the bumper flowed downward and under the car. The trunk lid was smooth and the side panels bulged gently, broken only by a nameplate at the front and several thin, horizontal chrome stripes at the rear.
The only sharp edges were the horizontal point separating the bumper and grille from the hood and then the belt molding running from grille to taillight. The Square bird's sculpted sides, high headlights and intricate rear panel were gone without a trace, the main bit of continuity carried over to 1961 being the similarly shaped—but considerably softened—roof section with its generous sail panel. Under the hood was the new 390 with the same 300 horsepower as the 352, which like the 430, was no longer available in the Thunderbird. Sales fell to about 73,000 with all but roughly 10,000 being hardtops; the convertible's popularity remained low in 1962 with hardtops accounting for 68,000 of 78,000 cars sold. Those still lamenting the two-seater's loss could take heart in the Sport Roadster, a model delivered with a fiberglass tonneau that made the conventional convertible into a two-passenger car. The tonneau stylishly covered the back seat—flowing from the rear deck surface to the highback front bucket seats—and combined with the unskirted Kelsey-Hayes wire wheels to create a change at once restrained and wonderfully appealing.
1963 Ford Thunderbird
GENERAL
Front-engine, rear-drive, coupe
ENGINE
Type Overhead valve V-8
Displacement 390 cu.in.
Bore x stroke 4.05in.x3.78in.
Compression ratio (:1) 10
Carburetor Four-barrel downdraft
Power 340hp@5000rpm
Torque 427 lb.-ft.@3800rpm
DRIVETRAIN
Transmission Three-speed automatic
Final drive ratio (:1) 3.0
STEERING
Recirculating ball, power assisted
SUSPENSION & BRAKES
Front Independent, coil springs
Rear Live axle, leaf springs
Brakes (f/r) Drum/drum,power-assisted
MEASUREMENTS
Wheelbase 113.2 in.
Length 205in.
Width 76.5 in.
Height 52.5 in.
Weight 4195 lb.
Track (f/r) 61/60in.
Tire Size 8.00x14
Turning circle 40.2 ft.
Fuel Capacity 20 gal.
The Sport Roadster wasn't a big seller, but it returned for 1963 and the final third-generation Thunderbird, when sales dropped to about 63,000 cars including 6400 convertibles. The annual styling changes were again small and as in 1962, the most obvious were in the grille and side trim. For decades, of course, grilles provided a nearly foolproof way to identify American cars and their model years; that was true of the 1963 Thunderbird and it was just as easy to be correct after a glance at the side trim. For The first time, a crisply stamped line began at the point of the nose and ran rearward through the fender to end above three sets of forward-leaning chrome strips at about mid-door.
It looked futuristic and fast. The Thunderbird's 390 with 300 or even the optional 340 horsepower might not pin the driver to the seatback on takeoff, but that wasn't the priority. Unlike some full size models such as the Chrysler 300 and the Pontiac Grand Prix that were similarly outside of the "family car" realm, the Thunderbird wasn't available with a manual transmission, but it did share their focus on covering a lot of miles at highway speed or better in comfort.
Furthermore, there was a definite consumer interest in sports luxury cars as shown by an August 1962 Popular Science article comparing what it called "three luxury hot rods" over 1000 miles of driving.The Thunderbird, Buick Wildcat and Chrysler 300 H,PS explained,"are'sports type' cars, as distinct from true sports cars. All are expensive and powerful."
Scored in 15 areas with a theoretical 1000 points for a perfect car, the Thunderbird did not do well as it finished last with 702 points to 735 for the Chrysler and 767 for the Buick. It ranked first on economy with 13.3 miles per gallon and no oil required, but the category also weighed everything from maintenance intervals to radiator capacity. The Thunderbird was also tops in "safety of passenger packaging," instrumentation and ease of parking while tied for first on its brakes and noise level.
Although most categories saw the cars within a few points of each other, the Thunderbird's worst numbers by comparison came in handling. "Based on feeling of security at high speed, predictability on turns, body lean, tire squeal, stability on rough roads (and) steering ease," it managed just 58 points to the Buick's 86 and the Chrysler's 93 although the report noted "T-bird's specialty: a boulevard ride."
The surprise was in the 0-60 times where the Thunderbird needed 9.8 seconds, the Buick 8.7 and the Chrysler 7.7. You'd expect the 300H with a 380-horsepower 413 and a calculated 11.3 pounds per horsepower to have been the quickest, but the Buick's 325-horsepower 401 was moving 13.3 pounds per horsepower and the 340-horsepower 390 in the Thunderbird was pushing less than the Buick at 12.9 pounds per horsepower.
The Thunderbird might have suffered slightly from its 3.0:1 rear axle against the Chrysler's 3.23 and the Buick's 3.42, but its highway gearing does help to explain something that happened long before Hilts owned the car shown here. Just as he remembers that trip home from the restoration shop in his own car, he easily recalls driving and riding in a friend's 1961 Thunderbird back when it was new enough to be an everyday car. The two found that it was capable of over 100 miles per hour—well over it, in fact—and Hilts offered an admission that's been heard since the earliest drivers realized that cars could go fast.
"We did it once," he said, "to prove what it would do."
Is That a Project Vehicle or a Parts Car?
Hilts and his anonymous friend aren't the only ones aware of the 390's potential and in a complicated way that proved to be a bonus when he bought the feature car in the late 1990s.
"A guy I was working with was a contractor," he recalled, "and he had it sitting in a pole barn and his wife said 'listen, you need to clean up around here and get rid of some stuff. If you're not going to fix it, junk it.' So he was telling me about it and I said 'I'll take it.'
"The engine wasn't in it.It was rebuilt and the guy I got the car from wanted to put it in a Mustang. I said 'do you realize what you're doing? It's not set up for that. You'd have to change your whole suspension and everything. You'd do a lot of work to it. You've got a six-cylinder in there now and you want to drop a 390 in?' I said 'I'll tell you what. I'll buy a 289, I'll rebuild it for you and we'll swap.'"
The Thunderbird's engine was on a stand outside, but oiled, properly protected and requiring not much more than having its intake manifold installed. It had fared better than had the rest of the car, which had spent its whole life in upstate New York before ending up in the pole barn about 30 miles from Hilts' home in Norwich. Winters and road salt had done their damage while the Thunderbird had been accumulating 97,000 miles; it was complete, but Hilts Realized quickly that it might have been an excellent parts car.
"I looked at it," he said, "and I thought 'I told him I'd take it. Boy, it's going to need some work.'"
Someone, he continued, had begun the restoration, leaving the Thunderbird partially disassembled with the pieces either in the passenger compartment or—like the gas tank, for example—in the trunk. Surprisingly, everything was there, although not all of it was realistically usable.
"It needed two new doors," Hiltssaid. "Some mice had gotten down there in the doors.They didn't eat wiring. The wiring was in pretty good shape, but a lot of them were in the doors. I also had to replace the floor pans, trunk pan, quarter panels."
Those are typical rust areas on Thunderbirds of the time as are the lower fenders, rocker panels and door openings, none of which were bad on the feature car.
The frame needed no attention beyond cleaning and painting, and while the original dash had survived with only a minor crack, the seats and carpet were replaced. A vinyl top that clearly wasn't factory and might even have been the painted-on type had to be removed. It was, Hilts recalled, "nasty."
Returning the Thunderbird to the road was a blend of his own work with that of a restoration shop as Hilts said he'd rather deal with the mechanical aspect than handle bodywork. His preference turned into a plan when an unexpected problem arose.
"The only thing I did," he recalled, "was put the engine in it. Then I had some heart trouble and my wife said 'if you're going to get it done, take it someplace."
That "someplace" turned out to be a shop called Past times Cart Works in Plymouth, New York.
"I knew his reputation," Hiltssaid. "He came down to look at the car, gave me an estimate laborwise. He did it based on what labor would cost and what I did was buy all materials."
Besides the engine and body, of course, there were other areas to be addressed as there'd be in most restorations. Hilts took the long view when it came to the transmission and handed it over to a specialist.
"There was a little slippage," he explained. "I said 'we're going this far; let's just do it because I won't have to worry about it later.'"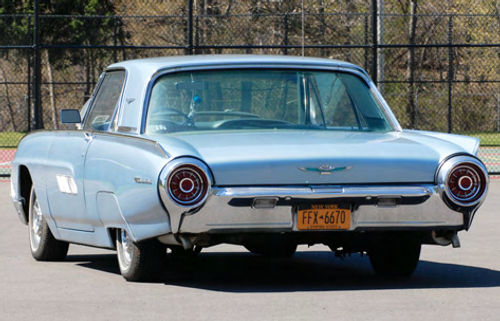 The brake system was rebuilt, the leaking power steering pump was replaced and one of the power windows still doesn't cooperate, but then there was the suspension. With nearly everything new, Hilts Looked at the car and realized that it was not sitting properly. The front end was low, he said, but the vendor maintained that his springs were the correct ones. Hilts then spoke to an experienced Thunderbird restorer who confirmed his suspicions and the wrong springs went back to the vendor.
"Once I got the right springs," Hilts said, "the car sat like it does now, level. It was a good four inches. You could really see it."
The Thunderbird left the shop (encountering that downed power line) in the spring of 2005 and last fall it received new tie rod ends and ball joints. It's now showing just over 100,000 miles and spends its winters carefully stored. That storage provided something of a learning experience.
"It goes into the garage and it's got a tarp to go over it," Hilts said. "I have to take the antenna off because the first time I did it, I just slid it all the way down and snapped it off. So I just unscrewed it, got the original and put that back on. That comes off, first thing."
Even in Norwich, New York, where winters can reach epic magnitude, there's still enough warm weather in which to drive and enjoy a car. That's a good thing for Hilts, as he knew almost at once that the work on the Thunderbird had been worthwhile.
"Probably right after the first time I drove it," he observed. "I drove it home and I said 'this feels good.'"
Meant for the Road, Not a Trailer
That good feeling hasn't changed and why would it? The Thunderbird is certainly able to keep up with modern traffic and while Popular Science 50 years ago wasn't especially kind to it, the report did cite the "pillow-soft ride on good roads" and offered a few other points that sometimes are forgotten until a car is driven in the real world. "The seating," one of the PS testers found, "was pretty good. The noise level was tolerable. The front headroom and legroom, the front cushion height and depth, and the entrance room were easily the best. (The Thunderbird was) something to be seen in." Another wrote that it "…still has more scat than I'd need." Aside from handling, he continued, "it's fun: easy to drive, a sexy look…"
Hilts said his car's longest trip was about two hours and that it had no problems with terrain or traffic. It's ready to coverthat distance again orto go farther and its comfortable seats help to offset its thirst.(Hilts said he's never calculated it, but guessed that fuel consumption is in the mid- to high teens on the highway.)
While traveling, he said, nearly everyone out there notices it.
"You drive through town," he said, "and you get whistles, people yelling 'awesome car,' that kind of thing.
"It makes you feel good plusI want to drive it. I don't want to have a show car where I've got to put it on a trailer and trailer it someplace. And other people can enjoy it. It's fun to listen to them."
Few would be likely to identify it correctly, though, and fewer still would get the year right.
"People from my generation would probably have a good idea," Hilts said, "but younger kids? They'd have to look at the emblem or see it saying 'Thunderbird' on it."
Those drivers who are into the modern hatchbacks and other currently popular small performance cars generally have a not-unexpected reaction.
"They just look at it," Hilts said, "and say 'this thing is huge. It's huge."