1962 CHEVROLET IMPALA SS 409
He Took An Impala Convertible In Rough Condition, Installed a 409 From a Salvage Yard, Added In a Great Deal of Work, and Now Has a Car He's Wanted for Decades.
Mike Novatnak has a couple of excellent reasons to look back on 1962 as a year worth remembering.
"My story," explained Novatnak, whose Impala SS 409 is featured here, "is that I got out of the Navy in '62 in February and in September, we got married. And in July of '62, I bought a brand-new '62 Impala."
Even 57 years later, it's easy to see the appeal of Chevy's "rich new styling—the sculptured styling (that) stands out fresh and luxurious from any angle." What gives pause, though, is a comparison with the 1962 Chevrolet's ancestor of just a decade earlier.
Styling Evolution and a New Engine
With the rest of industry, Chevy had resumed production after World War II by gently updating its 1942 line and introducing it as the 1946 line while buying time in which to design a new postwar car. The Chevrolet that arrived in 1949 wasn't completely new, as it relied on its predecessor's drivetrain, but its look was more than an evolutionary step. The lines were smoother and straighter, the hood seemed to tower less above the better-integrated fenders and the grille moved toward a horizontal theme under the less-sharply pointed hood.
The 1949 body with minor annual updates still looked good in its final year, 1952 and then Chevy was heavily restyled for 1953 and freshened for 1954. But the American automotive world was changing in other ways as well and Chevrolet was about to jump in. Chevy had built nothing but overhead-valve sixes for most of its life and then 1955 happened.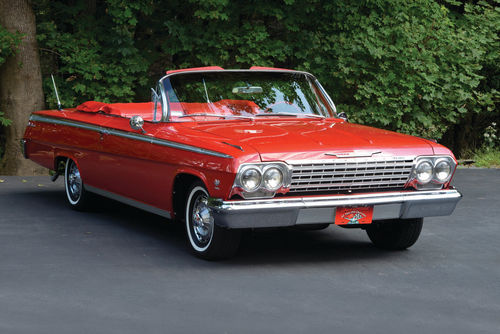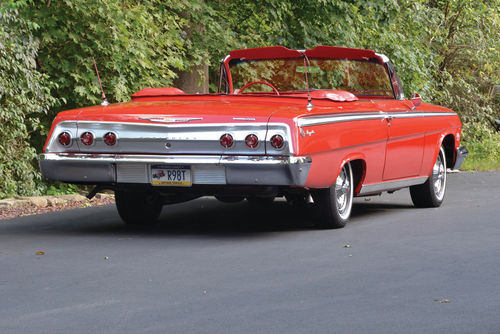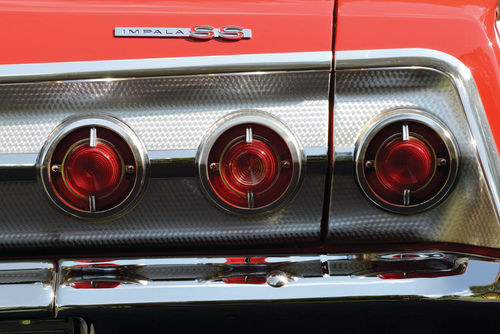 Nearly everything was going right for Chevy in 1955. A new body broke completely from the previous model, eliminated most of the bulges lingering from the prewar era and looked sportingly modern even as a four-door sedan. Furthermore, Chevy's first small block V-8, the 265 cid Turbo-Fire, was available as an option.
Advertising asked "would you like to boss the new 'Turbo-Fire V8' around…strictly in charge when the light flashes green… calm and confident when the road snakes up a steep grade? (Easy does it—you're handling 162 'horses' with an 8-to-1 compression ratio!)"
Chevy was now positioned for what would be called the "horsepower race" and the 1955 body's up-to-date design was a bonus and an instant hit.
Its first annual update enabled Chevy to say that "the hot one's even hotter" and call out "…new higher horsepower—ranging up to a top of 205!" Later in the year a 225-horsepower version was added, but it was 1957 that destroyed any last doubts. With a body updated again to include fins, the bigger news was under the hood, where a 283 was now available and depending upon options, it could produce up to 283 horsepower. While a pair of four-barrel carburetors was an impressive choice with its 270 horsepower, those who wanted that last chunk of output—and had the money to pay for it—went with the new Rochester fuel injection. Unlike modern injection that works well enough for most drivers to forget about it, however, the Rochester system sometimes was less than smooth and could challenge those who worked on it.
Still, it bordered on the spectacular and its rarity only enhanced its exotic image that reflected on every 1957 Chevy down to the most bare-bones, six-cylinder 150. With the 1955 and '56 models, the 1957s became legendary. The range has never fallen from favor and Chevy has rarely wavered from its focus on performance.
Time for a Big-Block V-8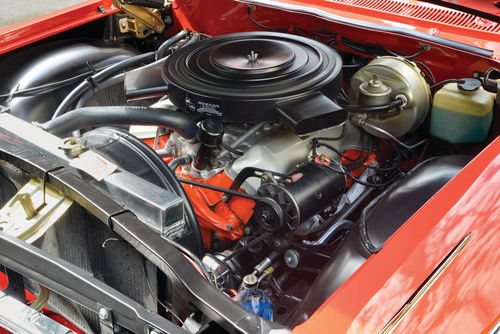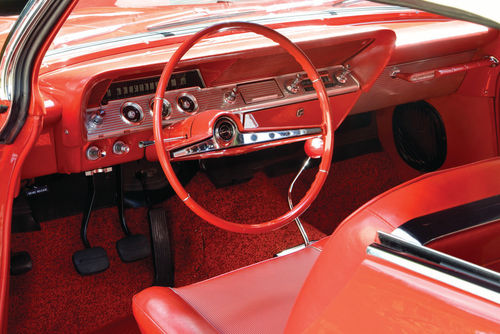 In 1958, a choice of 283s was again offered, but they were joined by the unrelated 348 big-block. Available as either a four-barrel with 250 horsepower or a three-two-barrel with 280, the "radical new Turbo-Thrust V-8" didn't even look like a small-block thanks to both its size and the shape of its heads. The new engine was in a new body that was long and low, particularly in a new addition, the top-shelf Impala. While "new" got a workout at Chevy in 1958, that body was replaced rather than updated for 1959, when advertising announced that Chevrolet was "all new all over again!"
From its huge horizontal taillights below the fins to the headlights now level with the grille, every detail supported the advertising's claim. It wasn't quite that way with the engines, though, as V-8 choices were still the 283 and the 348, but the latter now peaked at 315 horsepower. When the 1960 Chevys arrived with slightly subdued styling, the 348 could be ordered with as much as 335 horsepower, but serious changes were again ahead and 1961 brought a "trim new size" and a "clean new style." The fins were gone and by Chevrolet's own admission, "here is the neatly tailored simplicity you've been asking for."
Enter the Super Sport Package…and the 409 V-8
If not exactly elegant, the 1961 Chevrolet was indeed simplified from the 1960 model, but its enduring contribution was introduced with the suggestion to "ask about the Impala Super Sport. It's the highly personalized version of any model in Chevy's top luxury line. Just check its great performance rundown: your choice of 305-, 340- or 350-horsepower V-8 with four-speed Synchro-Mesh transmission (305-horsepower V-8 also available with high-performance Powerglide)." Included in the package were power steering and brakes, sintered metallic brake linings, heavy duty suspension, a tachometer and "SS" badges. But while the engine list is interesting, it doesn't show the end-of-the-model-year addition of a new engine, the 360-horsepower 409, a bored-and-stroked version of the 348.
For 1962, the 409 was available at the model year's start and produced 380 horsepower with a four-barrel or 409—that magic onehorsepower-per-cubic-inch—with two fours. Chevy asked potential customers to imagine an Impala Sport Coupe with the 409 and performance options like those on the SS, promising that "it'll outhandle and out-run quite a gang of good automobiles…" The Impala convertible was "elegance designed for fun in the sun," while the Impala SS was the "personalized version of Chevrolet's most elegant series."
All of that was enough for the first owner of the feature car just as it had been enough for Novatnak when he bought an Impala in 1962. But somewhere in its life, the convertible shown here had lost its appeal for its owner and wound up forgotten in a farm field about a half-hour's drive from Novatnak's home in Hawley, Pennsylvania.
"You could see it from the highway," he said. "I had seen it there several times and I finally decided to stop. I talked to the farmer—it was under some trees— and he agreed to sell it to me. I paid very little for it because it was in pretty sad condition. He hooked onto it with his tractor and pulled it out to the road for me. I brought a trailer in and loaded it onto the trailer and brought it home."
That was in about 2003 and he bought it as a parts supply since he had another one that he'd already restored and was thinking that the extra parts would be worth the cost.
The one that would become the feature car is his seventh 1962 Chevy—the eighth is his Bubbletop—and the convertible sat untouched until 2005. Its transition from parts car to restoration project requires some explanation.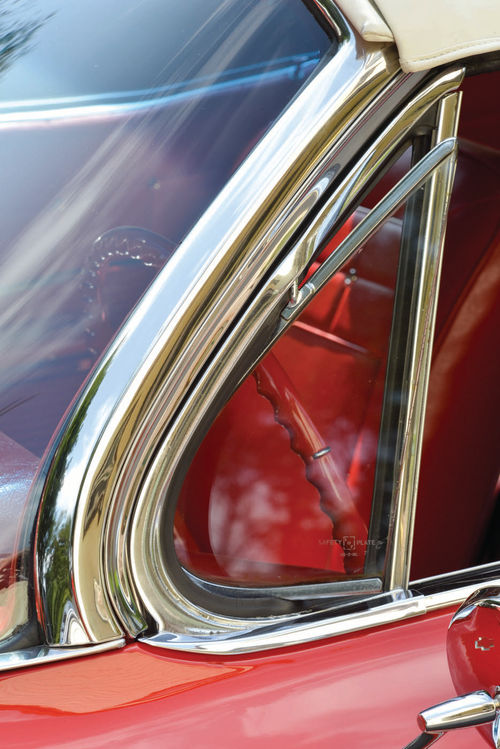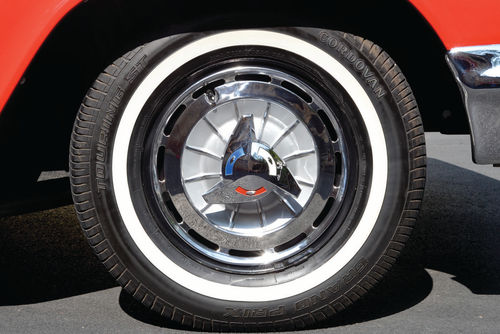 "I said 'why am I doing this?' " Novatnak recalled. "If it wasn't a '62 Impala convertible with red paint and a red interior and a 409 waiting to go in, I never would've done it. Definitely not. It was the right paint and interior. I knew what the car would look like when it was finished because I'd seen plenty of them."
This Car Started Out With a 327
As noted, the convertible was in "sad shape," although mostly complete with the major exception of the drivetrain.
"It was a 327 vehicle," Novatnak said. "The markers on the side with the flags, minus the 409, were the indicators that it was the 327. If it was the 283, it would only have the vee, without the flags."
A convertible with a 409 and a fourspeed transmission was a long-time goal and since this one needed both a total restoration and a drivetrain, that goal began to look possible. A nearby salvage yard had provided parts for other projects and when Novatnak mentioned that he was looking for a 409, the yard's owner showed him one and the deal was struck on the spot.
"It was just a tired old engine," he said, "and we didn't even have to bore it over. We just honed the cylinders in it, believe it or not, and of course got new pistons and rings and did a valve job. I got a decent engine."
The engine-swap was almost a drop-in, as he said the 409 and the small-blocks use the same mounts, the only difference being the positioning of the transmission.
"There are notches for upper and lower," Novatnak explained. "The Powerglides as opposed to the fourspeeds were at different locations. That's all you have to do, change the up-anddown position."
A Collection of Dents, Rust and Missing Metal
And then there was the body which, as he said, was in sad shape.
"The quarter panels were dented really badly," he recalled. "There was quite a bit of rust in it from sitting outside. The convertible top was missing, so all the water was getting in and as a result, all the floors were gone, the trunk was gone. So the sheet metal, basically, had to be all replaced. The doors were replaced, the quarter panels were replaced. The two front fenders are new old stock fenders. The hood I picked up was practically brand-new; we had a little bit of bodywork to do and other than that, it was a good, solid hood. Same with the trunk. Through my years of collecting parts, I was able to save a lot of good sheet metal for it.
"The firewall was fine. There was surface rust that had to be sandblasted and worked with some fiberglass and then finished off with the finer stuff. The wheelwells for the rear wheels were pretty well shot, so we had to work on those and replace some of the sheet metal in there. The front wheelwells are replaceable, so they were replaced. Everything was removed from the frame, sandblasted and all new parts were put on. Upper control arms, lower control arms, brakes, all the brake lines are new, the gas line's all new, everything was replaced with aftermarket materials of good quality, so basically, everything on the car was replaced."
That includes the interior, starting with rebuilding seats from another car, but with the exception of the windshield, all of the glass is original. The trim was still in place, but some was swapped for better pieces from parts cars. Novatnak said that he worked the stainless steel parts to remove damage and then sanded and buffed them to restore their finish. The bumpers and sidewindow frames were re-plated, but he had a good grille and used it to replace the original.
"A lot of guys send them out and get them re-chromed, though," he said, "and let the guys who re-chrome them do the work. It's a lot of work with the aluminum because it's so soft and it bends so easily."
The side trim and even the headlight bezels are aluminum, he said, and like the grille, any repairs necessary require care. By the time he finished the car, it was 2009 and he remembers the inaugural trip, a drive back to the body shop where it had been painted.
"I made sure he got in one of the very first pictures after the car was finished," Novatnak said. "He had painted three other cars for me and I did that with each one of them."
Describing the shop's role in the restoration by saying it painted the car is true, but not completely accurate. Novatnak did the bodywork and said he never could have matched the quality of the shop's paint, but even that doesn't tell the entire story.
"I had the car at his body shop and he let me use one of his bays all those years," Novatnak said. "When I was having a little bit of a problem getting something straight, like the line going down along the side of the car, I'd say 'Willie, it'll take you a half-hour to do this. Come on.' He'd say 'nope. You do it yourself. I'm not doing that. I'm going to paint the car' and I spent hours on what he could do in half an hour.
"But I appreciate that now that it's done. He made me work it myself because I was in a learning process myself."
He did not, however, carry his teaching efforts to the extremes.
"Before he painted it," Novatnak said, "when he primed the car, he noticed on top of one of the doors where the mirrors were that I'd kind of messed that up a little bit and he did repair the one door. I remember his saying he had to do that because it looked like hell."
It's Driven Short Distances
A decade later, the feature car has never been trailered to a show. Instead, it's driven carefully and unlike the others that Novatnak's owned, it hasn't made the long trips to major meets in other states.
"When I was with the Late Great Chevy Club," he explained, "I went to Charlotte and Princeton and Maryland and all over with them.
"But I knew that I was going to have a really nice car when this one was done because of all the nice parts that I had for it, so I really didn't want to drive it a lot because of that factor. I didn't want a lot of stone chips and I never drive it in the rain. It was never in the rain because once you drive a car in the rain on the highway, that water gets up into everything. It just splashes places you would never believe. That's why the car today looks so good from 2009."
Notice that he's not worried about the car's performance or reliability, but about what might happen to it cosmetically. He's had it on trips of up to 150 miles and said it's ready right now for twice that distance or more, with one of its big pluses being practicality. Not only is a 409 surprisingly civilized when it needs to be, but nearly every part imaginable and every piece of information are available to keep the engine—and the rest of the car—on the road. Add the fact that restoration parts are in good supply and a Chevy like Novatnak's becomes dangerously tempting.
Some Shopping Tips to Consider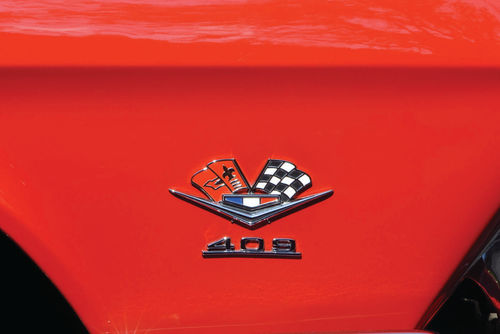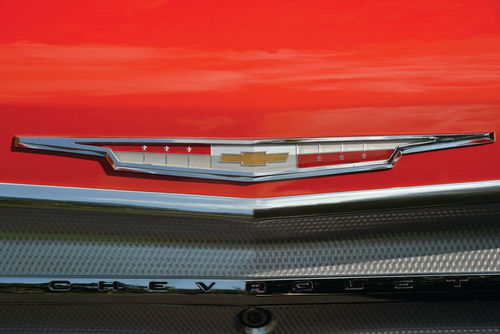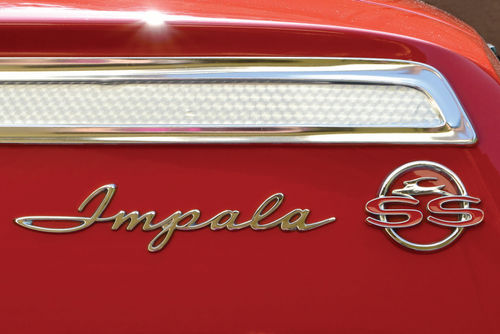 They're out there for sale, he said, but their popularity means that a potential buyer needs to learn a lot about them to determine both correctness and condition. As an example of the former, Novatnak can describe the fuel line's routing and diameter for each available engine, but he also knows where to look for problems. While the feature car was an extreme example when it comes to "restorable," its rust problems were representative of what might be encountered and that's important.
"You'd better know a little bit about where the rust areas are," Novatnak said. "On the '61s, '2s, '3s and '4s, they're very similar. The biggest problems are the wheelwells in the back and there's a body mount in the back that's shaped sort of like a halfmoon and the rubber mount is encased inside of that. If you're in a salt area, it would accumulate not only the salt, but the dirt that the water on the roads would kick up. It would go into that housing and it would rust that body mount right away. That body mount is welded. If you open up the trunk lid and look in the two corners on the second level, that's where that body mount is welded to and there are two big holes that would rust right out in there all the time."
Serious rust on the frame from the rear axle to the bumper is a reality and he spoke of cars in such poor condition that moving the bumper by simply grabbing it and shaking it is possible.
"It just falls apart," he continued. "That's why frames for them are hard to get, especially convertible frames. There are two extra body mounts on each side, so you could get a hardtop frame and they now make the attachments for the body mount that you can weld to a two-door hardtop frame, but you've got to get the exact locations for measurements. You've got to be right on with them."
Floorpans are often damaged at any of several points that should be easy to detect, but some of the rust areas are typical for cars of the era and include the trunk floors, quarter panels, rocker panels, fender heels and the edges of the hood and trunk lid. As mentioned above, though, these cars are well supported.
"You can buy complete floorpans with the braces welded to them," Novatnak said, "all of the braces and there are three sets of braces. Or you can buy the braces separately and you can buy the two halves of the floorpan, both front and back, and then they're welded along the transmission hump. That's what both of these cars have.
"Today, they're making everything. They're making the hoods, fenders, doorskins and quarter panels. They're all being made overseas, but the quarter panels are really nice. No bodywork at all on them, but you still have to fit them. You've got to play around with them."
Much of the trim is being reproduced, he said, and for those pieces that aren't, the only solution is to restore the original piece or find one that's better. If the car is rough to begin with, that's just one more step in the process, but all of those steps add up and while they can turn into a nightmare, Novatnak didn't see it that way even with the amount of work his Chevy needed.
"Probably in my gut," he said, "I knew it was a big project, but I also knew that I had a lot of parts that I didn't have to go scrounging and buying. I already had a lot of parts that were needed for the car and I knew I could do most of the work myself without farming it out. I knew that there were aftermarket parts available."
It Was a Very Good Year
He was right about its being a big project, but it is, after all, a 1962 Impala.
"My first brand-new car," he recalled, "was the '62 two-door hardtop with that red paint inside of the side moldings and a red interior. That was black. That was a beautiful car. But I'm not buying any more, I'm not doing any more. I'm done. I have the two that I've always wanted to do, the Bubbletop and a 409 convertible red-on-red, so I'm satisfied."
And those cars are only part of it.
"Sixty-two," Novatnak observed, "was a good year. It was a big year for me."