It Came From a Company That Had a 100-Year-Old History, And Was Built Shortly Before That Company Closed.
SEARCHING FOR A Packard while keeping an eye open for other possibilities—and then making a nerve-wracking last-minute decision— placed a 1960 Studebaker Hawk in Jeff Sheaffer's garage. But then it wasn't as easy as it sounds.
"I always look at all the independents on eBay," Sheaffer said, "the Hudsons, the Nashes, AMCs, Studebakers.
"That one caught my eye. It was a pretty car to begin with. I liked the color; it's a color you don't see on the Hawks very often, Sudan beige.
"I watched it and I think it was probably a Thursday or a Friday. The price was down pretty low, so I bookmarked it.
"We were away for the weekend and came back Sunday and I looked at it again. I thought the auction was over and I said, 'Oh, that wasn't a bad price for that car.'
"I looked again and there were three minutes left.
"Of course, I'm sitting there thinking 'Should I? Shouldn't I? Should I?' and my wife said, 'Go ahead.'
"I waited until there was a minute left to put my bid in and that was probably the longest minute because I'd never spent that much money on something I'd never even looked at."
Its Ancestors Were Wagons
Buying the Hawk instead of holding out for a Packard or a car by one of the other independents certainly wasn't a choice for which Sheaffer needs to apologize. Studebaker was approaching the end when his car was built, but it had a long, impressive and occasionally complex history that dated to the mid-1800s.
Like many of the early automakers, it had gotten its start as a wagon-building firm and it was not until 1902, when the company was already 50 years old, that it produced its first self-propelled vehicles.
Those earliest Studebakers were electrics, a line spanning everything from runabouts to deliveries and—for the time—rather large trucks. They were offered through 1912, but not long after their introduction the company began cautiously offering gasoline-powered cars using Garford chasses and running gear.
The first result of that collaboration appeared in late 1903 as the Model A or 1904 as the Model C, depending on the source of the information, but the Association of Licensed Automobile Manufacturers' 1904 "Handbook of Gasoline Automobiles" listed only the Model C, a two-cylinder, five-seat tonneau. Two years later, the Handbook listed four four-cylinder models with up to 30 horsepower. But by 1908, Studebaker's connection with Garford was winding down.
That year saw an agreement with E-MF—a new manufacturer whose 30-horsepower, four-cylinder cars Studebaker would now market—and that resulted in another similar agreement covering the Flanders. A 20-horsepower four, the Flanders appeared in 1910 when Barney Everitt and William Metzger left E-M-F, the company that they'd started with Walter Flanders.
In 1911, it all became part of Studebaker. The last E-M-Fs and Flanders were built in 1912 and after that, Studebakers were Studebakers. Finally, the company was entering a period that would be relatively uncomplicated and its first year of building its own cars under its own name brought a six-cylinder model, the E of 1913. It wasn't a cheap car; in limousine form, it cost $2500 at a time when the most expensive Buick, a Model 40 touring, cost $1850. Stated another way, a buyer could spend $50 more than the cost of a Studebaker E-6 limousine and get three Model T Ford town cars.
Problems With Expensive Entry-Level Cars
Sixes gradually proved popular enough that Studebaker discontinued its four-cylinder cars by 1920. But in 1928, the sixes themselves were pushed to the background by the appearance of the company's first eight-cylinder model, the President Eight. The 312-cubic-inch engine produced 100 horsepower, a healthy increase over the 75 horsepower from the 354-cubic-inch six.
There were problems in those years, though, even if they had less to do with the cars than with the company. Studebaker had launched the Erskine—named for Albert Erskine, president of the company—as a 1927 model that theoretically would make its mark in the low-price field. The car lasted into 1930 and its lack of sufficient sales was due mainly to the fact that it was too expensive to go up against the truly low-price cars such as Ford and Chevrolet.
The best evidence in the Erskine's favor is that it wasn't actually dropped, but was transformed into a Studebaker. After the Erskine failed to live up to the company's hopes as an Erskine, Studebaker had introduced the Rockne for 1932, but that too was unable to compete in the low-price market and it disappeared after just two model years. During that same period, Studebaker was active at the opposite end of the scale via its merger with Pierce-Arrow in 1928, but that lasted only until 1933, when the two companies went their separate ways.
Studebaker was in serious financial trouble by then and the very thought of receivership was undoubtedly a factor in the suicide of Albert Erskine.
First With a Postwar Car
Through it all, no one could accuse the company of having given up trying, as it struggled on and turned around well enough to become a significant supplier of military vehicles both in World War II and later. As if that weren't enough, Studebaker was able to pull off something of a coup in the spring of 1946 when it presented what was truly a new design for 1947.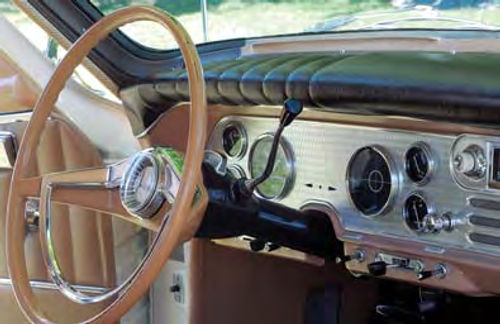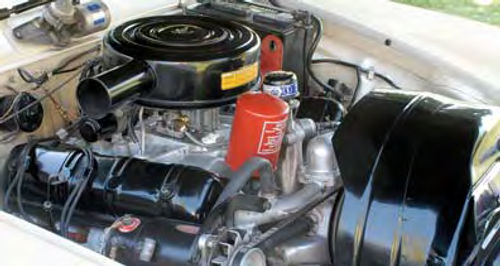 Like most manufacturers, it had resumed production of civilian vehicles with slightly updated 1942 models, but by introducing its fresh 1947 line so early, it was able to proclaim itself to be "first by far with a postwar car." The look was nothing like that of the 1946 cars and in any body style it achieved much of its effect via smooth clean sides broken only by thin rear fenders. The real difference, though, was in the C-body.
It would later be named the Starlight coupe and stood apart from the other bodies in its wraparound rear window that extended from B-pillar to B-pillar. While not especially important in the practical sense—a 180-degree sweep of visibility was available, but only if the rear-seat passengers chose to ride backwards—it ensured that a Studebaker was unlikely to be mistaken for any other car while providing the raw material for jokes about which way the car was going. Comedians notwithstanding, it was a courageous move by Studebaker to use such a radical feature and while it guaranteed product recognition, the company took no chances: For 1950, it restyled the front end by adding a center bullet flanked by low grilles sloping downward between similarly angled fenders.
Studebaker merely tweaked the design for 1951, which really was about all that was necessary since the bigger news was introduction of a modern overhead-valve V-8. It produced 120 horsepower from 232.6 cubic inches and, more importantly, its potential for upgrades and improvements meant that it was destined for a long and generally happy life.
Continued Uncommon Styling
The V-8 continued unchanged in 1952, as did the 85-horsepower, 169.6-cubic inch flathead six, but what amounted to a relatively simple restyling gave the 1952 Studebaker a considerably new look.
Gone was the bullet, although many refer to all of the 1950-52 cars as "bullets noses," and in its place was a low, straight-across grille split below a slight bulge in the hood. If the true bullet moses had been happily eccentric, the 1952 was only slightly less so as it served to bridge the 1947 body and its successor, the almost-universally acclaimed 1953 model.
The 1953 Studebaker was as much a contrast to its predecessor as the 1947 had been, but it didn't get there by following a similar approach. Its eccentricity centered on the fact that at a time when American cars were typically high, bulbous boxes, it was long, low and clean, at least in two-door form. The sedans might charitably be described as slightly stubby, but the two-door hardtops and posts surely didn't look like everyday cars. The small rear fenders had finally faded completely, the low split grille was cleaned up and in what was in all probability a wise decision, the 1953 Starlight did not continue the huge wraparound rear window.
1960 Studebaker Hawk
GENERAL
Front-engine, rear-drive, two-door post
ENGINE
Type Overhead-valve V-8
Displacement 289 cu. in.
Bore x stroke 3.562 in. x 3.625 in.
Compression ratio (:1) 8.8
Carburetor Four-barrel downdraft
Power 225 hp @ 4500 rpm
Torque 305 lb.-ft. @ 3000 rpm
DRIVETRAIN
Transmission Flightomatic three-speed automatic
Rear end Twin-Traction limited slip
SUSPENSION & BRAKES
Front Independent, coil springs
Rear Live axle, leaf springs
Brakes (f/r) Drum/drum power-assisted
STEERING
Ross cam and lever, power-assisted
MEASUREMENTS
Wheelbase 120.5 in.
Length 204 in.
Width 71.3 in.
Height 57.8 in.
Track (f/r) 57.4/56.6 in.
Ground Clearance 6.9 in.
Weight 3207 lb.
Tire size 6.70x15
The two-door was stunning, but it became almost breathtaking when parked next to nearly any of its domestic contemporaries and although Studebaker could not possibly have known it at the time, the car was a genuine blessing to the company.
They Weren't Too Big to Fail…
Life was becoming increasingly difficult for the handful of independent automakers that had not vanished before World War II. Putting aside Kaiser-Frazer, which would both come and go in the postwar period, those that had survived into the 1950s would merge, try to hold on and then disappear.
Once it began, it all happened quickly; Frazer died in 1951, Kaiser bought Willys in 1953 and Hudson and Nash joined forces as American Motors in 1954. Studebaker and Packard also got together that year, but the final Willys and Kaiser passenger cars were built in 1955, the last Hudson and Nash in 1957 and the last Packard in 1958.
Only American Motors' Rambler and Studebaker-Packard's Studebaker remained. Both companies had to have known that long-term survival was not going to be easy, but each pushed ahead in its own way.
In Studebaker's case, that meant relying on the 1953 model, which was mildly updated for 1954 and then given a protruding full-width grille for 1955. An old model name reappeared that year and one version in particular hinted at where Studebaker was heading. The President badge had last been used before World War II and was once again at the top of the line, but the President Speedster was something more. A hard-to-miss coupe, it was the most expensive Studebaker of the year and came equipped with everything from three-tone paint to an engine turned dash to leather upholstery. The V-8 was now a 259 generating 175 horsepower, although that figure rose later in the year, but the Speedster's most interesting attribute is that it really had no direct competition among American production cars. It was a one-year-only model that sold just 2215 examples, but it returned in spirit as the 1956 Golden Hawk alongside a line of restyled sedans that looked very little like it, despite their common ancestry.
The Golden Hawk's immediate visual difference from the Speedster was that the low, wide grille was gone and its high replacement was centered between two small openings just above the bumper. At the rear, anything more than a casual look detected the small fins, but there was nothing to give away the secret that was under the hood.
Thanks to the fact that Packard was now a member of the family, the Golden Hawk used its 352-cubic-inch, 275-horsepower V-8, but the lesser Flight, Power and Sky Hawks used Studebaker's own engines. That changed in 1957, when Packard was no longer building its full size cars or the 352, so the Golden Hawk received Studebaker's biggest engine, the supercharged 289 that was good for the same 275 horsepower.
Names were shuffled in 1957 as all but the Golden Hawk were dropped and the Silver Hawk was introduced, but by the time the final version appeared in 1964 as the Gran Turismo Hawk, Studebaker had produced seven different Hawks. With the exception of the GT, they had differed mainly in trim, in the size of their fins and by being either hardtops or posts, but the GT was distinct because of its unique, angular roof. An eighth variation was built as the Packard Hawk and although it wears a very un-Studebaker Like nose, its basics are obvious.
It's a Hawk, Period
The feature car is simply a 1960 Hawk and Sheaffer remembers what happened after he learned that he'd been the successful bidder in the 2002 auction.
"I contacted (the seller) and a week later, went and looked at it," he recalled. "It was everything he'd advertised, so we finished the deal. I brought it home, waxed it up, took it to a car show and got a first place trophy."
The car had become available because the seller rarely drove it; Sheaffer said that in 10 years of ownership, he'd covered less than 1000 miles with it. Still, it wasn't quite perfect.
"There are three pieces I had rechromed," Sheaffer said, "the two taillight housings and the one end cap on the fin. It wasn't because they were bad, it was because the chrome was polished off. That's pretty much all I've done to (the body) other than touch up a paint scratch or a paint chip."
Plating wasn't all that the car needed, although the biggest task was done primarily to head off future problems.
"I had the bottom end of the engine rebuilt because the oil pressure was starting to get low," Sheaffer said. "It had just turned 90,000 miles and that's original, so I figured I might as well get the bottom end done. The valves and everything seemed great."
Maybe he was being overly cautious, but more likely he was being smart since he said that he enjoys showing the car and covers some 1500 miles per year in travelling to events.
It was at one of those shows, the 2008 Studebaker Drivers Club International Meet at Lancaster, Pennsylvania, that he found a solution to a problem that isn't exactly Studebaker-specific.
An Ethanol Attack
"I was having trouble with it bucking and not running right," Sheaffer explained, "so I talked to three guys at the International (meet) and they all told me the same thing. The new gas with the ethanol is starting to eat at the gaskets in the carburetor, so I rebuilt the carburetor and it runs like a Swiss watch."
That's important for someone who likes to drive his collector car. Sheaffer drove the Hawk about 125 miles to get it to his garage on the day he bought it. He drove it about 130 miles from his Fredericksburg, Pennsylvania, home to a meet in West Virginia and said that he wouldn't hesitate to take a longer trip in it. With power steering, power brakes and its 289, the car will happily run at 70 to keep up with traffic on a highway and he said that spending time in it on a trip is easy.
"It's as comfortable as a lot of the newer cars," Sheaffer said, "but it's like any other old car. You've got to drive it, where the new cars drive themselves. A new car, you get in and all you're doing is steering it, but an older car you've got to watch. I have radial tires on it. When I had the bias ply tires on, then you had to do more than drive it."
Some Master Cylinder/ Body Panel Concerns
"The one thing that does bother me, it's always in the back of my mind that it's got the single-reservoir master cylinder," Sheaffer said. "I'm always thinking, 'if that goes.' Other than that, it's great, but that's always in the back of my mind."
Studebakers of the feature car's era aren't known as mechanically troublesome and Sheaffer said that the routine parts to keep one on the road are available either new or as new old stock and that interchange—which can be tedious—will open additional sources.
The bigger problem is the body. Sheaffer pointed to the fender vents as potential rust areas, but the rockers, floor, quarter panels and trunk floor also require careful inspection. He said that sheet metal is becoming scarce, which raises the matter of its interchange among Hawks and other Studebakers. Most sheet metal can be swapped among them even if it's not the exact replacement. That means an incorrect panel can substitute temporarily (or permanently) for a piece that's missing or damaged badly enough to be unrepairable. Time spent with parts books will tell which are direct replacements and which are the next best things and as with nearly any car, joining a marque club is one of the smartest moves to be made.
Sheaffer learned that lesson early.
"When I went to that first show," he recalled, "they had a class for Studebakers and there were a lot of people from the Studebaker Club there. I joined the Studebaker Club and it's amazing to see the amount of parts and the number of people with know-how who are willing to help."
He's not exaggerating. It's at best anecdotal evidence, but it seems as if every Studebaker owner is passionate about the marque. Attend a large show such as an AACA national where the badge is well-represented and there'll be no shortage of people willing to talk Studebaker, answer questions, hand out troubleshooting advice, provide directions and contacts for cars that are known to be for sale and get in plugs for the Studebaker Drivers Club.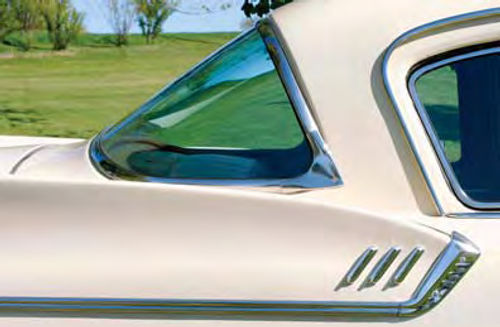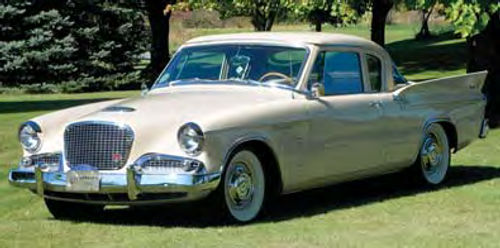 That's not especially surprising, as Studebakers had (and have) their idiosyncrasies and weak points, but they're generally good cars and sometimes great ones. The fact that Studebaker was such a late survivor as an independent sometimes causes those with no special interest in automotive history to confuse the cars with Ramblers and the company with American Motors, but it might also have produced one of the better automotive urban legends…
South American Studebakers?
Given the number of Studebakers that were on the road as everyday transportation long after the company's production ended and given that the last ones were built in Canada, it actually sounds believable that "they still build them in South America," a statement that's occasionally heard even today.
And the notion of a 2009 South American Studebaker does conjure up some intriguing images.
Sheaffer, though, has good reason to be happy with his 49-year-old example from South Bend.
"It's just so much fun to drive," he said. "For one thing, it brings back memories. A friend of mine had one back in the late '60s and, of course, back then it was just a car.
"Now you look at them and there's just nothing like them."