1960 cadillac ELDORADO SEVILLE
Some Folks Say the 1959 Cadillac With Its Space Age Fins Is The Cadillac Icon Of Its Era. Others Prefer the 1960 Model Saying That It Makes a Bold Statement With a Refined Approach. What Do You Think?
A family friend whose lawn had to be mowed, a guy who didn't like Fords and several years of storage played key roles in moving Alan Kwiatkowski's Cadillac From Florida to Pennsylvania and eventually into his garage.
"I was a young kid looking for a job," Kwiatkowski recalled, "and my dad knew a fellow who needed his grass cut, so I was cutting his grass and taking care of his sidewalks in the winter months. He had this car and I'd only see it on rare occasions. He had it parked in the garage and then he'd take it to Florida."
The car in the garage was the feature car, a 1960 Eldorado Seville, and it was just a few years old at the time.
"The car," Kwiatkowski continued, "was given to him in Florida by his brother-in-law, who was a very wellto-do individual. I don't know what he was, a doctor or a lawyer or something, and this is from my dad, who told me that his friend was a Ford man. He'd drive a Ford down to Florida and it was insulting his brother-in-law. One of his people who worked for him took the Ford and put it in the back of his home. There was this brand-new Eldorado in the driveway for him to drive and he said 'you come to visit me and you stay all winter and you've got to drive a Cadillac.'"
Becoming "The Standard of the World"
By 1960 Cadillac had long been acknowledged as among the finest American cars. Its low-key start came with the 1903 Model A, a 10-horsepower single that picked up more than 2000 advance orders when introduced at the New York Auto Show and topped 2000 the following year. Although two good years at that time in automotive history were no guarantee, Cadillac was indeed on its way to great things.
The four-cylinder Model D with 30 horsepower arrived in 1905 and was followed by other fours, but Cadillac chose not to drop its small singles. That would prove to be a brilliant move thanks to an Englishman passionate about Cadillac singles. Frederick Bennett worked for Anglo-American Motor Company which had imported its first Cadillac in 1903 but faced concerns over obtaining factory support for an American car in England.
Born to promote, Bennett attacked the problem by pointing to partsinterchangeability with the help of a standardization test overseen by the Royal Automobile Club in 1908. Cadillac was the only manufacturer willing to take part and three of its 1907 Model Ks were driven to Brooklands, covered 50 miles each on the track and then were disassembled. Their parts were mixed and four days later, a Model K built from a random blend of pieces was started. Within a few days, all three Cadillacs made from each other's parts were running.
The R.A.C. awarded its Dewar Trophy to Cadillac, honoring the year's outstanding technical accomplishment in the industry and in an inspired marketing scheme Cadillac began to use "the standard of the world" as its slogan.
In 1909 Cadillac built its last single. Fours continued until 1915 brought a V-8, the engine that would become Cadillac's signature feature, but there were several spectacular additions ahead. First was its V-16 of 1930 and unlike the V-8, it was an overhead-valve design as was the V-12 that appeared at about the same time. Cadillac isn't the only American manufacturer to have produced engines with more than eight cylinders, but doing so placed it in a small exclusive group.
Cadillac's final V-12 and V-16 engines were built in 1937 and the reasons for their disappearance lay mainly with the economy. The Great Depression destroyed fortunes, created a reluctance to flaunt wealth that remained and thus cut deeply into the market for V-12s and V-16s.
Postwar Power
Cadillac's first true postwar design appeared for 1948, marked by smooth sides with barely separate rear fenders, a lower look and taillights inspired by the tailfins of Lockheed's P-38 aircraft. Fresh as its style was, the new Cadillac relied on the veteran 346-cubic-inch flathead V-8 with its 150 horsepower, but that was about to change.
"Cadillac presents its greatest engineering achievement in 45 years," a brochure announced. "A new motor car engine, totally new in design and performance… The new 160-horsepower Cadillac power plant is a compact, V-type, 8-cylinder engine—of valve-in-head design, with relatively large bore and short stroke."
Cadillac had just introduced the modern oversquare V-8. The 331-cubic-inch engine's cylinder bore was larger than its piston's stroke—3.8125 inches compared to 3.625 inches—a relationship that became the industry norm. The advantages ranged from a smaller size to higher revving with the potential to adapt to future fuels and needs.
The 1949 V-8 might not have been as awe-inspiring as the V-12 and V-16, but it was at least as important. The Great Depression had receded into a very unpleasant memory, America was again fascinated with automobiles and Cadillac's new engine was a hit. Furthermore, unlike the V-12s and V-16s, the new engines were going into realistically affordable everyday cars rather than coachbuilt customs. Cadillac tested the possibility of changing that in 1953 with its Eldorado.
Visiting Eldorado
The Eldorado differed sufficiently from the Series 62 convertible on which it was based and was possibly even a little flashy, but it wasn't ostentatious and the average driver might not have noticed it on the road. Those who knew their cars, however, would have spotted the "panoramic" wraparound windshield and the "unique dropped door-line." It was "a special sports convertible built in the finest Cadillac tradition" and at $7750, it was the priciest model in the line and more than twice the cost of the entry-level Series 62. Stated another way, the Eldorado cost the equivalent of almost $71,000 in today's money, which probably helps to explain its 532 sales.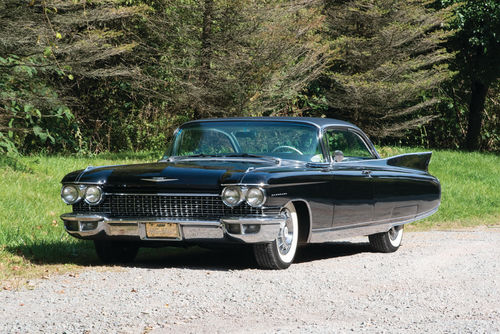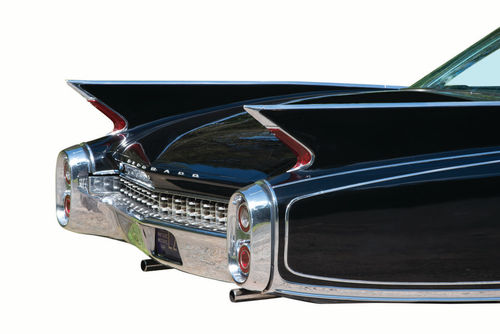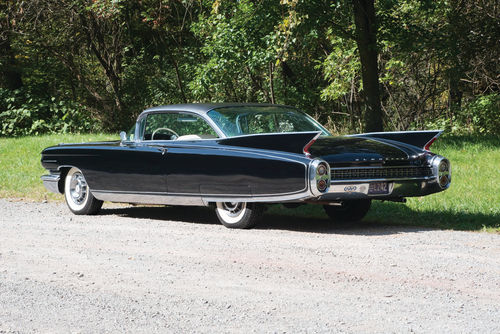 No doubt because Packard's conceptually similar Caribbean convertible could not go unchallenged, the Eldorado returned for 1954 on Cadillac's new body. It had given up some of its unique qualities and the price had dropped accordingly to $5738 with the result that sales skyrocketed to 2150. But those who bemoaned its loss of individuality had only to wait one year as the 1955 Eldorado brought a look at the future. High, thin fins and small round taillights replaced the other models' P-38 taillights to preview the 1957 and '58 rear-end treatment and for the first time, the Eldorado had its own engine, a 270-horsepower twin-carb version of the 331 that was good for 250 horsepower in other Cadillacs. Touted as a car "more beautiful, more luxurious and more powerful than any previous Cadillac creation…it is, in every sense of the phrase, the 'Cadillac of Cadillacs.'" The Eldorado's $6286 price for 1955 was the second from the top in Cadillac's hierarchy and sales reached 3950.
Cadillac would expand the range in 1956 with the hardtop Eldorado Seville. Styling was slightly updated, the convertible was now the Eldorado Biarritz and the Eldorado engine was now up to 305 horsepower, again a 20-horsepower boost over the base engine.
In 1957 all Cadillacs were fully restyled while in 1959 things really changed and '59 Cadillacs with their flamboyant fins and high-riding "bullet" twin taillights have long been recognized as an icon of their time.
A Quieter Time
The taillights were simplified on all 1960 Cadillacs, changing from a pair of bullets on each fin to a simple lens fitting the fin's contour. Fins were cleaner and 1959's horizontally split grille was replaced by a single unit. The changes were subtle, but made for a more elegant look.
Cadillacs continued to change through the 1960s, but the division was smart enough to occasionally point out the wisdom of buying a used model. A 1964 ad, for example, showed 1960, '62, '63 and '64 Cadillacs and explained that "all these splendid motor cars, regardless of age or previous service, are automobiles you can own with pride and drive with pleasure. All bear the unmistakable distinction of Cadillac styling. All give you Cadillac's famed engineering and craftsmanship."
The ad accurately stated that a Cadillac is a Cadillac and the feature car's earlier owner probably felt no embarrassment in driving it from Pennsylvania to Florida and back. But he couldn't go on doing that forever.
"Over the years," Kwiatkowski said, "he started railing it down there instead of driving it. He got older and then it got to the point where he was going to get rid of the car and sell it.
"I found out when I was cutting grass that he was going to sell it, told my dad and my dad went down and talked to him about it. I said 'you've got to buy the car.' I was only something like 13, maybe 12 or 13 years old at the time... (He) was a friend of my dad anyway. He was well off. He had money and he sold it to my dad for $375."
It Pays to Prep Before Painting
Kwiatkowski's father continued to drive the Cadillac and enjoy it, but it eventually began to show problems. The engine was using oil and the paint didn't look as good as it should have looked. Then, once repainted, the new finish soon developed problems of its own because of poor preparation. Kwiatkowski explained that the Cadillac had regularly been cleaned and waxed and, unfortunately, was not stripped properly before the repaint.
"It was a base coat of lacquer, which was the original paint," he explained, "and then there was the wax finish that he'd never sanded or washed off and then he put a nice coat of black enamel over the top of that. In three years, it was like black potato chips coming off that car. That's how it happened and my dad was getting more flustered with it because it wasn't a pretty car anymore. It was getting really ugly and a lot of white smoke was coming out of the tailpipe. That was because he liked to beat on it a little bit."
The immediate solution was the one that's saved more than a few cars that are good overall, but have a serious problem or two.
"He wound up putting it away for a while and then he never got back to it," Kwiatkowski said, "so he sold it to me for $1."
That was in 1989, more than a decade after his father had parked it, and Kwiatkowski said that he took it to his business with the plan to work on it as time allowed. Most of the car's life had been a sheltered one as its first owner's Renault had been the everyday car and then Kwiatkowski's father continued to care for it.
"I come from a big family of six," he said, "and we took turns washing it for him and A "grille" not unlike the real one at the front ties the two pods together at the rear.
cleaning it. He'd let us take it out once in a while, but it never saw winter. He had another car. He had it parked in a garage he rented. He'd keep it in that garage all winter."
Taking a Much Better Approach
Due to its sheltered lifestyle, the Cadillac was nearly rust-free and needed little work beyond dealing with corrosion revealed when an aftermarket undercoating was removed. But there remained the paint that in today's world would be called an "issue."
"We stripped it," Kwiatkowski said, "stripped it right down… We got the right paint, black lacquer. There are 21 coats of black lacquer on that car and between every two or three coats, we would block- and wet-sand it a little bit, knock it down, all the pores would fill in and then we'd throw three or four or five more coats on it, let it sit for a little while and then the last three or four coats we put on it? We buffed the hell out of it."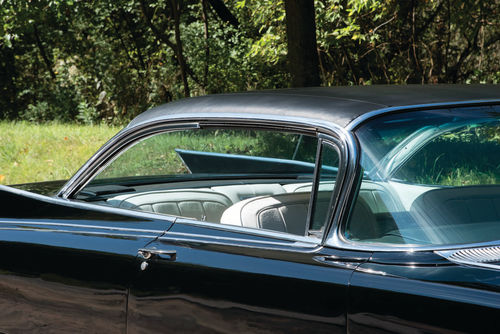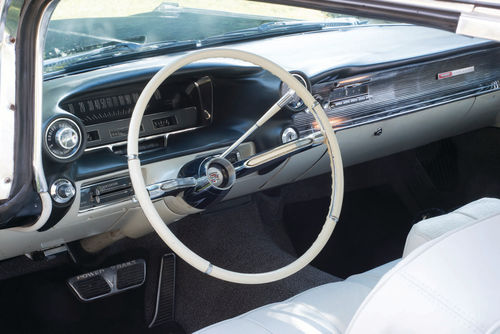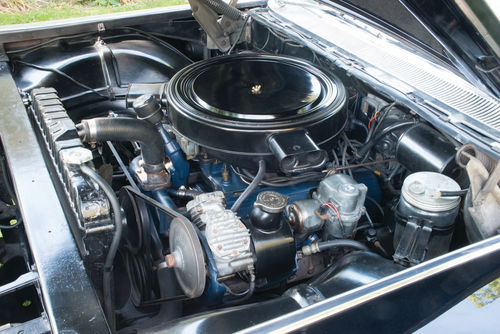 The solid body wasn't the only fortunate break, as all of the Eldoradoexclusive trim was, if not perfect, at least intact.
"My dad was a curb-hopper," Kwiatkowski confessed, "and he destroyed the two hubcaps on the passenger side of the car and did a little damage on the rocker panel, the stainless steel rocker molding. We didn't know where we were going to get it because the car is a limited model. And limited hubcaps? You're not going to find them like that. But luck had it that (a friend) found them in a trunk in an old car in a junkyard and bought them for $25 apiece. I bought three of them and out of the three, I got two good ones."
Still, that left other work.
"My father delivered paint in it because he was a paint salesman," Kwiatkowski said. "He put paint in the back and the trunk got some paint marks on it, but I removed that and put a whole new rug in there. As a matter of fact, I just did that this year.
"It took quite a few years for me to get the interior done. Even though we dyed it and made it look as nice as possible over the years, we finally did the interior in leather and it came out perfect. It is the right material and it is the right leather."
The Engine Needed Some Help
Mechanically, the story wasn't quite the same. The engine, as Kwiatkowski said, was showing signs that it needed work. While he knew that his father had occasionally "beat on it a little bit," it wasn't until after he owned it that he learned that his father might not have been the only one to do so.
"My brothers used to sneak that car out at night," he said. "I never found out until later in life that they'd go up to the garage and get it out and go cruising with it. My dad would go to bed early because he had to get up early. They'd take that thing cruising and they used to disconnect the speedometer cable."
Maybe, just maybe, those evening rides had something to do with the engine's overall condition by the time Kwiatkowski got to the Cadillac, but either way, the engine was rebuilt as part of the restoration. An error during reassembly, though, created a problem that in turn revealed an oddity.
"When we fired the engine over," Kwiatkowski said, "it bent some pushrods, so we went to buy new pushrods for a 1960 Eldorado, 390-cubic-inch motor, and we found out the pushrods are different from '59 to '60. The engine, I guess, is a leftover engine from'59 put into a '60 Cadillac, but that is the original motor that came with the car.
"How we found that out was we went up to a '59, measured the pushrods and they worked perfectly... It was an easy fix. We just had to take the valve covers off."
Numerous Original Parts Remain
Work on the engine naturally included maintenance items such as wires, hoses and belts. The radiator was rebuilt and as long as the engine compartment was empty and accessible, the firewall and inner fenders were cleaned and repainted.
"We did a lot of the stuff without the grille on it, when the bumper was off of it," Kwiatkowski said. "That bumper weighs a ton. Two guys held it while one guy bolted it on. Fortunately, the chrome on it is all original. It didn't see any kind of bad weather or anything. I would love to have it re-chromed, but it's original."
Other original components also survived well, as he said that the factory brake lines, gas lines and gas tank are still on the car and the brake cylinders were rebuilt. At its current 88,000 miles, the transmission has had regular service, but nothing more. It does, however, have one of those mystery leaks that restorers dread.
"Do you think I can find it?" Kwiatkowski asked. "I pull out of the garage, I add a half-quart to a quart of tranny fluid and then it would not leak at all. I parked it for six months and I came out and it's low a quart or a quart-and-a half on tranny fluid. Where is it leaking? It won't leak when I'm looking for it."
One High-Profile Vehicle
Since restoration work was completed in 1993, the Cadillac has generally stayed fairly close to Kwiatkowski's Nicholson, Pennsylvania, home, covering only a few hundred miles each year. He has other vehicles to drive, but he knows that the Eldorado draws attention and it's often identified correctly or almost correctly.
"Quite a few know it's a '60," he said. "Some say '59, some say '60, '62."
That's an impressively tight range coming from those who happen upon the car at a gas station or in a parking lot and, as you would expect, it's not invisible on the road. That suggests that the 1950s advertising might not have been far off in promising that a Cadillac "commands the respect of people everywhere." Kwiatkowski feels much that way about the feature car, enough so that he knows he'd like the Eldorado just as much even if it didn't have the family connection.
"I would," he said, "because I put a lot of sweat into it. I put a lot of time and money into it. And it is a prestigious car. It's one that I can say is elegant... I like the car because it's low, it's long and it's black. That's all the good features of a nice-looking car."