1957 CHEVROLET BEL AIR SPORT COUPE
The General Hadn't Planned On Building This Car, But It Has Since Become an Automotive Icon.
I dust myself off—even though my clothes are fresh and I showered this morning— open the big door on Art Wesselman's nearly perfect Matador Red '57 Bel Air Sport Coupe, and slide in. The seat is firm but comfy and almost as big as my living room couch. I close the door and there is a solid "chunk" sound. I verify that the Powerglide two-speed automatic is in Park, and then twist the key. The car's 283-cubic-inch small-block V8 starts with the rumble of distant thunder, and then settles into a subtle burble.
Too Nice to Drive?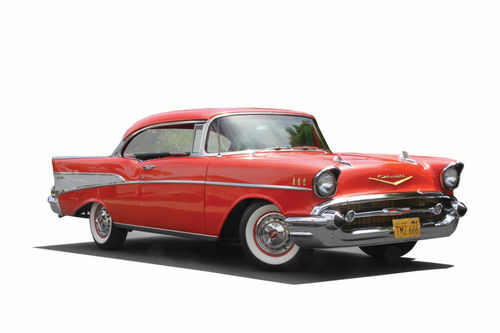 A car restored to this level is intimidating to the touch. It scored 997 out of 1000 points at a recent Vintage Chevrolet Club of America (VCCA) show, and is spectacular from every angle, including underneath. Carefully restored tri-five Chevrolets are not uncommon, so the club has exceedingly high standards. The club's judges often have to pick between perfect cars for the top trophy. But this car is so immaculate that I fear that by merely beholding it, I will somehow sully it the way an object in quantum physics is altered merely by being observed.
Longer, Lower Wider…and Heavy
The car is big and heavy by today's standards, with a 115-inch wheelbase and a weight of 3273 pounds, but its power steering makes it effortless to turn, and its power brakes only need a slight touch to slow us down. Cornering is flat, and the steering is fairly neutral thanks to the fact that the 1957 models have a longer front end. By putting the engine back behind the front suspension, Chevrolet achieved excellent weight distribution that year. And with the six-cylinder models the engine extends further forward.
I mentioned that the car was heavy, and in 1957 heaviness was a virtue, not a vice. Heavy cars rode more comfortably than lighter cars, and light cars were considered cheap. Chevrolet's advertising for 1957 proudly pointed out that their offerings for the year were longer, lower, wider, and heavier. The 1957 models were indeed two inches lower at the cowl, which required the fresh air vents to be mounted in the headlight brows. Also the wheels on the '57 were 14-inch instead of the 15-inch diameter types that were used on the earlier tri-fives.
It May Be Big…But It's Quick
On the freeway Art's fiery Bel Air is comfortable and quiet, and loafs along at 80 thanks to its combination of twin fourbarrels, Chevrolet's efficient ram's horn exhaust manifolds, and dual exhaust. This version of the 283 makes a hefty 245 horsepower, and this is channeled through a 3.36:1 rear end. As for acceleration, when the pedal hits the metal, not many production cars of any era could stay with this one once the secondaries opened in the Rochesters, because it can do 0-60 in 7.25 seconds. That's quick for a big family car from the low-priced three.
The 1957 Chevrolet—even though it was the third year for the platform, actually had styling created at the last minute while competitors Ford and Plymouth were all new. But it has in recent years eclipsed its contemporaries to become one of the most prominent automotive icons of the era. With its cold war jet fighter fins, twin gun sights on the hood, air intake eyebrows over its headlights, and Turbo Fire V-8 engine it is ready to do battle. And to top it off, Rochester Ram Jet fuel injection was available as an option exclusive to Chevy in the low-priced three.
This Icon Was a Last-Minute Decision
Actually, there almost wasn't a 1957 Chevrolet as we know it today. Originally the '57 was going to be the design that was offered in 1958, but production problems delayed the introduction of the new models. And indeed the new car, with its X frame, coil springs at all four corners, two-piece driveshaft and unique styling was quite different than the other tri-fives.
As a consequence of the delay, engineering was off the hook temporarily, but the design staff was given very little time to doll up the old platform. However, they pulled it off, and succeeded in creating a car that not only sold well, but became a symbol of its time.
You often hear that Ford outsold Chevrolet in 1957, which was true for the model year, but for calendar year 1957, Chevrolet outsold Ford by 136 cars. In fact, the 1957 Chevy was a major success at 1,555,316 sold that year. And they are still much sought after today.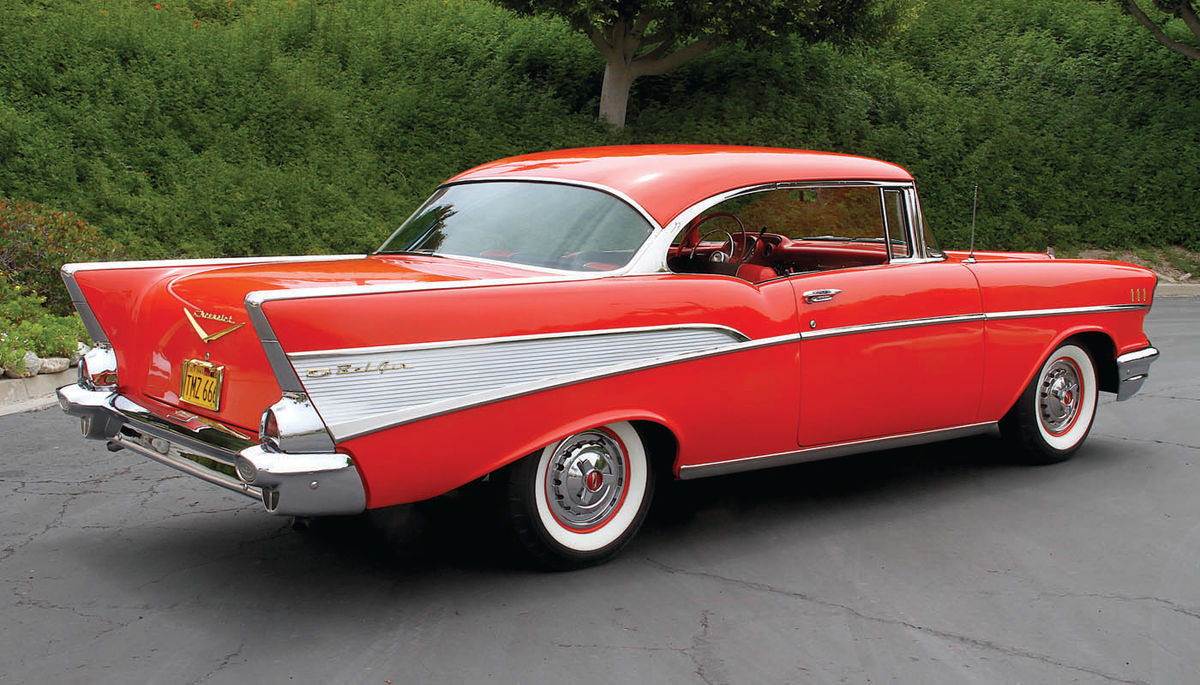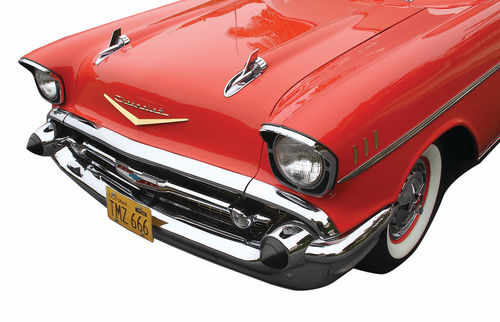 The 1957 Plymouth was radically new, with its Virgil Exner styling and bigger fins and bigger engine, and Ford had its new look, plus a bigger engine, and their revolutionary Skyliner retractable drop top (see the October issue), but somehow Chevrolet captured that all-American, leader-of-the-free-world brashness that defined the period. After all, this was a time of atomic preparedness, drop drills in school, and the heyday of Cold War technology.
In July of 1957, test pilot and future astronaut John Glenn, Jr. set a transcontinental speed record in a F8U Crusader from Los Angeles to New York. He became the first pilot to average supersonic speeds during his entire transcontinental flight. It took three hours and twenty-three minutes to complete.
And then the Soviets blasted a chrome softball called Sputnik into space that made a beeping noise just to irritate us, and the space race was on. It wasn't all technological one-upmanship though. It was a fun time too, because 1957 was the year the Frisbee came out along with the Hula Hoop. And then American Bandstand debuted on national television in August.
The Icon Arrived With An Improved Engine
The fact that the Tri-Five Chevy platform was in its third year was actually a blessing in some ways. Its revolutionary engine had been refined and elaborated upon. The small-block 265-cubicinch motor had been punched out 50 thousandths to 283 cubic inches, though the 265 was still an option, a new cast-in oil filter boss had been added, oiling was improved, and power could be pumped up to a whopping one horsepower per cubic inch with fuel injection. As a result, except for a very limited edition Chrysler Hemi in 1956, Chevrolet was the first production car to achieve such performance.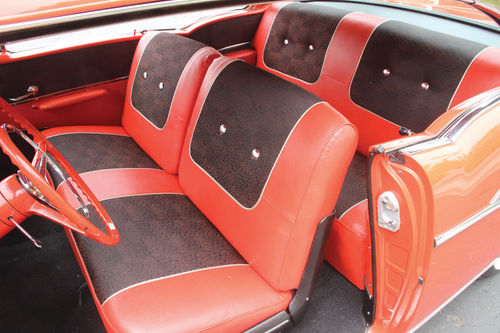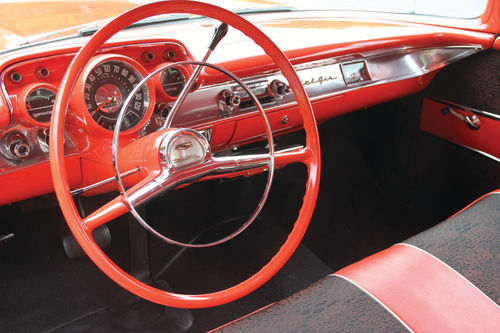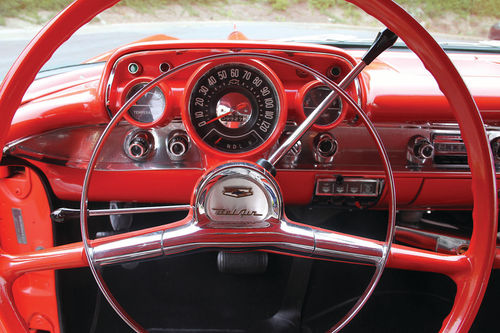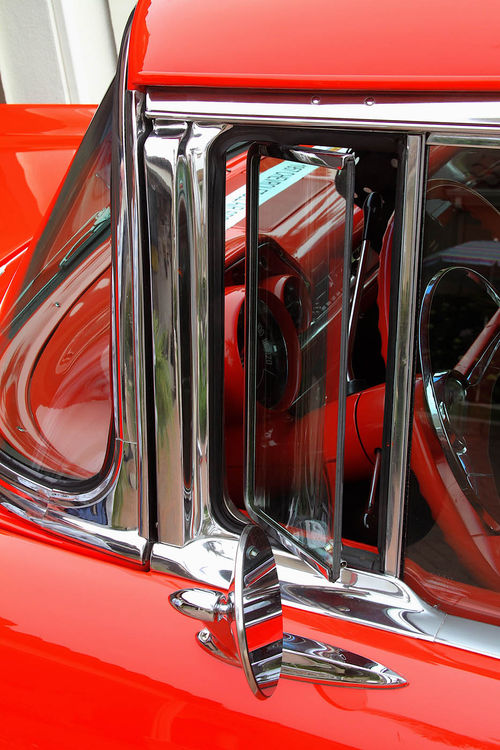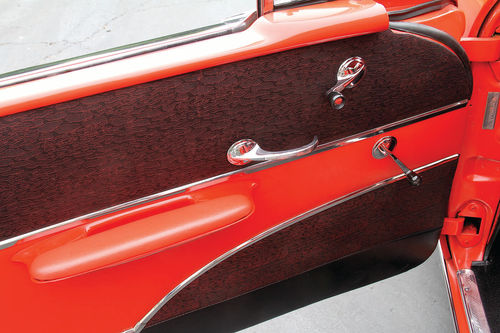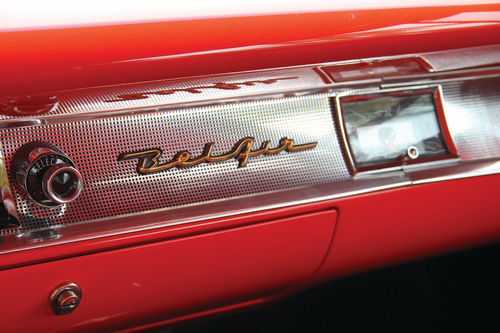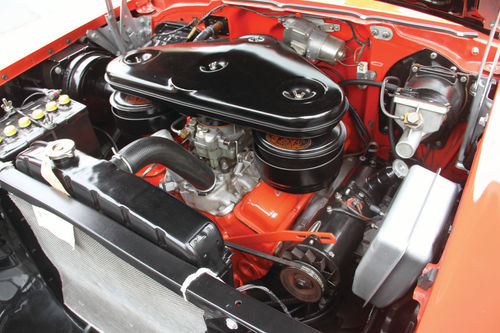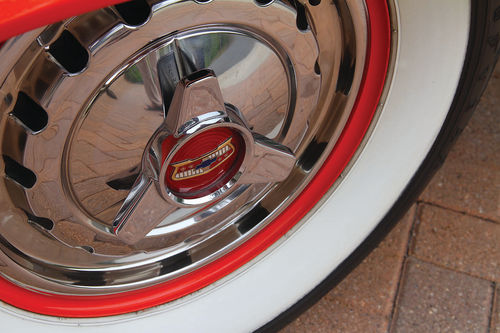 The Chevrolet small block that debuted in 1955 is arguably the best American production engine of all time. It is still being produced 64 years later as the Targetmaster 350 in Mexico, and hot rodders have shoe-horned it into just about every car imaginable including Jaguars, flathead Fords, and even a VW Beetle or two. In fact, Chevrolet still offers it today in their current models, albeit in much-evolved form.
In the early '50s, a V-8 was the engine to have, and Chevrolet's 235-cubic-inch six, though a tough, long-lived and time-tested engine, was becoming passé. So in 1955 Chevrolet introduced its second V-8. The company's first V-8 was a 288-cubicinch overhead valve engine that came out in 1917, but it didn't sell well. The second time around they got it right. The 1955 engine was more compact, more powerful, and lighter than the old Blue Flame six by 60 pounds.
Chevrolet lightened the new engine by truncating the crankcase at the main bearing parting line rather than extending it down past the main bearings as Ford had done with their Y block engines. The Bow Tie small block also had stamped steel rocker arms that pivoted on short stems rather than the cast rocker arms and shafts that were heavier, but typical of the time. Also, the small block's heads were identical from left to right, making production easier, and the intake manifold doubled as the lifter valley cover.
In 1955 the Chevys started eating up the competition on the stock car circuit, and the horsepower wars among the low-priced three were joined. By 1957 the 283-cubic-inch small-block was available with several performance packages, including its Ram Jet fuel injection, two Rochester four barrels as with Wesselman's model, or one four barrel, which was most common. And if you weren't in a hurry you could have opted for the standard two-barrel. The performance packages drank up fuel, but gasoline was a mere 24 cents a gallon back then, so few worried about it.
For the thrifty minded, Chevrolet still offered its tried and true 235-cubic-inch 140-horsepower Blue Flame six, that could get up to 20 miles to the gallon on the highway. And the tri-fives were available with Borg Warner electric overdrive, which made for even better fuel economy at highway speeds. Ford's six at that time was a little smaller, though it offered four more horsepower, and Plymouth still used their Depression-era flathead six, making 132 horsepower for their base models.
One Truly Loaded Vehicle
But Wesselman's sport coupe almost has it all, with power brakes, power steering, deluxe heater, Wonderbar radio, and red and black Bel Air deluxe interior. It does not have the Rochester fuel injection first offered that year, but it has the Turbo Fire V-8 with two four barrels which for most buyers then and now would be the prudent choice if you wanted the car for touring, because finding someone who knew how to work on the Rochester mechanical fuel injection was a major challenge in the old days, and an even bigger one now.
Rochester's Ram Jet fuel injection cost an extra $550 dollars, and as a result, not many cars were so equipped. Also, even though Rochester manufactured the injection system, it was actually developed in house by GM's Ed Cole and the legendary Zora Arkus Duntov, who was instrumental in establishing Chevrolet's race-winning performance during the '50s. Chevy took the NASCAR Speed Week Manufacturer's Trophy in 1957, despite Ford adding a McCulloch supercharger to their 315-cubic-inch Y block engine.
Art's Bel Air does not have air conditioning, which in shoebox Chevys took up the whole passenger side of the engine room, making it so that to check the Powerglide transmission fluid you had to put the car on a lift and remove a plug in the side of the transmission. Needless to say, due to initial cost, and maintenance, air conditioning was not as common as it is today.
There was also a Turboglide threespeed transmission that debuted that year, which was similar to Buick's Dynaflow in that it depended entirely on fluid couplings. As a result it was very smooth, but is was also complicated, and difficult to work on, and somewhat trouble prone, so it was dropped after 1961. Fortunately Wesselman's Chevy has the Powerglide automatic which— though only a twospeed—was rugged enough to be used in dragsters with a little tweaking.
It Won't Go Unnoticed
There are legions of us out there who would have considered a life of crime to afford a Matador Red Chevrolet Bel Air back in the day, and even now in my golden years I am tempted to take this car downtown and cruise Main to impress the ladies.
I surmise that classics such as this 1957 Chevy are so popular today because they were so popular when we were young. The idea that rarity is what truly makes an old car sought after is a myth. If a car was a magnet in its day, you can bet that it is still drawing attention today.
Unfortunately in my case, Art's beautiful Bel Air will have to remain sought after for the foreseeable future. After driving the car as much as I dare, it is time to return to reality. Art's wife Linda greets us at the curb and invites us in for iced tea and car talk as Wesselman wipes the car down and covers it in the garage. If it were mine I would be looking into a cosmic ray shield for it too.
Linda loves the car as much as Art does, and often drives it on VCCA tours, with Art doing the waving and grinning from the passenger seat. It is a favorite at the club's shows, and a great example of Chevrolet's halcyon days. Dave and I say our goodbyes and climb into my aging Saturn for our trip back to reality.