Is It a Vintage Car That's Fun to Drive or Is It Fun to Drive In? Either Way, the Owner Is Pleased With His Purchase.
OMETIMESTHEBESTthingaboutacar is that it's even closer to being perfectly right than its owner expected it would be when he bought it. "I went up to a friend's house toward Deposit, New York," said Charlie Bennett, the Equinunk,Pennsylvania, owner of the featured 1950 Plymouth Deluxe. "I was impressed. I said 'boy, did I make a good buy.'That was my first kind of long trip and it was on Route 17, a four-lane, so I was trying to stay around 55. It just handled. No problems, it didn't overheat or anything like that."
It was only about a 50-mile round trip, but that was far enough for Bennett to recognize how well his Plymouth ran and to decide that driving it just felt right. New York Route 17 through that area was a very different road in 1950; a winding two-lane connecting small towns with smaller ones, it was one for which Bennett's car would have been an excellent match when new. Plymouth by then was in the second year of its initial postwar design, but under the skin, it was a well-proven car with an approach that dated back to the 1920s.
An Answer for American Drivers
Chrysler Corp. debuted the Plymouth in July 1928 in New York City. Formally, it was the Chrysler Plymouth and "Walter P. Chrysler's answer to the low cost, highly reliable transportation needs of American drivers," according to W.W. Bivens, Plymouth's vice president of U.S. automotive sales in 1978. Bivens was writing in"Plymouth. Its First Fifty Years." Starting at $670—about $8835 today— the new Plymouth cost more than its future rivals, the $525 Chevy and the $460 Ford.
In the 1928 Plymouth, the buyer got a four-cylinder, 45-horsepower flathead, three-speed non-synchronized transmission and hydraulic brakes all around. It was more powerful than the others and went beyond their mechanical brakes, so by the time model-year production ended in February of 1929, it had sold 66,000 cars. Chrysler was obviously doing something right with the car and felt confident enough that in 1933, it gave the Plymouth a six. Like the four it replaced, the 70-horsepower six was a flathead and with that, the pattern was set for Plymouths through 1954. (For 1955, two overhead V-8s were added to the Plymouth line.) Meanwhile, the flathead six would gradually grow, styles would evolve and improvements would appear, but for the next two decades, the cars would see no radical changes.
When the United States suddenly found itself in World War II, the flow of civilian vehicles stopped early in 1942. When production resumed early in 1946, a cleaner grille and bigger bumper gave the Plymouth's front end a significantly fresh look while reshaped wheel wells changed the rear fenders. Under the hood, the 95-horsepower, 218-cubic-inch six was back, but unlike other Chrysler products of the time, Plymouth offered neither Fluid Drive nor any semi-automatic transmission. A Plymouth was a three-speed stick. Period.
The 1942 Plymouth and its postwar derivatives were pleasant cars offering little basis for genuine complaints, especially since nearly the entire American auto industry in 1946 was building 1942 models with minor changes as a means to meet the demand for new cars. But the Big Three and the established Independents knew that the sellers' market existed only because new cars had been unavailable during the war and that sooner or later, brand-new old cars would no longer be competitive. Studebaker led the way with an all-new 1947 model and the rest of the industry gradually followed. Plymouth's turn came during the 1949 model year when along with the other Chrysler divisions, it introduced a 1949 second series. The first-series cars had been identical to the 1948 Plymouths and with only the most minor exceptions, the 1948 Plymouths had been identical to the 1946 cars.
Fresh…But Still Very Practical
The second-series cars were Plymouth's fresh postwar start. The roundness and curves were toned down considerably as the roof was flatter and the sides were smoother. Although the rear fenders remained separate from the quarter panels, the front fenders were now much better integrated and the hood was wider. The suicide doors in back that had been the previous body's last link with the prewar era were gone and the only bit of visual continuity came in the grille. The drivetrain was another matter as the 218— now producing 97 horsepower—still drove through a three-speed transmission.
Philosophically, a Plymouth was still a Plymouth just as it was still "Walter P. Chrysler's answer to the low cost, highly reliable transportation needs of American drivers" and that meant the emphasis was on practicality.
The second-series 1949 Plymouth and its Mopar siblings, though, have often been sniped at for being perhaps too practical. Their high, boxy design ensured maximum interior space and to describe them as "boxy" is accurate.
But where the Plymouth noticeably differed from the Chevrolet and the very differently styled Ford that year was in its availability with two wheelbases.
All Chevrolets rode on a 115-inch wheelbase and all Fords measured 114, but the Plymouth buyer could opt for 111 or 118.5 inches. The shorter car was a Deluxe and it was offered as a business coupe, fastback two-door sedan or steel bodied two-door wagon, but a longer Deluxe was available as a four-door sedan or a club coupe. The upscale model was the Special Deluxe and it was built only on the longer wheelbase. Its range included a club coupe, four-door sedan, convertible and wood-bodied four-door wagon.
All of those choices carried over onto the barely changed 1950 Plymouths and as a four-door Deluxe, the feature car is the long-wheelbase version. Bennett wasn't looking for one when he met its owner at a car show in 2004 but his attitude changed quickly.
"He said he had an old Plymouth that he'd just gotten," he recalled. "I looked at it and I just fell in love with it when I saw what good shape it was in, but he didn't want to sell it just then. So I Told him I was interested in it and about a month or two later, he called me up and said 'are you still interested in that Plymouth? Well, I'm getting ready to move. I'm interested in selling it, so why don't you come up and we'll talk about it?' So I went up."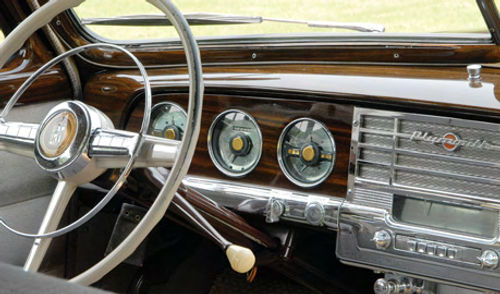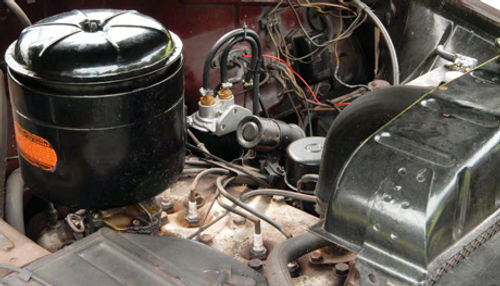 The Plymouth Had no brakes, thus ruling out a test drive, but negotiations nevertheless got underway and when the deal was made, the seller agreed to have the brakes in working order when the sale was finalized. Bennett didn't get to drive it immediately upon taking ownership, though, because it was delivered on a trailer. Finally, the temptation became too great to ignore.
A Chattering, Shaking First Drive
"I was monkeying around with it," he said, "and we've got a back road here, a dirt road. 'I'm going to take it down the road and see what it does.' I put it in first, let out the clutch and it chattered like the devil. It shook the whole car, but I got it going and took it on the back road. As soon as I'd step on the gas, this noise would start up. I'd let up on the gas and it would stop.
"Long story short, I found that on the one rear motor mount—I call it a transmission mount because it's right on the transmission, but it's referred to as a motor mount—the rubber was gone and so the engine was sitting tilted a little. Whenever I'd step on the gas, the torque would twist the engine a little more and the block would come in contact with the firewall and that's what was making the noise. I could never figure out where it was coming from because it would only do it while I was driving it and it sounded like it was coming from everywhere."
1950 Plymouth Deluxe
GENERAL
Front-engine, rear-drive sedan
ENGINE
Type Flathead inline six
Displacement 218 cu.in.
Bore x stroke 3.25in.x4.75in.
Compression ratio (:1) 7
Carburetor Single-barrel downdraft
Power 97 hp@3600rpm
Torque 175 lb.-ft.@1200rpm
DRIVETRAIN
Transmission Three-speed manual
Rear End Hotchkiss
SUSPENSION & BRAKES
Front Independent, coil springs
Rear Leaf springs
Brakes (f/r) Drum/drum
MEASUREMENTS
Wheelbase 118.5 in.
Length 193in.
Weight 3062 lb.
Height 66in.
Width 74in.
Track (f/r) 55 in./58in.
Tire Size 6.70 x 15 in.
Tracking down the source of the problem was a matter of careful observation as he said that while looking at the engine and trying to come up with possibilities, he noticed that the block wasn't square to the firewall. One corner of the engine was slightly closer, so he tested the theory by placing a piece of rubber in the space and then taking a drive. The noise was gone and that led to the bad mount, but there was better news.
"Itran like a top,"Bennett Said, "and I was impressed with it…Smooth, quiet."
That's more than just opinion; among the other antique cars he's had was a 1950 DeSoto and that experience provided some background on what to expect from the Plymouth. He said the feature car is the first he's owned that needed help, but he qualified that statement.
"There wasn't a whole lot to do to it," he said, "just minor stuff.
"We did the brakes; all the brake shoes, all the wheel cylinders and we did the rubber brake lines, but the metal ones we left alone. We did the motor mount, got the lights working and since the gas gauge wasn't working, we put a new sending unit in and took care of that.
"The other thing is that in the first weeks and months that I had it, it let me down a couple of times. I'd be going along and just like I'd turned the key off, it would just die. No spitting and sputtering, nothing. I didn't know what was doing that, but I figured that I hadn't done a tune-up on it yet and so I'd do a tune-up because I'd have to do that sooner or later anyway. I did the points, condenser, rotor, distributor cap, plugs. I never changed the plug wires. But when I got the distributor cap off, I was looking through the old one. It's got a spring-loaded contact on the top that makes contact with the rotor. I touched it and all of a sudden, it popped down. It had stuck. That took care of that problem. Just by accident, I discovered what the problem was.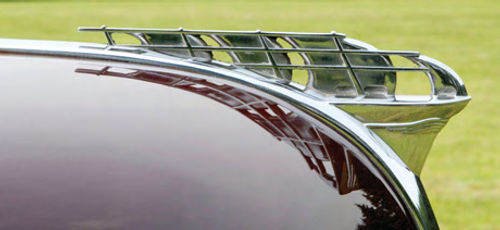 "What else? I drained and replaced all the fluids."
Low Mileage Equaled Good Condition
The Plymouth's good luck extended to the body, even if it really didn't appear that way at first.
"On the hood, the roof, the trunk and the tops of the fenders," Bennett Said, "it was just like it was sunburned."
The initial impression, it turned out, was a textbook example of the old cliché about judging the book by its cover. Plymouths like this one, as well as other comparable Chrysler products, were well built and capable of long lives, but they weren't immune to rust. Most of the potentially damaged areas are the ones typical on cars of the time such as the floors, rocker panels, lower doors, inner fenders, front fender heels and quarter panels, but some additional points can be trouble. Serious rust on the door sills, particularly at the posts, can be difficult to notice unless all of the doors are opened, just as rust at the bottom of the trunk opening might remain hidden while the lid is closed. The edge of the rear fender— Plymouth still used an actual rear fender and bolted it to the quarter panel—along the body is a prime candidate for rust.
Any of that damage would have been less than surprising on a car that looked "like it was sunburned," but the real surprise came in a different way.
"It just needed paint," Bennett said. "Everything was good. The floorpans, the trunk, underneath, the frame."
A solid body with bad paint still needs plenty of work, especially when it's being stripped to bare metal. The fact that the Plymouth Had just one damaged panel to be dealt with sounds like a nice break; the complete description explains why Bennett chose to remove the paint, but leave the damage to be repaired by the body man who would be painting the car.
"Right at the peak of the roof,"Bennett said, "there was a dent. Something fell on it. He did it in no time. I couldn't believe it. If I'd have done it, I would've gone over it more and sanded it and sanded it before I got it right. He was done just like that."
The upholstery and gauges are original as is the woodgraining, where the only significant deterioration is wear from the driver's leaning his arm on the window surround.
"Somebody must've taken pretty good care of it," Bennett said. "I'd like to know what the story is. How did it manage to stay in that good a shape?"
Part of the reason is not hard to guess as the Plymouth was a moderately low- mileage car—it showed 52,000 miles— when he bought it. Nevertheless, it had covered enough distance in its working life that it needed shocks and Bennett replaced what might have been the originals with coil-over units. Realistically, the new ones should last for a very long time since he drives the car sparingly. But it's not because he doesn't trust it or because he's concerned about wear and tear.
"I worry about it," he admitted. "(It's about) having an accident. Somebody running into me. Me running into something."
The car, though, is certainly capable of more than occasional short trips and could easily serve as everyday transportation if necessary. It has a lot going for it beginning with the fact that Chrysler knew what it was doing when it came to flatheads. In addition to fours and eights, a series of sixes similar—but not identical—to that in the feature car seemed to go on forever. Chrysler and DeSoto last offered flathead sixes in 1954 while Dodge and Plymouth continued to do so through 1959. They went on in Dodge trucks into the 1960s, served in industrial applications and earned a reputation for durability, quality and smooth performance at a moderate pace.
And while the Plymouth certainly has charm, it has it in an understated way. They can't always identify it, but other drivers notice it on the road and those who see it at car shows are interested in it.
"There are always a few people who are attracted to it," Bennett said. "They just kind of hang out and linger."
Furthermore, he said he hasn't come across another like it.
"I've seen different years, a few years older, but I don't think I've ever seen a '50 Plymouth," he explained. "That's one of the reasons I go to car shows, to see whether I can spot another one. I think they just weren't that popular. I don't think they were preserved; they weren't saved. I think they just went to the junkyards."
That last part sounds cold-blooded, but if it's true, then it's probably safe to say by extension that people still aren't really interested enough to restore them. That sounds cold-blooded, too, although it really means that a Plymouth like the feature car is a great value; the combination of affordability, comfort, reliability and drivability gives it a high place on the list of cars that are often and undeservedly overlooked. On top of all that, its complicated nature and good support make it a wise choice as an entry-level collector car. Practicality, though, still isn't everything.
"I'm different that way," Bennett said. "I don't think they're a whole lot of fun to drive; the fun part to me is just being in an old car. The atmosphere kind of takes you back."
In terms of language, the difference between driving an old car and driving in an old car is a subtle one, but regardless of whether they'd agree, most hobbyists would likely understand Bennett's position that the latter is the fun part. The Plymouth is a great car on the road either way, of course, especially when the road is an older two-lane highway not much different from what Route 17 was in 1950.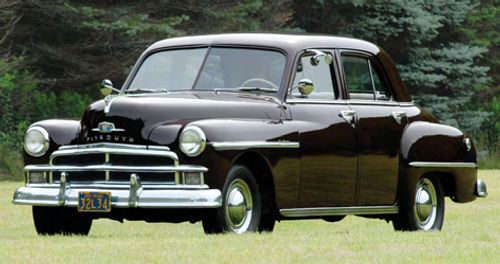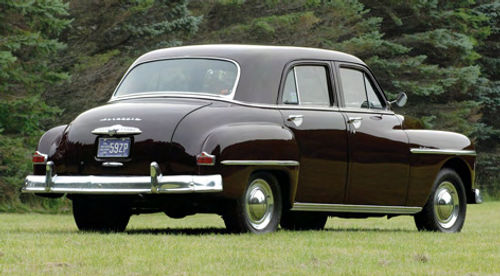 A Likable Car
Before starting out, Bennett cautioned that the clutch would probably feel stiff and added that he'd needed time to become comfortable with it. He was right, but like the similarly stiff shifter and the tight steering, it seems appropriate on a car showing less than 60,000 miles. In fact, the low mileage and mostly original condition show themselves in other ways. The body has neither rattles nor creaks while motoring along on a twisting country road and the flathead engine is almost silent.
"I've had people in Equinunk come up to me after I drive past their houses and say 'boy, that's quiet,'" Bennett noted.
The car is quiet enough to hear the gears as it's winding out and whatever those gears are, they're on the low side. They keep the downshifting to a minimum on some fairly steep hills despite the combination of 97 horsepower and 3000 pounds just as they contribute to the mildly surprising acceleration. Add to that a chair-like seat with a good driving position and it seems perfect for hours and hours of driving. Bennett thinks that might be overstating the case a bit; if he took the car on a long trip, he said, he'd probably use a cushion to provide some added back-support. Carrying an extra cushion would be a small price to pay.
Covering a few miles provided a feel for the car and covering 40 or 50 would be enough experience to set out with confidence on a two- or three-day trip. The Plymouth is just an easy car to drive and if it has a personality, it's a likable one. Bennett said that he hadn't considered that when he thought about buying the car.
"That was a plus," he said. "I liked it because it was in such good shape. I said 'this is a great old car. I've got to have it.' And then after I got it all restored, I liked it even more. I said 'wow, I got a pretty good deal.'"