Special Report Larry's Product Reviews
This Restoration Pro Works With a Lightweight Electric Grinder, an Oil Stain Remover and a Metal Shaping Tool.
Porter Cable 4 1 ⁄2-Inch Electric Grinder
Here is a great little grinder: The Porter Cable PC750AG Angle Grinder. This unit weighs in at a mere seven pounds yet cranks out 10,000 rpm. That's enough power to easily smooth all of those rough welds and not wear out your arm getting it done.
I made the switch from pneumatic to electric some time ago for the simple reason that the electric grinders,such as this Porter Cable unit, produce less vibration and spin at a more consistent speed. I also like using the 4 1 ⁄2-inch disk because its small diameter allows better access to tight spots and more control over the machine.
You can find Porter Cable products at your local home improvement center or anywhere else quality tools are sold. You also can find your nearest retailer by contacting the company. We Checked several locations and found the grinders priced from $40 to $60.
Porter Cable—4825 Highway 45 North, Jackson, TN 38305; portercable.com
Oil Gone Easy Home & Driveway S-200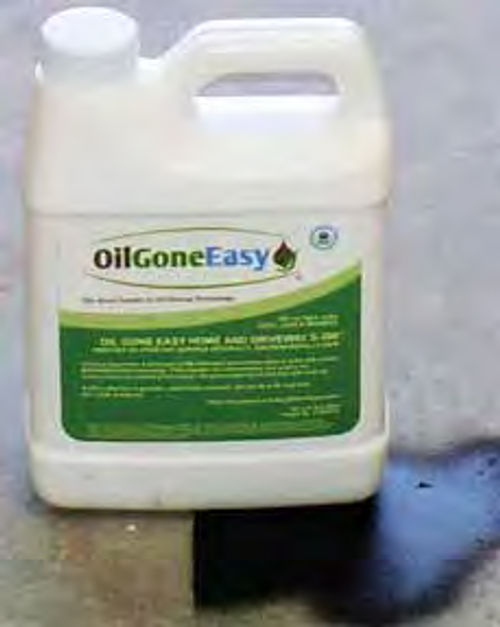 Tired of those impossible-to-remove oil stains on your driveway and garage floor? They happen, especially if your vintage ride is forced to sit through the winter. Oil drips from the crankcase and you never see it until that first drive after the snow has gone. That's three or four months of black oil soaking into the concrete and then it's there forever.
At Least It Was until Oil Gone Easy came along. This stuff removes both oil and fuel stains from concrete, asphalt, flagstone, brick and pavers. Just pour it on and let it set. In less than two weeks the stains are gone. No wiping; no scrubbing.
Oil Gone Easy will biodegrade the oil or fuel and then dissolves naturally, no nasty chemicals to deal with, no danger to the environment. The MSRP is $20. You can find Oil Gone Easy at:
Oil Gone Easy—138 Weston Road, Weston, CT 06883; oilgoneeasy.com
Editor's note: You also can prevent stains by parking your vehicle over the Drip Trap pad that was reviewed on page 32 of last month's issue.
Fender Finishing Tool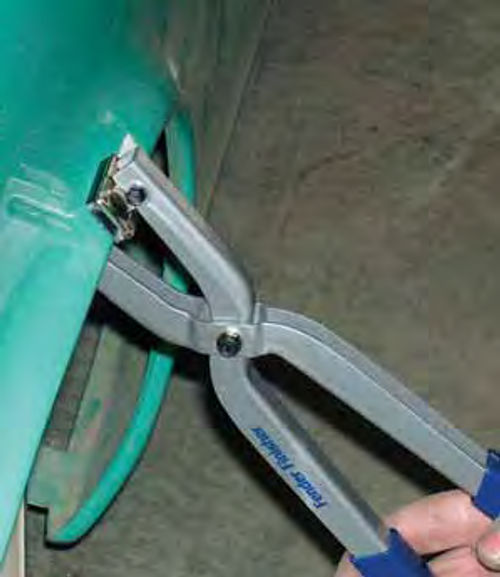 Fat tires equal damaged fenders and gouged side walls. That's because hard turns and bad roads force these tires up and into the inside lips of the front fenders.
In the old days we used a body hammer and a padded dolly to carefully roll the fender lips up to where the tires wouldn't catch them. That method worked pretty well, but the process often left the paint cracked and the outside edge of the fender dented and ugly.
Eastwood has come to the rescue with a new tool designed to easily roll any fender edge and stop the tire-caused damage.
The Fender Finishing Tool #11537 ($80) works much like an elongated pair of pliers to gently reform any fender edge. The "grips," if you will, are padded and non-slip. They won't damage the paint and you don't have to remove the tire to gain clearance to use the tool.
When I tested the tool I immediately found another use for it. Eastwood doesn't mention thisfeature in its catalog, but I had great results crimping the edges of new doors' skins. Sure beat the heck out of a hammer and dolly.
The Fender Finishing Tool is an Eastwood exclusive. Give them a call, browse their catalog or click on their Web site. Eastwood Co.—263 Shoemaker Rd., Pottstown, PA 19464; eastwood.com