How -to The Basics of Frame Restoration, Pt. 2
This Time, We'll Look at Powder Coating or Painting the Frame. We'll Also Consider a New Replacement Frame.
LAST MONTH WE discussed the types of frames you're likely to encounter in your projects, and then looked at frame disassembly, clean-up, repairs and blasting. We also reminded readers that once a frame has been blasted clean, it needs to be primer coated immediately to avoid flash rusting. In this second and final installment, we'll cover different types of frame refinishing as well as the building of new frames.
Ways to Refinish Frames
When it comes time to refinish a car or truck frame, there are two main options: painting or powder coating. It's true that some hot rod and custom cars feature chrome-plated frames, but that specialized type of finish involving a plating facility is rarely encountered and isn't a consideration for your restored driver.
In the powder coating category, restorers now have a choice of going the do it-yourself route with a home powder coating system or hiring the powder coating work out to a specialty shop. In both cases the actual powder coating products would be about the same, but the equipment—and experience—used to apply them could vary.(Do-It-Yourself powder coating guns and kits, such as the one from Eastwood seen on page 15, generally run from around $100 to $250, but keep in mind that they do require a compressor as well as a dedicated electric oven for curing the finish. You don't want to cure powder coated components in an oven that's also used for cooking food.)
Powder coating fans often argue that their choice is the "ultimate" way to go for a good-looking, durable finish that is dent- and chip-resistant. On the other hand, those that push paint as the best option are quick to disagree andpoint to what they see as several advantages of their preferred method. Since most of us will go one way or the other, it seems like a good idea to take a closer look at both powder coating and painting.
Powder Coating a Frame
In conventional spray painting, solids are held in suspension in a liquid carrier which must evaporate off the sprayed component before the solid paint coating will adhere. In powder coating, dry particles are applied to the component and heat cured.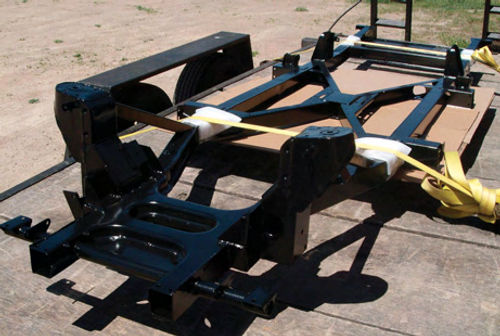 Many automotive restorers don't realize that powder coating has been around since the '60s. But, as you might expect, the latest powder coating products are vastly improved over the early ones.
One method of applying powder coating, called the fluidized bed method, generally is limited to factories and large shops because of the tooling involved. This process generally calls for heating the automotive part and then dipping it into an aerated, powder-filled bed which may or may not be electrostatically charged. The powder sticks to the hot object and melts, but additional heating usually is required to finish the curing process.
The most common method of applying powder coating to metal components, however, is to spray the powder with an electrostatic gun. The gun puts a positive electric charge on the powder, which is then sprayed toward the grounded component by compressed air and also drawn toward the automotive part by the powerful electrostatic charge. There are no problems with overspray, because any particles that miss the target can merely be swept up afterward.
Once it's been sprayed, the part can be placed in an oven or baked with powerful heat lamps so that the plastic powder particles melt and coalesce to form a uniform film which is then cooled to form a hard coating.
Two main types of powder are used. Thermoplastic powders re-melt when heated. Thermosetting powders don't remelt. During the curing process, a chemical cross-link takes place at the curing temperature. This chemical reaction gives the powder coat most of its desirable properties.
Proper preparation of the frame is important when powder coating. Blast the frame to remove rust and to profile (roughen) the surface. Use a dual-action sander to remove any distortions in the metal, then apply an iron phosphate chemical pre-treatment. Add any filler needed to smooth the frame and sand with your dual-action sander.
Once the frame is smooth, apply the base color and block sand the entire frame the same way you would block sand to smooth out a skim coat of regular paint. Apply your base color a second time and color sand the second coat. Once the frame is coated, you can bake it in a big oven or under special heat lamps. (Eastwood has these lamps with a 6-foot stand for about $430.) Proper baking can help to remove orange peel in the finish.
Finish by applying a clear coat, wet sanding and buffing. When sanding powder coating you probably will find that it does not "ball up." A well-done job of powder coating will fill a lot of imperfections in the metal frame and make it look smooth.
In our shop we had a 1960 Daimler sports car frame powder coated by a shop that does racing car and dragster tube frames. This shop has an oven large enough to fit in the entire frame and most people who have seen the refinished frame are very impressed by its appearance. It has a nice satin black finish with hardly any orange peel. (A photo is on page 14.) The frame was a bit rough to begin with and after the powder coating was done, most people thought it was brand-new.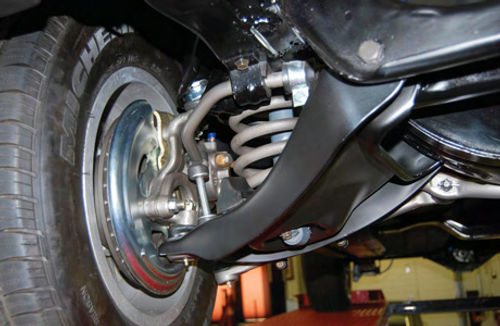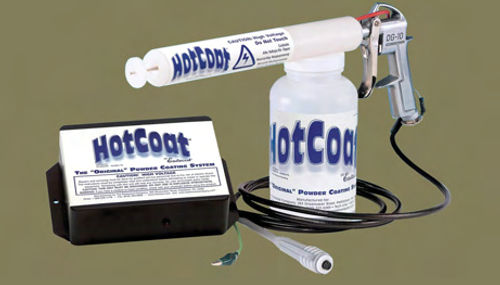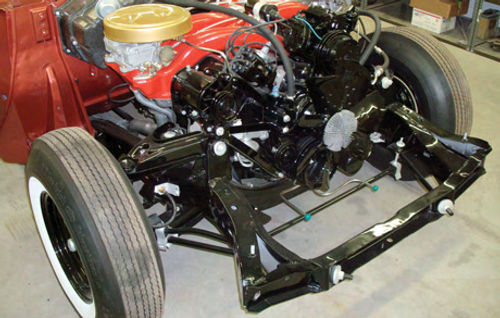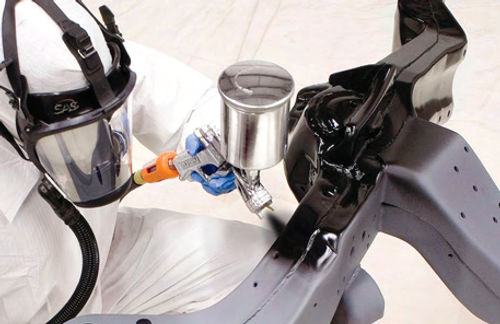 During his every-nut-and-bolt restoration of a '69 Camaro Z/28, Larry Fechter of Iola, Wisconsin, powder coated the frame using a home powder coating kit and special heat lamps sold by Eastwood. He powder coated a section of the frame at a time and kept moving the heat lamps to cure one powder coated section at a time. While it took an investment in equipment and lots of patience, the end result on Larry's car was a beautifully finished, durable frame.(There's a photo of part of the frame on page 15.)
Given Fechter's equipment costs and time, his first powder coating job may have cost more than if he'd had it done by a commercial shop. Depending on location, commercial powder coating on a frame could cost between $225 and about $900. So, he will probably have to wait until the second time he uses his system to start realizing savings. But he has had the satisfaction of doing his own work and the fun of "doing it all himself" when it comes to a restoration.
Painting a Frame
Cost is the main reason that many hobbyists prefer painting a frame to powder coating it. Powder coating is usually more expensive, although Internet chatter suggests it's available, in some places at least, for incredibly low cost. Some restorers, however, say that paint gives a more "factory correct" look.Chrysler Fin car restorer Jerry Kopecky says that he doesn't use powder coating because it is too permanent as a finish. He thinks that paint is better because a future owner of the car might want to make changes or repairs to the refinished frame.
Kopecky likes to squirt glossy black paint on a frame using a conventional spray gun. It is his opinion that most classic car owners prefer the use of glossy paint on a frame, even if the frame was originally a satin black color. "Shiny shows better," Kopecky says. However, he will provide whatever the customer asks for if the glossy finish isn't wanted. Jerry fillsrust craters and other imperfections, so the frame is super smooth and new-looking when done.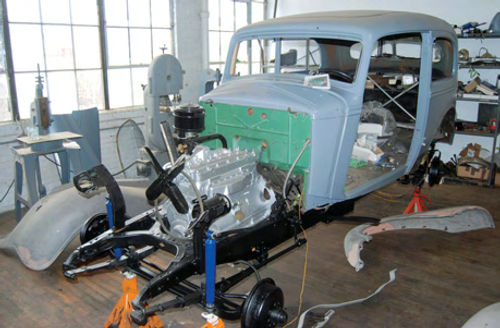 Some restorers prefer to use the various "frame paints" that specialty suppliers have introduced to the market. For example, a product called POR-15 has been around for a long time and Eastwood has developed different lines of frame paints that it calls Chassis Black and Rust Encapsulator. In our area we have Fleet Farm and Farm & Fleet Stores that sell their own frame paints that some restorers swear by.
Some of these paints can be applied by brush and they smooth out very nicely as they dry. Others can be reduced for application with a standard paint gun, although it is a good idea to carefully clean the gun immediately after their application. Eastwood's Rust Encapsulator also comes in spray bomb-style cans, which makes it convenient for many hobbyists to use.
Tests of these products have been published over the years and all of them workwellif applied carefully;following all of the instructions on the can. Since these are designed to adhere to and protect frames, some tend to have thick pigmentation and this can become a problem if you let them sit on the shelf, instead of using them promptly. POR-15, on the other hand, is very thin and watery. It tends to drip if you do not closely follow the can instructions. These products are a little more expensive than regular paints, but they generally do a better job of protecting a car chassis or frame for a long period of time.
John Slusar of Milwaukee has developed his own frame painting system using Rust-Oleum paints and he swears by it. Judging by the appearance of the 20 or so cars he's done, Slusar's technique works well. He starts by having the frame cleaned of oil and sandblasted. Next he applies a primer, then he puts on four coats of black Rust-Oleum using a paint roller. He waits for each coat to dry thoroughly before applying the next one. Finally, he uses black Rust-Oleum in a spray can to cover the areas that he can't reach with a roller.
Building a Frame
In today's collector car world, "restomods," partly restored and partly modified, have gained in popularity. Some resto-mods feature a hot rod style sub frame swap or use a modified original frame fitted with one of the popular sub frame swaps such as the Nova or Mustang II front end
A second type of resto-mod is made by dropping the restored body of an older vehicle onto a brand-new, high-tech frame. These vehicles are built much like a racing car, where the body is something of a functional "decoration" dropped on top of a strong, totally independent tubular framework.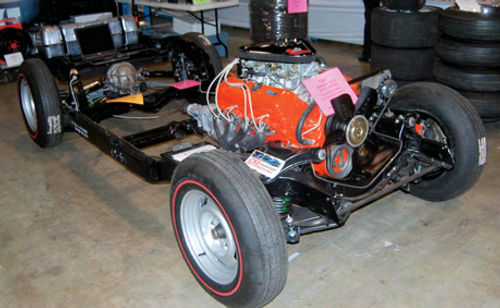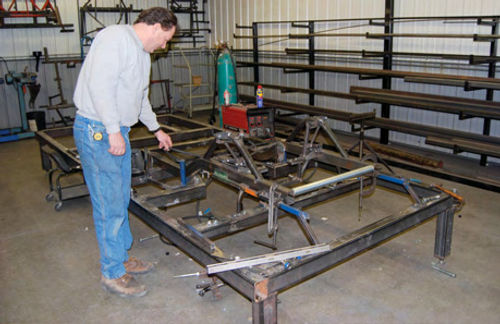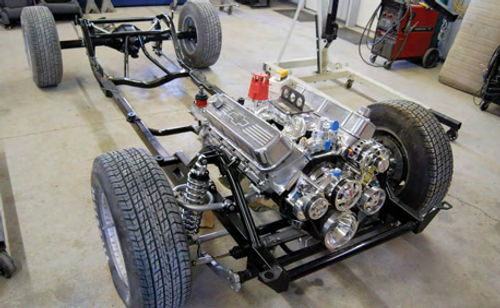 That tie to racing cars has been an asset for former NASCAR driver Rich Bickle as he operates his Muscle Up Performance and Rod Shop in Janesville, Wisconsin, (muscleupperformance.com). Bickle's shop does stock restorations, butthe ready-to-bolt-in resto-mod chassis is the specialty of the house. Muscle Up specializes in frame replacements for a wide variety of '60s and '70s General Motors and Ford cars, but it also can design and construct a new frame for just about any muscle car, truck or hot rod restoration project.
The full-frame replacement chassis are precision designed, fully jigged, mandrel bent and welded to specification to provide added strength and product integrity. Each frame includes body mounts and core supports for do it-yourself applications.
The frames' design allows for coil over or air ride suspension and rack-and-pinion steering. Both automatic and stick shift transmissions can be installed, and mounts for small- or large-block engines are available. An integrated brace in the middle of the frame provides exhaust passageways that can accommodate up to 3-inch diameter exhaust pipes.
Bickle has chassis available for 1964-72 GM A-body cars, 1967-81 Camaros,1962- 67 Novas, 1953-62 Corvettes, 1958-64 Chevy Impalas and 1947-52 Chevrolet Pickup trucks, 1965-70 Mustangs, 1966- 67 Fairlanes and 1947-52 Ford pickups.
Some 1960s cars, especially, were known for having problems with severe chassis and frame rust. Frames such as those supplied by the Muscle Up shop provide one avenue for bringing such cars "back to life" again.