The story of how "Fizzolino," a 1998 Piaggio Ape from Italy gets completely transformed into a tap truck – serving Prosecco now!
Katie Currid and her husband Tyler were living in beautiful Vincenza, Italy, (which is near Venice) during Tyler's military tour overseas. Italy is well known for many things, including tiny micro cars and, of course, wine. Katie thought why not combine those two and start their very own tap truck business?
The search for the perfect little tap truck began – and they soon fell in love with a Piaggio Ape and knew this was the one. Going through customs with an Italian vehicle (the man who ran the processing office at the military base told Katie that no one had tried to ship one of these before) plus the restoration process was quite the journey, but well worth every step and resulted in the creation of "Fizzolino," Kansas City's first Piaggio Ape tap truck.
Where Did the Piaggio Ape Come From?
Piaggio, which owns Vespa, started making these three-wheeled trucks called "Ape" after WWII because they were easy to drive over rubble. (The word "Ape" translates to "honeybee" in Italian and is pronounced like "ah-pay.") Taking a closer look at the interior, these trucks all look like a Vespa; the "steering wheel" is actually the same as a Vespa's handlebars, complete with the handlebar brake as well as the hydraulic foot brake. Fizzolino is considered to be a "Cross Country" Ape and has a two-stroke engine (like a lawnmower). Piaggio also made a Panel Van and a Pickup style Ape. After the war Apes often became farm trucks, and occasionally they were used for racing, which Fizzolino was prior to its tap truck transformation (notice those snazzy racing flames on the old paint job).
The Idea for a Tap Truck Business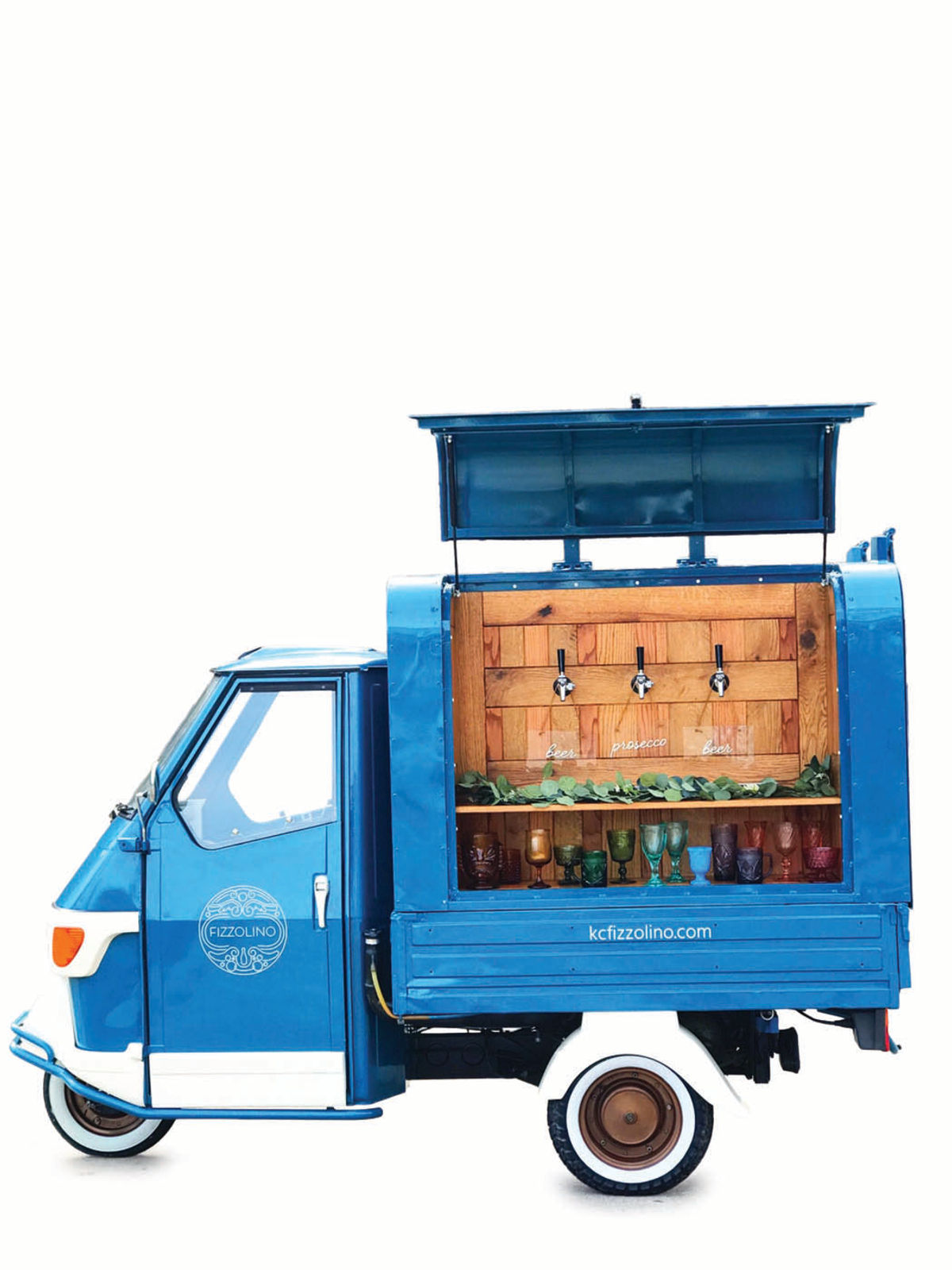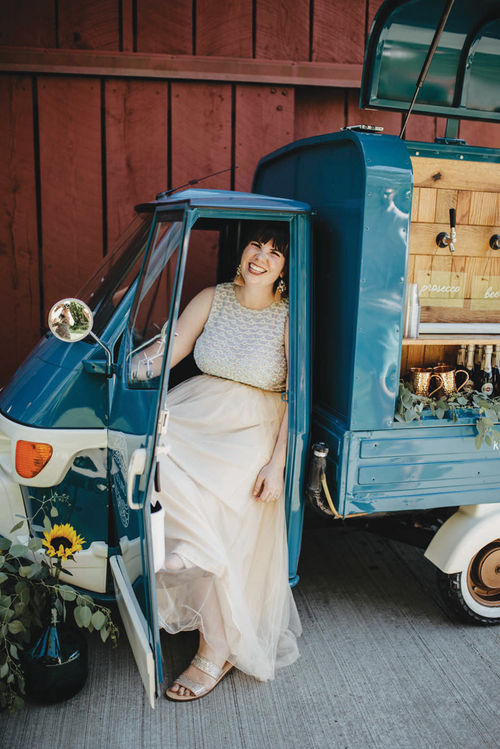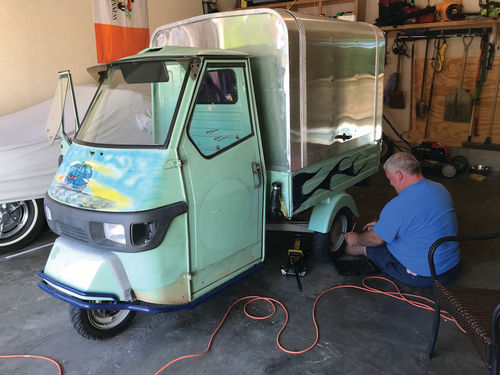 While Katie and her husband Tyler were living in Vincenza during Tyler's overseas military duty, they had long admired the little Piaggio Apes driving down the Italian roads (often driven by a large man, making a very comical picture). They thought it would be a perfect idea to transform one into a tap truck for a future business for when they returned to their hometown of Kansas City (after Tyler's active duty service ended).
So where does "Fizzolino" come from? In Italian, "-ino" is the suffix used to describe something small. Katie named their Ape "Fizzolino," which means "little fizz" in Italian and is the perfect name for a tiny tap truck business!
Once Katie and Tyler decided they needed an Ape, they searched Italy's version of Craigslist (called "Subito") and Facebook Marketplace and finally found their 1998 Ape through Facebook Marketplace after six months of searching. It was listed for sale by the Brunello family, who were very excited to have Katie and Tyler purchase their Ape. They wanted to see their Ape go to America.
The day that Katie and Tyler were supposed to pick up Fizzolino, Katie went into labor with their son, Fox. They had to wait three weeks postpartum to pick up Fizzolino and then start on the process of getting Fizzolino through customs.
Journey to America
The sheer process of bringing this small vehicle overseas was incredible. In addition to all the necessary paperwork, Katie and Tyler had to clean every inch of Fizzolino before it could be approved by customs. That meant scrubbing every millimeter clean (even using toothbrushes!) and bringing it to an inspection crew (complete with white gloves) to have it examined. The first time through this process, Fizzolino wasn't quite clean enough for the inspection crew and Katie and Tyler had to clean it again; they powerwashed it twice and scrubbed every speck of dust off before bringing it back to be inspected again. The second time was a charm and Fizzolino was on its way to America!
Once Fizzolino had safely made it across the ocean and arrived in Kansas City, there was a small speed bump with the unloading process. The ramp for the moving container that it was in wasn't suitable for a three-wheeled vehicle; most ramps have a space in the middle and are built for four-wheeled cars (or a motorcycle, since that could go down one side of a ramp). A new ramp was provided, though, and Fizzolino was finally in its new home.
Spec Sheet: Cross Country Ape 50
Engine........................50cc petrol 2 stroke single cylinder
Max power (kW)........................1.8kW at 5500 rpm
Transmission........................4-speed plus reverse
Max speed (km/h)........................38
Tank capacity (l)........................10
Consumption at 25 kph (no load)........................35Km/It
Front suspension........................Swinging arm with coil spring and shock absorber
Rear suspension........................Indpendant with coil spring and hydraulic shock absorber on each wheel
Brakes................Rear: hydraulic with foot control. Mechanical lever operated on handlebar. Rear wheel emergency brake.
Lenght (mm)........................2530
Wisth (mm)........................1260
Height (mm)........................1550
Wheelbase (mm)........................1590
Bed size (mm)........................1350 x 1140
Maximum slope gradient (no load)........................18%
Turning circle........................6m
Payload (kg)........................185
The Restoration Process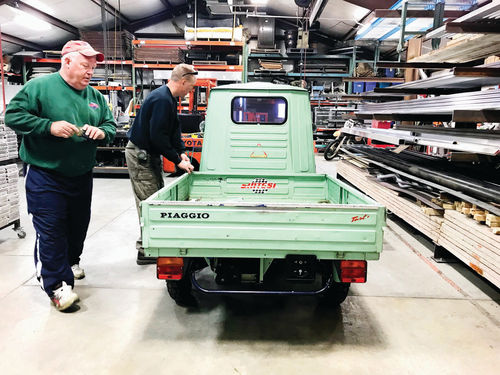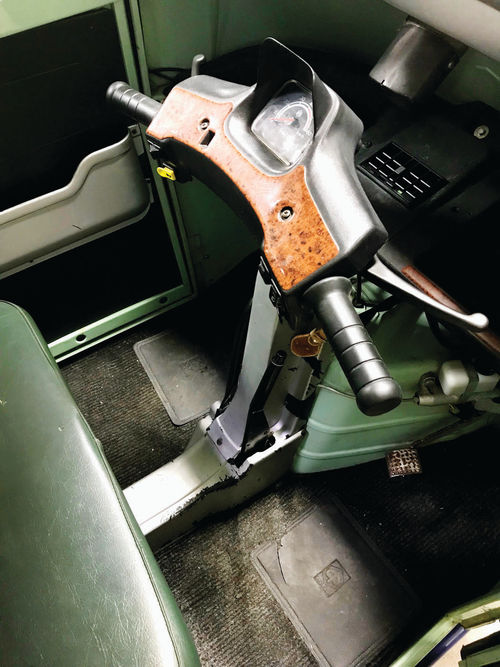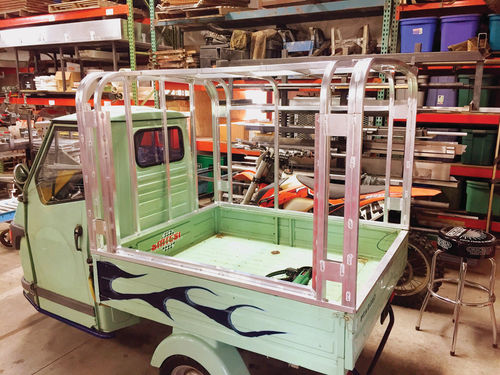 Katie Currid's father, Jim Currid, who is an experienced mechanic, explains some of the restoration process that he performed on Fizzolino. While Fizzolino was in fairly good condition, there were a few things that needed to be tuned up, replaced or modified. This restoration process took around six months; as you can imagine, the local hardware store doesn't carry replacement parts for a Piaggio Ape and all the parts had to be sourced from Italy.
The 50cc 2-cycle engine, which is about as big as one on a chain saw, had a bit of a tune-up and will now go at around 20 mph. New shocks, struts and a new air filter were all put in place and the carburetor was removed and cleaned. The driveshaft seals as well as some of the engine seals were replaced. All of the cable runs for the clutch and brakes were adjusted. All three split rim wheels were removed, sandblasted and received new whitewall tires and tubes. The leather seats were all redone as well.
"From there we started the customizing on the shell where it was designed for light weight with aircraft aluminum," Jim says. A local specialist in aluminum helped the Currids to customize Fizzolino's shell. Fizzolino weighed 600 pounds before the customized shell and now weighs a grand total of 1100 pounds.
Two access doors were put it; one where the taps are and the other, a rear door with pneumatic cylinders, is where the kegs are loaded in.
Katie chose the new two-toned color scheme for Fizzolino: a royal blue with a cream white accent (although those racing flames painted down the side were cool, they weren't quite right for a tap truck business). She drew her inspiration from a coffee shop in Venice, Italy, called the Florian, which she explained had the "rustic modern" look she wanted for Fizzolino.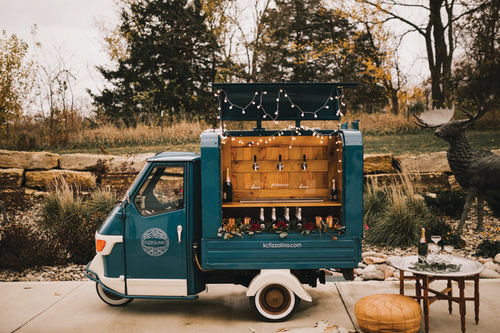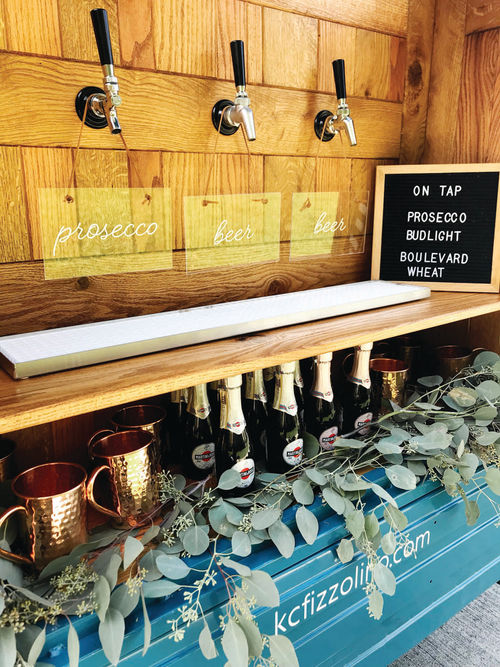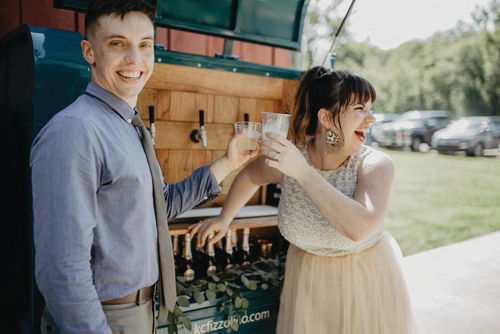 Once the exterior was completed, the Currids moved on to the interior. The shell interior (the side panel interior where the keg taps are located) has a red and white oak accent, stained with a medium oak and sealed with five coats of polyurethane for protection from the beer and wine. The inside of the rear shell is outfitted with CO2/Nitrogen tank holders and is plumbed to the taps. "All of the tubing is designed with quick disconnects, so depending on what you are serving, the taps and gas lines are easily interchangeable and cleanable," Jim explains. The finishing touches came when the Fizzolino logo and other decals were applied.
The grand total of this restoration/transformation came to around $6200. Jim states it was well worth it, and I have to agree; this is one beautiful little Piaggio Ape!
Building a Successful Business
Once Fizzolino was completed, Katie and Tyler got their liquor license (Fizzolino can serve just about anything you want – beer, wine or cocktails and even non-alcoholic beverages like soda or cold-brew coffee) and started to build their business.
There are small nods to the region of Italy where Fizzolino came from such as the "Prosecco" sign on one of the taps. Katie drew inspiration for this from the real Prosecco sign for the Prosecco Road in Italy (they lived just an hour away from this road and yes, there is a real road called the Prosecco Road!)
Curating a Facebook page, an Instagram account and a Pinterest account for the Fizzolino business were all part of the project and helped to give Fizzolino recognition.
They have seen a lot of success with Fizzolino; from corporate events, business launches, birthday parties and weddings, everyone wants Fizzolino at their next event!
To learn more, view more photos,or to book Fizzolino at your next event, head to www.kcfizzolino.com or check them out on their Facebook or Instagram! Cin cin!