1995 PONTIAC GRAND PRIX GT
He Liked the Car's Looks the First Time He Saw it. And After a Few Turns On a Racetrack, He Knew He Had to Own It.
Editor's note: This being Auto Restorer's 30th Anniversary year, we're taking a look at some of the changes that have taken place over the past three decades. One of them is a growing interest in "modern" vintage vehicles such as the 24-year-old Pontiac featured here. If you're driving a car or truck from recent decades let us know about it.
Some people find a car that's interesting, take it around the block and call it a test drive. Mark Smith is not one of those people. "It started in '01 when my wife and the kids and I went down to her mother's in Charlotte for Thanksgiving," said Smith, who owns the featured 1995 Pontiac Grand Prix GT coupe. "My wife told me her mother had this car for several years and I'd seen it a couple of times, but I wanted to take it around Charlotte Motor Speedway… Needless to say, I spent enough to go 15 laps around the track. When I was done with that, I told my mother-in-law 'when and if you're ever ready to get rid of that car, let me know.'
"I had been down there a couple of other times when she had the car and she would never let me take it around the track. But that particular year, in '01, she said 'go ahead, take it around the track' because I wasn't going to drive a minivan around the track and that's what we drove down to Charlotte."
The minivan—an Oldsmobile Silhouette—was a smart choice for the trip to North Carolina from Smith's Conklin, New York, home, but it wasn't as well suited as the Pontiac to a few laps on the track. After all, the Grand Prix from its start had never been slotted as a practical family vehicle.
Developing a Need for Speed
Pontiac's launch of the Grand Prix in 1962 probably came as a mild surprise to some drivers, at least those who recalled that the GM division had held on to inline flathead eights through 1954, a record shared only with Packard. Its sole experience with V-8s had come in 1932 when it received a slightly modified version of the 251-cubicinch, 85-horsepower Oakland engine as Oakland was phased out at the close of 1931. That V-8 lasted just one year with Pontiac before being replaced by a flathead straight eight.
Pontiac switched to V-8s exclusively in 1955 and its first modern overhead-valve Strato-Streak V-8 was a 180-horsepower 287 in base form with an optional 200-horsepower version. By 1957, fuel injection had become an option on what was now a 347 and in that form, horsepower was estimated at 315. The numbers were only going up and in 1961 a Super Duty 421 V-8 with two fourbarrels could produce 405 horsepower.
Something New Was In the Works
No one was saying "personal luxury cars" yet, but that would change and if Pontiac wasn't quite in on the ground floor, in 1962 it was in the first wave with "a potent new kind of car..." It was based on another model and given trim differences to set it apart as marketing materials explained that "this new member of the Pontiac line has grille and rear deck styling all its own. And it's the lowest Pontiac of all—just four and a half feet from road to roofline. This customequipped, high voltage coupe called the Grand Prix comes with all this: a new 303 hp Trophy V-8 with 4-barrel carburetor and dual exhausts; center control console; tachometer; bucket seats; choice of five solid-color interiors; full instrument panel cushion; acceleration rear axle. Aluminum wheels, four-speed Synchromesh transmission, and Hydra-Matic are extracost options. (Both of these optional transmissions are floor-shift.)."
Built on the 120-inch-wheelbase Catalina rather than the top-of-the-line 123-inch Bonneville, it naturally shared the Catalina's other dimensions including the 54.5 inches that made it "the lowest Pontiac of all" and with some careful ordering, it was possible to equip a Catalina or the 120-inch Star Chief with a Grand Prix drivetrain. Doing so, of course, would have missed the point because the result would still be a Catalina or a Star Chief. Drivers must have realized that, as Pontiac sold just over 30,000 examples of the new coupe in its first year.
Its formula continued and in 1966 Pontiac called the Grand Prix "a highly stimulating road car" with engine options up to a 376-horsepower 421. Pontiac had been shrewd enough to gradually increase the Grand Prix's visual distinction while maintaining a family resemblance, a pattern it continued in 1967 when the Grand Prix gained a convertible and in 1968 when the coupe was again the sole choice.
The Grand Prix Moves In Its Own Direction
Then came 1969 and even those who'd seen the spy photos probably weren't ready for their first encounter with the real thing. Pontiac advertised that "our '69 Grand Prix is so new, in fact, that it's based on its very own, one-of-a-kind chassis that rides like it was designed for cruising, but built for cornering. That swooping hood (over six feet long, we hasten to add) covers an equally impressive department: 350 hp is standard, or you can order up to a 390- hp V-8. Floor-mounted 3-speed stick is standard, but there's always the superslick 3-speed Turbo Hydra-Matic, if you want to order it. The ad didn't mention the available four-speed and while the drivetrain possibilities were available in other Pontiacs, it was now simply impossible to create anything even close to a Grand Prix. That six-foot hood, short deck and barely there rear side windows gave it a silhouette much like that of the Continental Mark II and its surprisingly minimalist use of trim and curves gave it a genuine elegance.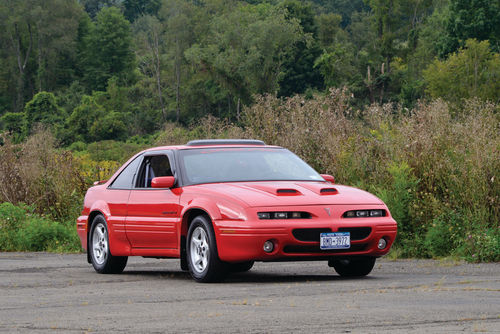 The decision to go ahead with such a radically new design was a risk and it paid off nicely as sales topped 112,000, making the Grand Prix Pontiac's best-selling 1969 model. Not surprisingly, updates for 1970 were almost unnoticeable and changes through 1972 were carefully thought out to keep the same basic style and theme. Even the new body that arrived for 1973 maintained the proportions and general look, although some of the elegance was gone as formerly straight lines began to curve, sheet metal carried more stamping and the rear pillars now held opera windows. The new federally required five miles-per-hour bumper didn't help the Grand Prix's appearance any more than it helped the competition. At the same time, increasingly tough emissions laws were reducing performance and drivability just as the 1972 change from gross to net horsepower figures was challenging those who wanted to like new cars; a 1970 Grand Prix's 455 produced 370 horsepower and a 1973 Grand Prix's 455 produced 250.
Coming Down In Size With the Times
The downsized Grand Prix that appeared for 1978 reverted to a smoother approach ("…clean lines…crisp flanks…chiseled look…tailored cut…") on the smaller 108- inch wheelbase and its base engine was a 231 V-6. Advertising called it a 3.8-litre, but overlooked its 105 horsepower. Even the optional 301 V-8 generated only 150 horsepower in the top SJ model.
The body was tweaked for 1981 and by its final year in 1987, a 150-horsepower V-8 was still the most engine available, but the Grand Prix's position wasn't unique.
Every automaker was trying to figure out how to work through the same conditions and restrictions with varying degrees of success. If there was hope at that point, it was the fact that European sports sedans no longer had an absolute lock on handling and enthusiasts who really paid attention could sense that performance would make a comeback beginning with relatively small engines. At Pontiac, the genuinely new 1988 Grand Prix bolstered that hope.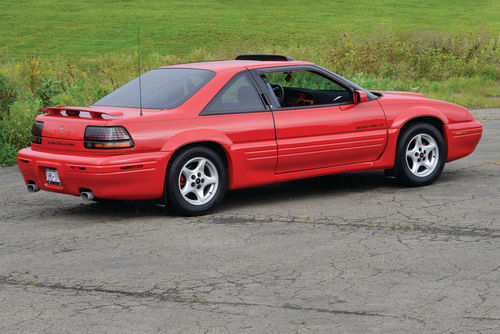 Adding Fun to An All-New Model
Motor Trend's 1988 Car of the Year was a front-wheeldrive shocker whose resemblance to previous models lay mainly in badges as Pontiac advertised that "its drag coefficient of .29 makes the new Grand Prix one of the most aerodynamic cars in the world. Grand Prix SE's driving credentials include a 2.8 liter V-6 with multi-port fuel injection, a 5-speed manual transmission, Y99 Rally Tuned fully independent suspension, 4-wheel disc brakes, and meaty P215/65R15 Goodyear Eagle GT+4 all-season radials." The 2.8-liter's 130 horsepower didn't sound like much, but it sounded a little better when it was attributed to 173 cubic inches and while front- and rear-wheel-drive each have proponents who likely will never see eye-to-eye, the difference between the 1987 Grand Prix and 1988 Grand Prix on the road was shocking. Those who could look at it objectively had to concede that the new model was a lot more fun.
Late in 1989, a 140-horsepower 191-cubic-inch V-6 arrived. The Special Touring Edition sedan arrived in 1990 and by 1991, turbocharging had come and gone. Not all of the improvements were as dramatic as turbochargers, but together they showed that the worst was over and performance was gradually returning so that 1994 brought only a moderate restyling, but also 160 horsepower from the Grand Prix's standard 191 V-6. The double-overhead-cam 207-cubic-inch V-6 remained at 210 horsepower, where it had been since 1991 and with the 191 returned in 1995.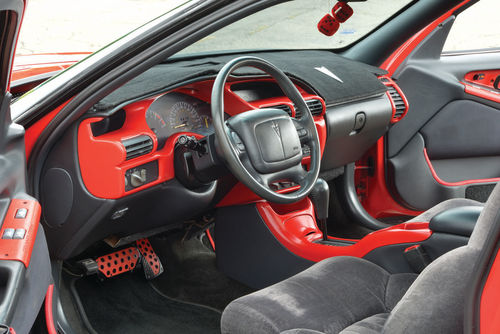 Swapping a Van for the Grand Prix
In today's world, 160 horsepower in a car weighing about one and one-half tons is more than adequate, but not especially impressive. In 2001, though, it was enough to sell Smith on his mother-in-law's Grand Prix.
"The track-time convinced me that I really wanted it," he said. "I was already eyeballing it before that, but I never thought I'd have the opportunity (to take it around the track)."
A year later, his mother-in-law visited Smith and his wife and told him of problems on the trip north. The symptoms—climbing rpm and falling speeds on hills—told him the transmission was slipping, as did the dirty and foul-smelling fluid. He serviced it so that she could return home, but then reality intervened as she found that the Grand Prix just didn't have the room to carry everything that she wanted to take home to Charlotte. The solution, importantly, was right at hand.
"I said 'you know, I've got that old Silhouette van out there,'" Smith recalled. "'You're free to take that down and leave your car here and we'll swap later in the year. I can pull all the seats out and leave them in the garage. You'll have all kinds of room.' She thought about it and when the time came for her to go back down to Charlotte, she took the van. The car's been here ever since. The van never came home, the car stayed here."
It Became a Nice-Day Driver
The Grand Prix had covered 106,000 miles by then and as a southern car, it was rust-free, but Smith said that it needed attention. The engine compartment and underbody needed to be detailed and he said long hours of buffing brought back the gloss to most of the body, although the spoiler and hood were too far gone and had to be repainted. He made some minor modifications including the hood scoops, the deflector for the sunroof and the red on the engine and in the interior—all of which could be reversed should he become a purist—and the Pontiac settled into its new life. But everyday use wasn't in the plan.
"It was the newest car I'd ever had," Smith said, "the cleanest car I'd ever had. It was rust-free, so my goal was not to drive it in the winters. Park it in the winters and drive it on nice days in the summer because to me, it was a toy. I had a daily driver. You're not going to find a car that clean up here and even if you did, it's going to rust because it's already been in the weather for seven or eight years. This car has never seen a winter."
For a long time after he got it, it had never seen a car show, either. That didn't happen until about 2008, he said, but the car was ready. It had always been garaged waxed and clean, but not at the expense of enjoying it.
"I get caught in the rain," Smith said, "but if it's raining, I don't leave the house."
Before every show, he checks everything (including the windshield wipers) and if the car does get caught in rain, a lift in the garage makes the necessary cleaning and detailing less of a chore. Combine that with the fact that it's so well protected most of the time and it's clear why he hasn't had to do much to the car beyond routine maintenance.
"I greased the door hinges I think once since I've owned the car," Smith said. "They don't get bad weather to make them go bad. It doesn't get all that salt in there, which would deteriorate everything."
Advice for the Grand Prix Shopper
The care is paying off, as the Grand Prix now shows 153,000 miles and not only has the paint not needed to be buffed out a second time, but every accessory from the air-conditioning and power seats to the power mirrors and remote trunk release works as it should. That's important because Smith does drive it. Most of the shows it goes to are regional, but he's taken it to events several hours away with no problems.
All the care in the world, of course, can't ensure that trouble-free motoring will go on forever and that raises questions about finding a Grand Prix like his. The feature car's age places it in that gray area where it's too new to be old and too old to be new, so while the front-wheel-drive models as a group have their loyal fans, most of those on the road are probably there as cheap transportation. A collector who wants one would be smart to be looking now because even if locating an excellent example might be challenging, the traditional advice applies and it's wise to start with the best car available. Smith believes that finding a Grand Prix needing a reasonable amount of work shouldn't be too difficult and he offered some advice based on his own experience and research.
"You'd want to find one with the 3100 (or 191) versus the 3.4 dual-overheadcam engine," he said, "because those motors are hard to work on and they had problems. A lot of them had head problems, I believe, and they're hard to work on because they're so tight. There's no room to work on them."
The 191, he said, also offers the advantage of a timing chain rather than a belt and his car still uses its original. Its transmission, though, was not so lucky.
"I got this car at 106,000," Smith said, "and at that time, it was already going bad."
Eventually, the transmission was rebuilt, but he said a transmission that's headed for problems usually provides warnings in the condition of its fluid or by slipping, a reluctance to shift or—as the end is approaching—noises that obviously are wrong. The engine on his car has done far better than the transmission, as it's had neither internal problems nor failures of electronics or even sensors. In fact, most of the car's components and systems have held up notably well.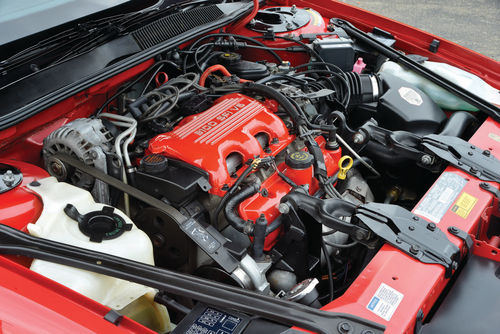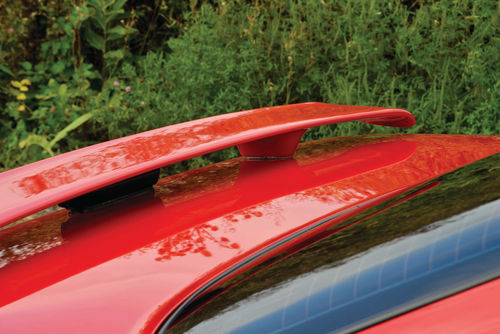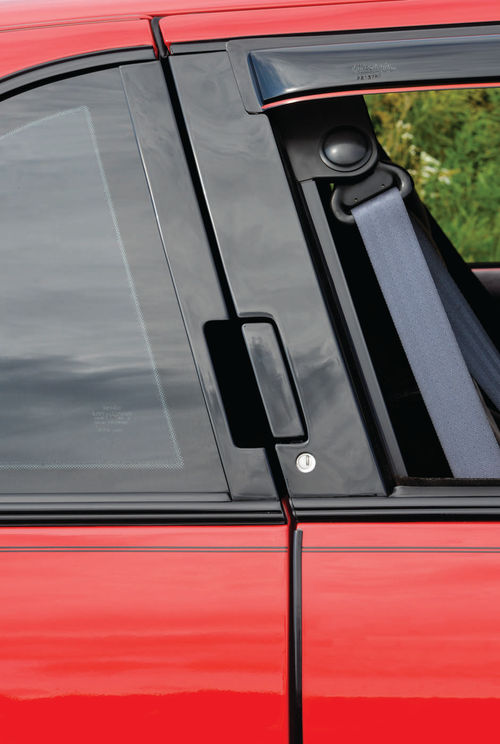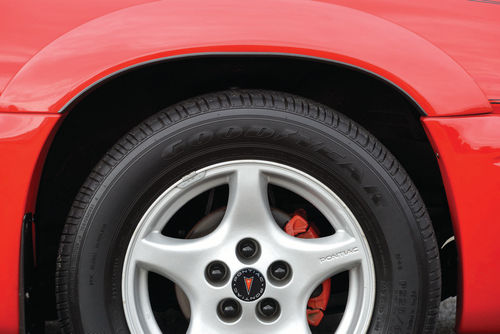 "That still has the original calipers on it, original wheel bearings," Smith said. "All that stuff that you think would be bad has never been replaced. It still has the original fuel pump in it. I've thought about maybe one of these days,
dropping the tank and changing it, but if it ain't broke, you don't fix it. To my knowledge, there's a lot of original parts on that car."
The plus side is that if he does need to replace engine or transmission components, they're widely available, as is expertise. He said the same is true for the routine parts such as hoses and brake pads necessary for maintenance, but finding replacement parts for the interior and body would be another matter. Interior plastic is likely to be sun-damaged and either faded or disintegrating while upholstery adds tears as a third type of potential problem.
The body is another concern with rust possible at the edges of the hood and trunklid as well as the shock towers and inner fenders, but he pointed out that some problems will be visible and others hidden.
"I've seen these cars rust (above) the bumpers on the fenders and on the quarters," Smith said. "Below the fuel door, I've seen them rust there and they can rust underneath all of that cladding,
too. I've seen some older ones where you take the cladding off and it's all gone, rockers and everything…
"When the fenders rot out, you can put fenders on them. These fenders were the same from '88 all the way to '96; same doors, everything's pretty much the same sheetmetal-wise from '88 all the way until they quit making them in '96. The only difference is the cladding and on this one with the cladding that goes up around the wheels, those fenders have holes in them where a regular fender would not have the holes in it. You'd have to drill them. You could make them work."
Coming up with usable cladding and sheet metal might be more important than it initially seems, even with such a relatively new car. Trying to decide on the right cladding while looking at a donor car in a salvage yard will be less anguishing if photos of the original are there for comparison.
"Body parts are getting hard to find," Smith said. "I would like to try to find some good fenders and cladding in case I ever need them because you just never know when a deer's going to jump out. I hope it never does, because then it wouldn't be original anymore and that would break my heart if it ever did get wrecked.
"I have no body parts for it whatsoever. I do have a couple of trinkets for the interior here and there that I managed to find at the junkyards and were salvageable, but that's about it."
Keeping the Grand Prix looking as good as it does now is important, naturally, both because doing so is much smarter than allowing it to deteriorate and because it's already a car that's noticed. The color helps and the condition makes an accurate guess as to its age difficult for those not especially interested in cars.
"It does sort of look modern," Smith said, "so a lot of people don't realize how old it actually is. When I drive it around, I can see people looking. They're probably trying to figure out exactly what it is. 'I've seen it before, but what is that?'"
At least one other driver might or might not have been able to identify it, but found it interesting enough to challenge with his Mercedes. Smith said that he accepted, but only briefly.
"I think I would've given him a run for his money," he said. "He went flying by me, but I gave up... He waved to me as he went by and I waved back. I said 'no, I don't want the speeding ticket.' "
By that time, he was at what might delicately be called a high speed and he said the Pontiac didn't drive any differently than it does at morereasonable speeds.
Of course, he shouldn't have been surprised because thanks to that first test drive, he already knew how the car would feel at speeds fast enough to max out the speedometer's pointer. And almost two decades later, the impressions gained that day remain with him.
"I fell in love with it," Smith recalled, "when I drove it around Charlotte Motor Speedway and I had the speedometer pegged. That was the first time I had driven the car."
Did his mother-in-law ask about the test drive when he returned with it?
"Oh, yeah," he said, "she asked me. I told her. I said 'I had the speedometer buried.'
"The speedometer goes to 110."