Special Report Take That Road Runnerand…
This Mopar's Owner Asked for Reader Input on His Project. You Came Back With a Number of Suggestions.
Editor's note:In the December Issue we carried an article about Larry Fechter,veteran restorer who had finally acquired the muscle car of his dreams, a 1970 Plymouth RoadRunner. Larry, however, was uncertain how he would proceed with the vehicle. Should he do a complete restoration, just get the mechanicals in good operating condition and drive the Mopar or should he strive for something in between.We asked readers what they would do if it were their car, and have printed some of the replies here. We intend to catch up with Larry a little way down the road to see how he's proceeding with the Road Runner, and if anyone else would like to add their opinions in the meantime, we'd be glad to hear from you.
Will You DriveIt, Show It or Race It?
First and foremost, only you know what's best but you should ask yourself how do you plan on using the car. Show car? Sunday drives? Track terror? A little of everything?
I used to own a 1968 Olds Cutlass Supreme that was bought new by my dad. It was a daily driver up until 1988 when I decided to restore the car once I turned 16. When I Say it had been a daily driver, I mean every day in every weather condition. I live in the Boston area and we've had our share of winters.
However, since the restoration I've only used it in the Spring-Fall months on weekends and sometimes have taken it to work when my "other" car would start to act up. Anyway, I've made changes (front discs, 3-speed autoTH-400 in lieu of the Powerglide 2-speed,dual exhaust, etc.) that I considered upgrades and didn't worry about originality or value. (I know it's only a Supreme.) I did this because I knew I planned on driving it as much as I could.
If your Road Runner were my car, I'd take care of any safety issues first and then any rust. Replace any rubber components that look dry rotted. You could keep the original tires for shows but get either repros from Coker tire or some decent radials on Mopar rims.
Other than that, I'd keep it in as original condition as possible and address any other issues as they come and enjoy it as much as possible.
By the way, I sold the Olds in 2006 and picked up something else and use it as much as possible. It's in original condition and hasn't been messed with, unlike so many other older cars.
I don't worry about its value as I pile on the mileage; I bought the car for me to enjoy, not for someone else. When it needs service, I make sure that it gets whatever is needed.
I'm sure whatever you do with the car, it'll be the right choice.Life's too short to drive bland cars.
Gino Evangelista Via e-mail
Consider This Car's F.I.T. In Your Life
Based on the pictures and description, it seems as though you have a rather nice, low-mileage and "very solid" car here. How lucky you were to find it the way you did with the air grabber hood and all.
Now then, what would I do if this car were mine?
At least for my own basic information, I'd start by doing some research using the VIN/fender tag numbers to learn how many cars were built with the options this one has versus any options it does not have.
Is this a "survivor" car? In my honest opinion, with the amount of (minor?) rust found thus far, more than likely, more rust will be discovered. Therefore, I think it may be a mistake to consider this car for the "survivor" category. First,Ithink there would be far fewer people searching for a "true" survivor car and, as such, they would have much higher expectations. I envision a true survivor car as one that has been extremely pampered from the start and other than a few consumable items like filters, fluids and hoses, etc. the car would be virtually untouched and without so much as a door-ding anywhere and it never saw a single winter season all its life. And, of course, it has to have extremely low mileage, every page of factory documents and all maintenance records from day one.
So, assuming the motor and trans are still out of the car, I would take the time to clean up (de-gunk?) the engine bay along with the drive train.
Also, considering that the car has been sitting so long, I would drop the fuel tank and flush it and the lines. I also would remove the carburetor, and either rebuild it or at least clean it with a carb cleaner and perhaps soak it in fresh gasoline to hopefully allow the gaskets to reseal. Then I would go over the engine, trans and rear replacing all gaskets, oil seals, filters and fluids. Next would be to put that big block back between the fenders, get it breathing again and do some preliminary diagnostic testing to determine its current health status.
If all were "satisfactory" and the brake system was functioning properly, I would enjoy driving and showing it around! This would provide some funtime (and other input) while making a final decision.
After the aforementioned work, I would have a very good idea of what I have and what it still needs. And I would have had ample time to go over the car with a fine-tooth comb, confirming that it is a good solid car.
This car would then be a prime candidate for a total rotisserie restoration complete with its poverty hubcaps, wheels and tires.
Ultimately, the decision is yours to make but perhaps it will help if you answer the question: Does it F.I.T. into your idea of a collector car you definitely want to keep indefinitely? (Where F=funds, I=interest and T=time to see the project through.)
Sure wish I could turn some wrenches with you on that sweet ride. Better yet…wish it were mine. Let us know of your decisions, and I hope to see a full spread on your Road Runner in Auto Restorer in the future.
Happy decision-making!
Dave Bailey Via e-mail
Note How People React
I would show it for a year or season as is. See what people's reaction is. I also would show it with some Keystones and raised white letter radials for that '70s look and better handling. But, I would show it with the bias ply tires and dog dish hub caps...just to see how you like this combination.
Remember, it's only original once. You can always restore it later.
Carlos Vera Colorado
A Professional Opinion
I am Ron Kirkpatrick, owner of Ron Kirkpatrick Customs in East Brady, Pennsylvania, and I restore OEM-quality Mopars.I have 22 collector cars,including a Hemi and twoMaxWedge convertibles.
There were many 1970 Road Runners made and I have owned many of them.
Your car appears to have been stored in a damp place or there was water under it. In the pictures, the outside paint appears to still be in fair shape and I am sure the rocker panel and bottom areas of the car have paint worn off from rocks, etc., probably due to the fact that we had more dirt roads in the '70s than now. The interior looks to be nice; the engine needs to be rebuilt. There will be much hidden rust in the body.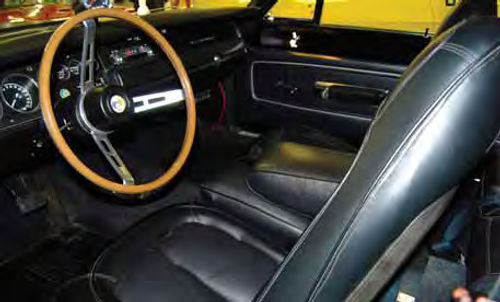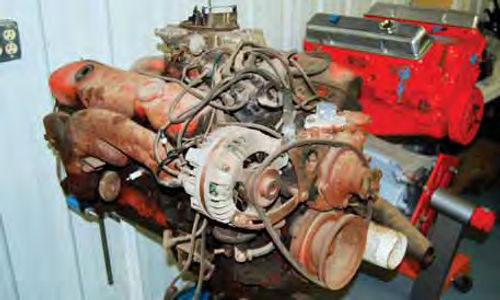 We are an economy based on waste and, as a strategy, these cars were not designed to last forever.
What you will find with your cares that there are many places in and under the car that hold moisture, dirt and grime and, as we all know, that combined with the oxygen we breathe creates corrosion.
On average, car rust starts between 4 AM and 7 AM. when the dew/fog/ humidity in the air condenses in and around your car.
About 85% of rust is from the inside of the body to the outside in areas that were not painted, where dirt accumulates, rain runs in, or a drain hole is plugged. In many places, like the quarter panels, dirt builds up and, as you drive, the car vibrates and flexes and it "sands" off your paint. It's the same behind the trim. Then the humidity gets it.
If a car is stored in a block building or basement it will do the same. Barns are the best place to store a car as they tend to stay dry, have sufficient air flow, and all the wood and hay draws in the moisture, much like a dehumidifier.
If I owned your car I would disassemble the front suspension, remove the K frame, etc., and send them to someone who does dipping of metal parts to remove rust. Then, paint the K frame back to low-gloss black like it was.
On the suspension, since it needs tons of work and all the rubber replaced, remove all parts, replace what you need, and paint back to as it was when new. Most of the control arms were bare metal wiped with cosmoline, that icky, sticky stuff! On lowers, and 80% of cars built, the upper control arms were done, also. If they were black they are dipped within 1" of the ball joint area. Tie rod and drag link steering box sway bars were natural finish metal.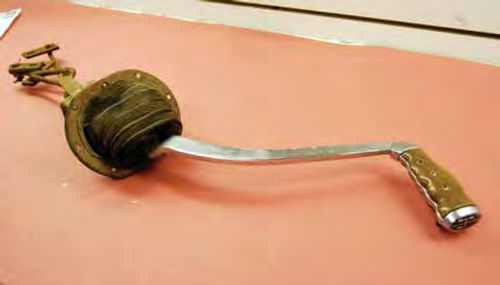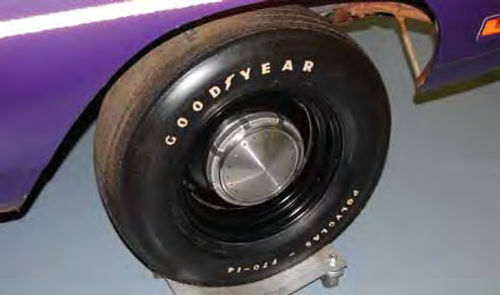 In the engine bay, I would touch up or spot blend or repaint depending on how bad it looks. They only did a few quick passes of paint when they were new with lots of thin areas. Use the same paint as on the outside. The heat from the engine and the sun dull the paint by drying it out.
The engine compartment had a green paint-type substance used around the battery box and master cylinder area and under that, where the steering column comes through the firewall. It was also on hood hinges. This was applied while the body was still in its oily stage with a brush and that is why you may find brush marks around these items.
You need to remember that back then, they built a car in about 9-12 hours. The car was cleaned by dipping it in a phosphate cleaner, then it was dipped in a black primer-type paint up about 16-18 inches. The outside of the car was washed off and red oxide primer applied. So, in the engine compartment you will find color, sealer color, a grey/green, some red oxide and black or a dark grey depending on the plant where it was manufactured.
If you have someone who can blend or paint the engine compartment, remember only a few coats is how it was done, about 4-6 mils.
On my Web site you can see a correctly painted one to compare. There also are pictures of how the bottom is to be done.
They were not painted completely under the car and no two cars were painted the same on the bottom due to the fact that people and not machines actually sprayed them. Consistency, to the level we see today in new vehicles, was non-existent. The black primer that the cars' bottoms were dipped in can be supplemented by using a black urethane with a flattening agent to give that primed look, but one that is actually waterproof, while primers are not.
In the shop manual for your car it states to repair paint in lacquer. The experts will tell you they were painted in acrylic enamels. But the acrylic enamel of today was not invented until 1972. What year is your car? Hmmm.
You can do it in enamel but be careful what you use (good quality) or you will lose the original look you want. Remember my rule: Lacquer looks like it's part of the car, base/clear and some enamels look like they're on the car!
Don't forget to look under the carpet and do something with that. You are going to find rust. I would suggest ripping out the carpet and replacing it. Don't try to save it.
You need to stop the rust in the trunk of your car or it will continue. Many people think just because they now own the car and are storing it properly, the rust willstop and they ignore it or think "It's just a little rusty." Before you know it, you must replace panels then you get the bill from the shop and you cannot believe it needed all that done. Again, once rust starts, the only way to stop it is to remove it or treat it with POR-15.
When you have your motor rebuilt, send it to a Mopar guy. Those 383s are a very well-built powerplant. Keep everything stock. Don't put a Chevy-profile cam in it, etc. If you need parts they are readily available, if you need info., please just ask.
I see your car has a Holley carb and an air grabber hood; a very nice combo.
Save the original wheels and tires for the show and when you're done, put another set of wheels and tires on to drive and enjoy. I use the old Cragar wheels. They are correct for the time frame, and most people went out and bought them as soon as they picked the car up from the dealer.
Over the past 31 years I have collected information from experienced people who worked on these cars during their heyday. I compare original cars and keep a library of pictures and official Chrysler documents and manuals. I also have been lucky enough to be friends with a former line manager from the body and paint department at the factory in St. Louis. He worked there for 45 years while these cars were being manufactured. All my decisions for the restoration of specific cars are based in documented fact or from those with specific manufacturing experience at the time.
I started doing this a long time ago and by the age of 12 I had painted my first complete car, in lacquer; then rubbed it out! I have always used lead for filler as the factory did and use all factory materials. I had the part numbers for paint and materials converted over when they changed part numbers. Mopars use PPG paint only.
To get started, I would do a quick cleanup on the Road Runner and do what it needs and if you want to keep the outside paint on it then do so; it's your car. You may, once you get into it, decide to do a repaint on the outside.
Much of the debate between keeping the original paint and restoring the car involves the horror stories of losing value. This is not accurate if it's done correctly. Also, your car is not a Hemi car or a Six Pack. They made many base Road Runners all standard with the 383.
I think you will see the car does need to be restored, but there are many levels of restoring a car. You don't need to go crazy and make it an "OEM certified, don't want to drive it because it is too nice," type of car. Make it a very nice driver, and use it! Enjoy it, that's what we do them for.
If you take your car to be restored, do your homework, and do it correctly. If you do it yourself, get some good books and ask a good Mopar restoration shop for advice. Take hundreds of pictures of your car as you take things off and start a book that will show what you did and what you see through the process. Put parts in bags and label everything. It makes things easier and fun to do, and saves you the frustration of searching for the correct bolt that you misplaced and will cost you $25 to replace.
I hope you enjoy doing your car. If it were a 10k-mile garage-kept unblemished car I would say leave it alone and don't drive it. But, it's not, so some restoration is required.
Ron Kirkpatrick Ronkirkpatrickcustoms.com
Clean and Reassemble It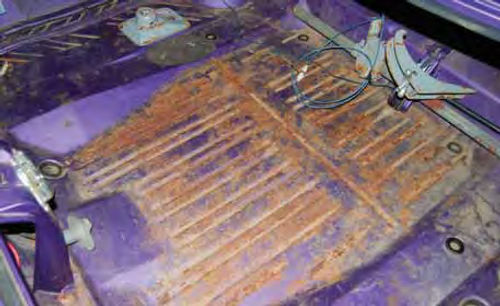 This is a difficult decision.Unrestored examples in that condition still don't bring the money that a fully restored example does. But a full restoration could cost upward of $100,000, even without sheet metal work. My opinion is to reassemble, clean and keep it as is. I personally like to see originals, especially with a maintenance history. It's a very nice car.
Stephen P. Sears Ridgecrest, California
Rebuild the Drive Train and Enjoy It…
I think you will enjoy the car a lot more if you leave it the way it is. At a car show, people will flock to it—it's great fun.
Rebuild the original drive train but don't paint anything. After all, how many mint Road Runners are out there?There's a lot of them. Remember, "a Number 1 may be fun but a Number 3 will set you free." And you won't have to worry about kids getting too close to it.
I have a '52 Ford F1 pickup—all original—I was going to restore it but people went wild over it the way it is. People are even calling me to ask what is correct— what is painted body color and what isn't, etc.
Whatever you decide—good luck.
Barry Moore Scarborough, Ontario Canada
If You're Going to Drive It, Try These Tips
I think Mr. Fechter needs to answer the following questions:
Does he want to try and make a profit by selling the car as in original condition or does he want to keep it, drive it and enjoy it as a '70 Road Runner. If he wants to keep it and drive it, I would recommend the following:
Wire brush the rust from the trunk, prime it with epoxy primer to arrest the rust and then color paint it.
Install new radial tires equivalent to F70 x 14s.
Rebuild and install the 383-cubic-inch engine. Also, clean up, repaint, etc.such items as pulleys, valve covers, the water pump, etc. Also, clean up and repaint the engine bay. The 383 was a fine engine and with modern updates such as a Pertronix ignition, a roller camshaft and lifters, and an Autolite or Holley carburetor, the engine will be a good performer but still appear original.
I used this approach on a 1964 Falcon Futura 2-door hardtop and I have enjoyed it for many years. It has the original bench seat in front and I repainted the car the original Colonial White but it has alloy wheels and radial tires, and an updated 302 engine.
The bottom line is: It's Mr. Fechter's car and he should do what he likes. He does not have to follow "rules." (Just don't install a 350 Chevy or other non Mopar engine!!)
William M.Lane Groveland, California
Work On That Rust
If you decide to keep it original, I suggest that you coat the rusty parts, especially the trunk floor, with Penetrol. It seems to prevent/retard further rusting. It would probably help the chassis parts too, but would sure be more difficult to apply. Wiping Penetrol off after it penetrates but before it dries seems to keep it from getting that clear coat shiny look.
Tim W. Elder Louisville, Ohio