Special Report My Car's a Hollywood Star!
It's Fun Seeing Your Vintage Vehicle In the Movies and on TV. But There Can Be Major Drawbacks As Well…
GORDON ROBERTS WAS just trying to drive into the studio's filming location and find the spot where he was to place his 1940 Plymouth woody when the assistant director pointed a finger at him above the crowd of cars and people and said, "You! Wardrobe! Over here!"
Little did Roberts know at the time, but he was embarking upon a lengthy hobby/ part-time career that would involve him and his vintage vehicles with the "lights, camera, action," of Hollywood.
Now,some 26 vehicles(or "children" as he calls them) and 30-plus years later, Roberts has the variety of vintage cars and trucks that he hopes will bring production assistants knocking at his door— or at least at his garage door.
Getting Started
Roberts still lives in the house he grew up in, but now he shares it with his wife Jean and daughter Crystal and their menagerie of dogs, cats, birds and turtles.Growing up in California's West San Fernando Valley in a little community called Woodland Hills, Roberts followed in his father's footsteps in a career of carpentry and painting, and also collected and worked on cars and trucks with his dad.
"I started when I was 17 or 18; my very first car was a '62 Galaxie," Roberts reminisces. "I have a picture of it."
When he found the Ford, it had "four flat tires in North Hollywood." His dad brought it home at the end of a rope, thus beginning Roberts' streak of buying vintage cars and trucks.
"I got the '51 Ford woody in Agoura,"he said. "This was back in the '70s. I went to look at it and found out he had three. He said, 'Make me an offer.' So I said, how about $500? I got one and went back a month later for another. Then it all began.
"I decided to get another '62 Galaxy; like the car I had. Only this time I wanted higher quality. Gradually, my dad and I bought a '62 Galaxie 500XL."
It Began With a Knock at the Door
Then one day, while he was in his early twenties, Roberts had his '56 Ford pickup parked in front of his former home in Canoga Park, California.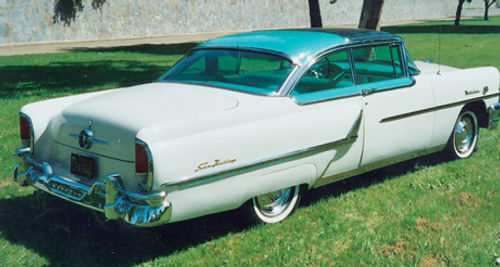 A man came to his door and asked if they could use his truck in the soap opera "The Young and the Restless."
"The same company used the truck I don't know how many times," he noted.
Roberts went on to say that he no longer waits for someone to come to his door with an offer and instead works with several brokers. "The brokers are like agents," he said. "The production company calls them and asks them what they have. The company sorts through the broker's photographs and then picks up the cars or trucks they want."
Bitten By the Movie Bug
Among his film placements so far was one in "Pleasantville," a 1998 film where two teenagers from the '90s are pulled back into the 1950s. He says he was able to see "one shot" of his '55 Mercury Montclair Sun Valley in that one.
Then there was "Hollywoodland," a film that examines the mysterious 1959 death of TV's Superman, George Reeves. For that one, Robert stook his'53 De Soto Firedome station wagon out to LAX Airport. "They converted a whole street for the movie," he said. "Well, my car was parked right by a newsstand with the headline about George Reeves."
And there was one time when Roberts himself got in front of the cameras along with one of his cars, a 1940 Plymouth woody. That was during the filming of the "Mambo Kings" when, as stated at the beginning of this article, an assistant director pointed at him and yelled, "You! Wardrobe! Over Here!" and Roberts was whisked away to get into a police uniform. Unfortunately, as sometimes happens to movie extras, Roberts wound up on the infamous "cutting room floor," but it made a great story to bring home to dinner.
Downsides of the Movie Biz
As you might expect, turning your prized vehicles over to a third party can have its drawbacks, and there have been many horror stories of damage done to Roberts' "children"during the long periods of time the vehicles were with a broker's handler or a production company.
For example, once his 1962 Cadillac convertible (one of his most popular cars) was being loaded onto a flatbed and it fell off.
Then there was a woody that was used in a magazine ad with a surfboard placed on top. "They had that for two days and when I got it back, there was a dent in the roof," Roberts said
He said he's usually paid for any damage done to his vehicles and has always fully realized that when you place your vehicles in the movies and on TV, the potential for mishaps is always present.
"The broker is supposed to have a handler with it at all times," he said. "But in the back of my mind, I know things can happen."
Roberts recalls that his worst horror story with one of his vehicles came about while shooting "La Bamba," the story of early rock 'n' roll star Ritchie Valens. They had used his '64 Ford pickup for the movie and when he got it back, he immediately saw that "there was something not right on the hood. It was wavy as heck." So Roberts called the handler and found out that after filming, some girls had decided to sit on it.
A Momentary "Celebrity"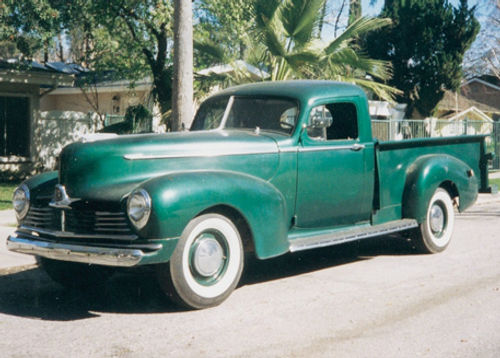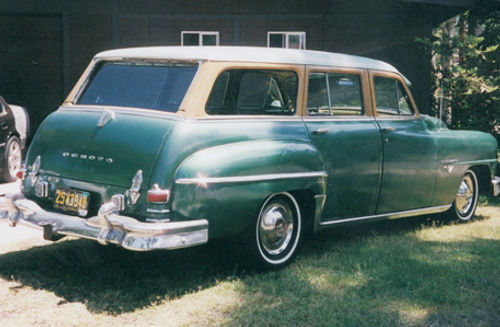 In addition to placing his vehicles in films, Roberts also has accumulated numerous memories of actors and fans he has chanced upon during his time on the sets. For example, on the set of the 1994 film "There Goes My Baby," Rick Schroeder asked him for a cigarette. And for the 1993 film" Calendar Girl,"starring Jason Priestley, Roberts drove his '55 Mercury out to Paris, California, to take part in the production. Once there, he was in awe of all of the teenaged girls who had come out to see the film being made and when they asked him for his autograph, he remembers thinking, "Man, I'm a star!" But despite his instant fantasies, he played it straight and told the young hopefuls that he was a driver, not an actor.
His Own Vintage Legacy
When Roberts looks back at the ups and downs of the business he feels that the pleasure and feeling of accomplishment outweigh the damage risks and the occasions when he's "stabbed in the back."
Besides, as he summed it up, "When I'm long gone my cars will still be here on the big screen, left behind for people to remember me."