Two Rust-Fighting Products That Worked for Me
I'M NOT ONE who believes in nor offers testimonials but I had to cave-in on these two items because they seem pretty good to me. And anything this good has to be shared with fellow Auto Restorer readers.
The first item is a little "home brew" liquid fastener soak that really worked for me. In all fairness, I'm not smart enough to have figured this out by myself. I happened to see an article in a stack of papers a fellow volunteer had sitting out at the Chrysler Archives where we both volunteer. It had been torn out of some magazine but had no identifier remaining. My thanks and apologies to that unknown magazine.
Anyway, they tested a bunch of popular "Liquid Wrench"- type products on rusty nuts and bolts and found this home brew was way better than any of them. After my own use on the swaybar links of my '66 Toronado I can tell you that I first tried the nuts dry thinking that I'd just bust the bolts apart—no way did that happen nor did anything else. But a five-minute soak with this home brew then an easy grunt to a pair of box end wrenches did the trick and an air ratchet easily finished the job on both sides.
The home brew recipe was equal parts paint thinner (mineral spirits) and automatic transmission fluid; both common; both fairly inexpensive and probably sitting on one of your shelves.
Give them a try; I now keep my mix in a recycled medicine dropper bottle for handy use.
The second item is a commercial rust-removal product called "Metal Rescue." It was written up in Auto Restorer in October 2010 with favorable comments. After trying it a couple of times I very much agree. (Disclaimer: I have absolutely no connection to this outfit. I just remembered the write-up from Auto Restorer when I saw their booth at AutoRama and bought a gallon to try.)
The first part I treated with the Metal Rescue was that sway bar that I had just pulled off the Toronado. I couldn't get into the eyelet ends as well as I liked and the rust was pretty scaly and pitted. The second component was the power steering cooler from the Toronado. It was heavily rusted throughout but not too badly pitted so the part is basically good.
What really bugged me about the power steering cooler was how do I get between the fins? Even though they are made of fairly robust steel there's no way to clean them properly with a brush, sandpaper or anything mechanical.
Both the swaybar eyelet ends and the P/S cooler got an overnight soak in Metal Rescue—and both came out GREAT. (It's very cool in the shop room and that seems to slow down the chemical action.)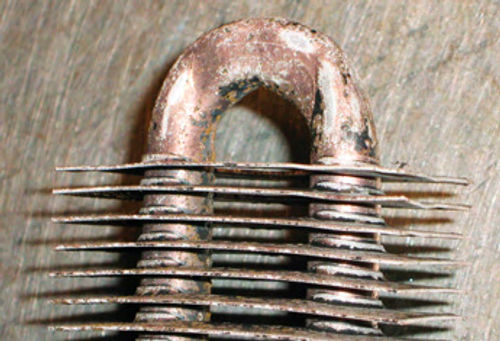 The sway bar wiped clean with a paper towel and the cooler flushed out loads of black gunk (iron phosphate?) with tap water and a long bristled brush. Take a look at the pictures below. The black/dark patches are a mix of residual paint and the effects of Metal Rescue with a long soak time. The redness is either residue of brazing filler or a reflection off my red colored vise that sneaked into the picture. There's no rust remaining on the parts.
Here's the contact info for Metal Rescue:
ARMOR Protective Packaging Metal Rescue Business Unit
951 Jones St. - P.O. Box 828, Howell, MI 48843
Auto Restorer is a great magazine and if there's even only one other reader who hasn't heard about these two items by now this will save him plenty of effort and damaged knuckles.
Bob Swartz Waterford, Michigan
We also have a letter from the Metal Rescue people on Pg. 4.