It's a Matter of Personal Satisfaction
There's No Doubt That This Young Restorer Likes '50s Trucks… ...and Has a Sense of Pride From Working On Them.
MY FRIEND ERIC Radack is a 25- year-old student, entrepreneur, body shop technician and budding businessman. I met Eric at a truck club meeting and we started talking about his 1954 Chevy 1/2-ton truck. (We're members of the Great Mountain Chevy/GMC Truck Club in Midvale, Utah, a Salt Lake City suburb.)
Eric bought his '54 Chevy as a project when he was 17, completed the restoration at age 19 and has plans to upgrade it even more. Currently it's his daily driver and is equipped with a 235 six with a split exhaust manifold, a 3.55:1 rear end, a four-speed, a 12-volt electrical system, bucket seats, a stereo, electric wipers and more. He does all of the work himself and as of today has three more projects in the works.
Simultaneously, Eric remains very active as an officer in our truck club and at a recent meeting presented an "Auto Body 101" class on removing dents from fenders, basic painting cautions and how to use a plasma cutter.
Meanwhile, he remains on the alert for potential projects and parts vehicles.
Always Watching for Something New
Eric called me at work one afternoon and said he needed someone to go out into the west Utah desert with him to bring back a truck he'd just bought. It had been advertised on a local Web site for less than four hours when Eric bought the truck sight unseen.
We got home at about 3 a.m. the following workday with a very rare 1955 1st series Chevrolet 3/4-ton pickup with a NAPCO (Northwestern Auto Parts Company) 4x4 conversion. The truck was complete and with not much rust.
But like anyone who's juggling multiple projects, Eric had some decisions to make and he later sold the NAPCO to pay for work being done on a Hot Street Built 292 inline 6-cylinder engine. The 292 engine is presently going through final assembly and is intended to replace the 235 in his '54 1/2–ton pickup daily driver. He's also planning to add a Camaro frame or a '65 truck independent front suspension grafted onto the existing frame.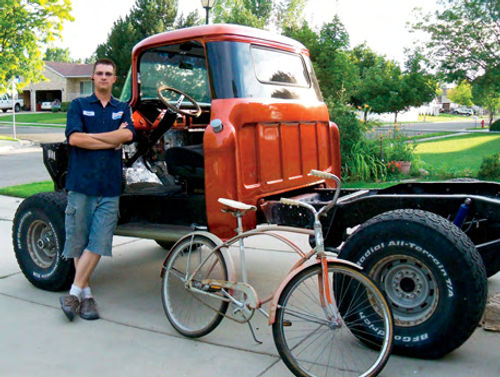 "I love how you can completely personalize a vehicle to the way you want it to be," Eric explained. "It's fun to be different and to show off your style."
Another Rare One
Eric already has become an avid collector and in March 2011 he bought a complete, very rare, 1951 Chevrolet Canopy Express. It has the side and rear canvas openings, the tailgate drops down, there are two bucket seats with lidded storage areas under each seat and a great-running 235 with a four-speed.
This particular truck started as a government welding truck in Roosevelt, Utah, and then retired to a field in Bluffdale, Utah, 10 years ago. Even so, there is very little rust on the vehicle. It had been offered online for less than 30 minutes when Eric found it.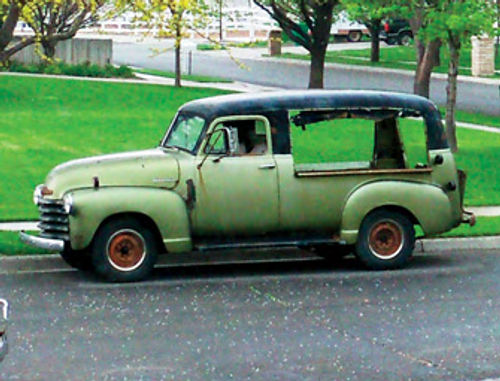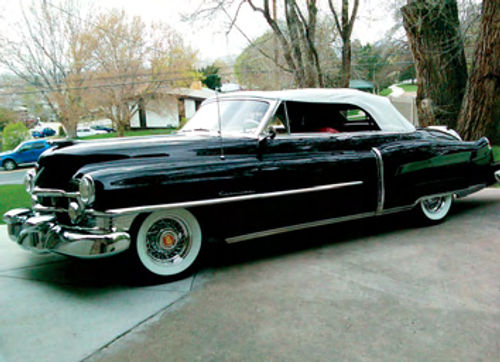 We are struggling to find out the production numbers for this 1951 truck. So far we believe there are only two 1951 Canopy Expresses known to exist. His best estimation is that about 200 Chevy/GMC Canopy's may have been built that year. Today less than 100 1947- 54 Canopy Express trucks are known to have survived. If any readers have additional information, please help us learn more about this vehicle's history.
There are Other Projects as Well
A 1948 Chevrolet Carryall Suburban is also in the works. On that one, Eric will be doing a custom 3-door conversion in the rear. The plan is to modify the original clamshell rear door system by retaining the upper glass lift gate and installing chopped barn doors to replace the lower portion of the original tailgate. He's also making the Suburban a 4x4 with a DANA 60 front axle, 14-bolt rear w/locker, 4- wheel disc brakes, a beefed up 350 Vortec V-8 and 700R4 trans, power seats, A/C, a CD player and much more.
A "show only" 1956 mild custom 4x4 Chevy is almost complete. It will be fitted with a small block Chevy 400, an Edelbrock intake with a Carter AFB competition 4-barrel, a 700R4, and placed on a '78 Chevy 1/2-ton 4x4 frame.
"Doing your own work gives you a sense of great accomplishment," Eric commented. "You know that you built this truck, you did all the work. On the other hand, consider a car you bought from a dealer where you did no restoration work on it at all. Sure, you can give it a different paint job, change the wheels and bolt on a supercharger, but there is no true personal hard work involved to make it what it is. Besides, I would rather drive a classic than a piece of plastic."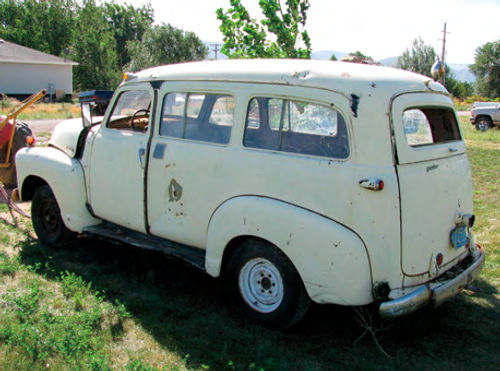 And while Eric obviously is drawn to '50s trucks, one of his projects was a '70s 4x4 Chevy pickup that he recently completed and painted black. He also did minor repairs on a friend's 1950 Cadillac convertible, painted the car and buffed it out.
Furthermore, when school finished for Eric last August he began a new business, "Hail Blast," a mobile, dry-ice blasting cleaning service. The trick now is to see how quickly his vehicle projects move along while he grows his new business. I'm betting the vehicles won't be delayed very much.
Ted Lazenby, the article's author, is a fan of multiple vintage Chevys himself. "I've had a 1951 Chevy pickup for close to 20 years and started on a 1950 Chevy Styleline Deluxe two-door post about four years ago," he said. "Over the past two years my son and I have been upgrading the truck with corner windows (Eric did the painting for me), front disc brakes, a 235 with a street cam and dual Rochester singles, and Fenton intake and headers. It also has dual exhaust, bucket seats, and a 12-volt system with an upgraded generator."