Feature Restoration 1957 Chevrolet Bel Air
It's One of the Best-Known Cars Ever to Come Out of Motown. Truly, It's a Vehicle That Needs No Introduction.
IT'S AN EASY bet that any person even minimally interested in cars can identify the 1957 Chevrolet, an automotive icon if ever there was one. The car's celebrated appeal isn't easily defined, but it's broadly accepted as being very real and the '57 Chevy illustrates exactly how far the division had come in only the preceding decade of its long history.
Prelude to a Legendary Era
By the time it resumed production of civilian vehicles following World War II, Chevrolet was almost 40 years old. The 1946 Chevy, like its contemporaries, was a 1942 model with some updates, and under its hood was something equally familiar, the 90-horsepower 216 six introduced in 1937.
Again, as with its contemporaries, Chevrolet knew that remaining competitive would require genuinely new cars in the post-war era and the division took that step with its 1949 models showing that pre-war styling was definitely on the way out.
The new body ran for four model years with only minor changes, but was extensively restyled for 1953. A vaguely Cadillac-like grille set off the front and the quarter panels raised the height of the taillights. Its one-piece windshield and new backlight treatment ensured it couldn't be mistaken for a 1952 model, but it lasted only through the 1954 update. Its replacement touched off a three-year run of Chevrolets that long ago were acknowledged as having achieved legendary status.
Introducing the '55 Chevy
"Here's Chevrolet's new 'show car' styling at its beautiful best," a 1955 brochure boasted. "The new Bel Air 4- Door Sedan looks as young as you feel behind the wheel! Wider and longer looking, and much, much lower—its crisp lines enhanced by tasteful chrome accents that distinguish the luxurious Bel Air models."
In this advertising instance, "looking" is an important word in the phrase "wider and longer looking." The real difference came in height, where the 1955 Bel Air with no load is 2.7 inches lower at the roof and at least two inches lower at the hood ornament. The hood's appearance was critical to the car's modern feel as the towering vee was gone; the hood wasn't flat, but it was smooth and much the same description applied to the rest of the car. The trunk lids bulge was gone and the roof's was reduced, but the biggest change was on the sides. The only nod toward genuine rear fenders was the belt line's only break, a notch just behind the driver's seat.
The wraparound windshield was new and the egg crate grille completely distanced the car from the 1954 model. Chevrolet occasionally flirted with Cadillac styling touches, so it added hooded headlights with trailing lines; the move toward fins pushed the almost-straight beltline and its high taillights slightly beyond the trunk.
It was so new and attractive that it might have gotten by on its looks, but the world will never know for certain because with it came another legend, the Turbo-Fire V-8. In its basic form, 265 cubic inches produced 162 horsepower, and 180 horsepower resulted from the addition of a four-barrel and duals while the "special camshaft" engine was good for 195 hp. This was at a time when the 235 six was rated at all of 136 horsepower in a car with an automatic or 123 hp with a stick.
Chevy's Image as a car for those caring only about consistent everyday service was suddenly gone and the V-8's performance didn't even require a tradeoff— the Chevy small-block would go on for decades every bit as strong and reliable as the six.
If there was a problem with the '55 model, it was the possibility of having created a hard act to follow, so 1956 brought improvements and updates with no radical changes. A full-width grille and new taillights appeared, trim was modified and rear wheel wells opened and reshaped.
Furthermore, the top version of the V8 was now putting out 225 horsepower. "…nothing without wings," Chevy's ads promised, "climbs like a '56 Chevrolet!"
From there, of course, it only got better. Chevrolet boasted that for '57 it had "a daring new departure in design (looks longer and lower, and it is!), exclusive new Triple-Turbine Turboglide automatic drive, a new V-8 and a bumper crop of new ideas including fuel injection!"
The new car was a masterful update and at a quick glance, it might have seemed completely fresh, but what had made the two previous years' Chevrolets so successful was still there. A tailfin had been grafted on with near-perfect integration by extending the beltline rearward, straightening and narrowing the trailing edge and then angling it inward toward the taillight at bottom. Even that notch near the front seat was still there.
The grillebecameoval and 1956's simple egg crate-mesh was traded for a mesh behind a center horizontal divider and a pair of bumperettes—with or without rubber caps. Even the dual hood ornaments mounted above a Chevrolet badge, a vee on V-8 cars and a bow-tie on the grille divider seem perfectly matched.
But then as now, some drivers were even more interested in what was being placed under the car's hood.
In this case, the Chevy small-block's first enlargement resulted in yet another automotive milestone, the new 283 V-8. The 265 remained the base eight and the 18-cubic-inch difference by itself wouldn't merit much more than a polite smile, as its entry-level 185 horsepower was only mildly better than the smaller engine's 162. Of course, a two-barrel carburetor and fuel injection are worlds apart and the injected 283 hit that awe-inspiring one horsepower-per-cubic-inch mark. Those who feared the exotic but wanted to go fast could settle for a 283 with two four barrels and 270 horsepower.
A Car With Enduring Appeal
It's as appealing today as when it was new, but unlike some cars popular with collectors, the '57 Chevy never really fell from favor. Even when it was just a used car, people wanted it.
Stub Titus did. He had a 1953 Ford and an after-school job near his Norwich, New York, home in 1962 when the feature Bel Air convertible appeared.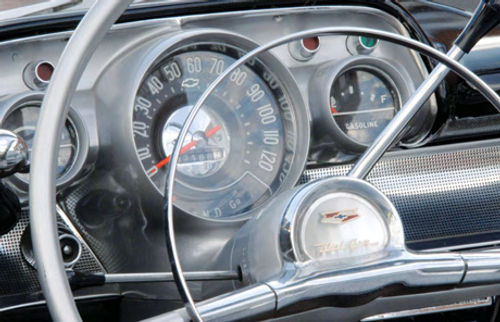 "One of the girls I went to school with," he recalled, "her brother showed up driving it. He worked for a local Chevy dealer, and he said 'are you looking for a car?'
"I looked at it and I looked at it. I was making 90 cents an hour. (But) in two or three days, it just got to the point where I had to have it."
So at about the time that he was graduating from high school, Titus had his newer car and the loan to go with it. Of course, a '57 Chevy convertible in the hands of a driver just out of high school was a recipe for some occasional exuberant behavior. Titus recalled one instance involving "this crazy kid with a '53 Mercury," which pretty much gives away the story.
"The two of us met at the main red light and we were going down South Broad Street on a Sunday morning at about 70, 75. The town cop, Mr. Garber, came up behind us and the Mercury went down a side street and there I was. Officer Garber had a little talk. That was kind of the normal thing. 'I'm not going to give you a ticket, but I am going to call your mom.'
"My mom was the town clerk." But as you might expect, that run-in with the law didn't keep Titus from putting a heavy foot on the accelerator when he felt that circumstances merited it. One such instance came when he and his wife, Ruthie, left on their honeymoon in 1963. The destination was Florida and at 60 miles per hour somewhere around the Pennsylvania line, a tractor-trailer shot past.
"We wound the old Chevy up and passed him, moving right along at 70 or 75," Titus said, "and I heard this 'honk, honk' and here comes this tractor-trailer on through. You couldn't do that to me, not at that age. You're bulletproof. So we went flying past him and that was the last we saw of him, I don't know how fast we were going."
After Spending that night in Pennsylvania, they were just getting back on the road when the car stopped. The Turboglide transmission had failed, leaving the disabled convertible to spend about a month there before being towed home behind a '55 Chevy wagon belonging to Titus' mother. (The Turboglide differs from most automatic transmissions in that it has three individual drive turbines, each connected to a different ratio inside the gearbox, instead of one turbine. This results in smooth operation when things are working right, but the setup also can be quite troublesome.)
Once Titus' car was delivered back home, the '57 found itself converted to a three-speed manual transmission. The stick was still there when Titus stopped driving the car in December 1964, but parking it wasn't part of a long-range plan to save it and restore it…it just happened to work out that way.
A Heater Hose Kept It In the Family
Actually, the long-term ownership resulted from what began as a minor problem, as a heater hose had split as he was driving to his full-time job one morning. A quick temporary repair and some water to replace lost coolant got him to the garage where he worked on weekends.
1957 Chevrolet Bel Air
GENERAL
Front-engine, rear-drive, convertible
ENGINE
Type Overhead-valve V-8
Displacement 283 cu.in.
Borexstroke 3.875in.x3.0in.
Compression ratio (:1) 9.5
Carburetor Four-barrel downdraft
Power 220hp@4800rpm
Torque 300lb.-ft.@3000rpm
DRIVETRAIN
Transmission Turboglide Automatic
SUSPENSION & BRAKES
Front Independent, coil springs
Rear Solid axle, leaf springs
Brakes(f/r) Drum/drum
STEERING
Worm and ball
MEASUREMENTS
Wheelbase 115in.
Length 200in.
Height 57.11 in.
Width 73.8 in.
Track(f/r) 58/58.8 in.
Weight 3405 lb.
Tire Size 7.50x14
"I stopped at the station and asked him to drain the block," he recalled, "and went on over to work. I caught a ride home and came back down the next morning and it was about 10 degrees or so. The block was cracked on the right hand side. I loved the car and we had a little extra room. We lived on a farm, just outside of town. We had some room in a building, so we parked it and I was going to put another engine in it."
With a growing family, the convertible became less of a priority, but it was safe in a building used to store hay and reasonably protected from moisture.
Without doubt, the simple fact that it was no longer being used helped to preserve it in good original condition. Titus said that it wasn't even dented, but allowed that many things might've changed regarding the car had he continued to drive it.
"If I would've kept it (on the road)," he guessed, "I'd say that in probably another year or two, depending on the money, it would've had a 327 and a four-speed in it."
Instead, it spent several decades in storage. It was moved occasionally and it produced a textbook example of a classic old-cartale. This one had two critical differences from the common versions; there really was a '57 Chevy convertible in that garage and the owner really would restore it.
"I had one guy who came down from Herkimer (New York) and knocked on the door," Titussaid. "I don't know how he found out who I was, but he'd heard the story. At that time, it was still just like it came out of the hay building and he almost talked me into selling it for $1100, but I just couldn't do it."
He wasn't the only one to try, but by the late 1980s, it was clear that none of its would-be buyers had a chance. Not much of the actual work had been done, but Titus was already starting to accumulate parts to complete the project.
"At that time," he said, "you could get parts, but you couldn't get the parts that they make today. The repro stuff just wasn't there. Luckily, I didn't need the sheet metal."
Suddenly, It Rated More Than a Transplant
The body had survived because the car had been garaged for so long, but like parking the Chevy in 1964, restoring it wasn't part of the initial decision. Instead, Titus had planned to put it on the road and had bought a wrecked sedan for its drivetrain.
"I was getting ready to put that motor into it and put it back together," he explained, "because the kids were starting to get to high school. We'd have a car for them to drive and there'd be the nostalgia thing."
His kids' interest in the convertible was the first of several family connections which would ensure its future. The next appeared when his brother-in-law showed up while he was working on it, questioned whether he knew what he was doing and then showed him ads for restored examples. The asking prices were eye-openers.
"Needless To Say,"herecalled, "everything came to a halt and the more we talked about it, the more the fenders came apart, the bumpers came off, a little bit at a time. What I would do is take something apart and I would take sandwich bags, put the hardware in them and tape them to the parts. At one time, I had three cellars full of parts."
Titus was going for authenticity and one possible roadblock was the Turboglide. After he had replaced the original with a three-speed manual, he hadn't bothered to save it and since the Turboglide wasn't Chevy's most popular transmission, the need to locate one could have bogged down the restoration. The convertibles luck held, though, as Titus was able to find another V-8 Turboglide in a car in a Pennsylvania salvage yard.
"We pulled that," he said, "including the block and everything, because I wanted the transmission lines and I wanted the starter—the Turboglide starter's different—and the linkage. I was kind of fussy."
Being "kind offussy" had downsides.
"As things went along,"Titussaid, "the kids didn't get to use it. When all of them got married, they never used it in their weddings, either, because I still had it all in boxes… I went through and rebuilt the power brakes, did the power steering and the generator and this kind of stuff. Well, when we got ready to assemble things, all of these pieces, even though we'd put new seals in and even though I took ATF and wiped the seals, we got it together and it leaked like a sieve. So I had to take everything apart a second time and, of course, here it is all repainted, all finished work, hours to take it all apart, put new parts in and rebuild it back together again. That's one thing you don't do."
A Real Crowd—and Family—Pleaser
The restored Chevy made its first public appearance at the Rolling Antiquers Old Car Club's 1997 show in Norwich and Titus said that for several years afterward, it still had its factory interior. Multiple treatments with Nu Vinyl protectant softened the material and seams were restitched by hand to replace deteriorated thread. It might have been enough had a high school friend not stopped by for a visit. The friend lived in Ohio, was building a Corvette and convinced Titus to take the convertible to a Chevy show at Indianapolis in 1999. That show touched off a series of events that led to a new interior, but in the shorter term, it confirmed the quality of his car's restoration before it reached the field.
"I opened the two back doors on that trailer," Titus said, "I swear there was nobody there and I started to haul the ramps out, started to put the blocks out and get the things situated. I turn around and there must be 40 or 50 people… I got in the car and fired it up and those 40 people turned into 60. I backed it out and I got two offers to sell it before I got it off the ramps.
"We did not build a show car. The family all got together and on weekends, we took this thing apart and put it back together like it was."
And of all the family connections centering on the Chevy, that one is likely the most important.
"I've got to blame most of that on Ruthie," Titus laughed. "She's the one who brought the kids into it. It wasn't my idea.
"It kind of grew. I can remember very well, I had nothing but the chassis in the garage on blocks and I was redoing the front end when Mike comes in and says, 'what's this?' I said, 'that's the front brakes. OK, kid, roll your sleeves up.' And as the girls got boyfriends and got married, they were cleaning parts and playing with the toy.
"It just evolved as a family project.With Ruthie, Sunday dinner turned into 15 to 17 people that she cooked dinner for."
He said that she just accepted that everyone working on the restoration would stay for dinner, but until her death in 2007,she also served as something of a coordinator for activities involving the convertible.
"She was the center of everything," Titus said. "She arranged the car shows, she arranged the rooms, she'd deal with the parts. 'Hey, how come we haven't got that yet?'"
And sometimes, she took a more direct role. "It got so that that interior was hurting us really badly as far as the car going anywhere," Titus Recalled. "Ruthie went and bought an interior. I hated to, but we took the original interior out and I installed the new interior."
Check That Beltline Notch
Her interest—like his—is easy to understand, considering that the car had been around for so long, but few hobbyists are so lucky. The feature car was stripped,so Titus knows that its rust damage was limited primarily to seams on the rocker panels and a section of floor in the rear passenger area, but there are other areas likely to have problems. Rear wheel wells and the fender heels are often rusted, as are the trunk floor, front inner fenders and the frame over the rear axle. Titus recommended inspection of the additional members added to a convertible chassis for stiffening, since the shape can collect and hold debris.
One of the most surprising—and, fortunately, one of the most easily spotted— problems is the notch in the beltline. It's not common, but convertibles and coupes sometimes show small vertical cracks in the paint there and those cracks mean the paint is no longer able to protect the metal.
Aim for the One You Want
A 1957 Chevy, like its 1955 and '56 brethren, is one of those cars occupying a strange and complicated position for restorers. It's been popular for a long, long time and many of today's good ones never had the chance to reach truly poor condition before being preserved or restored. Others, of course, did hit the point of needing extensive work and that generated the demand for the aftermarket parts that are now so widely available.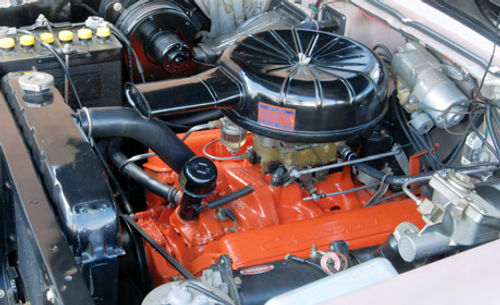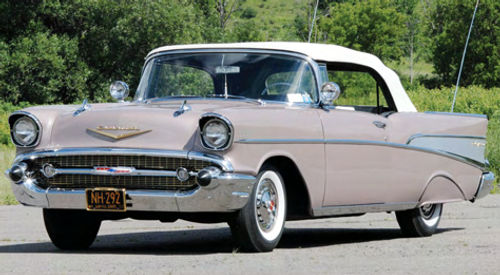 Broad support is a bonus when restoring any car, but when it comes to one like the featured Chevy, it becomes even more important as time passes. Eventually, its fans will find the pool of restorable cars gradually taking in what would once have been deemed parts cars. Once that happens, finding a good one with which to start will require diligent hunting (and more money), but with more than 1.5 million built, the total supply of restorable '57s probably won't be exhausted anytime soon. Add the aftermarket support mentioned above and it should be possible to restore a 1957 Chevrolet that would have been parted or scrapped not that many years ago.
Restorers likely will do just that,since the car has so much going for it. Its look isiconic, to put it mildly, while its overall quality is good and it's a pleasant driver. Add in the two legendary engines—the smallblockV-8orthebasicsix—andit's not hard to figure out the appeal.
But whether it's a '57 Chevy or anything else, Titus explained, the owner needs to keep his goals in mind so that he can enjoy the finished car. The choice might be between a perfect show vehicle and one that can be driven without constant worry about wear and tear.
"With the small shows that we go to," Titus said, "you have a real variety of people, but you also have a real variety of cars. A guy shows up with a (Chevy) 150 that's pretty well beat up, yet he's happy with it.
"You have people that, to them, it's a piece of junk. Well, it's not."