Feature Restoration 1956 Lincoln Premier

A Definite Symbol of Automotive Luxury and '50s Opulence. It Impressed a Boy So Much That He Owns Two.
THESE DAYS PEOPLE pay close attention to the concept cars on display at the nation's leading auto shows. After all, they know that in most cases they're looking at the prototypes of vehicles that will be rolling into dealer showrooms within a couple of years.
But while much is said in the current automotive media about the evolution from concept to production vehicle, it's not exactly a recently introduced practice in the auto business.
Consider the restyled Lincoln For 1956. While a casual observer might have mistaken it for a contemporary Packard, a follower of the brand would spot its ancestry in the 1953 Lincoln XL-500 and 1954 Mercury Monterey XM-800 concept cars.
The '56 Lincoln had a distinctive upscale, luxury-car look not nearly as evident in the 1952-55 Lincolns that strongly resembled their Mercury siblings and came to be known as "Road Race Lincolns" due to their winning ways in the '52-54 Mexican Pan-American Road Race. One reason those lean style Road Race Lincoln's did sowell in competition was that 1952 saw Ford's first move away from flathead V-8s to a modern overhead-valve oversquare engine. (Oversquare means the bore is larger than the stroke which allows for larger valves and higher rpm and thus more horsepower than an undersquare engine of comparable displacement.)
A larger version of that modern engine (368 vs. 341 cid) made it into the 1956 Lincoln, but the car also was longer and lower than preceding models, and the new '56 Lincoln was most like its predecessors only at the rear, where vertical taillights rode in small fins and were visible from the sides. However, the suggestion of a separate rear fender that had appeared in 1952 was gone, and a mid-body horizontal crease along with a low-level side molding that ran from the car's rear end to the front wheel well emphasized the vehicle's length. Furthermore, a new, tall greenhouse with wraparound glass at front and rear provided a suggestion of the space age.
A larger version of that modern engine (368 vs. 341 cid) made it into the 1956 Lincoln, but the car also was longer and lower than preceding models, and the new '56 Lincoln was most like its predecessors only at the rear, where vertical taillights rode in small fins and were visible from the sides. However, the suggestion of a separate rear fender that had appeared in 1952 was gone, and a mid-body horizontal crease along with a low-level side molding that ran from the car's rear end to the front wheel well emphasized the vehicle's length. Furthermore, a new, tall greenhouse with wraparound glass at front and rear provided a suggestion of the space age.
And if that wasn't enough, hooded headlights mounted in curiously shaped trim extending toward the car's center, large parking lights and a two-tiered grille ensured another sharp break with Lincoln's past.
You're Not That Easy to Forget
In other words, the 1956 Lincoln amounted to a striking package capable of making a lasting impression...even on a schoolboy.
"It was only one or two days after my grandfather bought his and we happened to be at his house when the car was delivered," recalled George Simon, whose 1956 Premiere is featured here. "The salesman delivered the car to the house and took away the old one. I can remember one or two days later—I was still in elementary school—we had to draw something and I remembered enough about that car that I was able to draw that car."
His grandfather, he said, had been a loyal Oldsmobile driver until switching to Lincoln In 1949. After buying the 1956, he kept it long enough that Simon was eventually able to drive it, but had to pass on the opportunity to buy it.
"It was 10 years old and had 86,000 miles on it," he said. "The interior was still like new, it was a two-door and the body was about 95 percent. It needed a new starter. I could've had it for $200…but I was going to school. I didn't have $200; I didn't have anywhere to store it."
If At First You Don't Succeed…
About 15 years later he finally owned one, but it was a black Premiere and not the car shown here. The story requires backing up from 1981 when he bought that car to about 1973 and the first time he saw the featured Lincoln. It started with a short trip from Simon's Vestal, New York, home to look at a 1937 Packard across the border in Pennsylvania. The Packard was in a garage that also housed the Lincoln, which still belonged to its original owner. While there, Simon met the Lincoln's owner as well.
"He had used it regularly for four years," Simon explained, "put it in the garage and got it out by his own admission once a month to exercise it. I didn't drive it or anything, but I looked at it.I said 'I'll think about the Packard.' I knew before I left that I didn't want the Packard."
The Packard, he said, just didn't interest him, but the Lincoln was another matter and caught his attention strongly enough that he didn't forget about it. More than a decade passed before he asked the Packard's owner whether the Lincoln was still in that garage and—far more critically—whether it might be for sale. Since the Packard's owner didn't know, he made the obvious recommendation—contact the Lincoln's owner— and after he did that, Simon took another ride to Pennsylvania to meet with him.
"He remembered me," Simon said. "'Yeah, the Lincoln's a nice car. Would you like to drive it?' I said 'sure' and we went out and drove five or six miles up and down Interstate 81.
"I knew there was something with the front end because the steering wheel shook a little bit, but basically, it ran fine. We put it back in the garage and I said 'that's a nice car.' He said 'well, nice to see you' and that was the end of the interview. I said to myself 'OK, you've just been dismissed.'"
The problem with that was Simon's interest in the Lincoln had risen to the level where he wanted it and so it was time for yet another trip to Pennsylvania.
"I'd say a good month went by," he recalled, "when I called him up and said 'I'd like to come down and look at the Lincoln again.' I went down and looked at it, but I don't remember that we drove it that time. We talked for a little bit and 'well, it was nice to see you again.' That took care of that."
It was now time to get serious, so he played the ultimate card—his black Lincoln Premier.
"Two weeks later," he said," I took my other Lincoln down, the other '56, and pulled into his yard. He was so enthralled with the black one that he said 'do you want the green one? You can have it.'
"We settled on a price; I didn't get it for free or anything like that. It was a fair price and he looked the (black) car all over inside and outside, everything. He was about 82 at the time and I just had the feeling that he wanted to make sure that the car was going to go to somebody who wasn't going to trash it."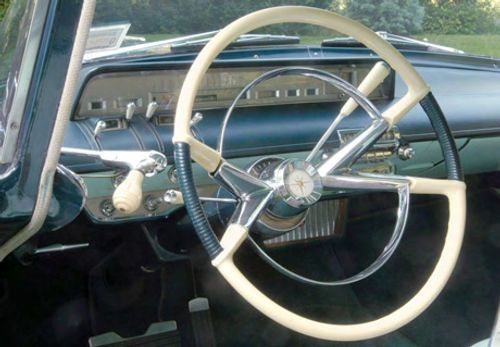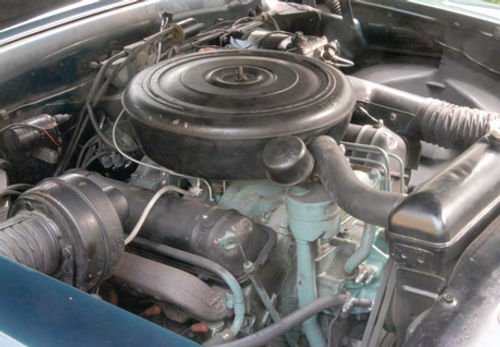 Simon's immediate plan was about as far as possible from trashing it, although he concedes now that it might not have been the wisest move.
He made one more trip across the border in order to close the deal and transfer ownership, drove the car home and a few days later headed for a national meet south of Harrisburg, Pennsylvania.
It was roughly a four-hour drive and the Lincoln's new owner was confident.
"I figured the car was in decent shape," Simon explained, "but I had nobody check it or anything like that. The underside was still full of cobwebs and away we went."
A Positive Paper Trail
His confidence was well placed as what might have turned into a genuine adventure came off without incident. At the time, the Lincoln showed about 68,000 miles and if that was the good news, better yet was the fact that the original owner had had the engine rebuilt at about 50,000 miles. Simon doesn't know what prompted that, but he's got the bill for the job.
1956 Lincoln Premier
GENERAL
Front-engine,rear-drive, four-door sedan
ENGINE
Type Overhead valve V-8
Displacement 368cu.in.
Bore Stroke 4.00in.x3.656in.
Compression ratio (:1) 9
Carburetor Four-barrel
Power 285hp@4600rpm
Torque 402lb.-ft.@3000rpm
DRIVETRAIN
Transmission Three-speed automatic
SUSPENSION & BRAKES
Front Independent, coil springs
Rear Solid axle, leaf springs
Brakes(f/r) Drum/drum,power-assisted
STEERING
Recirculating ball, power-assisted
MEASUREMENTS
Wheelbase 126in.
Length 223in.
Width 79.9 in.
Height 61.2 in.
Track(f/r) 58.5/60 in.
Weight 4347 lb.
Tire Size 8.00x15in.
"I've got all the paperwork on it," he said, "from when he went down to New York and traded in a '49 Lincoln and drove the new one back."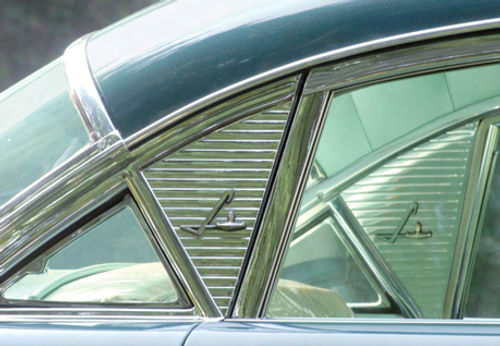 Regardless of why the engine was rebuilt, the original owner's collection of receipts suggests that he took good care of the Lincoln.It's an impression further supported by what it's needed in the time Simon's owned it. Most of the work has been unsurprising for a car with roughly 75,000 miles and has included wear-out components such as brakes, exhaust, shocks and suspension bushings. The carburetor has been rebuilt—a project that now needs to be done again—and a radiator leak repaired, but the biggest problem has been in the front end.
Check That Battery Box
"One of the things that these are almost notorious far is the steering box," Simon explained. "The steering wheel just gets very, very sloppy and so I've had the steering box replaced actually twice.I'm not really happy with it as they are not cheap. But the most difficult thing is that you've got to pull the steering column and get at it from underneath, and it must weigh 200 pounds."
The body has come through about as well as the drivetrain and he said that it shows no evidence of major repairs. The rocker panels have been replaced and the body mounts have some rust.
"I suspect one of the things that was done when it was repainted 30 or 35 years ago," Simon observed, "is that there were (repairs to) some dents or maybe some surface rust just from being used. These cars always did rust right at the front edge of the fender, right where the grille meets it. I suspect that that was all part of the deal. If you get it on a lift and you have the light just right, you can see where there are spots of bodywork done, but if you get it down to where 99 percent of people would look at it, you'd never see it.
"I don't think it's ever been hit. Ithink there was a time when the right rear door was opened farther than it should've been and the door got creased. It opens and closes fine now, but it will open beyond its limits if you push it. But as far as being in a road accident, there's never been any hint of that."
Accident damage is one thing, but they're not cars known for heavy rust problems. Still, it's worth inspecting the common weak points such as the rockers, the heels of the fenders and the quarter panels for rust damage.
"I haven't seen it," Simon said, "but considering the large piece of stainless on the lower quarter, it wouldn't surprise me at all."
The potential rust area around the headlight extends back as far as the wheel well, he said, and while the floor pans generally seem to hold up well, the battery box is another matter.
"The battery box is underneath the right-hand front floorboard," he said. "That's one of the things I fixed on the green car because it whistled when it went down the road, almost literally.
"You just get a bad feeling about going down the road and having the car's battery dragging."
Not Rare, But Unusual
Of course, "going down the road" is where the Lincoln stands out. Simon doesn't take it on many trips, but it's because of time constraints rather than concerns over whether the car would get there. Most of its longer runs are within a 75-mile radius, but it's been farther, such as that drive to the national meet a few days after he bought it. The Lincoln returns about 22 miles per gallon on the highway, which isn't bad for a 285-horsepower 368 in a 4300-pound car.
The other frequently cited reason for hesitation when it comes to driving a collector vehicle is almost a non-issue with the Lincoln, as most of its mechanical parts are available.
"Actually," Simon explained, "when you come right down to it, they were pretty basic Ford cars for 55 years ago. They used a lot of standard Ford parts and products."
Even some of the body and interior parts can be found.
Simon gave the example of the one It's an unusual treatment at the greenhouse's rear,with a stunning amount of bright work both inside and out. Could anyone look at this and not be certain that it's from the '50s? year-only taillight lenses, one of which was damaged on his car. He bought an excellent reproduction at a Lincoln show, he said, and the vendor had several from which to choose
"They're as expensive as the devil," he said, "but they're available.All the lenses of any kind are available. The parking lights, even down to the backup lights."
Stainless steel trim, bumperends and some interior pieces can be found, but he said he was lucky to come up with cloth for the black Lincoln's interior.
With about 50,000 Lincolns built in 1956, they're not exceedingly rare today, but they're unusual enough that difficulty in locating something like the upholstery is understandable.
They're also unusual enough today to stump many of those who see them. Simon estimated that probably 25 percent of those who talk to him about the feature car can identify it, but added that others don't always get it right.
"Sometimes a Packard," he said, "sometimes, they just plain don't know. I forget the circumstances, but I had to drive the car to work and I parked in the parking lot. It was a small, family-run business and one of the guys said 'who owns that nice Cadillac out there?'
That type of confusion is enough to perplex Simon. "There are enough 'Lincoln' names on it," he explained, "whether it's in the block letters on the hood or one of the scripts."
Like its contemporary competitors, the Lincoln isn't especially flashy—something that would change very shortly— but its relatively restrained look doesn't stop it from attracting attention and he recalled one trip that created what had to be an extremely unusual set of circumstances. It happened when he and his brother took both of his cars to an AACA national meet in nearby Binghamton, New York.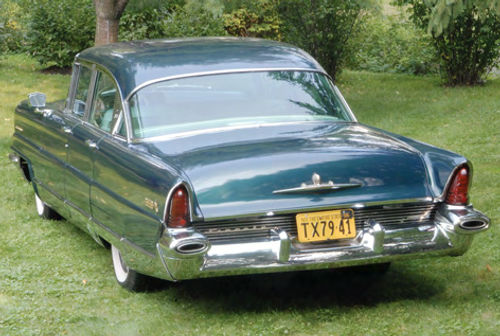 "What are the chances—even if it had been 1956—of two '56 Lincolns going down the road end-to-end at the same time?"Simon asked."And it was amazing how many people at that show stopped to talk with me about the cars."
Not so amazing, really.
A 1956 Lincoln doesn't show up often and Simon isn't the only one on whom the car made a long-lasting impression. For some, the impression is tied specifically to this 1956 Lincoln.
"As Late as 2009,"Simon Said, "Iwas at a car show in Montrose (Pennsylvania) and three or four people came along and said 'you know, I used to know a guy who had a car like that.' I'd mention the owner's name and they'd say, 'yeah.'"
He understands why they remember it.
"I'd seen the green one before I bought the black one," he explained, "and I knew they were not common. To have one was wonderful, to have two is fantastic."