Feature Restoration 1936 Cadillac Convertible Sedan
It Was a Rare Production Car In Its Day, and Few Remain Now. Yet the Owner Tells of Buying It for $250...
FIRE TORNADOS AND ice rainbows are considered rare phenomenon. You can add 1936 Cadillac convertible sedans to that list. Statistically speaking, these classic Cadillacs are just slightly more common than hen's teeth and bi-partisan political compromises.
According to Cadillac nomenclature, the car featured here is a Model 36-70, which equates to a V-8-powered, short wheelbase, four-door sedan. The Cadillac Club records show three in existence today. And if you include the long wheelbase V-8 version, there are three more that can be accounted for. Furthermore, Cadillac Club records can identify a total of only fifty 1936 Cadillac survivors of the six models that were offered.
But as the photos demonstrate, while they may be uncommon, they do exist. Gene Calman of San Diego, California, found one and bought it in 2002.
The Tale of an Amazing Barn Find…
When asked about the discovery, he recited a story about how he was driving out in the country when he ran out of gas and walked to the nearest farm house.
Calman met the resident farmer and explained his dilemma. The farmer was quite willing to help a stranger in need and said he had gas in a can down at the barn. So, the two of them walked to the nearby barn.
When the farmer opened the door to the barn, Calman was stunned. Inside were the dusty, shadowy outlines of dozens of old cars. He recognized Auburns, Packards, Pierce-Arrows, Cadillacs and many others.
Calman composed himself and asked the farmer if any of the old autos were for sale. The farmer replied, "Yeah, I've been thinking about getting rid of them, but I'm asking $250 apiece for them. Do you think that's too much?"
Then Calman chuckles and admits it wasn't quite like that, but he enjoys retelling that old tale that's been recited thousands of times, and is presumably believed every now and then...at least momentarily.
OK, Let's Try Again…
The real story of Calman's Cadillac, however, does have its similarities.
"My 'farmer' was a retired doctor with a big garage that stretched a city block in downtown San Diego,"Calman said. "It was filled with a great many cars. Probably 10 or 15 of them were classics.
"This Cadillac was one of them and I thought it was a beauty. I negotiated and fiddled around and tried to get a friend of mine interested in buying it. But he turned down the idea, so I bought it myself."
What Calman bought was a mostly complete project car that likely was an in-progress restoration about 30 years ago, he estimates. It had body and paint and engine work done, but for reasons unknown the restoration was halted in the early stage of the project. After that it was garaged, but not treated with a great deal of respect.
The body survived with little harm from either rust or dents. The engine didn't run.
After a quick accounting of missing parts, Calman had a list that included bumpers, beltline trim molding, several hubcaps, all but one exterior door handle, and the hood-mounted "Goddess" mascot. Dual side-mounted spares were part of the package, and although the metal covers were with the car, the chrome trim pieces were missing. The grille had some broken, bent and missing pieces.
The convertible top was in tatters. Nearly all the canvas was gone and about half of the 50 metal pieces needed to operate the mechanical top assembly were also missing.
Additional missing pieces included the wiring harness, the instrument panel, and the radio.
Still, all things considered, it was an amazing find. As you no doubt know from your own experience, lots of restoration projects have begun with much less.
A Hobby Veteran Who Was Hooked By a Fire Engine
Calman started buying old vehicles about 35 years ago. His addiction began after he joined a historical group that owned a 1941 Seagrave fire engine. It seems that his involvement in the restoration and upkeep of that vehicle took him down the winding road of no return.
Along the way he's gathered up an eclectic assortment of vehicles that includes a custom-built 1928 Graham Paige modified to look like a railroad locomotive, a 1927 Cadillac limousine, a 1927 Graham truck, a '55 Armstrong Sidley, and a '63 Lincoln. The condition of this collection ranges from fair to fantastic.
To transform the '36 Cadillac into a ready-for-the-road car,Calman,with the help of his son, invested somewhere close to seven years.
"It's not a 100-point car by any means," he said. "I'm more interested in building a car that can be driven. I don't care about awards and none of my cars are trailer queens."
Some Valuable Tech School Training
The part of a restoration project he likes best is the fabrication of parts that no longer exist or are more fun for him to construct than buy.
Calman is a retired highway engineer with an aptitude for visualizing the workings of all things mechanical. As a teenager, he attended a San Francisco area technical school where his coursework mixed industrial arts classes such as machine shop, electrical systems, metal and wood shop with college preparatory courses. He says that early education has served him well in both his professional career and his automotive hobby.
Passing the Convertible Top Test
The biggest single challenge in restoring the Cadillac was understanding how the perplexingly elaborate top mechanism functioned and then fabricating the missing pieces.
Connecting with the owner of a restored 1937 Cadillac convertible sedan was a huge help in this regard. That led to obtaining patterns for the missing parts, most of which were made from flat steel. A higher degree of difficulty came with the fabrication of two arches that span the rear doors (one on each side). They were made out of a variable width angle iron that required forming. It was just the kind of conundrum that fuels the fire in a guy like Calman, who acquired machine tools capable of this kind of work. He simply had to learn how to use them.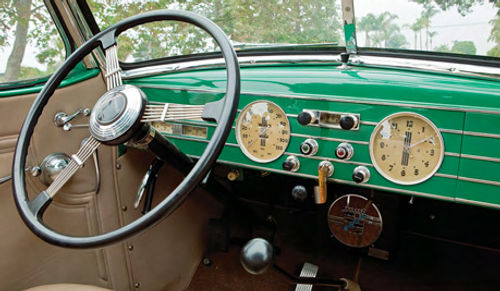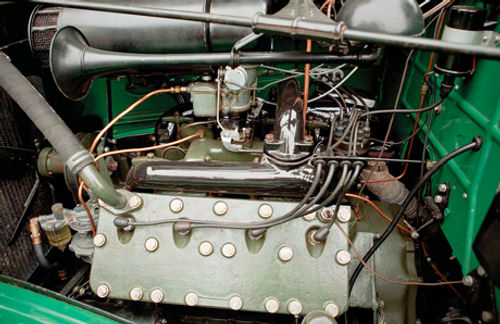 Calman describes the puzzle of the convertible top framework as "a big learning experience."
Learning From the Harness as Well
As you can see from the photos, Calman was successful in reconstructing a working convertible top mechanism. (The creative thinking that allows this to work was accomplished either by a mechanical genius or a madman with leftover parts from 27 metal stepladders.)
Not surprisingly, the raising or lowering of that top requires two people plus a lot of communication and cooperation.
Another project challenge was the replacement of a missing wiring harness that Calman figures was a casualty of the aborted restoration process years ago. His search for a replacement led to acquiring a harness from a wrecked donor vehicle. It was not suitable for use, but he thought it could be used as a pattern to make a new harness. That notion disappeared after Calman spent some time trying to figure out how he could do this himself.
"I couldn't figure out what the hell was going on, so I called a company that had the design," he admits.
1936 Cadillac 36-70
GENERAL
Front-engine, rear-drive, convertible sedan
ENGINE
Type Flathead V-8
Displacement 346 cu. in.
Bore x stroke 3.5in.x4.5in.
Compression ratio (:1) 6.25
Carburetor Stromberg EE-25 downdraft
Power 135hp@3400rpm
Torque 170 lb.-ft.@1000rpm
Main Bearings 3
Valve Lifters Hydraulic
DRIVETRAIN
Transmission Three-speed manual
Final Drive(:1) 4.6std.;4.33optional
SUSPENSION & BRAKES
Front Independent, coil springs
Rear Semi-floating axle, leaf springs
Brakes (f/r) Hydraulic
MEASUREMENTS
Wheelbase 131in.
Length 206.25 in.
Weight 4675 lb.
Wheel Size 16in.
Making Parts for the Grille & More
A task that Calman enjoyed more was the grille repair. For the 1936 models, the Cadillac design staff, led by Bill Mitchell, liked the boldness of using horizontal louvers with a narrower than 1935 V Shape grille—the center being the leading edge of the V. Because the louvers were thermostatically controlled to open and close according to cooling or heating necessities, the engineering of this feature included saw-tooth metal rods which allowed the louvers to rotate when necessary. Calman was able to fabricate these rods in his garage, where he also attended to a broken grille frame and a few bent louvers.
The trim spears on the hood, the cowl and the rear quarter panels were also Calman creations patterned after the real thing. He used a lathe to make the spear points, and because he couldn't find 3 ⁄4- inch brass half-round, he used 3 ⁄4-inch diameter brass tubing sawed lengthwise to achieve the desired appearance.
To make the trim rings on the metal side mount covers, he chose copper because it was more malleable. But two factors combined to make this a tricky piece to fabricate. First, the trim is round—in the shape of the wheel, but secondly it is cut at a 45-degree angle where it attaches to the metal covers for the side mounts.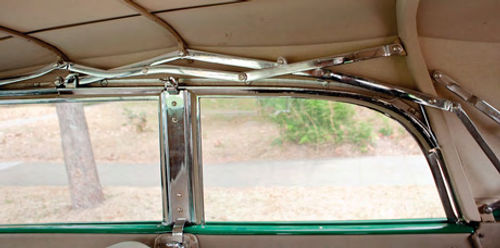 "I thought about it a long time before attempting it,"Calman says. "I have a set of sheet metal rollers that someone made years ago out of a bunch of bearings. From those I was able to make rollers that could cut a 45-degree edge."
Items like the hood-mounted mascot and the door handles were created from sand castings and a lot of polishing.
Freeing a Stuck Engine With a Block of Wood
To free the Cadillac's frozen V-8, Calman first loaded the cylinders with Marvel Mystery Oil and let it soak in for several days. Eventually this broke the rust's grip that was preventing the heads from being removed. After the heads were off, he used a lathe to turn a block of wood into a "piston" that was tapped with a light hammer to force the real pistons down in the cylinders and free the engine. The engine was then overhauled.
When it came time to acquire new bearings, a problem was encountered— they weren't available for the 1936 Cadillac V-8.
Later Calmandis covered that the car's original, numbers-matching engine had a cracked block, so he set out to find a replacement rather than repairing it with a weld on the top deck—a fix with a good chance of failure.
He was amazed to find three potential engine replacements during the first morning of searching.
After a Magnaflux inspection for cracks, he bought a short block and used the heads and all the other pieces from the original engine to finish it. The short block was bored and then sleeved, which returned it to factory cylinder size. He also had the crank polished.
The transmission and clutch were good to go in the acquired condition, so they were bolted in and so far have performed just fine.
1936 Cadillac Lineup and Production
In 1936, Cadillac offered a lineup of models that were identified by engine configuration and wheelbase. It began with the entry point vehicle, the Model 36-60, a smaller, lighter car with the smaller version of Cadillac's newly designed V-8 and, of course, a relatively smaller sticker price. The wheelbase was 121 inches and provided the three body styles—coupe, convertible coupe and four-door sedan—with an aggressive appearance compared to the more massive appearance of the larger-wheelbase Cadillacs. All bodies were made by Fisher, while the rest of the Cadillac models were fitted with bodies built by Fleetwood. This "little Cadillac" was the best-selling model in 1936.
Cadillac put its money engine—a version of its long-lived and highly regarded V-8 described below—in two models, the 36-70 and 36-75. The difference between the two was size: a 131-inch wheelbase and an overall length of 206 inches for the 36-70 compared to a 138- inch wheelbase and 213 inches in overall length for the 36-75. The available body styles for both models included coupe, convertible coupe, sedan and convertible sedan (our Model 36-70 feature car).
Cadillac introduced its first V-8 in 1915 and continually upgraded it for 20 years, making it synonymous with luxury before Ford handed it over to the working class. In 1936, Cadillac introduced a completely redesigned, monobloc, L-head, V-8. Two cubic inch displacements were available: 322 and 346. Longer stroke accounted for the larger displacement and resulted in a horsepower bump from 125 to 150. All the smaller engines were mated to the Model 60s, while the larger configuration was designated for the Models 70 and 75. This engine would be the basis for the Cadillac V-8 until the next redesign, an overhead valve engine which was introduced in 1949.
Higher up the prestige ladder, Cadillac presented two V-12 models and the grandest of all Cadillacs, the V-16. The Cadillac V-12-powered Series 80 and 85 cars shared the same two wheelbase lengths and body styles as the 70 and 75 vehicles. The 12-cylinder engines were available from 1930 until 1937. They displaced 368 cubic inches and were rated at 150 horsepower. (Note that the horsepower rating for this V-12 equals the 346- cubic-inch V-8.)
The V-16 displaced 452 cubic inches and by 1934 the body rode on a 154-inch wheelbase. The Cadillac Sixteen was available from 1930 through 1937 in the 452-cubic-inch format and from 1938 to 1940 in a 431-cubic-inch version. The preferred body style for most buyers was the limousine.
A Convertible With Extra Elegance
Everybody has their favorite body styles and a strong case can be made for the feature car, a four-door convertible. This Is an uptown version of the old four door touring cars that made do with isinglass curtains rather than roll-up, glass windows. The convertible sedan is very sporting. It's usually the least-produced production body from any of the luxury automobile companies, and often it was the most expensive.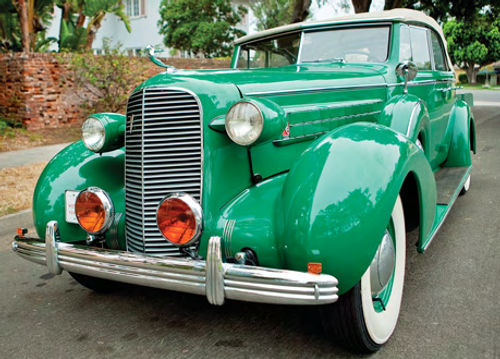 In the late '20s and early '30s this would have been considered a custom body built only by the custom shops. Sometimes a wealthy owner would have two bodies for his car: a convertible sedan for the balmy, warm-weather months and an enclosed sedan for the nasty winter stuff.
Touring Yosemite In Style
After Calman was feeling comfortable with the Cadillac's cosmetic and mechanical condition, it was tested on a few local shakedown trips. The car had proved to be roadworthy, and it was just in time for a Cadillac Club touring event headquartered out of Yosemite National Park. In fivedaysthetour—Calman'sCadillac included—covered 500 miles.
Calman remembers riding in the back seat with the top down as his son chauffeured him through Yosemite Valley. "That's one helluva way to see Yosemite," he said.