A Road Runner at the Crossroads
After Searching, He Finally Found the Mopar of His Dreams. Now, Should He Restore It or Keep the Car "As Is."
WHAT WOULD YOU do if you were a talented restorer and found the muscle car of your dreams in the general condition of, say, a well cared-for nine-year-old car?
Larry Fechter is facing this question after locating a 1970 Plymouth Road Runner through an ad that he stumbled across on Craig's List.
A New Kind of Muscle Machine
Plymouth was first to exploit the market for a low-buck performance car with its 1968 Road Runner. The idea of putting a powerful engine in the company's cheapest and lightest model was not new. However, in the case of the Road Runner, Plymouth did all the work for the customer, producing a vehicle that could go straight from the dealership to the drag strip.
With a $2900 price tag that many youthful buyers could afford—and a gimmicky Warner Bros. cartoon character as its namesake—Plymouth's new muscle car quickly caught on.
A "stripper" Belvedere coupe was the basis for the Road Runner. It came with a bench seat, rubber floor mats, a hot V8, a standard four-speed manual transmission, a heavy-duty suspension, 11-in. drum brakes, Red Stripe tires…and the famous "beep-beep" horn that mimicked the sound of the speedy cartoon bird.
If you wanted even minimum creature comforts such as carpeting and bright trim, for example, you had to invest $79.20 for an optional Decor Group. Body accent stripes cost another $15 and a blacked-out hood put you back another $18.
Road Runners came standard with the 383-cid big-block V-8 which had a 4.250 x 3.338-inch bore and stroke. With a Carter AVS four-barrel carburetor and a 10.0:1 compression ratio, the Road Runner produced 335 hp at 4600 rpm. Underhood options included the massive 440-cid V-8 and the legendary 426- cid Hemi. You had to ante up $714.30 for the 426-cid 425-hp Hemi.
The Evolving Mopar Bird
At first, the '68 Road Runner came only as a "post" coupe. A two-door hardtop was added midyear and its 15,359 production run was added to the coupe's 29,240 tally. Of the total cars built that year, only 1019 were Hemi-powered.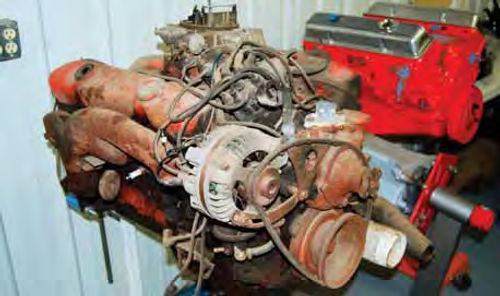 A new grille and rear styling characterized the '69 Road Runner, which now came in coupe, hardtop and convertible models. Standard heavy-duty features included suspension, brakes and shocks. Road Runner nameplates decorated the dash, deck and doors. Top-opening hood scoops, chrome engine parts, an unsilenced air cleaner, red or white streak tires, a four-speed transmission with a Hurst shifter, a fake walnut shift knob, back-up lights and a deluxe steering wheel were included.
Although the Road Runner kept its same basic design for 1970, it again had a redesigned grille and rear panel, along with a new hood and fenders. By this time, however, the muscle car era was beginning to fade and Road Runner sales were roughly half of what they'd been in '69. Still, the car's under hood hardware
remained impressive. With an optional 440 engine that put out as much as 390 horsepower, for example, you could do 0 to 60 in about 6.5 seconds and run the quarter mile in about 14.5.
Larry Fechter's Dream Car
"I always wanted a '70 Road Runner because my big brother had bought a new one that was painted Lemon Twist Yellow and I took one of the fastest rides of my life in that car," said the owner of the Mopar muscle car seen on these pages. "The Road Runner has a 150-mile per-hour speedometer and one day we decided to peg it and got real close."
Larry had wanted a '70—and no other year—Road Runner for a while. But he just wasn't finding one. He has a Daytona Yellow '69 Camaro Z/28 that is in the final phase of an every-nut-and-bolt restoration, a '67 GTO hardtop that he restored years ago and a '65 Impala convertible with a 396 Turbo-Jet V-8.
He knew there had to be a '70 Road Runner somewhere…but he never expected to find his Plymouth dream car a mere 50 miles from home, advertised on the Internet.
Craig's List is a service that provides free classified ads for everything from cars to "unmentionables." Unlike working with eBay, with its multiple-day online auction listings, at Craig's you get a very simple listing with hardly any frills, although the person listing the ad can include a photograph.
In the automobile category, all ads run together, so new cars are mixed in with old ones and cars for sale ads are mixed in with parts ads. When you scan the ads, all you see is the year, make, model and maybe the first few words of the description. You have to actually click on the ad to see all the details and the photos (if any are included). There are no fancy graphics or paid ads. Due to the simplicity of the listings on Craig's, you can see dozens of ads quickly.
Another characteristic of Craig's List is that the ads are regional, rather than national. For instance, the man selling Larry's Road Runner lived in Stevens Point, Wisconsin, and listed the car on the Wausau bulletin board. Therefore, buyers from all over the country did not see the car for sale. Nevertheless, it did get noticed and Fechter feels very fortunate that he wound up dealing with this man. The Road Runner's owner, also named Larry, sold the car to Fechter because he made the first offer on it.
"I had taken a break from working in my shop on that Saturday afternoon and went on the Internet," Fechter recalled. "The listing for a '70 Road Runner popped up and I immediately called. There was no answer, so I left a message." After several hours, the listing disappeared. Fechter hadn't heard anything or gotten a reply.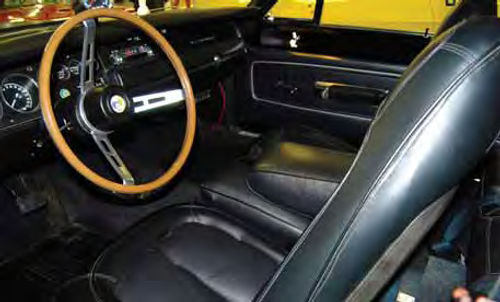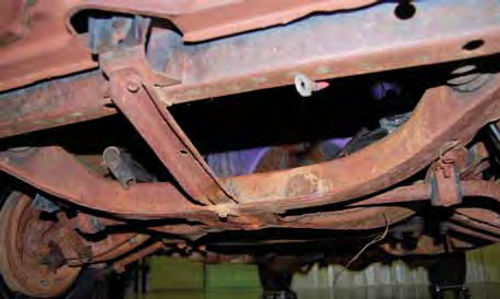 What Fechter didn't know was that the ad had generated so much response that the seller's agent (a Web-savvy friend) pulled the listing after four hours.
On Sunday, Fechter called and left a second message. He got the same result. In fact, it took until Monday for things to begin clicking.
"I received a call and the owner of the car gave me his word that I would have the first appointment to see the Road Runner," Fechter said. "They asked me if I would be able to come the next Friday and I had to wait until the end of the week to actually see the car. So, I was sitting there every day, for a week, waiting for them to call and tell me there was a glitch in the deal, but I went over on Friday morning and bought it."
The "Two Larry" Car
Larry, the seller, turned out to be the car's first and only owner, until Larry Fechter bought it. "We hit it off and we now call it the 'Two Larry Car,"' the new owner said. According to Fechter, the car originally was sold by Clark Motors, a Chrysler-Plymouth-Imperial dealer in Wisconsin Rapids, Wisconsin. Original paperwork he received with the Road Runner shows the price was $3934 with dealer destination charges. That included Dust Trail body striping, a performance style paint treatment on the hood, a black vinyl roof, an Air Grabber intake system, a light package, vinyl bucket seats and a solid-state AM/FM radio. It also came with a heavy-duty Sure-Grip axle with 3.55:1 gearing.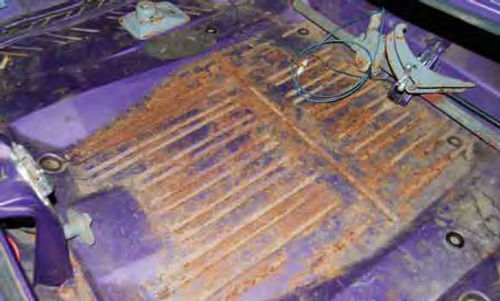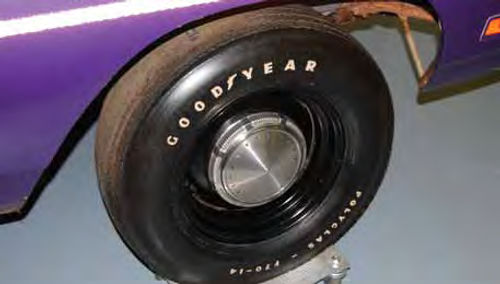 The car's original owner had used it from 1970 to 1976. As was common practice in that era, he quickly purchased a set of aftermarket Keystone "mag" wheels and stored the plainer factory wheels, "dog dish" hubcaps and F70-14 Polyglas tires.
He installed a Sun brand tachometer at the time and also had put red lights under the seat to create a romantic atmosphere for his girlfriend (who later became his wife). "She was very sorry to see the car go," said Fechter, "because they had dated in it."
A True Barn Find
Since the original owner lived on a farm with ample barn storage, he had taken the Road Runner off the road when it got cold, to protect it from the harsh Wisconsin winters. By 1976, the well-cared-for Plymouth Had traveled 55,915 miles when it developed a rear main seal leak, a pretty common problem in that era. The owner decided to repair it and took the engine and transmission out of the car…but then he got married and the car was moved to the back burner of his life. In fact, the Road Runner wound up sitting in the barn for more than three decades with the power train components nearby.
According to Fechter, the first time he saw the car it was so dusty he couldn't tell if he had made a good decision. "You couldn't even guess what color the black vinyl top really was at that point," he said. Still, Fechter completed the deal and made arrangements to pick the car up the next day with a trailer and haul it to his home in Iola, Wisconsin.
When the car got to Fechter's garage, he started cleaning it and as the dust and grime were washed away, it became more and more apparent that he had made a good decision in purchasing the car. The vinyl top was in great shape, as was the black vinyl interior. Most of the chrome and bright metal trim looked very good, but there were signs of minor deterioration in a few small areas. The special purple paint was mainly intact, but there was surface rust showing along the body sills and underneath the car.
Fechter got the engine and transmission with the car, along with extra body stripes (still in Mopar boxes), a half-used bottle of original factory touch-up paint and the valuable Pistol-Grip gear shifter. The seller threw in a set of ram-induction manifolds that came from a 1961 Chrysler 300G. Fechter is trying to sell them to help offset some of his expenses. He also got some old road maps and all types of factory documents and literature.
What's Your Opinion?
Fechter is now sitting on the fence as to whether he should restore the Road Runner or just clean it up and leave it "as is." He has the tools, equipment and know-how to make the nearly 40-year old look like new again, but he's not sure that's the way to go.
Fechter is now sitting on the fence as to whether he should restore the Road Runner or just clean it up and leave it "as is." He has the tools, equipment and know-how to make the nearly 40-year old look like new again, but he's not sure that's the way to go.
For example, should he restore the paint, bodywork and chrome? Should he rebuild and cosmetically restore the car's drive train components or put them in top operating form without the cosmetics? How should he proceed with the under car sections of the Road Runner, such as the frame, floor pan, suspension, rear axle, brakes and exhaust? Should he leave the original steel rims, small hubcaps and Polyglas tires on his Road Runner, or opt for wheel upgrades and modern radial tires?
In other words, if this were your car, what would you do with it?