A Restorer's Story A Truly Valiant Household
Check This Garage and You'll See FiveSmall Mopars.
Editor's note: Albert Wykoff has an uncommon vintage vehicle collection— five Plymouth Valiants which he has gathered over the past 35 years. Four of the Mopar compacts are 1965 models and hislatest acquisition is a '64. He also has a nice place to come home to with his vintage Valiants, being a resident of Keaau, which is near Hilo on the Big Island of Hawaii.
But if you're thinking that Albert has some sort of Valiant fixation; he doesn't. As proof, he recently acquired a non Valiant automobile, as you'll see toward the end of this article.
MY INTRODUCTION TO the Plymouth Valiant began in 1967 when my wife and I vacationed with our families in Cleveland. We wanted to take a side trip to Washington and borrowed my father's brand-new 1967 Valiant two-door with a 170 CID Slant Six and TorqueFlite transmission.Before the trip I was not all that impressed with this car's engine lying on its side. It also seemed like a cheapy-cheap car.
But spending four days and about 600 miles in that car enlightened me to the wonderful world of the Chrysler Corp. and their masterful engineering of the Valiant automobile. By the time we returned to Cleveland, I had become a complete and true convert to my father's car.
My First Valiant
It wasn't until nine years later, how- ever, that I came into possession of my first Valiant—a 1965 V-200—which I still own today.
That car originally was purchased by Dr. Norman Sloan, a missionary doctor who served in Africa and the Kalaupapa leper colony on the island of Molokai, Hawaii. Dr. Sloan gave the car to a local church in 1974 where it was used by the youth pastor until I purchased it in 1976. At the time it had about 150,000 miles on the odometer.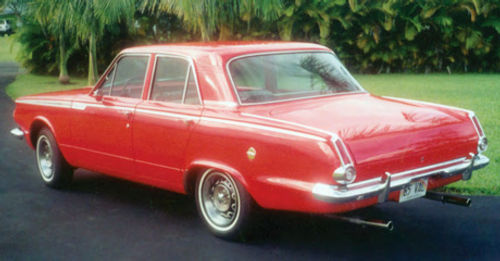 My first Valiant took two years to restore. The engine, transmission, rear axle, front and rear suspensions were all overhauled. Other moving parts were disassembled, repaired, cleaned and lubricated before reassembly.
The paint I chose for this car was a Nason two-stage clear coat in fire engine red. If you wanted to see a greenhorn person behind a spray gun, I was your man. So many mistakes and imperfections! The salvation of this job was the color sanding, with the help of a friend who does paint work. That removed 99% of the fisheye, orange peel and all of my paint runs. Three cheers for clear coat paint.
Throughout this project, I tried to do as much of the restoration work as possible to give me the repair experience and to save labor costs. All of my Valiants have received the same repair treatment in my garage.
The Second Valiant
My second 1965 Valiant was purchased in 1996 from its original owner on Oahu and it had 37,000 miles on it. I really lucked out with this car's restoration potential. It had always been parked in a carport in a drier area of Honolulu and had no rust anywhere. When you remove the factory paint down to bare metal, you know exactly the driving sins of the owner. There were none here except for the usual door dents.
Both my first car, a red V-200 and my light blue 100 were moved by my wife Ofelia and me to the Big Island of Hawaii in 1997. Automobiles and other heavy freight are shipped between the islands by tug boat and barge.
The Third Valiant
Valiant number three is a 1965 two- door hardtop Signet. It has a 225 CID engine and TorqueFlite transmission. This car was purchased in December 2003 from a San Francisco man who bought the car in 1991 from the original owner, also a San Francisco resident. An acquaintance located the car and it was shipped to Honolulu and then on to Hilo.
The car had 104,000 miles on the odometer and as people in the hobby know, cars from California and Arizona have little or no rust. But in spite of its fairly low mileage and no-rust condition, the car had other areas of wear and tear. For example, the right rear quarter panel had been significantly damaged and I believe I removed about two gallons of body filler from it…all of it hard as a rock. Then it took six days to rework the sheet metal back to a satisfactory contour.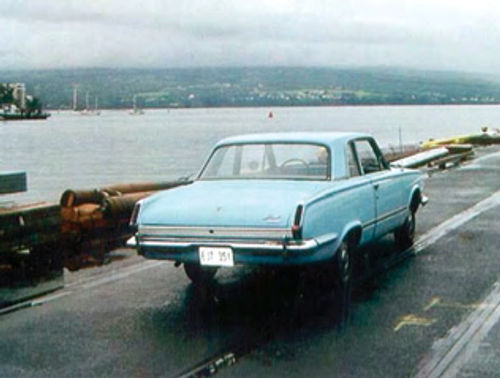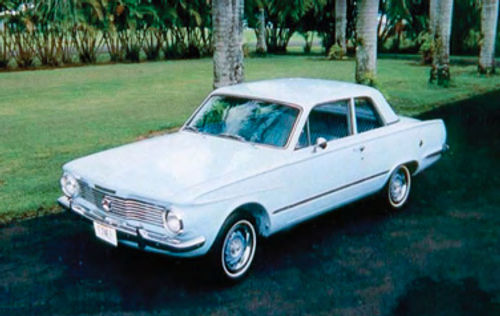 The Fourth Valiant
Car number four is a '65 V-200 four- door with a 225 CID engine and Torque- Flite transmission. It's a Honolulu car that was owned by a person I've known for 40 years. Her residence was located only a half-mile from where she worked—the car had a total of 24,000 miles—and she always parked indoors.
With only 24,000 miles, minimal repairs were needed and my fourth Valiant retained all of its original upholstery except for the headliner.
Now to the glorious end of this car's exterior painting. With experience gained from my earlier projects, the fourth Valiant's exterior is truly a masterpiece. I painted the car factory white using Nason's two-stage clear coat. This time, folks, there were no runs or fisheye imperfections, only a very shallow orange peel here and there. After color sanding and buffing, the paint became a mirror.
It's important to add here that a long- time Valiant acquaintance of mine delivered this car to the pier for shipment to me in Hilo. That friend, Bob Pearson, also happened to be the owner of an immaculate light blue 1964 Valiant two- door with a 225 CID engine and Torque- Flite transmission. When Bob decided that he was getting too old to drive, he gave me his car for free. In September 2006 it became my latest project car.
My Fifth Valiant
Mrs. Mary Kam Wong of Aiea Hts., Honolulu, originally purchased this car from the Waipahu Garage Dealership located on Kamehameha Highway in Pearl City, a suburb of Honolulu near Pearl Harbor. The date of the purchase was January 28, 1964.
My friend, Bob Pearson, and Mrs. Wong were next-door neighbors for 50 years and he had assisted her in the purchase of the car and with its maintenance until he purchased it from her on July 26, 1968. He was the second owner of the vehicle until, as I said above, he gave it to me free of charge.
Bob and I have been long-time friends, sharing our love for Valiant cars since 1994. He also is familiar with my other Valiants and knows his car will be well cared for in its new home.
The island of Oahu is not a very spacious place and yet Bob managed to accumulate 349,000 miles since 1968. Still, Bob's car was always carefully maintained during his ownership. The vehicle was always parked indoors and he spared no expense for repairs. It never was in a collision and shows only slight rust in some of the sheet metal. There was rust present in both quarter panels in the past but that had been repaired with new sheet metal.
Entering Familiar Territory
On Sept. 26, 2006 my glorious prize arrived at the Hilo Pier from Honolulu. All the other cars unloaded onto the pier that day were late models. There was one exception, however, a beautiful light blue 1964 Plymouth Valiant that stood out above all the rest of the iron. I took pictures of my new car on the pier with Hilo Bay and Mauna Kea Volcano in the background. Too bad the day was overcast but that's typical of Hilo weather.
Within two weeks I began to disassemble the entire car and commenced repairs on everything. As the 1964 Valiant was my fifth restoration project of the same basic car, I was fully armed with experience, parts, labor resources and four finished Valiants for reference in case I forgot where some of the parts go.
The engine and transmission were overhauled with several modifications. I replaced the cylinder head with the improved 1975 head that has hardened valve seats, the small spark plugs, and the reshaped combustion chambers. The transmission and the shifting mechanism were also changed-out to include a 1966 Dart transmission, column shift and bar linkage. I was fearful of the push-button mechanism's condition and ability to work properly. Bob had problems with the push-button mechanism in the past so I wanted to eliminate any future breakdowns or costly repairs. The drive shaft had to be shortened four inches since the Dart had a longer wheelbase.
Much to my delight there were numerous portions of the car that remained in excellent condition. All the chrome and stainless steel trim were in flawless condition. Needing some help were the door panels, headliner and carpet. Would you believe shortly before Bob gave me his car, he had new brakes, lower ball joints, strut bushings and lower control arm bushings installed. That had amounted to big bucks; lucky me.
The wheels are being changed out to 14" x 51⁄2" Chrysler Rallye wheels—a mag- nificent upgrade in the car's appearance.
The old windshield was beginning to separate the laminates in the lower corners. Yes, a new windshield was installed because this car was to be my masterpiece. I wanted my 1964 Valiant V-200 to look as flawlessly beautiful as possible.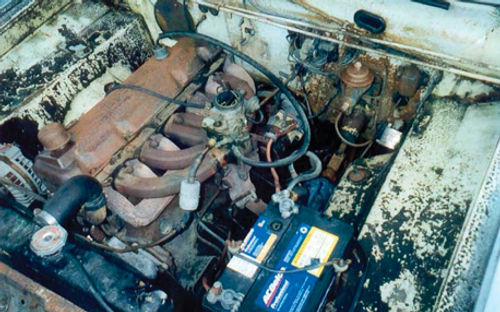 Another significant change in the car's mechanical equipment was a con- version of the steering from power to manual. My reason: I love the KISS principle (keep it short and simple). No power pumps, hoses and fancy/dancy steering boxes for me. All my Valiants have manual steering and that makes me very happy.
A Dirty Job, But Someone Had to Do It
Then, in June of 2007 I went through a portion of hell with this old Valiant. Bob had let the engine compartment and the entire unibody accumulate tons of black horrible dirt, undercoating and grease. He said it would eliminate the possibility of rust. Yeah, right!
I rented a high-pressure power washer that generated hot steam. Everything within 20 feet of the car was splattered with black grease. I looked like a coal miner at the end of a difficult shift. The carport had to be cleaned with the steam cleaner after the unibody was done. What a gargantuan super mess! The steam and water were spraying back into my face constantly. I couldn't see a thing through the safety glasses. And yet there was plenty of black tar still left on the car. After this terrible experience, it was hard keeping my motivation to clean the balance of all that dirt. This part of the restoration went very slowly. No kidding, folks, this was the dirtiest, blackest, filthiest car I have ever worked on in my life and I've repaired cars since 1951.
The car was undercoated immediately after Mary Wong purchased it in 1964. Bad idea, as a great deal of the surfaces were showing rust beneath the undercoating. The high-pressure steam cleaner took off most of the grease but very little of the undercoating. What coating was loose and easy to remove I pried off with a sharpened one-inch putty knife.
Then I agonized about what to do with the remaining tar undercoating. For sure, some of it was securely bonded to the sheet metal. Maybe I could paint over that tar. After another month I decided to remove every trace of the undercoating, all of it by hand.
For the next three months I labored under the chassis scraping and sometimes pushing as hard as I could to "chip" away the tar. My face, hands, clothing and carport floor were covered in black tar after each day's work. My work time under the car was limited to no more than three hours per day.
I really paid my dues for that part of the project, but once all the tar was removed, I realized it was the best thing to do. I could now paint directly onto all the bare metal.
Paint, Powertrain, Numerous Leaks and Carb Problems
All exterior dents were repaired and the car received three coats of primer surfacer to produce a smooth surface. I decided that this Valiant would be painted a pastel blue with some parts in a medium blue for contrast.
In the meantime, the engine was overhauled and painted Fire Engine red. The rear axle was exchanged with my 1965 Signet; it had fewer miles with good bearings. Only the oil seals were replaced. The rear leaf springs were completely disassembled; bushings replaced, and painted urethane black.
The car received three coats of Nason clear coat paint. Yes, yes, I broke through the clear coat in two places.
I left the buffing of the clear coat to my friend, Kim Une, who buffed and repaired some of my other cars too. Kim has many skills in repairing sheet metal and painting.
I knew I would be a happy man when all the paint work was completed. Any experienced auto painter will tell you that getting a perfect paint job is very difficult. So many things can go wrong, even in a spray booth. By comparison, all other restoration work is a piece of cake…except for removal of the undercoating.
Next came the installation of the engine and transmission. On this occasion, I rented an engine hoist from a nearby industrial park and installed these assemblies myself. All went very well. The drive shaft was professionally shortened 4" and balanced. Fitting the exchanged 1966 Dart gear shift linkage was very worrisome but everything worked out well.
It has been said that many project parts do not return to the places they were removed from, at least not easily. In this case, it seemed like everything needed some degree of alteration for the return installation. There seemed to be something wrong with virtually every part I touched.
Furthermore, everything containing liquid leaked: the radiator, brakes and transmission cooling lines. I should have known this was coming because my four other Valiants leaked everything too.
Setting the timing on each of my five Valiants was both a mystery and frustrating but, happily, the cars finally ran properly.
Did I mention that all the systems containing liquids leak? Well, they continued to leak even after my best attempts for repairs. Only a tenacious attitude will eventually repair all these leaks.
Installing the doors was an extreme test of my patience and mechanical skill. I assumed the hinged doors would align correctly not having moved the hinges' position against the body panel. The hinge-to-body side of the hinges had to be loosened to allow for increased movement in the adjustment. I think most of us auto restorers have experienced these same types of problems. That's when I put all the tools and parts away for several days to rest my nerves and to think about a solution to the problems. This method works miracles.
Another brain teasing problem that at one point seemed to be beyond my ability to solve was the Holley Model 1920 carburetor. I carefully examined and assembled three spare units. None, as it turned out, were working properly. I assumed they were defective. The engine would not idle smoothly or at proper idle rpm. The exhaust fumes were excessive and very nauseating.
At that point, I had spent numerous hours trying to solve the problem when the solution came by pure chance fol- lowed by adjustments to the carb.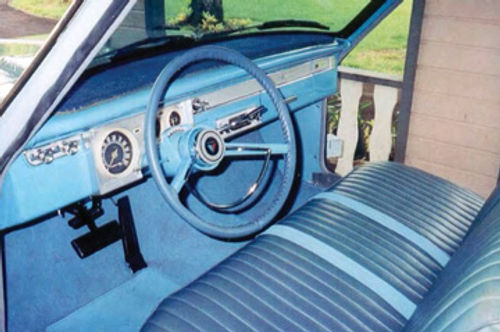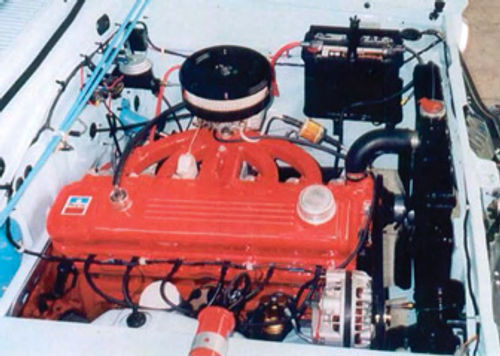 I happened to look inside the carb as the engine was trying to run at idle speed. Fuel was overflowing from the high-speed power nozzles located in the middle of the venturi. This, of course, is not supposed to happen at idle speed. The butterfly valve was covered in visibly wet gasoline. I assumed the fuel level in the float chamber was too high and exiting through the high-speed power port. How come? My carbs have always been adjusted to the manufacturer's specs. I took the occasion to lower the float adjustment by a quarter inch. But before too long, say about three hours running time on the new engine, the Holley 1920 developed another problem. There was a lack of fuel moving through the accelerator pump system. I finally found the problem in a clogged jet located in the venturi area. I ran a thin strand of copper wire through the jet and flushed it with aerosol carb cleaner. If a reader is experiencing these same problems, purchasing another carb is not necessary if the float level is lowered slightly. Try this first.
But That Door Was Finished…
I located another leak in the brake system. In spite of a master cylinder overhaul the unit still leaked so a new unit had to be purchased.
Hopefully, the last significant problem has been solved. Well…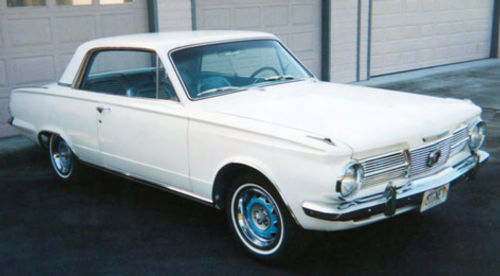 The 1966 Dart transmission installed in this 1964 Valiant was overhauled but had sat in storage for four years. The valve body was not operating properly, resulting in improper performance. The transmission had to be removed and sent out for a second overhaul to repair the valve body and the burned clutches.
Did I also mention that blunders never cease? I was assembling the hardware and stainless trim on the passenger door that had already been painted. As I lifted the door from my portable work table, it slipped out of my hands and crashed down onto the table.
I have handled these doors many times in the past and nothing like this had ever happened before. More body work and paint had to follow. I sprayed the entire door again as opposed to a touch-up repair. Bad idea! When I applied the same identical base coat over the previous clear coat, I had a two-tone car. You guessed it, paint it again but apply a sealer coat first.
The good part of all these pilikea (troubles) is that they have added to my experience regarding future jobs.
Good Neighbor Policy
Fortunately for me, my next-door neighbor, Bob Jobe, spent many mornings and afternoons helping me solve the problems on my 1964 Valiant. Bob is a retired person with considerable automotive repair experience. Lucky me!
That's Not a Valiant…
Now, after years of restoration work on five Valiants, I think it's time for a break to do something else for fun. In addition to my five Valiants, I recently acquired a 1937 Plymouth Coupe that's been added to my fleet. I will not restore this car in the foreseeable future, but enjoy driving it around the island on Sundays.
I enjoy driving all of my cars around the community, and also enjoy the realization that I am the proud owner of these beautiful works of art. And beyond that, I also derive great pleasure from knowing that these cars will survive many years into the future for other persons to enjoy beside myself.