A FATHER & SON TRACTOR PROJECT
There are All Sorts of Vehicles Waiting to Be Restored and Driven. In This Case, a 1951 Farmall Cub is Looking Good and Working Hard Once Again.
EDITOR'S NOTE: AUTO Restorer has long advocated the idea of family members working together on restoration projects. So join us for this story of veteran automotive journalist and restorer Don Sherman who teamed up with his son Steven to bring an aging Cub tractor back to life. Longtime readers will recall Don's articles on the restoration of his 1967 Corvette 427 and 1960 Cadillac convertible, among others. While this tractor probably won't ever receive the number of envious looks that are drawn by Don's Corvette and Cadillac, nevertheless there was a lot of fun and satisfaction in this project as well. Besides, who ever heard of plowing with a Corvette or mowing fields with a Cadillac.
Growing up in the suburbs only encouraged my son Steven's desire to someday own a farm. When he spotted a neighbor with two small tractors for sale, I could read his mind like a novel.
As luck would have it, another neighbor's lot needed trimming and one of the for-sale tractors was outfitted with a mowing deck. In exchange for Steven spending an afternoon cutting grass, he'd gain a small taste of farm life. After we inspected the plot for hazards and Steven learned the fine points of operating the clutch, shifter, and power take-off, he drove away with clippings flying.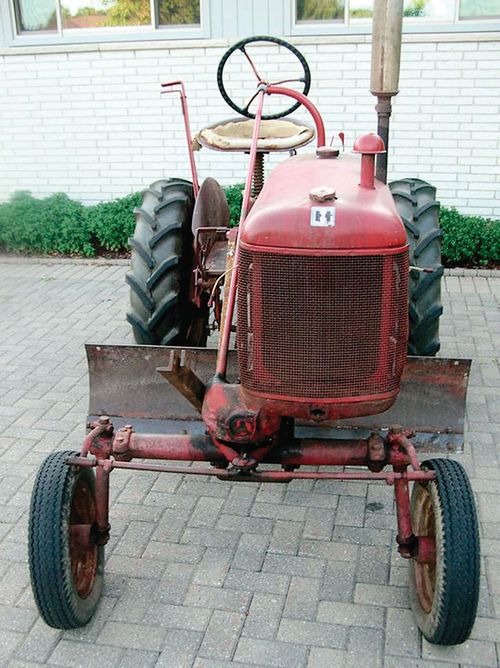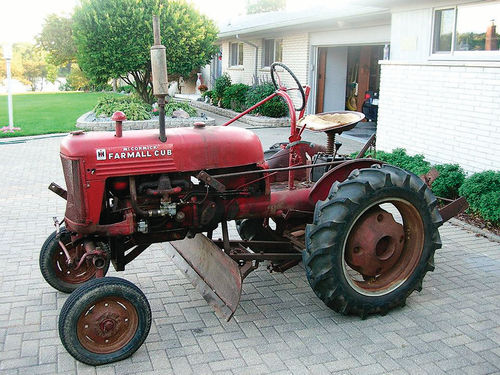 A Small But Sturdy Tractor
One of the tractors for sale was a 1951 Farmall Cub. This was the smallest tractor in International Harvester's lineup and more than 200,000 of them were manufactured in Louisville, Kentucky, from 1947 through 1981, with an (initial) base price of $545.
GIs returning home from the war needed machinery to replace horses and mules on small-acreage farms. The Cub was a brilliant piece of engineering with its power plant offset five inches to the left to give the driver a clear view of the path ahead. Farmall called this clever design 'CultiVision' and it surely saved many a stiff neck during long hours of plowing, seeding and harvesting.
The Cub's simple side-valve four-cylinder engine has a piston displacement of just under 60 cubic inches, enough to make eight horsepower. The simple but effective thermosiphon cooling system mimics Ford's Model T in that there is no water pump. If you overfill the radiator, the Cub simply spits the excess coolant out the overflow. There's a six-volt electrical system for the starter and lights; both magneto and breaker-point ignition systems were offered.
Most of the Cub's powertrain is made of sturdy cast iron while the radiator cover, fuel tank, engine hood, fenders and wheels are stamped steel. Half-a-dozen implements were available at IH dealers. The tractor for sale was equipped with a power take-off, a hydraulic lift system, a single-bottom plow, and an under-belly blade for grading terrain or plowing snow.
Ride First, Then Restore
Steven bought his tractor for a bit more than three times its 1951 price. The paint was faded, the seat was worn out, blue smoke poured out the exhaust, and there were a few electrical issues, but it ran reasonably well on the four-block trip home.Shortly thereafter, the Cub plowed a greatly expanded garden in our backyard, a plot duly christened Sherman Farms I.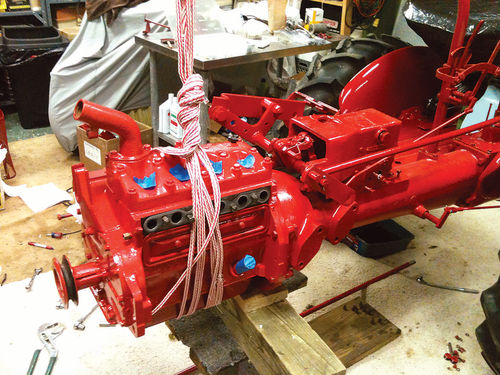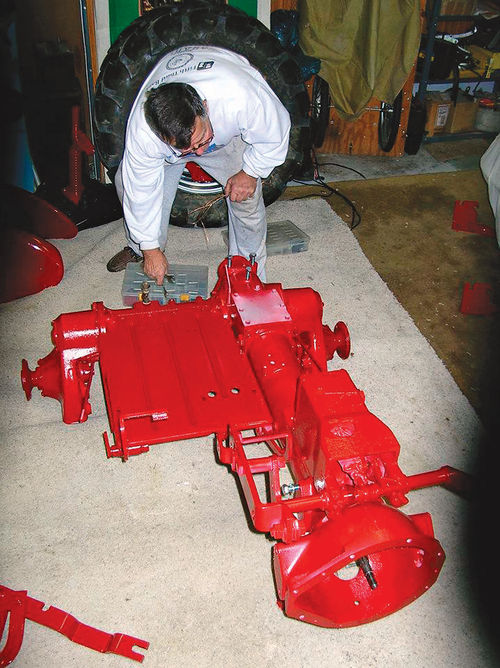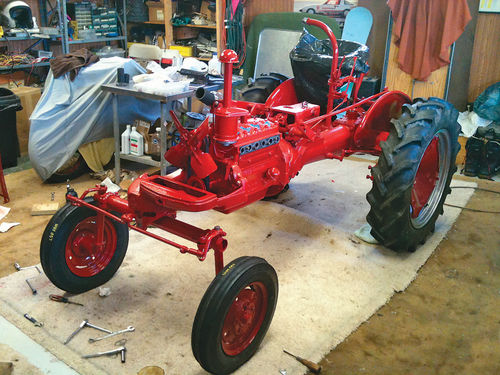 Our game plan was to use the tractor for gardening, yard work, and hayride duty in the fall in anticipation of a winter tear-down and rebuild. As the photos show, this project was far simpler than the half-dozen cars and motorcycles I've restored for two reasons: experience is the perfect teacher and there are subcontractors and parts sources galore for practically every old piece of machinery.
Rebuilding & Painting
Cub tractors were engineered to last forever so the only real mechanical wear we had to deal with was the engine. We supplied that assembly with fresh pistons, rings, bearings and gaskets to a highly recommended rebuilder and it came back a few weeks later in brand-new condition. Another trusted vendor rebuilt the starter, generator and voltage regulator.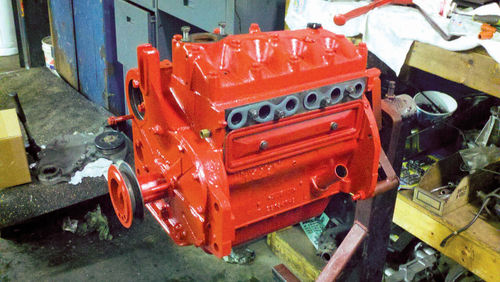 We split the painting between two shops used successfully in the past. Scott Martin at Planetary PowderProcesses in Redford, Michigan (planetarypowdercoating.com), provided one-stop service for most of the disassembled tractor. Where it was possible to strip an assembly down to its core, Scott applied a powder-coat finish in the proper Farmall red color after removing any rust and faded paint with blasting media. That procedure also worked nicely for a few assemblies such as the complete plow attachment. Since it wasn't necessary or desirable to disassemble the transmission and rear axle assemblies, Scott prepped and refinished them using conventional spray paint. (Sorry, Scott, about the grease that dribbled all over your shop when the transaxle was rotated for cleaning and painting.)
The Cub's bodywork consists of a hood and fuel tank that stretches from the radiator to the steering column in one welded-together assembly. John Monks at Fielders Collision in Belleville, Michigan, did a nice job of refinishing that piece after we drained the fuel from the tank and flushed out the residual fumes with water.
A Helpful Parts Source
There are clubs galore dedicated to tractors in general and Farmall Cubs in particular so mysteries concerning this subject have short half-lives. Another priceless resource is Steiner tractor parts (tractor.com) in Lennon, Michigan, a mere 82 miles from our garage. Their 500+page catalog has over 100 pages devoted to the IH brand. In addition, this firm's warehouse is open to the public and staffed with knowledgeable counter personnel. Without exception, we found Steiner parts to be reasonably priced and high in quality.
Back to Work…Plowing and Hauling
After fixing one sticking valve lifter, the Cub fired up and ran beautifully by spring. We hauled it to church so Steven could plow a half-acre garden during break-in. After rinsing off the mud and debris, we entered the now-sparkling tractor in a major local gathering of the farm-machinery faithful. On the Fourth of July and Halloween, it towed neighborhood kids enjoying a hayride. Last Christmas, Steven's Cub pulled a decorated and illuminated trailer loaded with kids and adults hurling candy to spectators at a local parade.
Eventually this Cub may be part of a fleet of hard-working agricultural machines. But currently it's relaxing in anticipation of spring plowing at Sherman Farms II.