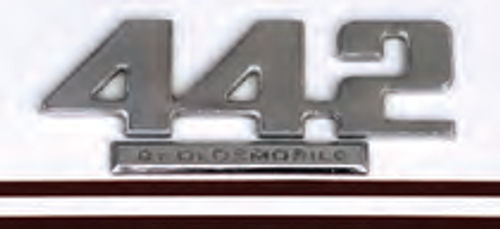 It's Not as Powerful as Its Ground-Pounding Ancestors... But In This Case, Lack Turned Out to Be a Benefit.
THE 1975 OLDSMOBILE 4-4-2 featured here probably owes its current condition to a series of fortunate breaks that began with its first owner. That was in New Jersey, where it spent three years in winters nowhere near as tough on a car as those found elsewhere in the Northeast.
By 1978, it was in Pennsylvania and while that's a state known for its use of road salt, the 4-4-2 initially beat the odds there thanks to an owner who parked it for the winter.
After about a year, though, it was sold again and this time, its owner planned to drive it.
The car's good fortune held and after another year or so, it went into storage when its owner took a job in another state.
"His dad used to pay the storage on it," said the 4-4-2's current owner, Bob Siock of Jessup, Pennsylvania, "and it got to the point where his dad said, 'Hey, what's a '75 Oldsmobile worth? We're paying storage.
"The last inspection on it was '82 and I bought it in '87, so it sat in storage for five years."
By the time Siock and his wife, Ann Marie, bought it, the car had accumulated just 41,000 miles and while that's another piece of luck, everything still goes back to that first owner in New Jersey. After all, the muscle car era was over when he bought it and a 1975 4-4-2 was far removed from its ancestors. That year, it was one of 6115 Cutlasses equipped with what by then was an option package.
In other words, the car's pampered life might not have happened if it had been an earlier 4-4-2.
A Tough Road to Travel
Even before the 4-4-2 appeared in 1964, performance cars were often driven into the ground. Oldsmobile began to find out what that was like after its 1949 introduction of the Rocket V-8. Cadillac also launched its V-8 that year and while the two are completely different engines, they're collectively referred to as the first modern V-8s.
It was an important step for both, but more so for Oldsmobile. Cadillac had been building V-8s for years—even if they were flatheads—but Olds hadn't built a V-8 since 1923. Its eights had long been in-line flatheads, making 1949 a life-changing year for the division. The Rocket displaced 303 cubic inches and produced 135 horsepower, but comparison to its 257-cubic-inch, 115-horsepower predecessor doesn't tell the entire story. With the valves in the heads rather than in the block, the V-8 had far more potential because of its better breathing and its readiness to accept higher compression, and, moreover, the new engine also was oversquare.
The flathead straight eight's 3.25-inch bore and 3.875-inch stroke made it undersquare—its bore was less than its stroke—and while a long-stroke engine can be useful in service that demands serious torque, the short-stroke oversquare engine has important advantages in more typical roles. The most obvious are its reduced piston travel and the resultant higher revs. Add the better breathing and the ability to handle higher compression and, suddenly, the oversquare engine looks like it might make a car perform.
At Oldsmobile, though, there was more than just the engine.
When the Rocket appeared in 1949, Olds dropped it into the 98, its top-ofthe-line series whose body had been introduced one year earlier. The other 1948 models resembled the prewar cars that they actually were, but all of the 1949 Oldsmobiles looked like the 98 and that was where the fun started, as important differences existed among the new models. The 98 rode a 125-inch wheelbase and to take one example, a convertible weighed 4200 pounds. Meanwhile, the Olds 76's wheelbase measured 119.5 inches and in that series, the convertible weighed 3580 pounds. It continued to use the 105-horsepower flathead six, but it was, after all, a smaller and lighter car.
That wasn't lost among Oldsmobile's decision-makers, who came up with the idea of replacing the 76's flathead with the 98's Rocket.
In other words, the big engine would go into the small body and while the difference wasn't as extreme as it would later become, the new model followed what would eventually be accepted as the muscle car formula. Known as the 88, its range ran from a two-door post to a convertible and even a station wagon, and every one of them was lighter than the comparable 98 model while running the 98's engine.
Olds quickly began winning in NASCAR and the 88 became a dream come true for the division. After its early 1949 introduction, Oldsmobile sold about 100,000 examples of the 88 in what remained of the model year and the 88's reputation surely got a boost when it paced the Indy 500 in 1949.
That the division was serious about performance is clear from the fact that both the six and the 76 were dropped at the close of the 1950 model year.
With a few years of experience behind it, Olds' V-8 grew in displacement and output, and in 1957, the 371-cubic-inch Rocket could be ordered with optional J-2 equipment for up to 312 horsepower. Still, it doesn't quite compare to what would soon follow as the Big Three began introducing their compacts.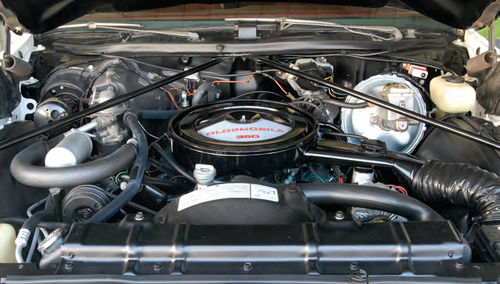 Oldsmobile's compact F-85 came with Buick's 215 cid aluminum V-8, known as the Rockette at Olds, and it was available with either 155 or 185 horsepower.
Even the 185-horsepower version doesn't sound like much, but the heaviest F-85—the Deluxe seven-passenger wagon—barely topped 2800 pounds.
It had been just over a decade since the appearance of the original Rocket Powered 88 and the big-engine-small body approach now had the chance to take hold.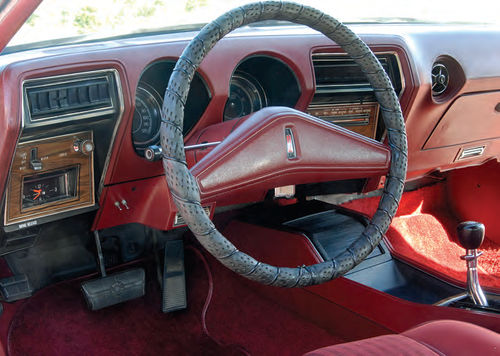 In its second year, the F-85's upscale coupe and convertible became the Cut lass, but the enthusiast's model was the Jetfire. It relied on the same 215-cubic inch V-8, but a turbocharger raised it to the magic level of one horsepower per cubic inch.
The F-85 was completely restyled for 1963, when the turbo V-8 returned for its final run, and while it may not be well remembered today, it was followed by a car that to many symbolizes Oldsmobile.
Four-Barrel, Four-Speed…
The 4-4-2 with its "4-barrel carburetor! 4-on-the-floor! Dual exhausts!" began as an options package for the 1964 F-85, which, by the way, had been completely restyled once again, gaining 11 inches in length and three inches in wheelbase.
While muscle cars generally are thought of as either a two-door or convertible, Olds initially advertised that any F-85 other than a station wagon could be a 4-4-2. Even a 4-4-2-optioned four door post would have been formidable in 1964, given its 310-horsepower 330 that had taken the Jetfire name. The package, Olds advertised, "makes life still more exciting with a floor-mounted 4- speed synchromesh transmission, track tested Red Line tires, dual exhausts and heavy-duty chassis components."
Like most of the competition, Olds had gotten it right and by 1968, the 4-4-2's popularity was acknowledged when the options package was upgraded to a distinct series. Its 400 was still a Rocket V-8 and was available with up to 360 horsepower, but two years later, the 4-4-2 took another step forward when Olds offered it with the 455. Previously available in the Cutlass-based Hurst/Olds, it provided up to 370 horsepower and the division advertised that "beneath that air-scooped, fiberglass hood rumbles as large a V-8 as ever bolted into a special-performance production automobile… The special hood? It's part of the new W-25 package you can order. Do so—while you're still young enough to enjoy it."
1975 Oldsmobile 4-4-2
GENERAL
Front-engine, rear-drive, coupe
ENGINE
Type Overhead-valve V-8
Displacement 350 cu. in.
Bore x stroke 4.06 in. x 3.39 in.
Compression ratio (:1) 8.5
Carburetor Four-barrel downdraft
Power 180 hp @ 3800 rpm
Torque 275 lb.-ft. @ 2400 rpm
DRIVETRAIN
Transmission Three-speed automatic
Final drive ratio (:1) 2.56
SUSPENSION & BRAKES
Front Independent, coil springs
Rear Live axle, coil springs
Brakes (f/r) Disc/drum, power-assisted
STEERING
Recirculating ball, power-assisted
MEASUREMENTS
Wheelbase 112 in.
Length 211.7 in.
Track (f/r) 61.1/60.7 in.
Tire size FR78-14
Olds might also have said "do so— while you still can" because in 1972 muscle cars underwent debilitating changes including a general de-tuning to run on the unleaded gas necessary to meet stricter emissions standards. For example, whereas many muscle cars had run on a compression ratio of around 10:1 they were dropped to the 8:1 range.
In 1972, the 4-4-2 lost its position as a series and Olds advertised that "we've come up with a great new 4-4-2 Sport/Handling Package. And you can order it on four Cutlass models…" The same ad listed available engines from the "spirited 350 cube 2-barrel" to the "W-30 with a dual-intake fiberglass hood and a factory-blueprinted 455 Cold-Air V-8," but while it didn't mention horsepower, the 455 produced 300 net.
With the Cutlass' new body in 1973— the Colonnade style of the feature car—all two-doors were posts, bulging federally mandated impact bumpers were apparent and the Cutlass base V-8 was a 180-horsepower 350. Ordering the 4-4-2 package didn't change that, but it did provide better suspension and some trim items. A 250-horsepower 455 could be ordered with or without the 4-4-2 package.
However, the Cutlass in general was an extremely popular car, so Olds took no chances and things had changed only slightly by 1975 when the feature car was produced. Even so, by then Cutlass' base V-8 was a 260 that generated a whopping 110 horsepower. The once-potent 455 remained available, but it produced just 190 horsepower.
This Car Was Given Special Care
The feature car's original owner went for less than the maximum and the 4-4- 2 has a 350 that Olds rated at 180 horsepower, suggesting that he had no plans to drive it hard. Its condition when current owner Siock found it indicates that everyone who'd owned it had driven it reasonably carefully and even when it was in storage, it wasn't forgotten.
"Once every six months," Siock said, "(the owner's) dad would go down, start it up, run it around the block. He would take it around the block, make sure everything was all right."
It sounds like he should've jumped at the opportunity to buy it, but that's not at all the way it happened. Siock only agreed to look at it because a co-worker had been trying to convince him and was ignoring his protests that he didn't want it while he was working on two others. He even had an exit strategy planned.
"I went with him to stop him," Ann Marie explained.
The 4-4-2 was among several cars in a one-time carriage barn and was the only one parked on concrete. It was covered with dust, but it started and as Bob was walking around it, his son approached.
"I was going out to look at the back end," he recalled, "and my son said to me, 'Mom said she loves the car, it's gorgeous, buy it.'"
"It was beautiful," Ann Marie said. "I fell in love with it, so Bob said, 'OK, we'll buy it and it's going to be your car.'"
To which Ann Marie said, "I love the car and I want it restored."
"So that's when we started buying parts," Bob reported.
Discovering a Motor Mount "Fix"
The 4-4-2 was a presentable driver, but it certainly wasn't perfect; the fact that its previous owners hadn't abused it doesn't mean everything was right with it. Bob found that out when he traced a slight front-end noise that showed up under load. Broken motor mounts were no surprise, but then he found an earlier attempt at repair.
"When the motor mounts broke," he said, "the motor dropped a little bit and the fan was hitting the shroud. The owner took the easy way, he got a saw and he sawed the bottom of the shroud off."
Bob replaced the motor mounts and although the car didn't overheat, he later replaced the shroud anyway. That was in 2007 and was the last purchase the car required, but in 1987 when he bought the 4-4-2, some parts for the then-12- year-old Cutlass were easily found.
"I got as much new chrome out of General Motors as I could," Bob said, "the headlight doors, the grille shell, the grille. Door handles were no longer available. I had to send them out and then we had to send the bumpers."
There was no rush to complete the restoration, so it was driven for a time after being given a major tune-up and replacement of engine components that could reasonably be expected to fail, such as the fuel and water pumps. Eventually, it was taken off the road and put away for about 10 years, but once the restoration got underway, the glass came out and the interior was removed. Bob said pulling the plastic trim without damaging it was a major challenge, but most of the interior was in good condition. The only areas needing help were the front seats, where some of the factory stitching had split.
On the exterior, the vinyl top was replaced, but only after the underlying roof was carefully inspected and prepared. From there, it was on to the body, as a friend fit it in among other projects in his shop.
"There was no major bodywork needed," Bob said. "The car was nice…he did it in his spare time. It's got single-stage paint on it with the clear coat.
"Then we started putting it back together. Like I said, we had the vinyl roof put on it before it was painted. I had said, 'Let's put the roof on later' and his answer to me was, 'From my experience, when they go to put the vinyl roof on, a guy slips with a knife or something and you've got a cut in the paint.'"
Some Potential Rust Gardens
The feature car had no significant rust, but from looking at others like it, Bob said that many of the problems are generally in the areas where a restorer would expect to find them. He pointed to the lower fenders and quarters, door bottoms, rocker panels and wheel wells, although the plastic inner panels up front obviously are safe. The entire underbody should be looked at for rust, as should the bumpers, but even in a relatively mild climate where serious rust isn't common, the Cutlass' styling created a few additional rust-susceptible points.
Consider the sculpting behind the front wheel wells and on both sides of the rear openings. (Note the photo to the right.) From the moment a Cutlass like this one was delivered, they were just waiting for stone chips to damage the paint badly enough to expose the metal. Once that happened, rust had its chance. Detecting it, of course, should be simple, but finding evidence of repairs will call for some work.
As noted, the vinyl roof on the feature car wasn't hiding rust, but that's a potential horror story. Bubbling, softening, lifting or anything else in the vinyl that seems odd should be a giant red flag triggering a very close inspection. Even on a car that has no immediately apparent problems with the vinyl, there's still a chance that the rust is there, so an extremely careful look is in order.
Repairing a rusted roof or transplanting an entire replacement for a terminally bad one isn't impossible. But it can be very difficult and on anything other than a truly rare and valuable car, it's likely to be economically impractical.
Know Exactly What Parts You Need
The 4-4-2 is an uncommon version of a very popular car and that's something of a mixed blessing.
The positive aspect is that finding the parts necessary to keep it running and on the road generally should be no problem, but the 4-4-2-specific pieces will probably require intense hunting.
Bob said that he and his son were regulars at the Carlisle events for nine years and all of their searching produced one emblem. A parts car in a salvage yard is the best hope, he said, even though only a small number seem to have survived there. He said that a few 4-4-2 trim pieces are being reproduced, and that some of the Cutlass trim items interchange with those found on other GM cars, as do the rubber pieces.
For two reasons, interchange in the Cutlass' case calls for thoughtful research. One is that Olds used the name on some very different cars, so knowing that a part is for a Cutlass isn't enough.
Part numbers are the solution, but if a "fits Cutlass" part turns up at an attractive price, know the risks. The second point is that 350 V-8.
Different GM divisions built 350s and at various times, they were shared. Marque loyalties aside, all were good, but the problem is much like the "fits Cutlass" problem. It's necessary to know which 350 the part fits.
The 350 in the feature car is an Olds engine and its low compression combined with early emissions equipment means it's not very fast. "I'll be honest, Bob said, "it's a slug. As far as a quartermile, I wouldn't even attempt it."
Originally, there was another factor in that kind of performance, but he eliminated it.
"This had a set of 2.56:1 gears," Bob said. "A highway cruiser… I put a set of 3.73s in it. It's not the 4.11s; they're not too low or too high. Here, with the high gears that were in it originally, you'd go to climb a hill and it'd downshift and then just stay there forever."
Merging into highway traffic has since become easier and once it's out there, Bob said, drivers notice it. Some probably remember cars like it, but others don't have a clue. Still, people don't seem to hold that lack of recognition factor against it.
"That's one thing about that car," Ann Marie said. "Even young kids that don't realize what it is will comment, 'Nice car.'"