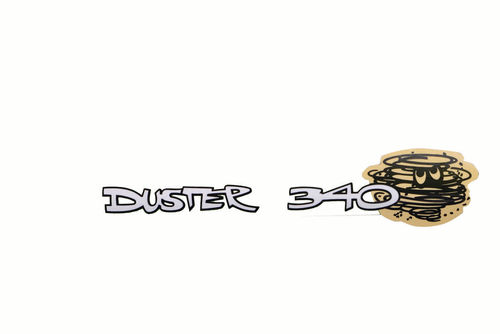 He Was In the Market for a Mopar and Knew Exactly What He Wanted. Then One Day He Saw "His" Car.
Al Edwards knew exactly what he'd look for when a friend told him that he should have a Mopar, so the friend went out and found the car that fit the requirements.
"I had been going to Carlisle to the Chrysler Nationals with my friend, Mark Serra," Edwards recalled. "He had mentioned that 'one of these days, Al, you have to quit riding in my back seat'—his son had to ride in the front— 'and get your own Mopar.' I said 'well, there's only one car that I would buy. It would have to be a 1970 Duster or a '71, but preferably a '70. It would have to be a 340 four-speed and it would have to have the blacked-out hood with the "340 Wedge" emblem on it.'
"He said 'boy, you're not asking much, are you?' I said 'well, you asked me what kind of Mopar I'd want to buy.'"
While Edwards' reply was quick, it certainly wasn't off-the-cuff. In fact, he'd 24 NOVEMBER 2018 AUTO RESTORER A The paint is eye-catching and the matte black adds to the effect, making it easy to overlook the Duster's overall straightforward lines. had it ready in the back of his mind for several decades.
"When I was in the Air Force out in North Dakota," he continued, "a friend had this identical car. It was either a '70 or a '71. I would guess that it was more likely a '71 because I believe the stripe on the side was a little different, but the overall color and the hood and the '340' and all of that? They were identical. That car, we had so much fun in it and I absolutely loved it. So when Mark asked 'what car would you like to have?' I explained it."
Plymouth Meant Value…
Even without the connection to his friend's car, the Duster would have been an interesting choice as by 1970, Plymouth offered a range of performance cars that could match nearly any taste and any budget.
At least as interesting is the fact that as the horsepower race was getting underway in the early 1950s, no one would have foreseen a time when Plymouths would be fast.
Chrysler had launched its Plymouth as a basic and affordable four-cylinder line in 1928 and then swapped the four for a six in 1933. With that, the pattern was set and Plymouth would follow it for more than 20 years as what might be described as Chrysler's value model.
…Now It Added Power
Moving ahead a few decades found Chrysler Corp. introducing a modern V-8 in 1951…an engine that would become famous. Beneath oversized valve covers, hemispherical combustion chambers lay between a valve on each side of the centered spark plug and that required dual rocker assemblies for each head.
What would become known as the Hemi was far more complicated than the Cadillac, Oldsmobile and Studebaker V-8s of the day, but the result was worth the effort as the Chrysler matched the Cadillac's 331 cubic inches—the largest of the three—and topped its 160 horsepower with its own 180.
Chrysler called the new engine its "FirePower" and went on from there. DeSoto received its smaller version of the Hemi in 1952 and named it the "Firedome," while Dodge's "Red Ram"—also smaller than Chrysler's— appeared in 1953.
Plymouth was now the only division lacking a Hemi. Worse yet, all it had was a flathead six, but once the division broke out of its role as the practical Mopar, it quickly began making up for lost time.
Plymouth's first modern V-8 was a 157-horsepower 241 in 1955, but the top engine that year was a 177-horsepower 260. If Plymouth loyalists were mildly surprised by that range, they'd be shocked when 1956 brought a 180-horsepower 270 as the base and a 240-horsepower 303 for the new Fury.
By 1960, a 330-horsepower 383 was Plymouth's largest, but something else was happening and at that time, it seemed to have no connection to genuine high performance.
The Compacts Emerge and Evolve
Like its domestic competitors, Chrysler had begun taking the challenge posed by compact imports seriously and was now ready with a small car of its own, the 1960 Valiant. With its 101-horsepower 170-cubic-inch six, performance was adequate, but for those who wanted more, a Hyperpack option pushed output to 148 horsepower. It lasted just one year before a 225 six with 145-horsepower replaced the Hyperpack option and the Valiant lost its status as a separate make to become a Plymouth.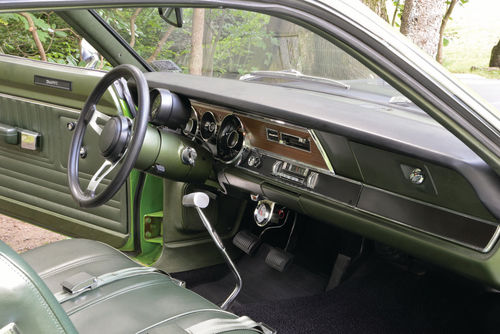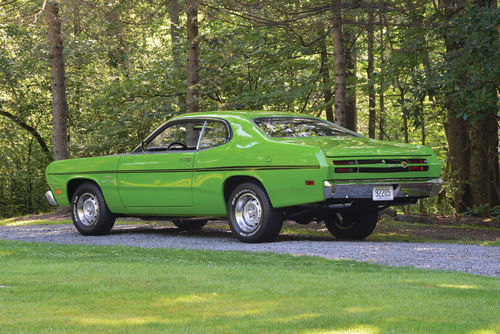 Full-size Plymouths were given increasingly larger engines over the next several years, but the Valiant stuck with the same choices through 1963, when a complete restyle set the stage for something different in 1964. Given that Ford was about to launch its Mustang, Plymouth's timing was excellent as it introduced its Barracuda on April 1, beating the Mustang by 16 days. The Barracuda was initially badged as part of the Valiant line and that made perfect sense as anyone could see the connection. The new model was clearly a Valiant that had had most of its greenhouse and its trunk removed and replaced with a fastback roofline. The fact that much of the fastback was actually a glass backlight that wrapped down to the sides ensured that the Barracuda wouldn't be misidentified and its optional 170-horsepower 273 V-8 similarly ensured that it wouldn't be mistaken for an economy car. Wisely, Plymouth made that same powertrain available in the Valiant.
In 1967, the Barracuda was given its own body and the Valiant was restyled, but it remained possible to order a Valiant with a performance focus by specifying a 235-horsepower 273 and 1968 brought the availability of a 230-horsepower 318 and four-speed.
A Duster "Supercar"
In its more everyday form, the Valiant was a popular car and that might have hurt its image among enthusiasts, so Plymouth did something similar to what it had done with the Barracuda and reworked the basic Valiant into the Duster. The new model was a fastback—although its roofline was tame by comparison to that of the original Barracuda—and Plymouth wasn't shy about why it had taken that course to create the Duster 340.
An ad billed the Duster 340 as "America's first Super-low-price Supercar. For a start, we needed a body that was strong, simple and inexpensive to produce. That's a big saving to start. Our logical choice was the shell of the new Valiant Duster because in addition to being a strikingly good-looking shell, it had all the necessary qualities. For an engine, we dropped in the obvious: our light, high-winding 340-cubic-incher."
The ad detailed suspension improvements and appearance items because like the drivetrain, they separated it from the lesser Dusters that could be ordered with the base 198 six.
Just What He Had Wanted
Fortunately for Al Edwards, someone ordered a Duster 340 that would pass through several owners, be cared for well and end up in 2002 not very far from his home in Cortez, Pennsylvania. His friend Mark Serra, he said, had promised to keep an eye open, learned from a mutual friend that what would become the feature car was for sale and told Edwards, who was then in the process of restoring a 1972 Triumph Spitfire.
"He called me and said 'do you want to go and look at it?'" Edwards recalled. "I said 'well, what could it hurt?' So we went down to (the seller's) garage, pulled into the driveway and he raised the garage door. Mark looked at me and I looked at him and I said 'could this car possibly have a black hood and a '340' emblem on it?' So I was walking toward the car and falling in love with it immediately. I walked around the front of the car and it was like the car was made to order. It was everything I was asking for."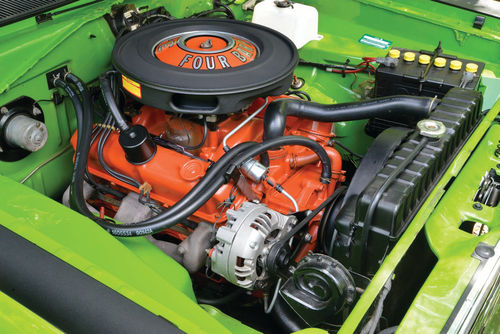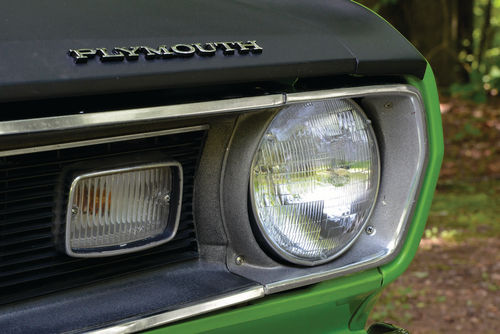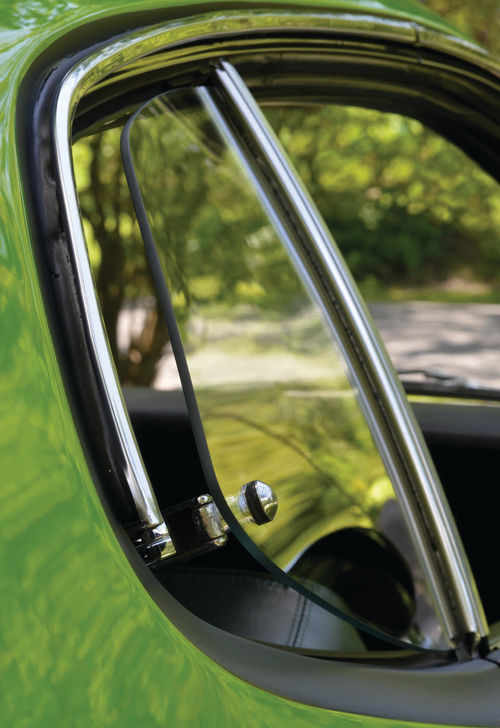 With its four-speed, 275-horsepower 340 and black hood, the green Duster was precisely what he wanted and in extremely good condition, but it wasn't perfect. He made the deal, drove it home with neither worries nor problems and continued to drive it as he worked on it. The engine, he said, needed almost nothing.
"That has never been reworked," Edwards said. "The only thing that's been reworked, I painted that engine. I masked the whole engine compartment off and painted it. It was days, maybe a week of masking and I painted that engine in the engine bay."
Some Restoration Was Needed
The transmission hadn't survived quite as well, which in a way makes sense since he learned that the Duster was built with a three-speed. The conversion to a four-speed hints that some previous owner had been a rather spirited driver, which when combined with what might have been 139,000 miles could also explain the minor transmission problems Edwards found when he bought the car. Shifting into second, he recalled, was always difficult and reverse was at least occasionally challenging.
"And the clutch was starting to make noise, "he continued, "so I said 'you know what? It's a good time.'
"I talked to this guy and he actually did it really reasonably for what he did. And while he was doing that, he also put a date-coded case in the car for me. So now I have a date-coded trans."
The work was done by Passon Performance in Sugarloaf, Pennsylvania, (passonperformance.com) where the transmission also received a new pressure plate, throwout bearing and bushings as well as a rebuilt shifter that banished the problems.
"It was at the point," Edwards recalled, "that to get into second, I had to rev the engine a little like a truck driver and then it would go in. That I have to say is the best thing I've done to the car as far as ease and fun to drive."
The torsion bars were adjusted for ride height, he said, but new shocks, springs, suspension bushings, an alignment and the addition of a rear swaybar combined to improve handling. Right behind that was his decision to change the gearing from the original 3.91 to 3.55, a switch that provided an excellent compromise in driveablity.
"I still wanted it to be zippy through the gate and I wanted it to be at no more than 3000 rpm at 65 or 70 miles an hour," Edwards said. "Right now, I can drive around 65 or 70 and it hovers right around 3000. It's still fun to drive around town, fun to drive on the highway."
He held onto the original gears, he said, just as he's held onto nearly everything else that's been replaced, including the radiator, carburetor, wheels and even the Polyglas spare. Of course, not all of the parts were important enough to set aside after they were removed.
Moving Inside
"The seats were covered," Edwards said. "It was vinyl and it was in nice shape, but it wasn't the interior that belonged in the car, so a few years back, maybe three or four years ago, I purchased the replacement seat covers from Legendary. I was totally thrilled with them. We refoamed them, did all of that."
Since he was working on the interior, he replaced the package tray and the carpet and installed a layer of insulation on the floor. He'd already replaced the door panels and while he didn't need to deal with the window regulators, there was window work to be done.
"I did replace the whiskers," he said, "because they were shot. That was a scary swap-out. It's that special clip that they slide into down in there. And I was worried about being so meticulous because I didn't want to scratch the paint or the window."
Fortunately, someone else had apparently been concerned about damaging the interior as he said the Rallye dash had never been cut so that an eight-track tape player could be installed. He does, he confessed, have several eight-track players and has considered installing an under-dash unit, a period accessory that would be appreciated if the right person noticed it.
"It would probably be someone who had done the same thing back in the day," he said. "What I did do was mount a radio inside of the glovebox so that nobody sees it, but it's there. (The original) did work until just recently. It stopped functioning. It actually turns on, but it's just not playing. I don't have it connected to the speaker up in the dash because that's another thing I did. That speaker was shot.
"(Replacing) the radio is a major job. I've had it in and out several times. That octopus connector, you've got to be careful. You have to drop the steering wheel down, the column down. It's a major job. It's doable and when it's not going well, walk away from it, of course, because you're going to break something."
A break of the good kind on the interior came when he had the Duster at Carlisle and was approached by Legendary Interiors (legendaryautointeriors.com).
"They asked if they could use my car to come up with a template for reproducing the factory mats, front and rear," he recalled. "I said 'sure' and after they did everything, they thanked me and said 'you'll get a complimentary set of mats from us for letting us do this.' They just wanted the measurements. They were validating that (information), I guess. That was pretty cool. They held up their end of the bargain."
First a Touch-Up; Then a Paint Job
Today, he said, the fresh air vents sometimes have minor leaks and he plans to replace all of the seals in the car even though there are no other leaks. He's not looking forward to removing the pop-out rear side windows because he's already done so on another Duster.
"That's a project to get them in and out," he said. "We had to put them in that one, in that Duster. There was no glass at all in that car when we bought it."
Edwards said that the feature car was repainted before he bought it and that he's since done additional bodywork.
"There were some bubbles on it in the rocker panels and in the rear quarters," he said, "and the other place was the front fenders, actually the bottoms, but that didn't present itself until we started working on the car. (The bodyman) said 'we've got to cut that out now or it's going to give you problems down the road.'
"I had the car painted and it looked beautiful, but I only had it touched up and the car was perfect until it got dark and then you'd see where it had (been touched up). It always reminded me of that Seinfeld episode where Jerry's dating this beautiful girl until it gets dark and she's not so pretty. I liked the guy who painted the car and I took it back to him. I said 'John, the bodywork is beautiful on the car, but I think we're going to have to paint the whole car.' He does beautiful work, so I had the whole car painted except for the blacked-out part."
Keeping It On the Road
The Duster provided some surprises during the bodywork, such as the fact that the tops of the fenders and the floor showed no rust damage. Edwards said that even the trunk floor was solid, although he said he's since found minor problems with the spare tire well and plans to address them.
He knows from experience that the chance of finding good body panels on Dusters in salvage yards has fallen considerably in the years that he's owned the car, but he added that the range of reproduction parts has broadened in that time. Finding nearly any mechanical part, he said, rarely requires serious hunting. All of that is a good thing, obviously, because staying on top of repairs and maintenance— like the need for seals and the work on the well—is a notably smart approach since Edwards believes in driving the Duster. Carlisle is about two hours away and he doesn't see that as a monumental trip, but most of the car's time on the road is closer to home.
"We go to car shows," he explained, "and we'll get a bunch of people together and go for a cruise, ice cream or we'll stop at a restaurant. And I meet with a couple of friends on Saturday mornings for breakfast and a bull session and if it's a nice day, that's going. I drive it as much as I can. If I come home and it's a nice night, I'll take the Duster out and go for a ride."
Encounters With a Bird and Would-Be Buyers
It's never broken down on the road, but he carries the typical assortment of easily swapped components such as an alternator, starter, bulbs and fuses. Still, odd things have happened, such as a planned two- or three-hour ride in the Pocono Mountains with family members last year that was interrupted when the Duster hit a large hawk just a few miles from Edwards' home. The car appeared undamaged, but the hawk was injured, so a neighbor who worked in a veterinary hospital wrapped it for transport to a rescue center about an hour away. The bird eventually recovered, but weeks later, Edwards was relaxing after having washed the Duster and noticed that the grille emblem that had been in place when he looked at the car after the accident was now gone.
When the bird hit the car," he said, "it loosened the little clip on the back (of the emblem) that holds it on. It's got two pins on the back. One holds it in place and the other is the fastener that holds it on. Now I was saying 'where am I going to find his?' I always go to Classic Industries and sure enough, they had one. I told them the story. They laughed.'"
That was the only damage, Edwards said, as even the plastic grille was untouched and the paint wasn't scratched. The badge, he concluded, had been loosened and then gradually worked its way out.
"Had it fallen at first," he said, "I'd have thought 'I'm going to run back to the place and look,' but what was the chance of it falling off at the place of the incident?' And I always glance along the side of the road, saying 'is there anything shiny there?' Never came across it."
It's doubtful that he ever will, of course, but he still drives the Duster and when he does, it doesn't escape notice. It sometimes is mistaken for its Dodge twin, the Demon and oddly enough, it's occasionally mistaken for a Road Runner. But there are those who know what they're seeing.
"I've had people who wanted to write a check for it at Carlisle," Edwards said. "I have one guy who comes almost every year. 'Are you ready to sell me this car?' He brings his lawyer with him and his lawyer asks 'how much do you have to get for this?' I say 'I honestly don't want to sell the car. I literally love this car.' The guy says 'can I sit in it?' I say 'sure, you can sit in it.'
"But that's part of the fun of owning the car."