When Gary Brooks was a 17-year-old high school kid, he spotted a black '57 Chevy hardtop on a used car lot. This was 1963 and '57 Chevys were a popular car with teen-aged boys. Although it was exactly what Brooks wanted, the $1350 price was $500 more than Brooks scrape together. Several days later Brooks spotted a black '57 Pontiac with a white side spear. The for sale sign in the win dow read $850. Bingo! A test drive resulted in a check being signed and Brooks drove home in his 57 Pontiac.
Twenty-five years later the Pontiac was only a memory and Brooks was re-living it in a conversation with a friend, Brian Davidson. Davidson was always buying, selling, building or working on '50s cars. Brooks told Davidson, "If you ever run across a 57 Pontiac, let me know."
Several months after that, Davidson returned from Prescott, Arizona, with a 57 Pontiac Chieftain. It had been stored since 1973 and was in excellent shape. Its worst fault was a small amount of rust in the trunk. Like Brooks' high school car, the Pontiac was black with a white side spear, however, this one was a two-door sedan rather than a hardtop.
The odometer registered only 16,000 miles, but a broken speedometer made the true mileage unknown. Brooks didn't care; he was in love again. "I had to have that car," Brooks said. "I wrote him a check and drove it home." For the next two years, he and his family occasionally drove the Pontiac to local hamburger joints on cruise nights.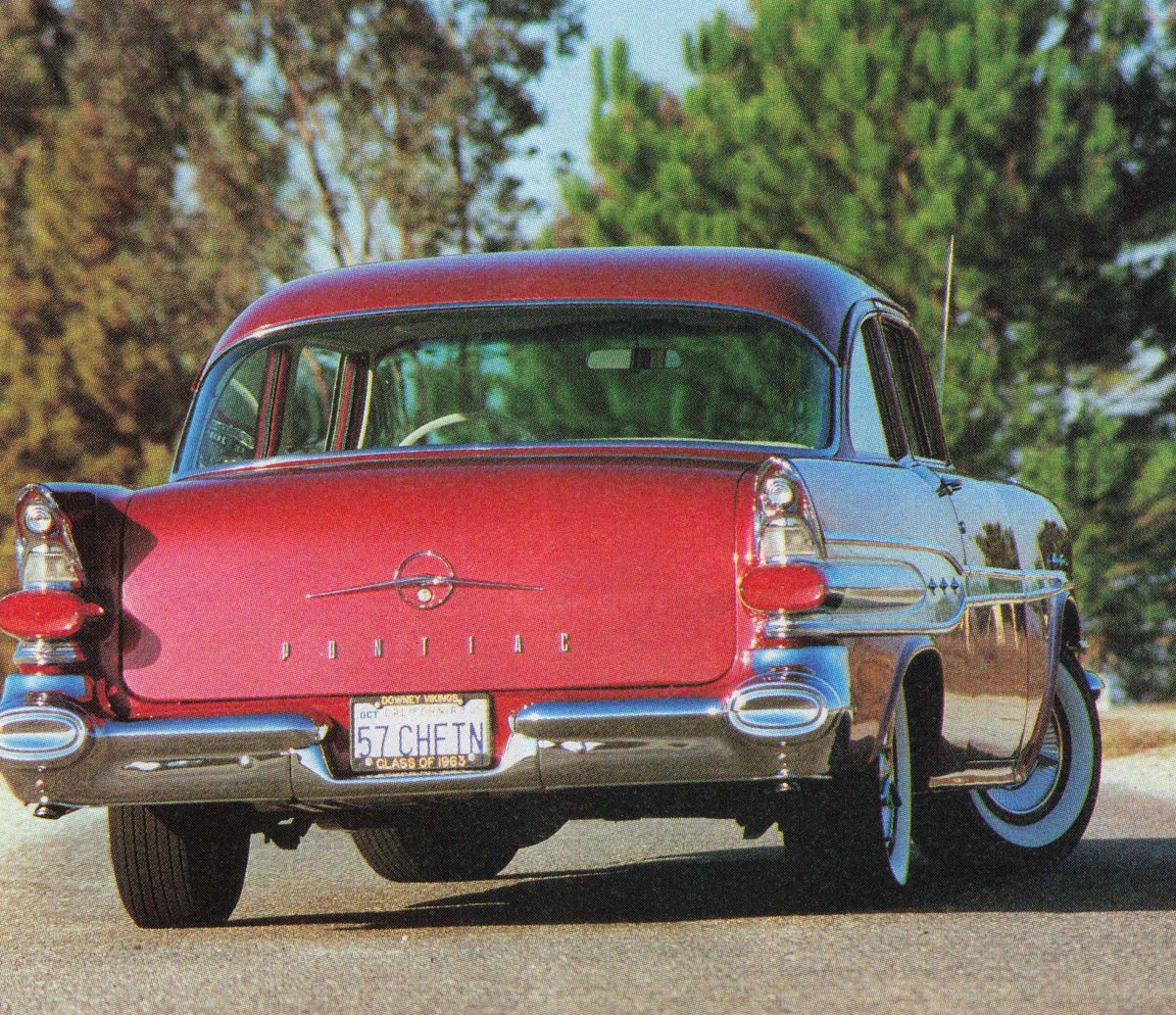 In 1990, Brooks decided to restore it. Davidson tried to convince him to modify it with a tilt wheel and a later model V-8, but Brooks didn't want to lose the original flavor. To get the project underway, Brooks took his car to Mark Hughes, of Mark's Auto Body in Woodcrest, California. The division of labor was simple. Hughes would do the body and paint work, and Brooks would do the grunt work and chase parts. Hughes allowed Brooks free access to his shop to work on the car.
Body & Frame
Brooks' goal was to restore this Pontiac to stock with the highest level of craftsmanship possible. This included pulling the body off of the frame. The similarity between Pontiacs and Chevys of that era became increasingly apparent, as Hughes removed a section of trunk floor from a '56 Chevy to patch the Pontiac trunk — it fit perfectly. More of these similarities would surface along the restoration route.

While Hughes was massaging the body, Brooks was tackling the chassis. Everything was removed down to the bare frame. To provide a durable finish on the frame and chassis components, almost everything was powder coated, including the suspension arms, rear axle and wheel houses. What wasn't powder coated was glass-bead blasted and painted black. Brooks ordered all new suspension and brake components from Kanter Auto Products. Disassembly and assembly was done by the book, with the aid of a Pontiac chassis service manual. The engine and transmission were both sent out to be rebuilt completely to stock specs.
Brooks wanted to add power steering and brakes to his Pontiac for more comfortable cruising. He took a trip to the Pomona (California) Swap Meet not knowing exactly what he needed for the conversion. There he found Rich Plastino, the key to pulling his restoration together. Plastino, who owns California Pontiac Restoration (CPR) in San Bernardino, California, was able to supply Brooks with the correct power steering and power brake components to complete his conversion. Plastino only deals in Pontiac parts and does not restore these components. But he has a long list of specialists he recommends to do the correct restoration and _ repair. Plastino also introduced Brooks to the Pontiac-Oakland Club International and other Pontiac owners.
When Brooks disassembled the rear axle, he discovered a few of the teeth were in bad shape. Plastino was his source for a used '57 rear end unit. Brooks had it inspected and found it was in perfect condition.
Paint, Trim & Interior
Brooks' intention was to paint his restored Pontiac its original black color. That changed after he saw a 56 Chevy Nomad with a red and white two-tone paint scheme that was very striking. The colors turned out to be 92 Nissan Cherry Red Pearl and White Pearl. "I've never been particularly drawn to red cars," Brooks says. "But when I saw that Nomad, I thought that combination would look great on the Pontiac." Brooks admits agonizing over the color change. He didn't want to ruin
the originality of his Pontiac, but he liked the color combination too much to abandon the idea. Brooks had several conversations with other Pontiac owners regarding his choice of colors. "I eventually took the advice of various people who said, 'It's your car — you have to live with it."
Brooks was pleased to discover that many parts on his car were directly interchangeable with a °57 Chevy. This interchangeability saved both time and money in his restoration. He was also lucky his car was complete — no missing parts. The only exterior chrome pieces that needed to be replaced were the lower rear-bumper caps that were rusted. These caps are the simulated exhaust ports at either end of the rear bumper. Because of their proximity to corrosive exhaust gases and poor sealing to the bumper, it was common for these caps to deteriorate. Plastino came to the rescue again with an excellent used pair. Today these caps are available as reproduction parts.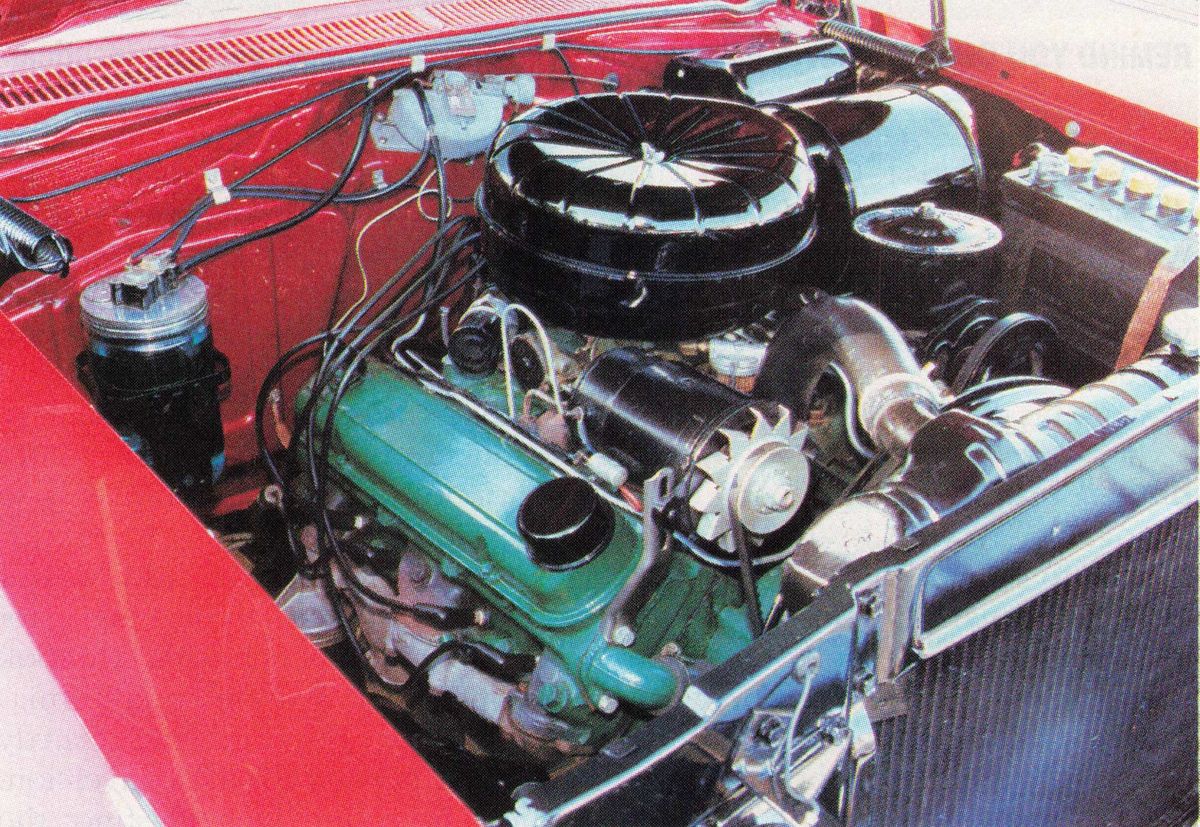 All exterior and interior chrome pieces were re-plated and the stainless trim was polished. With the change in exterior color to red and white, Brooks decided to change the interior from its original black and white scheme. He found a piece of original sales literature that showed a photo of a '57 Star Chief convertible interior trimmed in red and white. In discussions with other Pontiac owners, Brooks learned it wasn't unusual to have a Star Chief convertible interior in the base Chieftain model. Since there are no interior kits» available for' °57 Pontiacs, Brooks had to find someone who could do a custom interior. Brooks took his Pontiac and the illustration to Huntington Beach Auto Upholstery. Working from the photo, they were able to faithfully recreate the Star Chief's interior design, pleat for pleat, including the door panels and carpet. Even though Brooks had the original AM radio restored, he also hid a stereo AM/FM radio in the glove box. Another concession to modern convenience is a ten-CD changer that's hidden in the trunk. But while the stereo componentry is up to date, the music isn't. A check of the CDs shows they contain — what else? — tunes from the '50s and '60s. Resins a 57 Pontiac iS made infinitely easier thanks to GM's penchant for sharing components between Car lines.
lf you've noticed the similarity of our featured Pontiac's profile to that of a 57 Chewy, it didn't happen by accident. General Motors' designers used the same upper body, doors and deck lid on a 57 Pontiac as they did on the 57 Chevy. The common componentry associated with these pieces will save a lot of time and money for anyone restoring a '57 Pontiac.
The upper body consists of the roof, © windshield, backlight, quarter glass and door glass. All of the glass and associated channels and weatherstrips will interchange with those on a '57 Chevy. Vent windows and their regulators are interchangeable, too. Exterior — stainless window moldings, inner window and garnish moldings are the same parts found on a Chevy.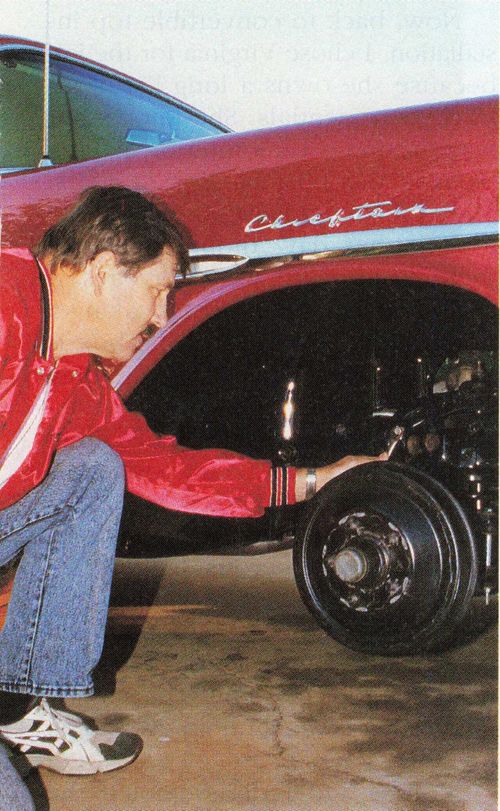 The complete doors and all associated lock — and window hardware will interchange, model for model, with a 57 Chevy. This includes windows, window regulators, door lock and latch mecha nisms, inner door handles, —outer door handles and window crank handles. The entire deck lid and associated hardware will interchange, also.
The restorer of our featured 57 Pontiac used Danchuck as a resource for his restoration.
Danchuck specializes in components for the 55-57 Chevys. As an added bonus, many of the same components for a 57 Chevy interchange with both 55 and 56 Chevys, as well as 1955-57 Pontiacs. Dig out the August 96 issue of CLassic AUTO RESTORER and take a look at the article on the 55 Chevy Delray ("Champagne Chevys on a Beer Budget'). It lists the parts that are interchangeable between 55-57 Chevys.