Feature Restoration 1965 Ford Galaxie 500 Convertible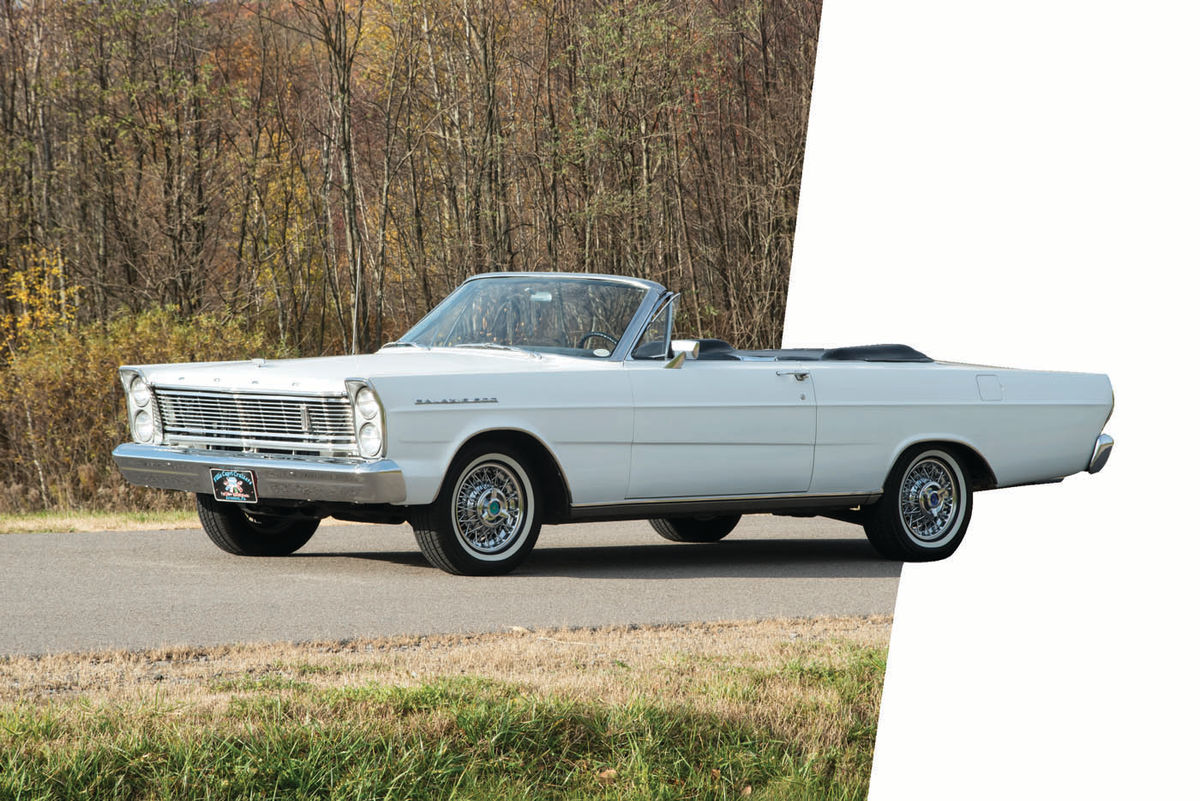 He Wanted to Drive a Big Droptop. Now That He Has One, the Lid Only Goes Up When It Rains.
When Barney Comparetta was looking for a car, his key requirements were that it needed to be big and it needed to be a convertible.
"I'd already joined the car club," he explained, "but I didn't have a car. I wasn't a street rod guy; I was a big-car person. I had a '53 Pontiac Chieftain convertible, straight eight. I loved that car, but then I always liked big cars."
That Pontiac had been his regular transportation when it was still fairly new, but he clearly remembered it in 2006 when he learned about the 1965 Ford Galaxie 500 featured here. The Ford was big, it was a convertible and although he's not particularly a Ford fan, it sounded at least good enough to warrant some consideration.
"The guy who told me about it," Comparetta recalled, "said 'oh, it was stored in a barn, but I think the guy brought it down to his house and it's in his garage.' I got the guy's name and called him. 'Yeah,' he said, 'are you interested? This is where I live. Come on up.' I went up and it wouldn't start, and there was a pile of stuff on it."
Beware of the "Critters" In There
Everyone who's been in the hobby for more than a short time has either experienced or heard about something similar to what's been recounted so far, but in this case there was more to the story…
"I was trying to feel down inside the (well) to feel the top," Comparetta continued, "when he shouted: 'No, don't do that!' I said 'why?' He said 'there's critters in there.' I said 'what kind of critters?' He said 'well, there's liable to be a couple of snakes in there.' 'Forget it,' I said. 'You clear it out.'
"He called me up about three days later and it was running, so I went up and he started it. There was no gas in it so he put gas in through the carburetor and it sounded pretty decent. I took one of the guys from the club with me because he knew more about it than I did…and he wasn't afraid of snakes."
Ford's Post-War Evolution
Some potential buyers would have walked away from a car that wouldn't start and might have been sheltering unwelcome residents, but as mentioned above, the Ford was a big convertible and that matched Comparetta's taste.
Other cars could have matched it just as well, but 1965 was a good year for the full-size Fords. Promotion as "the Total Performance '65 Fords" made them seem fast, just as it might have obscured the fact that they were a long step away from their immediate predecessors.
Ford had introduced its first truly new post-World War II car for 1949, breaking new ground in everything but the very basics. The 1949 Ford was so smooth and clean in appearance that the 1948 model suddenly seemed ancient. While engine choices didn't change, the previous torque tube drive was replaced with an open driveshaft and hypoid rear axle. Coil springs and independent suspension banished the solid front axle and its transverse leaf spring, and longitudinal leafs were now used in place of the former transverse leaf at rear.
After annual updates, the 1949 body was replaced for 1952 with another one that again looked fresh and now introduced a feature that would continue almost unbroken for more than a decade. In place of the previous body's mid-level horizontal taillights, the 1952 Ford wore small, round units mounted high on the fenders. And while there was no mechanical leap that corresponded directly to that of 1949, Ford now had an overheard-valve six in place of the former flathead. An overhead-valve V-8 followed in 1954 and when the restyled 1955 models arrived, V-8s began growing to keep up in the horsepower race.
When the time came for the 1958 update, the round taillights disappeared. They returned in 1959, disappeared once more in 1960 and returned again for 1961. The diameter and the details changed over time, but they were still in use in 1964. They surely would have continued beyond that point had Ford stuck with roundness as its theme instead of moving to a design that almost ruled out circular taillights.
A Straight Approach for the '65 Ford
The 1965 Ford wasn't quite as cleansheet new as the 1949 model had been, although the body made it seem that way as nearly every line on the car was straight. At the front, vertically paired quad headlights—as on Plymouth, Pontiac and Rambler—leaned forward at each side of a fine grille. They blended into a beltline leading straight to the hexagonal taillights on all but the entry-level Custom with its round lenses inside of hexagonal surrounds. Sides were smooth with just two straight stampings, horizontal surfaces were nearly flat and even the backlight's surround was angular. Advertising spoke of "cool elegance" and "sculptured metal," but Ford was now pushing its quality and luxury and an ad for the top Galaxie 500 LTD asked "is there nothing left for the rich?"
Naturally, a lot of that advertised image rubbed off on the Galaxie 500 and just as Comparetta wanted, the car was big. Its wheelbase was 119 inches and its overall length was 210 inches and while the smallest 1965 Cadillac's dimensions were 129 and 224 inches respectively, the Ford was nevertheless a true full-size car. At the very least, it was big enough that its hood had been able to serve as a shelf.
"It was a cinder block and the hood was caved in," Comparetta said. "The cinder blocks were still sitting there, but the guy said he didn't remember putting them there."
Like the possible snakes, the blocks didn't stop him from buying the car and once he owned it, the Ford was towed to a friend's garage not far from Comparetta's Dunmore, Pennsylvania, home.
Starting at the Bottom
The work began underneath, as the suspension was rebuilt with new springs, shocks and rear air shocks. The entire brake system from the drums to the booster was replaced and Comparetta said that as a safety improvement he installed a dualreservoir master cylinder. The switch required some fine-tuning of the booster and he said that the car now stops exactly as it should.
The upgraded brake system was followed by the equally important and considerably nastier work of renewing the fuel system. After the tank was drained of old fuel and flushed, it was coated to deal with whatever rust was inside. A new fuel pump was installed, but Comparetta said that once the car was running, a problem showed up that at first was thought to be a completely unrelated one.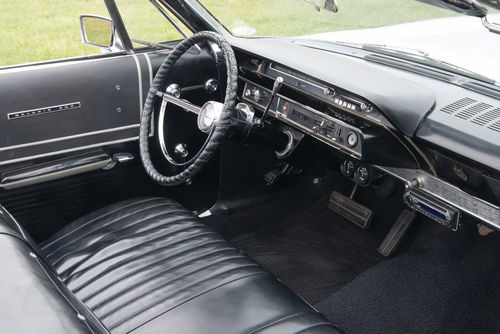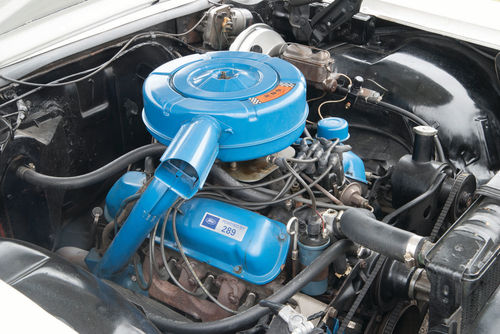 The car seemed to be overheating, he explained, and that led to removal of the radiator so that it could be cleaned and the rest of the cooling system was flushed. All of that should have solved everything and probably would have done so if the engine really had been overheating, but that wasn't quite what was happening.
"It was vapor-locking," Comparetta said, "and it was the gas that was doing it, the alcohol in the gas and the heat from the manifold that was boiling it out."
A friend suggested a relatively simple fix, a heat shield to be installed below the base of the carburetor. The shield serves primarily as insulation and also deflects some of the engine's heat.
"You take the carburetor off, you put (the shield) down, put the carburetor on," Comparetta said. "That took care of that. The car's been running really nicely."
The cooling system's clean-out was still valuable as it all but eliminated not only the chance of overheating, but also the potential lack of heat from a blocked heater core. That's not something to be taken lightly when the car's a convertible, its owner can't resist driving with the top down and, as he said, it runs nicely.
Beyond the heat shield, another reason for the fact that it's been running well is that when he gave it a tune-up, he replaced the entire ignition system including the voltage regulator and distributor.
With only about 62,500 miles on the Ford, it makes sense that its 289 needed almost nothing internally, especially when he described the insides of the valve covers as being clean enough that they could have served as a matched pair of shaving mirrors. The valve seals were not as fortunate as the covers, though, as he said that they were badly deteriorated, but once installed, their replacements eliminated the exhaust smoke.
More easily corrected than the poor valve seals or even the vapor-locking was the automatic transmission's leaking. Comparetta recalled that a few drops of fluid appeared on the garage's concrete floor and lined up with the transmission's rear seal, but after adding Lucas Transmission Fix, there were no more spots.
Evidence of Accidents Emerges
Once the car was running, he buffed the paint as much as possible to make it look presentable, but eventually he asked a friend to handle the major bodywork. The friend agreed, telling him to have the car at his shop on January 2 and then not to call or visit for six months.
"And it was close to six months," Comparetta said.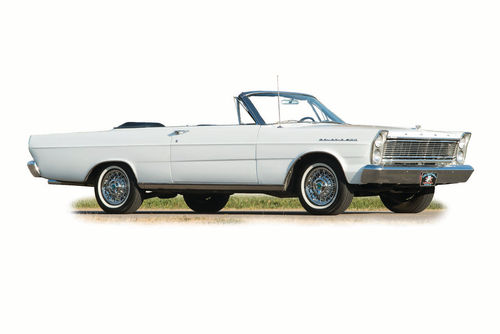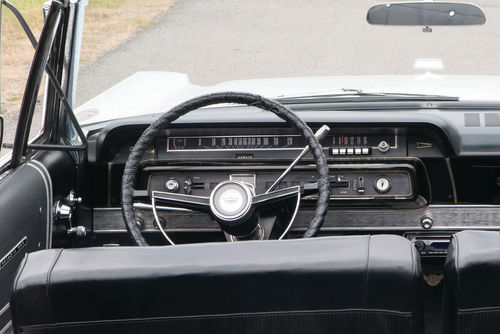 The body proved to be a far greater challenge than the drivetrain had been and while mid-1960s Fords—like most of their contemporaries—aren't noted for their resistance to rust; this one was something of an exception. Comparetta said that once the car was in his friend's shop, no rust was found when he stripped the body.
However, there was solid evidence that the car had suffered at least one major hit in its days as everyday transportation.
"He pulled about four pails of filler off of that," Comparetta said. "He pulled the back fender out; it was hit from the back. He put cables on it and he pulled it. He pulled it out to where it was almost perfect and then he touched it up with filler.
"One of the front fenders was hit and the door. The whole quarter panels on both sides were damaged. They must've been creamed because there were creases in them, but no rust, surprisingly."
The accident damage didn't come as a complete shock because he and his fellow club member had picked up indications of it once the car was in the garage.
"That's when we could see the one spot," Comparetta said, "that back fender that had to be pulled out. It was almost out of shape. It wasn't rounded right, it was flat."
And then there also was that cinder block.
"It was hit near the windshield," Comparetta said. "That's where the damage was. It missed the windshield. I'm sorry I didn't take pictures of it because when I went, it looked just like it was sitting on the hood. I said 'oh, this is going to take work.'"
He was right about the work, but it's impossible to see any trace of the repairs today, a point that becomes more significant because the hood with its impression of the block wasn't replaced.
"We couldn't get a hood," Comparetta recalled, "and so he worked on it until he got it about 99 percent."
The bumpers were re-plated, but the fact that the more delicate trim pieces such as the grille and the hood ornament were intact means that the car in its early years was likely appreciated and driven carefully; a rear-end accident typically isn't one that reflects badly on the driver. Had the hit been in the front and damaged the grille, a new piece would probably have been installed if one could have been found, as straightening its fine, intricate components would have tried its owner's patience.
The grille on Comparetta's car was only dulled from age, but it nonetheless required attention and that translated to work.
"Basically," he said, "the only thing I did to it was get chrome cleaner and by hand, I did it all. I didn't do it all in one day. It took me about a week and a half and I got it all cleaned up nice. There's a lot of pieces in there, but it wasn't as bad as I thought it was going to be."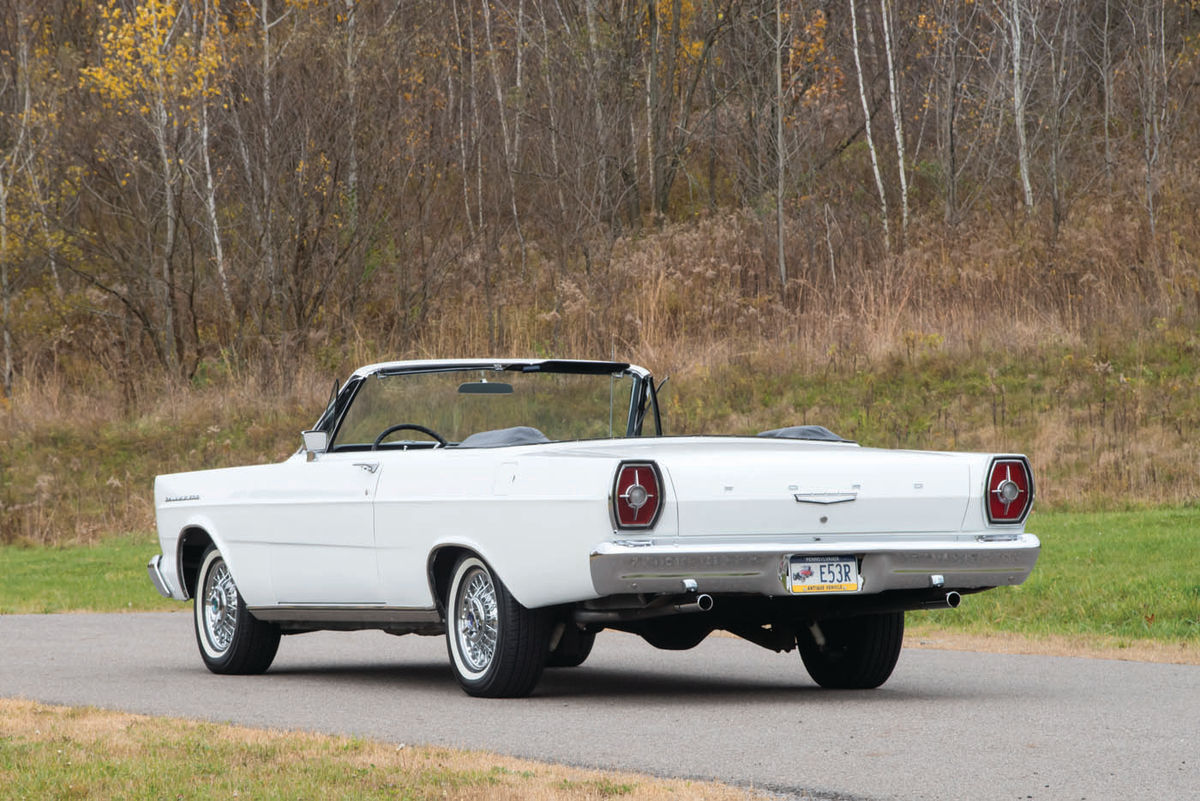 The Top Seldom Moves
Like the grille, the interior showed signs of everyday use, but it had probably suffered more in the time the car was forgotten. Comparetta removed the seats so that he could replace the carpet—which was necessary because plants were growing on it— but the floor underneath was rust-free. The driver's seat, he said, still needs new padding and he's thinking about new seats all around as a possibility even though they're all in at least presentable condition. The top might also have been most damaged while the car was parked as he said the fabric was unusable, yet the motor and mechanism were fine. That last point is a key one.
"The top is never up," Comparetta said. "It's down until we put it away for the year. Then we'll put the top up. It goes down in the spring and it goes up in the fall unless we get caught in the rain and that's only happened once in 10 years. We ended up getting the top up before the rain really came down. There was a guy who'd just bought a '56 T-bird with no top and when he opened the door, it was like a river flowed out."
Initially, It Wasn't a Driver
Since the feature car has a top and the rain isn't always that bad anyway, it's a good choice when it comes to traveling, even if Comparetta didn't initially see it quite that way. But friends who wondered why he was worried about using the car came up with a nearly perfect argument.
'"What are you afraid of?' That's what they told me," he recalled. 'What did you have when you got married?' I said 'a '56 Oldsmobile.' 'Where'd you go?' 'All over. We traveled a lot then when we didn't have any kids.' So then I started thinking 'yeah, drive it.'
"The only thing that makes me nervous is that it's the original engine," Comparetta said. "It wasn't reworked, but it doesn't smoke and it runs well. The gas mileage isn't good. If I get 12 on the highway, I'm probably lucky."
Nervousness aside, he took his friends' message to heart and he drives the car. It mostly gets out to go to shows with Delaware and New Jersey having been its longest runs. He knows now that a 150- or 200-mile trip isn't as worrisome as it once seemed and that comfortable seats combined with plenty of room make it a car that doesn't require stops just so that its occupants can get out and stretch.
Those who would see it on that trip, he said, would definitely pay attention to it and probably only a small number would be able to identify it even when parked at a restaurant where there's plenty of time to study it.
"I get more people coming in and asking 'whose car is that outside?' 'Oh, that's nice.' 'How old is it?' I get a lot of that."
To some of those who see the car, neither the brand nor the year matter at all.
"I always have somebody make a comment," Comparetta said. "One day last week I took it out, went up for gas, a lady walked over and she was looking at it and looking at it. Then I heard her calling her husband. She said 'isn't this something?'"
A Warm Parade Float
As a convertible the Ford participates in its share of parades and when working in that capacity, it's not especially important that anyone knows what it is. The important factors are that it looks good and it's prepped for the changing seasons.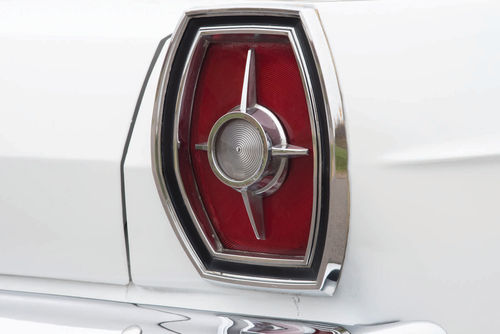 "The Santa Claus Parade," Comparetta said, "it's a beautiful parade, but it's cold."
The Ford's functioning heater is a good thing then and with the heat shield in place, there's no concern over vapor-lock if the parade is scheduled for one of the warmer months.
Driving it in general during the summer has produced some interesting reactions from passengers who either have little interest in older cars or are just too young to know much about them.
"There's no air," Comparetta said. "A half-dozen people didn't know what I was doing when I pulled the vents. They didn't know what they were."
Anyone old enough to remember driving or riding in cars with purely mechanical controls would know in an instant about opening the fresh-air vents and some remember more than that. Comparetta recalled his late wife's reactions to the car.
"When I bought it," he explained, "she told me 'you always wanted one, didn't you? Well, now what are you going to do?' God bless her, she didn't live long enough to see it finished. She died a month after her 65th birthday.
"Anyhow, when I took her for a ride in it, she liked it and it wasn't even done yet. She said 'it's like your Pontiac.' I was going with her when I had that Pontiac."