After Years As a Converted Truck, It Spent Decades In Storage. So It's No Surprise That Restoring It Called for International Cooperation.
LIFE WAS PLEASANTLY genteel for Alfred Acres' Cadillac when it served its original owners…but those good times ended almost a century ago.
"It had been chauffeur-driven," said Acres, the Beamsville, Ontario, restorer of the 1913 Model 30 featured here. "The family in Hamilton had bought it new and the husband had died in the war. The widow had let the chauffeur go and let the car go because she couldn't use it anymore and my grandfather bought it with the intent of turning it into a truck."
That was in 1919, he said, and with trucks still in short supply because of the recently ended First World War, the big five-passenger touring car seemed an ideal solution to Percival Acres' need to transport produce to market from his Winona, Ontario, farm. Converting passenger cars to trucks wasn't unusual at the time, as progress in automotive design was rapid and a model several years old might have become obsolete, but remained sufficiently functional to haul cargo until sidelined by some terminal problem too costly to fix. In other instances, it was the most affordable way to acquire a truck or as Acres realized, the only realistic way.
It All Started With 10 hp and "About" 35 mph
Cadillac by 1913 was an established company whose reputation for quality in design and construction dated to its first car, the Model A. Introduced for 1903, the Model A was a two- or four-seater and its approximately 10-horsepower single-cylinder engine was enough to push the 1400-pound car to about 35 miles per hour.
The car had been introduced at the New York Automobile Show where it generated more than 2000 advance orders. Impressive, but salesmanship and the fact that it was a new car surely played a big part in the numbers and so the second-year story is probably more realistic. That was good, too, with sales again over 2000 and the additions of the slightly larger Model B as well as a delivery body for either of the chasses.
Cadillac followed up for 1905 with the Model D, a considerably larger and much more expensive four-cylinder. Riding a 100-inch wheelbase and weighing 2600 pounds, it dwarfed the Cadillac singles then in production and needed the 30 horsepower of its 300.7-cubic-inch engine. It came at a price — the Model D listed at $2800 while the singles ranged from $750 to $950 — and it hinted at the future as it evolved into the Models L and H for 1906.
The age of one-cylinder cars was running out and at $2400 to $5000, both the L and the H were expensive, so things were changing at Cadillac and 1907 brought the Model G. The new car was a 20-horsepower four on a 100-inch wheelbase, used a sliding-gear three speed transmission and, most importantly, sold for $2000. It would soon provide the basics for the Model Thirty that would enable Cadillac to retire its singles, but the small one-cylinder cars refused to go quietly and in standing their ground, they left a legacy that's known even today.
Establishing "the Standard of the World"
The brand's faithful owe a great deal to Frederick Bennett, an Englishman who was fascinated by the single-cylinder Cadillac and arranged for his employer, Anglo-American Motor Co., to have one imported in 1903. He entered the car in hill climbs and trials over several years, but was less than successful when it came to convincing Britons of the practicality of owning a Cadillac so far from factory support.
His solution was to suggest a test that would prove the interchangeability of Cadillac parts with no need for hand-fitting. That standardization test would be conducted by the Royal Automobile Club.
Three new 1907 Model Ks were selected in early 1908 by an RAC committee in London, driven to the track at Brooklands where they were run to a total of 50 miles each and then disassembled. Their parts were mingled and the pile that resulted was separated into three smaller piles each containing the now-random assortment of parts with which to build a car.
On March 8, four days after the cars had been dismantled, the first of the rebuilt Cadillacs started easily. The others followed over the next several days and all three were given a 500-mile run on the track. The RAC awarded Cadillac its Dewar Trophy for its success in the Standardization Test, a trophy that recognized each year's greatest automotive technical accomplishment.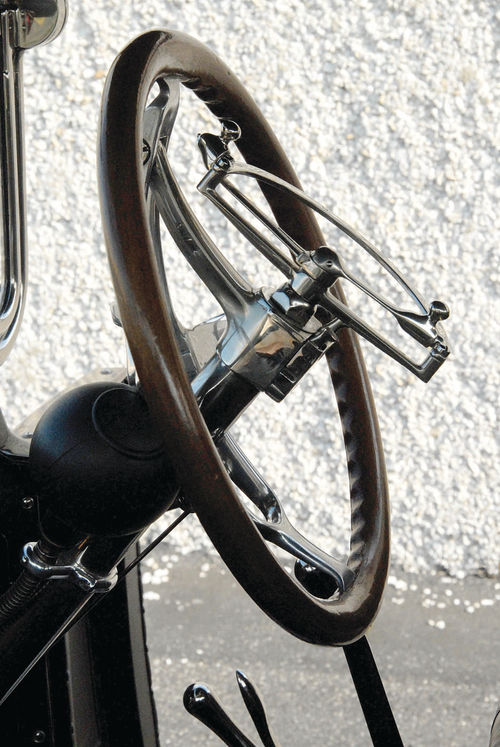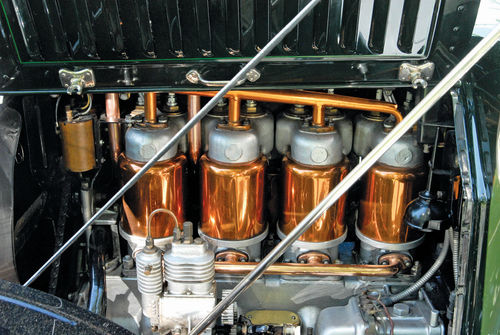 Cadillac naturally moved to capitalize on this recognition by adopting one of the great slogans of automobile-marketing, "the standard of the world." It then went further in a 1909 ad for what had become its only model, the Thirty, by stating that "the perfect standardization or interchangeability of the Cadillac Thirty parts means, therefore, an almost frictionless car which will 'stand up' long after the average 'assembled' car has met its self-inflicted Waterloo."
The Model Thirty acquired an electric starter in 1912 — it thus became "the car that has no crank" — and in doing so earned another Dewar Trophy.
For Some, However, the "World's Standard" Was Still a Horse
By the time the feature car was delivered to the family in Hamilton, Ontario, the Thirty's horsepower was placed at 40 to 50 in the National Automobile Chamber of Commerce listings and the wheelbase measured 120 inches. Brakes were both internal expanding by hand and external contracting by foot on the rear axle, which was the full floating type, and the Delco electrical system included ignition and lighting in addition to the self-starter.
It was that year's least-expensive Cadillac at $1975, the equivalent of $42,716 in today's dollars, but when it was being sold as a six-year-old used car in 1919, the original price mattered little. The critical fact was that the Cadillac would make a very good truck for Percival Acres' farm and with the conversion in mind, he bought it. There was only one flaw in his scheme.
"He found out," his grandson said, "that he didn't like driving it. He'd grown up with horses out west. He'd homesteaded a section north and east of Edmonton and came back and still rode his horse. As a matter of fact, he used to go up into town on horseback to get the mail. People would kind of stare at him, but he enjoyed the horses."
In this case, however, the dark clouds really did have a silver lining as the original plan for a Cadillac truck was set back…if only temporarily.
"My grandfather got in it," Acres continued, "had an encounter with a barn door and said to my dad 'I'll stick with horses. They're more predictable. You drive it.' He used it for two years as a car when my grandfather wasn't convinced that it should be turned into a truck. He was going to still stick with the horses.
"So my dad got to drive it as a teenager for a couple of years as a car and he thought he'd died and gone to heaven. Dad said that when he went into town with it, half the guys would come out of the woodwork to see what was parked there."
Sometimes, Being a Farm Truck Can Be a Good Thing…
Although the Cadillac was very dependable as his father's transportation, that wasn't why his grandfather had purchased it and in about 1921, it finally became a farm truck. The conversion gave it a wooden platform and racks, a wooden top and a set of side curtains for the front that had now become the cab. Folding shelves were added on the sides so that it could carry long loads, but its primary assignment was delivering fruit each day and that went far toward ensuring that the Cadillac survived.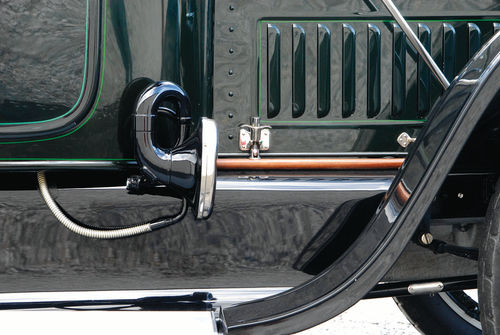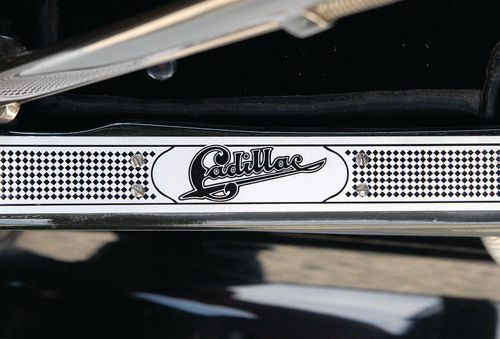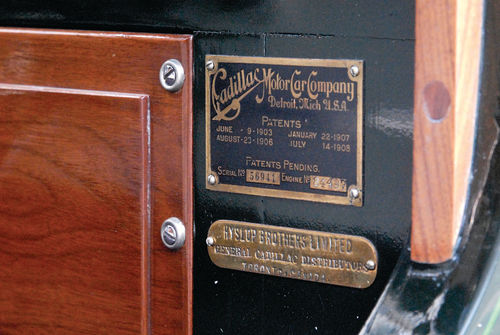 The bonus here is that unlike a Brass Era car that might have been converted to a truck for some other business, the seasonal nature of the farm kept Acres' Cadillac off the road during the most damaging time of the year.
"It just sat in the barn every winter," Acres said. "He'd get it out in the spring and away he'd go with it. It was running in pleasant weather; it didn't see salt then and it was used all summer."
Much as his grandfather had been known for riding into town on his horse, his father was known around the fruit platforms — where fruit was loaded into railroad cars for shipment — for the Cadillac. And that recognition was due to more than just the truck's age, Acres explained, as a temporary fix damaged the starter and that called for hand-cranking the engine.
"They used to take bets on the truck," he said. "My wife visited a seniors home and one of the old fellows who'd owned one of the fruit platforms said 'we used to take bets because in the late '40s, it looked pretty odd, running something like that.' They'd see this old-timer come in with a crank on the front. He'd take bets on it because he knew how dependable it was at starting. He said 'I made a lot of money on that truck.'"
But It Couldn't Keep On Truckin'
In 1950 the Cadillac was retired as progress caught up to it. Acres said that marketing changed, trips became longer and the truck was too slow. Traffic moved faster and the greater capacity and higher speeds of a modern truck were now necessary.
But since the Cadillac was too well liked to be discarded, it went into a barn and remained there mostly undisturbed until 1986. That was when Acres pulled it out and the work began, with the missing body pieces being the first hurdle. The structural wood from the rear half had long since been burned for heat and the metal panels had been sold for scrap, he said, but while World War II's demands are usually remembered as having consumed what would today be desirable cars, they indirectly helped in the Cadillac's restoration.
"You could get gas for a truck and not a car," Acres said, "so they'd take a car, cut the back off; make a truck out of it. Gas-rationing wise, they'd say 'hey, I've got a truck; I need it for my business.' You didn't have to prove too much and they'd give you gas. So with some of these, the back ends got cut off, they ended up as couches on porches, stashed in granaries and barns. They said 'well, maybe we'll put it back together when this energy thing is over.' Some were carefully dismantled, doors were saved. Others were just heaved."
The complete rear section he needed was with several others in Utah, something he learned in a conversation at the annual Hershey, Pennsylvania, swap meet. He was given the contact information and warned that the owner wouldn't sell despite 15 years of requests. But after several phone calls and letters explaining the Cadillac's situation, the deal was made.
"The reason he wouldn't sell it to this other chap was because he had a business of it," Acres recalled. "The reason he sold me the body section was that it was a family piece. He knew I was going to put it together as a family piece and he said he would be glad to help me out."
Acres had already spoken to a Toronto fabricator about building a new rear section, but he'd recommended finding an original. When he told him about the Utah piece and the need to transport it to Ontario, the fabricator put him in touch with a customer near Salt Lake City who would be driving to Toronto to pick up a race car body. More phone calls got the Cadillac parts on their way, but the surprise came when they met in Detroit and Acres learned that not only was the rear body section in the shipment, but the back of the front seat as well.
"The owner didn't know whether I needed it," Acres said, "but judging by the fact that it had been made into a truck, maybe that section was gone and so he threw it in. Can you imagine making that? It's like a Victorian armchair. This bolted right in. It's been some neat actions along the way."
Project Help Came From Numerous Sources
There was more to it, of course, than just mating the Utah pieces to what remained of the feature car's original body, and one of the basic requirements was dimensions.
A friend knew of a 1912 body in a creek and since much of that body matched what was used in 1913, Acres dragged it out and found that despite the bullet holes, enough was left for measurements. An owner in California provided photos that filled in additional blanks and Acres photographed and measured several others for their details. They were further steps, but far from the last ones.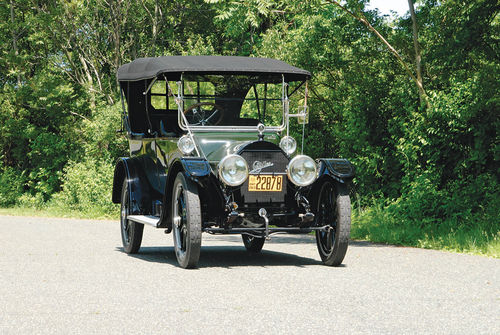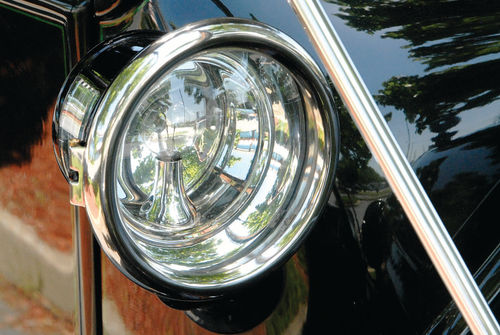 "Another fellow sold me a '13 fender so I had a pattern of the fender for the back," he said, "because ours were cut off short and bobbed and put up under the platform. I had no doors for the back. The pockets were still in the doorposts because they're concealed hinges. I had those, the receiver part, but not the hinge itself. I found a set of hinges; a fellow in Kansas sent me those. At Hershey, I found a pair of latches for that door, identical to the front. Handles, I cast new ones from the front ones. The robe rail ends are new castings because I borrowed originals, built them up oversize with high-build primer and I cast new ones.
"The back tire saddles (tire racks at the rear of the body) were like handlebars and they were in the way of the platform, so Dad had cut them off with a hacksaw because they were part of the spring perches. I had to get a new casting of that and a fellow in Kansas had one over at a friend's in Ohio because it had been backed into and bent. He was afraid of re-straightening it and so I called and said 'look, if I straighten it out, can I take it apart to copy it for castings?' He said 'do what you have to do.'"
He did. After successfully straightening the damaged saddle, Acres cast a number of new ones and then traded some with an owner in Massachusetts who needed them and had top hardware that Acres was able to borrow.
That left the body's wood framing and friends recommended a patternmaker and cabinetmaker who was experienced and actually had his own set of templates for Model T Ford bodies. The Cadillac, however, was more than he wanted to tackle and he instead chose to act as a consultant while his son took the lead. Acres was then working full-time as a tool and die maker, so he spent several nights each week and all of his Saturday mornings in the woodworking shop plus the time he put in on some of the less-complex pieces on his own.
Now It Tours With People…Not Fruit
The mechanical phase was easier by comparison. The engine had no significant problems and Acres had most of the running gear, but he found a replacement coil in Pennsylvania and an injection-molding specialist provided some distributor caps.
"He made them out of epoxy instead of the old Bakelite," Acres said, "and you can't tell them from the originals. They work far better and they're hard."
The missing carburetor was another matter, although its replacement did prove the importance of being in the right place at the right time. The right place was at the Hershey meet, where Acres was waiting for a friend who had some 1912 Cadillac parts in his truck. Another restorer stopped to look at the parts and the conversation began.
"He said 'what are you working on?'" Acres recalled. "I said 'a '13 Cadillac.' His expression changed and he said 'you aren't the fellow I promised a carburetor several years ago.' I said 'I wish I was. I need one.' 'Well,' he said, 'I lost the fellow's address and I'd promised to send it to him. I don't have a clue where to send it. Better that somebody get use out of it. I'll sell it to you.'"
The carb wasn't the one last piece that had been holding up the restoration, but the end was in sight and 12 years after the project's start—with parts, help and expertise from at least seven states and two provinces—the Cadillac made its first run under its own power in almost five decades. It was a short trip, but that didn't matter.
"We had a piece of clothespin stuck under the throttle," Acres recalled, "and didn't have the linkage hooked up. I only had the running boards on because the battery harness was in the running board and I took it up the road and back. It had enough torque to take it through the three gears with just a little bit above idle and I brought it back into the yard."
One year later it completed a 500-mile tour, returned home to be cleaned and then went to the Fall Hershey meet.
"We showed it," Acres recalled, "got our AACA First and the Second the next year at Winchester, Virginia, and then we got the AACA Cup with it as well."
Since returning to the road in 1999, he said, the car has been on some 25 tours with nothing more than minor problems such as a leaking radiator or difficulties with the shifter. Its touring career isn't quite the same as its first life, but it's certainly easier than its days hauling fruit.
"I knew Dad had worked the thing hard," Acres said. "So we've gone through everything and we're going to be pampering it compared to what he did with it."
But even after the 25 tours and the relaxed miles ahead, that first drive with the clothespin holding the throttle might be the one that can't be topped. It was, after all, the first time that Acres had ever seen the Cadillac on the road.
"I was thrilled," he said, "from the word 'go.'"