Special Report It's Been a Very Eventful Year
Vehicles Came & Went for Last November's Gearhead Under 30. Oh, and There Was That Cross-Country Move, Too.
IT'S BEEN ALMOST a year since the article on my faithful 280Z was published in Auto Restorer. And what a year it has been! Some cars have come, others have gone, and some have done both…
In my previous article I left off with the re-acquisition of my wife Regina's first car, a 1986 Toyota MR2, desperately in need of an engine rebuild.
I sourced a complete rebuild kit of excellent quality, a highly recommended machine shop to handle the head-work, and begged a spot from my boss at the shipyard to park the car while the work progressed. The job went very well, with no major surprises inside the tough little motor, even though it had well over 250,000 miles on it!
Working With a Forklift and Tent
In two weeks of nights and weekends Ragin a and I dismantled and cleaned, and then reassembled the DOHC 4AGE with new bearings, rings, oil pump, water pump, seals, gaskets, timing belt and pulleys, exhaust manifold, injector seals, clutch kit, belts, cap and rotor, hoses, plugs and wires, and fluids. The machine shop did a precise setting of the cams and valve shims, after a thorough cleaning and light surfacing of the faces and replacement of valves and seals.
The job would certainly have been easier with the car indoors out of the Seattle rain, and with a lift to get the car high enough over the engine to remove and reinstall it. However, a borrowed forklift was just the ticket to lift the car, and a sailboat mast and masking plastic made a great tent.
Ragin a thoroughly detailed the nearperfect interior and rust-free straight exterior, while we examined the rest of the car for any weaknesses…coming up empty in our search. The previous owner had maintained the brakes and suspension, and installed new struts and tires. Aside from some cosmetic flaws, the car might have just rolled off the assembly line.
After the engine was comfortably broken in and I was confident we hadn't built a grenade, I surrendered the car to Ragina. She commented that she had to relearn how to drive the car, with the fresh clutch and half again more horsepower. The car had always handled the twisty Whidbey Island roads with ease, but now with its extra power it was giving my Datsun Z a run for its money! Married life was good in our two-sports-car household.
Turning His Attention to the Z
Work on the 280Z has also continued during the past year. As I had hoped in the last article, I was able to restore the suspension with new springs, struts and polyurethane bushings. With that, every piece of rubber under the car was new. Years in the Northwest were starting to take their toll, so I found myself replacing more weather stripping and glass seals. I was sweating bullets when I changed my rear glass seal…and I have decided I will have a professional replace my windshield when the time comes… my heart just can't take it!
The car's curses seem to have gone on vacation, with no additional collisions or parking lot door dings as I reported last time. (Knock on wood.)
I eventually did have the original FI ECU( Engine Control Unit) rebuilt, which has eliminated all the driving issues.I've held on to the $25 ECU from eBay, however…never hurts to have a spare…
I had noticed that my taillight sockets were beginning to melt from the heat of old bulbs and corroded contacts, leading to irregular tail, turn and brake lights. Since some sockets were too far gone to clean, I sourced an original wiring harness from the Internet and salvage yards along with brand-new side-marker assemblies, and then went one step further. I replaced all of the exterior bulbs with multi-SMD LED (Surface Mount Device Light Emitting Diode) bulbs. They have virtually no draw, no heat output, are very bright, last nearly forever, and at around $5 a bulb aren't that much more expensive than ordinary incandescent bulbs when their life spans are considered. Furthermore, I'd say that just the peace of mind of not worrying about my original wiring and switches makes this worth it to me.
A New Oil pump and Back to a Single Exhaust
Since the engine rebuild in '09 my oil pan gasket and front seal had wept just enough oil to be embarrassing, so I tore down the front of the engine and replaced both, and installed a new distributor and high-capacity oil pump from a 280ZX turbo. I did a lot of research before this modification, and decided that the more oil I could get to the cam and rockers the better. I took the opportunity to clean the oil pick-up and pan, and noticed with satisfaction that everything was very clean.It's been 3000 miles since this project, and a total of 12,000 since the rebuild, and I'm happy to say it's running strong and now isleak-free…
I decided to discard the twin exhausts I installed during the build and go with a more conventional single 2.5" pipe to a Magnaflow muffler. It has made the car more pleasant on the highway, and while the neighbors never complained about the dual glass-packs, I no longer worry about coming home late. It's also nice not scraping over every bump in the road, as the single pipe fits much tighter to the undercarriage.
Which Car Should We Sell?
Of course, there have been some major changes in our personal and automotive lives as well.
Last December Ragina received an acceptance letter to med school for this fall, leaving us just a few short months to prepare. Since the school was in Pennsylvania, we immediately saw the disadvantage of owning two two-seaters when it comes to long-distance moving. Shopping around revealed that most moving trucks would cost $1 a mile plus insurance, fuel, daily rates and a trailer fee…so, we began to lighten our possessions and explore our options. For starters, we knew one car had to go, but which one?
I decided to advertise both for sale, and whichever car sold first would go. With Regina's Blessing, theMR2founda happy owner in days, and we made a nice profit on our labors. Half of the money went to Ragina, and I took the other half and went truck shopping.
Being a Midwestern child by birth I knew the demand for older trucks was high back east, but that the supply of clean, rust-free vehicles was scarce there. However, I was in the Northwest, surrounded by old vehicles…it was like finding the Z all over again.
We settled on an '86 Chevy Suburban 4x4 with a heavy 3 ⁄4-ton suspension, a 350 cid V-8, 4-barrel carb and a three speed auto. Basically, a tank, and more than big enough for our moving needs.
It came to us with new wheels and tires, a clean rust-free body and undercarriage, tow package, a freshly rebuilt transmission, and just under 120,000 on the clock. I discarded the third-row seat, and immediately appreciated the barn doors and cavern-like interior.
Over the next few months I installed a new radiator, water pump, hoses, belts, alternator, power steering gear, rear brakes, manual choke, and performed a thorough tune-up. I also put in a K+N air filter, which was the single greatest thing I could have done for the vehicle, as I'll soon explain.
We wound up filling the truck to the roof, and put the Z on a dolly behind it. After disconnecting the driveshaft and installing some cheap rollers on steel wheels for the rear of the Z, we were as ready as we could ever be.
We departed Seattle at the end of June, headed for Pennsylvania by way of Yellowstone, Devil's Tower, and the Badlands. We averaged over 12 mpg, and I added less than two quarts of oil to the engine in 3300 miles. It never failed to start and never overheated, even during a grueling trip over the pass in central Wyoming. I had brought along an extra set of spark plugs, in the event of fouling at altitude, but they stayed unused in the toolbox, along with all my other roadside emergency tools.
I attribute the gas mileage and the fact that the plugs didn't foul to the better-breathing K+N. Without a load and before the K+N I never saw better than 10 mpg. After the trip when the truck was unloaded we saw 12-15 mpg driving gently, as well as increased acceleration when asked. With gas at $4 a gallon at the time and 3300 miles to cover, a $45 filter pays for itself very quickly. Plus, it lasts forever with cleaning.
One Leaves; Another Is Welcomed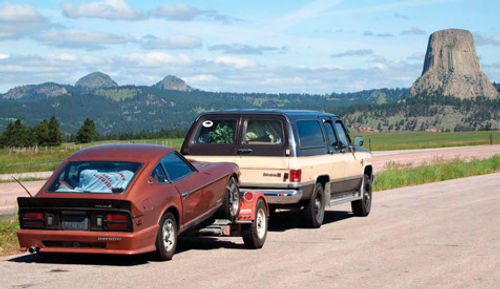 Once settled in Pennsylvania with the Suburban unloaded I promptly put it up for sale, to immediate response and a sale within a day.
The buyer had been looking for a clean truck for years, and was actually giggling while examining the chassis, exclaiming "I can work on this with wrenches, not chisels and torches!"
The Suburban had proven itself to be a good vehicle and I sent it along to a good home with more than a little regret. In fact, the night before we completed the deal I gave it a good wash and hand-waxed the hood, doors and upper fenders. I even applied ArmorAll to the crack-free dash.
I had been prepared to lose money on the deal, since I was still making money on not paying $1 a mile…but I wound up recouping my entire investment.
The next day we spent the Suburban money, to the penny, on a 2000 Jeep Cherokee for Ragina. It was not a bad end to the MR2 story, although every time we see one in traffic—something that happens a lot less since we've left Seattle, I might add—I can see in Ragina's eyes that we'll build another, as husband and wife.
The Z has comfortably taken up residence in a little garage, for the first time in the 10 years I've owned it. It has made appearances at the Pittsburg Vintage Grand Prix, a small show in my hometown of Nashville, Indiana, and another in Pennsylvania.
After that, the Z went into hibernation for the winter…although I do have some projects in mind to keep myself occupied…