I Bought My '66 GTO BRAND-NEW
The First Time He Got Behind the Wheel of This Pontiac It Was In the Dealer's Showroom and He's Still Driving It Today.
Editor's note: In the March issue reader Dave Foley told us about a hot start problem with his '66 GTO and several readers responded with potential solutions including the possibility that it could be electrical-related. One reader who contacted us was Dave Bufalo from Denver, Colorado, and we couldn't help but notice when he commented that he also owned a 1966 GTO which he had purchased new. Obviously, we were intrigued and wanted to know more about his long-term ownership of this Pontiac. So here we'll start with Dave Bufalo's advice regarding his hot start experiences and then learn about the car he's driven for the past 53 years. Take it from here, Dave:
My GTO Hot-Start Problem & Solution
In March Mr. Foley reported a problem with his 1966 GTO not starting during a heat soak period. I also have a 1966 GTO, which I purchased new, so I know the car's mechanical and maintenance history.
A few years ago, I had the same problem with my GTO not starting after a heat soak period. I replaced the starter, cleaned the battery terminals and even replaced the coil, all to no avail.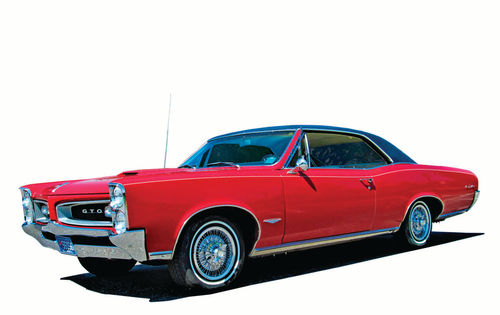 Now, I have to admit to a major screw-up on my part which actually helped to solve my problem. Ever since my Goat was new, I've always swapped out a dead battery for a new one by myself. A simple thing to do, right? Several years ago, I was in a hurry to get to a car show, but the battery was dead. So I made my traditional trip to my local Sears store and picked up a new battery. In my rush to get to the car show, and in the relative darkness of my garage, I erroneously hooked up the cables the wrong way. The immediate flash of sparks amongst copious amounts of acrid smoke brought immediate awareness that I had fried the engine wiring harness.
So it was obvious that the wiring harness had to be replaced and the alternator checked. I replaced the wiring harness as well as the alternator and in subsequent driving I no longer had a starting problem after a heat soak period.
It turned out that the original harness, yes the very original harness that came from the factory and was by then more than 40 years old, was seriously corroded. But it was not corroded enough to prevent the car from starting when the engine was cold. Electrical resistance in wiring increases as the temperature increases. So with a corroded wiring harness and during a heat soak period, the resistance increased enough to deny the starter enough juice to start the engine.
I hope Mr. Foley has solved his problem by now. But if not, he might try checking out the engine wiring harness.
I Almost Bought a Lime Green Car…
And now, here's the story of my GTO; my pride and joy. I was a graduating senior at what was then known as Missouri School of Mines and Metallurgy in Rolla, Missouri. On November 23, 1965 my roommate and I went to the local Pontiac dealership just to look at the new models. Well, I got sweet-talked into ordering a new 1966 GTO. The trade-in was my 1958 Hillman Minx. The purchase was dealer financed. The deal was a trade-in for my Minx, no money down, no payments for 30 days, the first three payments would be $25 and the first year's insurance was included in the $3440.66 purchase price.
I had no firm job offer yet. I was still an unemployed college student. Moreover, the Vietnam War was in progress and there was a threat of being drafted. Nonetheless, the deal was consummated. Regular payments were $117 per month for 36 months. Such a deal, right?
…Then I Drove Past the Dealership One Day
I had ordered a solid lime green color, which I had seen on a 1965 GTO parked in front of my apartment house. The color had looked good on the '65, so I ordered it for my '66.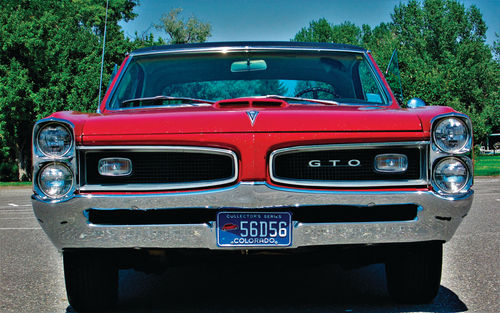 Well, while waiting for my Goat to be delivered to the dealership, I occasionally would drive by the dealer and check out the new arrivals. One day there was a 1966 GTO in the dealer's showroom. It was beautiful: red with a black vinyl top and parchment interior. I immediately thought that I should have ordered my GTO in those colors. I kept stewing on this for several days and then went back to see my salesman at the dealership. I asked him if I could take possession of the model on the floor instead of the one I had ordered. Without a moment's hesitation, he said yes. It took about 30 minutes to fill out the paperwork. Then the salesman gave me the keys and told me to drive it out of the showroom. What a thrill that was, even through the car was a four-speed and I wore out my left leg working the clutch as you had to turn, back up, turn, go forward, stop, turn, and back up several times to get out of the showroom.
Actually, I didn't take possession that day as I had the dealer undercoat it before driving it on the road. But a few days later I forfeited my Hillman and then frothed up the 10W30 and took my new ride for a tour up and down Pine Street trolling for tootsies. Alas, in those days at Rolla, there were no available tootsies to be had.
There Was a Notice In the Mail…
After nine months in my new job, my friends and neighbors (really, this is what the draft notice said) selected me to serve in Uncle Sam's army.
After basic training, Advanced Infantry Training, and Officer Candidate School, I was assigned to Headquarters Army Communication Command at Ft. Huachuca (FHU), Arizona.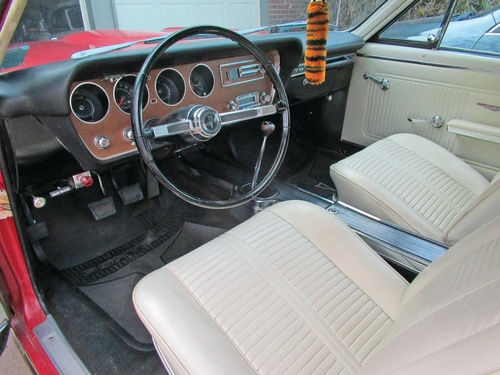 In traveling from my hometown of St. Louis, Missouri, I drove the Will Rogers Turnpike through Oklahoma. The posted speed limit was 80 mph. I snuck my speed up to 90 mph as I thought this was the leeway a state trooper would give you. In between looking out for the gendarmes, I happened to glance down to the gas gauge. I absolutely swear that I could see the needle move toward empty. Above about 50 mph, the other two barrels of the Carter AFB open up and you're sucking gas full bore.
At FHU, I was sent overseas for three months at a time on temporary duty. Rather than let the love of my life just sit in the parking lot, I let my colonel use it for his daily driver. Out of a two-year assignment at FHU, I was gone about 13 months for various duties. Fortunately, my colonel took very good care of my Goat. He even bought new tires for it and never asked for reimbursement.
Taking My GTO From Arizona Heat to Alaska Freeze
After being honorably discharged, I stayed in southern Arizona for a few years and then got a job offer in Alaska.
I drove from Arizona to Alaska via the Alaska Marine Highway and the Alaska Highway, previously known as the Alcan (a ferry boat took us from Seattle to Haines, Alaska). My Goat weathered -40 degree temperatures in Fairbanks over the winter. At 40 below, the paint crazed and mechanical parts that are temperature-actuated such as the choke and the heat riser valve, didn't work very well. Indeed. The heat riser valve never got hot enough to fully open. As a consequence, only a small portion of the exhaust from the right side of the engine got through the right side of the exhaust system. This small trickle of exhaust allowed water to condense in the right exhaust pipe which subsequently froze and then completely blocked the right-side exhaust pipe. This meant that the right side of the engine exhaust was now fully routed through the intake manifold to be exhausted through the left exhaust pipe. So the left exhaust pipe had to handle all of the engine exhaust, which blew out the gasket on the exhaust manifold.
Fortunately, the company I worked for had a shop with a lift. So on a Sunday, I put my Goat up on the lift, got a torch, thawed out the frozen exhaust pipe, reversed the heat riser valve, fired up the engine and blew out all of the condensed water. What a project.
A Stranger Got Behind the Wheel
It came as a real relief when the company I worked for decided to relocate to Phoenix. They put my pride and joy on a railroad flatcar and sent it to the port of Whittier where it was loaded onto a barge destined for Seattle. From Seattle, a person unknown to me drove it to Phoenix. When I took possession in Phoenix, the car's interior was smeared with peanut butter and the ashtray was full of ashes.
Two years later, the company decided to move back to Alaska. That's when I put the GTO in storage in Phoenix and it lost its status as my daily driver.
It Rusted In the Desert?
A few years later while just bumming around, I recovered my Goat from storage. I discovered that the trunk floor had mostly rusted out. Good grief. The car was stored in the desert, which is supposed to be dry. Ach! A trip to a local salvage yard provided a beat-up replacement which I had installed by a restoration body shop.
Many years later, I finally settled down in Denver, Colorado. I joined the Classic GTO Association of Denver and The GTO Association of America. At the GTO Nationals in 2012 held in Loveland, Colorado, the car (not me) won Concours Best of Show for Factory Original, a Concours Bronze Award, and a plaque denoting my original ownership. I'll admit, however, that it was easy to win best of show for factory original—there were no other entrants in that category.
A Closer Look Under the Hood and Inside
The chrome valve covers and air filter were standard equipment on the GTO. The engine has never been detailed, only power washed at the local do-it-yourself car wash.
If you look carefully at the pictures of the dash, you can make out a red knob at the bottom left side. This is for the four-way hazard flasher, which was a dealer-installed option. The dash is real wood veneer. The '67 models used a plastic wood replica on the dash as well as on the console. Of the four instrument clusters, the far right cluster is a clock. A rally pack instrument package was available, if ordered. That package included real gauges for oil pressure, ammeter and temperature and a tach instead of a clock. It still amazes me why a performance car wouldn't come standard with real gauges.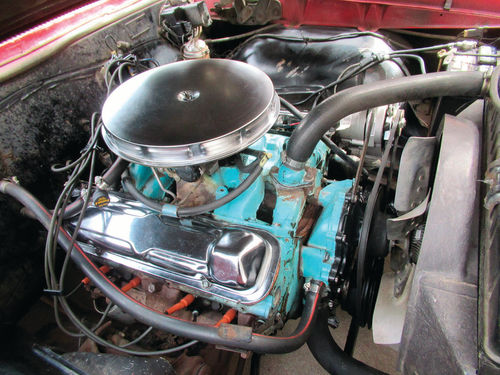 Many years ago I had a quartz movement installed in the clock. It works and keeps pretty good time. However, the quartz-powered second hand moves in a continuous sweep, whereas in the original clock the seconds ticked off one by one. It was a bear of a job to work under the dash. I couldn't do this again as my way past middle-aged waistline won't fit between the front seat and the steering wheel.
The car also has what Pontiac called a rear window de-fogger. Well, it does a very poor job of de-fogging and doesn't even come close to de-icing or snow removal. All it does is re-circulate interior air as there is no supplemental heat provided. Nonetheless, it was a factory option.
A Cracked Block and New Paint
My Goat has never been restored or modified for racing. The interior is alloriginal. The transmission is original but I've had the rear end replaced about three times, but I kept the original gear ratio.
The engine is a service block replacement as the original engine experienced a cracked block back in about 1972 when I was hot rodding around Phoenix in the middle of summer. The little red idiot light didn't come on until after copious amounts of white vapor emanated from under the hood.
The block was replaced by a Pontiac dealer in Phoenix. So to my dismay, this is not a numbers-matching car. After the replacement block was installed, I had a heavy-duty radiator with a shroud put in. Even with these modifications, the car still qualified as "factory original" for the concours award under the GTO Association rules at the time.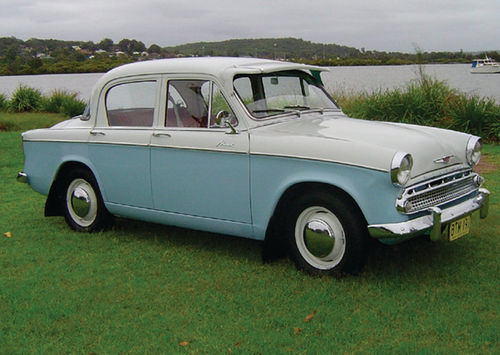 I take my Goat to car shows for the primary purpose of displaying what a factory-original car looks like. Of course, I point out the variations from true original such as it's been repainted once with the original color and the vinyl roof has been replaced once. Both were done around 1970.
Still More Miles Ahead
After all these years, I still enjoy driving my Goat. When you give it the "go juice," it goes.
A few years ago, my Honda daily driver was stolen from my driveway. The cops called and said they found my Honda but I only had 30 minutes to get to them to reclaim the Honda before it would be towed to an impound lot. So I took the Goat to fetch my Honda. While signing the paperwork with the officer, I told him that I didn't get concerned about the Honda being stolen, but I'd be really upset if my GTO were stolen. I told him that if I'm first in line at a stop light, I have to be the first one across the intersection. The officer said, "With a car like that, you have to." Nice guy.
By the way, the guys at Pontiac wanted the nickname for the GTO to be "Tiger." All of the ads featured a tiger. The original tires were red line UniRoyal polyester bias tires called Tiger Paws. So Pontiac was a bit out of joint when a lot of folks affectionately used the term "Goat" instead and it stuck.
Now I only drive my Goat on nice days. I can still lay rubber and chirp the tires in second and third, but not fourth. Maybe that has more to do with me as a 76-year-old guy and not the car. There just isn't any substitute for cubic inches.
When I bought my GTO more than a half-century ago, I bought it with the intention of keeping it forever. So far, so good.