Feature Restoration A '64 Studebaker & a '37 Trailmobile


He Wanted a Tractor/Trailer He Could Use for Comfy Camping. So,He Gave This Trailer a Distinctive '50s Style.
MOST HOBBYISTS CONCEDE the reality of being able to drive just one vehicle at a time, but some manage to get around that inconvenience. For example, consider this instance where a tractor and an RV were melded together.
"What I was looking for at that time," explained Greg Hellmuth of South Montrose, Pennsylvania, "was something to make a tractor-trailer out of and I had dreamed about putting RV equipment and camping equipment in it and having a nice trailer. You see a lot of nice tractors at shows, but you don't see many trailers. So this is what I was thinking of and it kind of came together. The two fell together kind of haphazardly, but maybe for a purpose."
The two "fell together" rather nicely, as Hellmuth's 1937 Trailmobile looks just fine behind his 1964 Studebaker 8E28 Transtar. Saying that it happened "kind of haphazardly" is technically true, but randomness was only part of the story. It began either about five years ago or about 10 years ago, depending on interpretation, and the process didn't unfold in a nice, straight line.
He Missed the First Sale
"The original owner had this truck," Hellmuth said, "and he was getting quite elderly. This was around the year 2000. He had five Studebaker trucks that he was still using. They were getting kind of tired, but they were all very-low-mileage trucks. He had a business where he tarred and chipped roads in Michigan, rural township roads. He and his sons ran this chipping business, they had the contract for over 40 years and he always bought Studebakers. He had three dump trucks—this one, which was a '64, and two '62s, which were consecutive serial numbers. Then he had a '55 water truck and he had a tractor.
"I tried to buy all five and his prices were way too high.
"But after he died, I found out much later, the family had sold them.
"So five years after that, a fellow from Virginia who had bought this truck put it up for sale and, ultimately, I bought it."
The Studebaker is nominally a one and-one-half-ton truck and has its original 259 V-8,four-speed transmission and two-speed rear.
It also has the distinction of being one of the last big trucks to be built by Studebaker. For even a passing familiarity with Studebaker's corporate history is enough to tell you that the end was in sight for the venerable company when this one left South Bend.
Its Ancestor Was a Wagon
Studebaker was an elder statesman in the transportation industry, its 1852 origin as a wagon-builder predating the earliest automobiles by decades.
Still, no one could accuse the company of rashly jumping in on the boom in a new technology; it waited until 1902 to launch a series of electric trucks and hedged its bets by remaining in the wagon business. It then tinkered with passenger cars, first by using a Garford as the basis for its own model and then by marketing the E-M-F and the Flanders. The latter two eventually evolved into Studebakers, but by 1913, the electrics were gone and the company's gas-powered trucks had moved beyond the models that were based on passenger cars.
World War I brought military business, but that didn't include commercial vehicles despite the presence of trucks such as the half-ton SF in Studebaker's 1916 catalog and a one-ton model listed in 1918.
A break in truck production then followed as the focus shifted entirely to passenger cars. But by 1927, the company was again offering light- and medium duty commercials including buses and professional chasses.
When the Depression tore into Studebaker as it did the competition, the company held on and entered into truck-marketing agreements with other manufacturers, part of a strategy that worked well enough for Studebaker to get back on its feet and become a major supplier to the military during World War II.
This time, the contracts included trucks, notably the US6, a two-and-one half-ton cargo model built in 6x6 and 6x4 configurations. But while no one could mistake a US6 for anything but a military vehicle, it's easy to see its origins in the preceding civilian M series.
Introduced in 1941, the M was modern in an evolutionary way; it reinterpreted the sloped windshield and pointed nose of its light-duty predecessors and applied the resulting new look across the board. The US6 used the M's cab with the flat military fenders, hood and grille, but the complete package was attractive on civilian Studebakers as well and it returned almost unchanged when production of commercial vehicles resumed after World War II.
That quick-transition strategy enabled drivers to replace worn-out prewar vehicles but the automakers knew that a time would soon arrive when they'd again need to innovate to remain competitive.
Studebaker aimed its new 2R truck at 1949 and the design was nothing like the M. It looked lower, cleaner and wider with its full-width grille, headlights set far apart and a hood which acknowledged the previous truck's vee by a pleasantly rounded bump. Running boards were gone and the restyled hood translated to much easier engine-access. By any measure, it was an attractive truck and while that was certainly a good thing, no one could possibly have foreseen that it would still be in production in 1964.
If sadly dated by then, it remained attractive and showed a certain charm, but the truth was that Studebaker and then Studebaker-Packard simply lacked the money to do more than update the existing trucks.
A new grille and a one-piece windshield arrived in 1955, the hood was changed slightly in 1956 and another new grille marked the 1957 line.
It Really didn't matter, as the company was failing fast. Studebaker trimmed its automotive line and concentrated its production in Canada at the end of 1963, but the commercial vehicles didn't make the trip north.
The last civilian truck was built on December 27, just two weeks after Hellmuth's was completed. The incredible part is the mileage that it's accumulated since that day.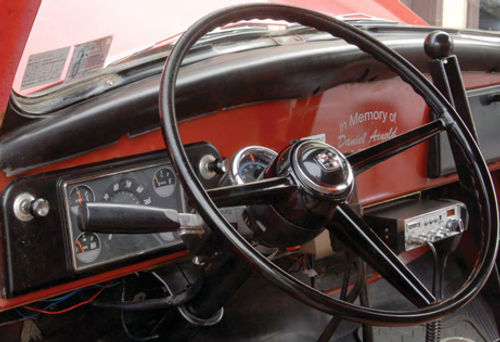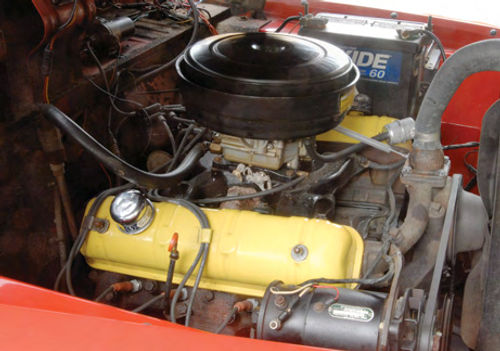 This Truck Had Been a Part-Time Hauler
"The truck just turned 24,000 miles," Hellmuth said, "and there's a reason for that. The (original owner's) other trucks had high 20,000s, 30,000, none of those trucks had 40,000 miles. He bought them all new and in his tar-and-chipping business, he told me very emphatically that his company worked four-and-a-half months a year tarring and chipping county roads and then he went to Florida. They had a home in Florida and the whole family went to Florida for the rest of the year.
"He worked four-and-a-half months a year and all the county roads were within 20 or 30 miles, so those trucks had very light usage. This one had 22,000 on it when I bought it."
By then, it was in Virginia and Hellmuth knew the seller. He'd put new fenders on it, provided an accurate description of its condition and priced it fairly, but it was still a dump truck.
At about the same time that that was happening with the truck, Hellmuth decided to visit his brother in Vermont.
"At dusk one night," he recalled, "I looked across the road out his kitchen window and I saw something in the woods. It was under a pine tree and it was green and it was at dusk, so I couldn't really see it, but it looked interesting. I said, 'What is that?' and so long story short, I was knocking on the guy's door. In a couple of hours, I owned it."
1964 Transtar
GENERAL
Front-engine,rear-drive, single-axle tractor
ENGINE
Type Overhead-valve V-8
Displacement 259cu. in.
Bore x stroke 3.5625 in. x 3.25 in.
Compression ratio (:1) 8.5
Carburetor Two-barrel
Power 180hp@4500rpm
Torque 260 lb.-ft.@2800rpm
DRIVETRAIN
Transmission Four-speed manual
Rear axle Two-speed
Final drive ratios (:1) 6.48/8.86
SUSPENSION & BRAKES
Front Solid axle, leaf springs
Rear Solid axle, leaf springs
Brakes (f/r) Hydraulic,drum/drum,power-assisted
STEERING
Worm-and-roller
MEASUREMENTS
Wheelbase 131in.
Tire Size(f/r) 7.50 x 20 in./8.25 x 20 in.
What he owned was the Trailmobile and like the Studebaker, it needed to go to Pennsylvania.
"I took a week off of work and went to Vermont first," Hellmuth Said."I left Monday morning, came back Tuesday afternoon with the trailer on one of my trailers behind a pickup truck. It was quite a sight, but the truck handled it fine. It's built ruggedly, but it's only 18 feet and I put it on a 24-foot trailer. I put it on with a forklift and I strapped it eight ways. Monday and Tuesday were to bring that home and then when I got it home, the adventure was getting it off the trailer because I don't have a forklift there. I did have three bucket loaders, so I put the ramps down, put a bucket loader under the back of it, put another bucket loader on each side of it, picked the thing up with three bucket loaders and drove the trailer out from under it. It was four feet in the air and now we had to let three bucket loaders down without dropping it.
"We got it on the ground and pushed it over to the side. Then I took one day at home and on Thursday morning I left for Virginia and I brought the Studebaker dump truck back with the same pickup truck, same trailer."
Project Details
The Studebaker was essentially rust free and its condition was good enough that he could have driven it home. While he chose not to do so, he did put it to work in his landscaping business for several years.
The Trailmobile was also in good shape, although that was mostly because the previous owner had done so much work on it. Hellmuth said that he'd reskinned the body, sandblasted the underside and then primered both. The original oak floorboards were in excellent condition, but the interior plywood was apparently replaced. The owner had also worked on the brakes, hubs and bearings.
That left him with painting it, wiring it and dealing with a few matters that rarely face the owners of more traditional collector vehicles. The brakes, he explained, were converted from vacuum to hydraulic and since there was no breakaway system to apply the brakes in a situation where the trailer had parted from the tractor, he installed safety chains.
Those improvements were necessary, but left little room for interpretation. Modifying the interior was something else, however, and since taste was probably the largest factor in deciding what to do with it, Hellmuth chose a 1950s look right down to a diner booth.
"It's a dropped-deck trailer," he said, "so there's an upper level over the fifth wheel. I've done three different configurations on the inside on where the bed was and where the booth was, but basically, we added steps in the rear to go in the rear doors and eventually I added the side door, side steps and a handrail. They're camper equipment,so we've got a screen door on the side door. I've added air conditioning to the front this year and the 110-volt electrical access to plug in at a campground.
"It has bunk beds, there's an RV toilet in there; the diner booth came from our local McDonald's when they refurbished about four years ago. I had to reupholster it and I put a turquoise loveseat in there that matches. I added the oak cabinets this year; I added a flat-screen TV, an old-style breadbox and coffee cans and things like that that are period correct."
There's also a medicine cabinet and, of course, a jukebox; the Seeburg 100 reproduction plays cassettes and includes an AM/FM radio.
Getting More "Grunt" From the Engine
It seems mundane by comparison to say that the truck has been painted and (obviously) converted from a dump truck to a tractor. It has its original 259, fourspeed and two-speed rear, but that's going to change somewhat while sticking with the Studebaker basics.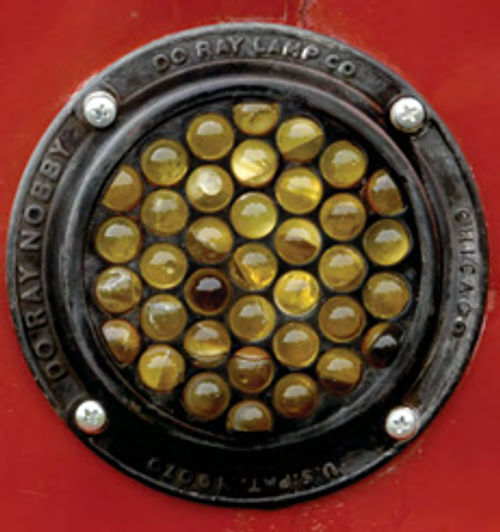 "It's the smaller V-8 of the two that were available in a truck," Hellmuth said, "so I'll put the stroker crankshaft in it to get more cubes. I will bore it, so I'll get it right around 300 cubes, which is very conservative. It'll get a McCullough supercharger that was from a (Studebaker) GoldenHawk, it'll get the factory cast iron Avanti headers which breathe a lot better, and true dual exhausts."
A stock cam will ensure good drivability, he said, and switching to a five-speed will keep the rpms down.
"I just want the grunt to pull the hills," Hellmuth explained, "and the overdrive so that when I get to the flats, I can go without doing 3300 rpm at 50 miles an hour."
Some Shopping Tips
If The notion of finding a similar Studebaker to restore accurately or to "enhance" is appealing, the initial fear might be that low production would make that impossible. After all, the 1964 model year was over in December of 1963 as far as the trucks were concerned and although production figures vary so wildly among different sources that even an educated guess is difficult, the number can't be high. Finding a twin to the feature truck, therefore, would probably require intense hunting. But there's good news, too, given that the basic design was launched in 1949, so the odds become much better for a restorer willing to be a little flexible.
Any of the trucks built in those years will be similar, including their weak points and strong points. Rust is a big concern and Hellmuth cited the bottoms of the doors and fenders as well as the cab corners as potential problem areas, and the roundness of the styling theme means that nearly any damage from rust or dents will be challenging to repair properly. Interestingly, the basic similarity of Studebaker trucks over that long period can introduce problems with components that fit and function perfectly and are wrong for the years. Grilles and hoods are two good examples, but Studebaker trucks are well documented and confirming correctness should generally be straightforward.
Mechanically, Studebakers of the era have few significant problems with either sixes or eights.
"One big sore point with Studebaker people," Hellmuth said, "is dropping a Chevy engine into it. Well, you don't need to. Studebaker made very stout engines and there are parts available. Pistons, bearings, gaskets, all that's available, (as is) a modest amount of performance parts, new or used, old stuff or new stuff. There's a dedicated group of Studebaker racers who continue to make those cars go fast. Heads are the biggest issue with Studebakers in making performance, making horsepower, and there are no companies really pursuing Studebaker horsepower, so it's these individuals who are doing it and I touch base now and then with them."
There's one last point when it comes to mechanical components. While Hellmuth said that finding a Studebaker tractor would be difficult, finding one with the optional and exceedingly rare diesel engine would be astonishingly lucky. Still, even if that did happen, that shouldn't be a problem as the engine is by none other than the well-known Detroit Diesel.
Finding a suitable trailer isn't likely to be easy, either, although expanding the search would surely help. Trailmobile is not the only manufacturer and an 18-foot furniture trailer isn't the only possibility, but old, short models have mostly been off the road for a long, long time. Those that have survived have often been used for storage or just abandoned and that might seem fatal, but restoration isn't always out of the question.
"Trailers are pretty simple," Hellmuth said. "The chassis on that trailer is very rugged;I don't have any worries about that whatsoever. The kingpin's in good shape.
"The thing that worries me on the trailers that the body is wood-framed, 1 x 3 hardwood, so that worries me a little bit. If I would start putting a lot of miles on it bouncing down the road,how well is that new sheet metal going to stick to the wood? I'll keep an eye on it."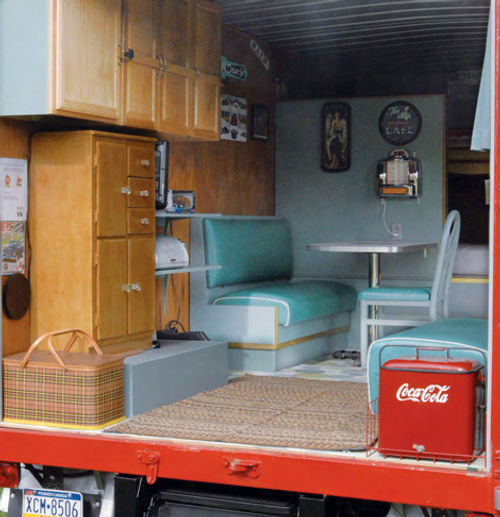 It actually is new sheet metal on the wood, and that supports his statement about trailers being simple. Reframing and re-skinning are big jobs, but not overly complicated. Similarly, the few mechanical components on a typical trailer might be different than those to which a restorer is accustomed—think vacuum brakes or split rims—but information on them is available and it's possible to upgrade with modern components.
You Have to Think Big
With all of that in mind, there's still the matter of size. Even a relatively small truck and trailer like the Studebaker and the Trailmobile are big and that means the minimal garage space required and the necessary tools will be big, too. The magnitude of such a restoration can be overwhelming, driving a tractor-trailer is something to be learned and fuel economy will not be good. They're valid concerns and they lead to the obvious question about why someone would take on such a project.
Hellmuth has his answers ready.
"We don't do a ton of it," he explained, "but I do like camping. I like the idea of going to a show and going to bed and staying overnight. I've done it several times this year and I plan to do it a lot more."
There's also the matter of car shows and cruises, where the Studebaker Is truly something different.
"I started to realize as this truck progressed and I got it to a couple of shows that it got a lot of attention," Hellmuth continued, "and as it progressed more, it got more attention.I went up to the Vestal (New York)Cruise-in at Barnes & Noble with it. A lot of people went'wow, what's that?' Well, this is something different.'"
Using the Studebaker-and-Trailmobile combination for traveling, camping and something out of the ordinary at shows might be the plan, but that doesn't rule out further possibilities.Hellmuth recently found a pair of restorable trailers less than an hour from his home and although he doesn't know whether they're for sale, he admitted that his having stopped to knock on the door was the first step.
"I should stay away from them because I've got a nice one here," he said, "but I would like a 35-footer. That'd be nice behind a single-axle cabover Freightliner."