An Updated Vintage Beetle
You Say You Want a Vintage Beetle But Need Added Comfort? Then Consider the Tale of This 1973 Bug and Its Modifications.
A NUMBER OF people who came of driving age in the '60s and '70s got much of their early on-the road experience in a user-friendly VW Beetle. Sure, the formal driver training generally came in a full-size domestic sedan, but for teens in big-city high schools (the Auto Restorer Editor being one of them), that training came on a small "driving range" where speeds were limited to 15 mph and you didn't even encounter oncoming traffic.
Add to that the fact that decades ago many parents weren't of a mind to loan the family car to their inexperienced teenager with a brand-new driver license and that left the kids with a readily apparent choice: either stick to walking or find another, non-parental set of wheels.
Sometimes you would haggle with an older sibling ("I'll wash your car and change the oil if you'll let me drive it once in awhile.") or if you had managed to save enough money from your paper route, you laid out cash for something of your own.
And that's where the Beetle came into play. As noted above, it's user-friendly what with its small size, light clutch and easy shifter, especially if you put an angled extension with a larger shift knob on the end of the lever.
But then, with time, some young drivers started to perceive drawbacks inherent in their little four-wheeled friends. For example, the cars tended to be a bit low in the horsepower department and hot days found the driver yearning for cloth upholstery while frigid winter days called for more heat than what could be drawn off the engine manifold. The steering wheel might have felt better with a little extra heft added to it and well, you get the idea.
Many Beetle fans, of course, will say that the popular little car should be accepted just as it was designed and built in Wolfsburg, and they certainly have a valid point if they pursue a completely stock restoration project.
But for those who have fond memories of the Beetles of their youth and yet would have liked to factor in some added comfort and luxury, the modified Bug seen on these pages is bound to warrant a second look and a smile.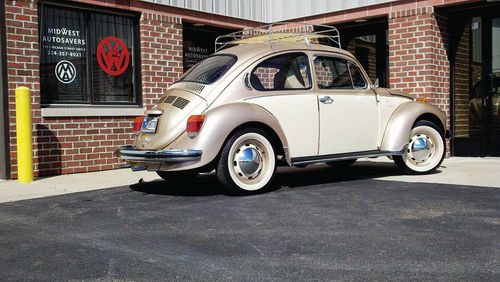 Can You Help Us With This?
As the familiar saying goes, it all started one day when Eric Carlson brought his rusty, worn-out 1973 autostick Super Beetle to Midwest Autosavers, a repair and restoration shop for air-cooled VWs in Cary, Illinois, north of Chicago. Carlson had visions of an updated VW with an exterior look that harked back to the early '50s.
Midwest's Darby Milnor inspected the car noting the extensive rust, a lack of maintenance over the years and problems with the automatic stick shift system. He then contacted Mid America Motorworks, in Effingham, Illinois, a well-known supplier of parts and accessories for air-cooled VWs.
"Some of the biggest challenges we face in rebuilding these old cars is not only finding the correct parts, but also finding someone knowledgeable to supply them," Milnor (also known as Dr. Darby in VW circles) said.
Among the components Milnor sourced through Mid America Motorworks were suspension parts, a complete brake system, floor pans, fenders and bumpers, wheel wells, wheels and tires, engine internals, a complete exhaust system and intake, and a complete interior.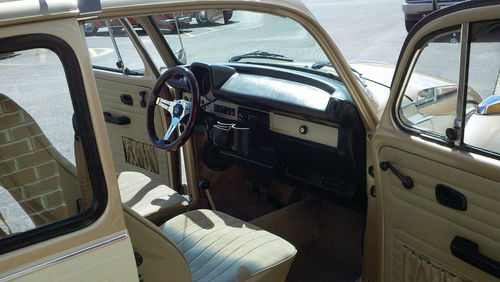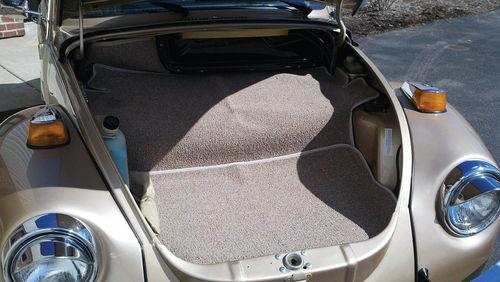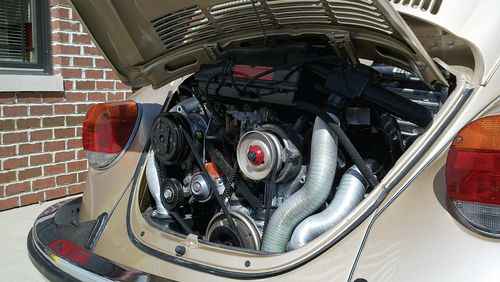 Here's how Milnor described the Beetle project:
"Our team replaced the fenders and floor pans, rebuilt the C-pillars and the inner wheel houses both front and rear, we repaired some collision damage to the nose as well as rerouting the sunroof drains so there would be no further corrosion there.
"The car was stripped inside and out and after the bodywork was done it was sealed with DuPont's Ful Poxy primer sealer and block sanded three times. After making sure all surfaces were smooth we loaded the guns and laid on four color coats inside and out using DuPont Chroma in 2012 Toyota Sandy Beach Metallic with 2004 Volkswagen Harvest Moon Beige accents on the side panels, wheels, dash and levers followed with four coats of DuPont Urethane clear which after curing was wet sanded with 2000 then 2500 sandpaper and buffed to a mirror shine.
"Although slightly smaller than our standard hydraulic 1776cc engines, Eric's engine displaces 1641cc and uses 87mm pistons and cylinders, 041 big valve cylinder heads, solid rocker shafts with 1.25:1 ratio rocker arms, stock camshaft and a standard German crankshaft.
"We modified both the carburetor and distributor for a better power curve and chose the smaller displacement to give better fuel mileage while running the air conditioner. The stock engine was rated at 46 horsepower; the new 1641cc is rated at 66.
"The original automatic stick shift had one wheel already in the scrap pile, so we removed it and installed a standard 4- speed stick shift and welded up all the holes so you'd never know the car didn't come from the factory with a manual transmission.
"Options include heat booster fans, air conditioner, AM/FM/CD MP3 radio, velour seating surfaces, wood steering wheel, sunroof, additional sound proofing, '50s style trim with stainless gravel shields, finger guards, two-tone wheels with baby moon caps and radial wide whitewall tires, sway bars, low pressure gas struts/shocks and a stainless steel/wood luggage rack.
"Mid America Motorworks not only supplied most of the parts required for this restoration we also used their Performance Choice full carpet kit and had them stitch up matching carpeting for the rear package area, tray and trunk."
Which is More Popular, Stock or Modified?
Interestingly enough, Mike Yager, head of parts-supplier Mid America Motorworks, said that for years people tended more toward modifying their vintage Beetles in the manner seen here.
"As the cars were consumed with use, people tended to say 'let's fix it up the way I want it,'" Yager said.
"People wanted to update them more to the standards they had become used to in other vehicles. They expected and demanded more than they would have accepted when they were 16. They still had a love for a vintage Volkswagen, but they headed for a resto mod and some extra comfort."
But lately Yager's also been seeing a trend toward stock restorations on Beetles, and it's not for economy purposes either. "There are some very high-end accurate restorations being done on them," he said.
A Chance to See the Range
If you're interested in the spectrum of restoration and resto mod approaches being taken with Beetles these days, you might want to stop by Mid America Motorworks's 15th annual Funfest for AirCooled VW taking place May 31-June 2 at the corporate campus in Effingham. (See the AR May News page for more on the event.)
Some 1500 air-cooled VWs and 8000 enthusiasts are expected to be on hand for this year's Funfest and among them will be Eric Carlson with his resto mod VW and Darby Milnor, who will be conducting technical seminars through the weekend.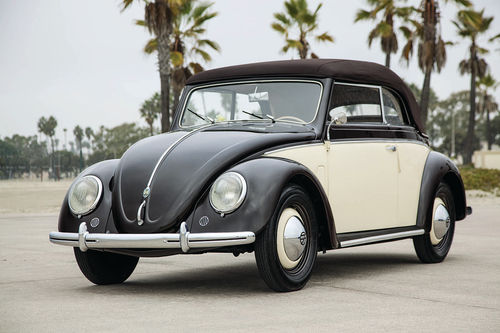 And for those of you who do fondly recall your early days behind the wheel of a Beetle some decades ago, Yager said the car continues to be a youth magnet well into the 21st Century
"An old Beetle is simple to maintain and a good entry point to the hobby for the younger crowd," he said.
"We get enthusiasts in their teens at our Funfest."
Resources
Mid America Motorworks
#1 Mid America Place, P.O.Box 1368
Effingham, IL 62401
Midwest Autosavers
155F Chicago St.
Cary, IL 60013