You Don't Spot a Red Car, It Jumps Out At You.
Red has always been my favorite color. To me, it represents power and energy (plus it's a really eye-catching color, especially for cars).
While I'm out and about around town watching to see if I can spot any neat classic cars, the red ones are hard to miss. They do sort of just jump out at you. I've included three stunning red cars that I have recently spotted while around town.
Austin-Healey 3000 MK III
This Austin-Healey jumped out at me while I was walking around the shops at Main Street in Seal Beach, California. I have been going to Seal Beach for many years and usually spot unique classic cars while I'm there and this time was no different.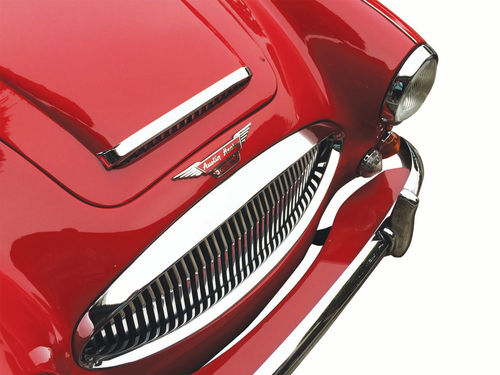 It was a gloomy day at the beach, which made this bright red car really stand out from the rows of other cars parked along the street. Even though it was not a sunny day, the owner still had the top down, which gave me a good view of the nice wood paneling on the dashboard and the wooden steering wheel.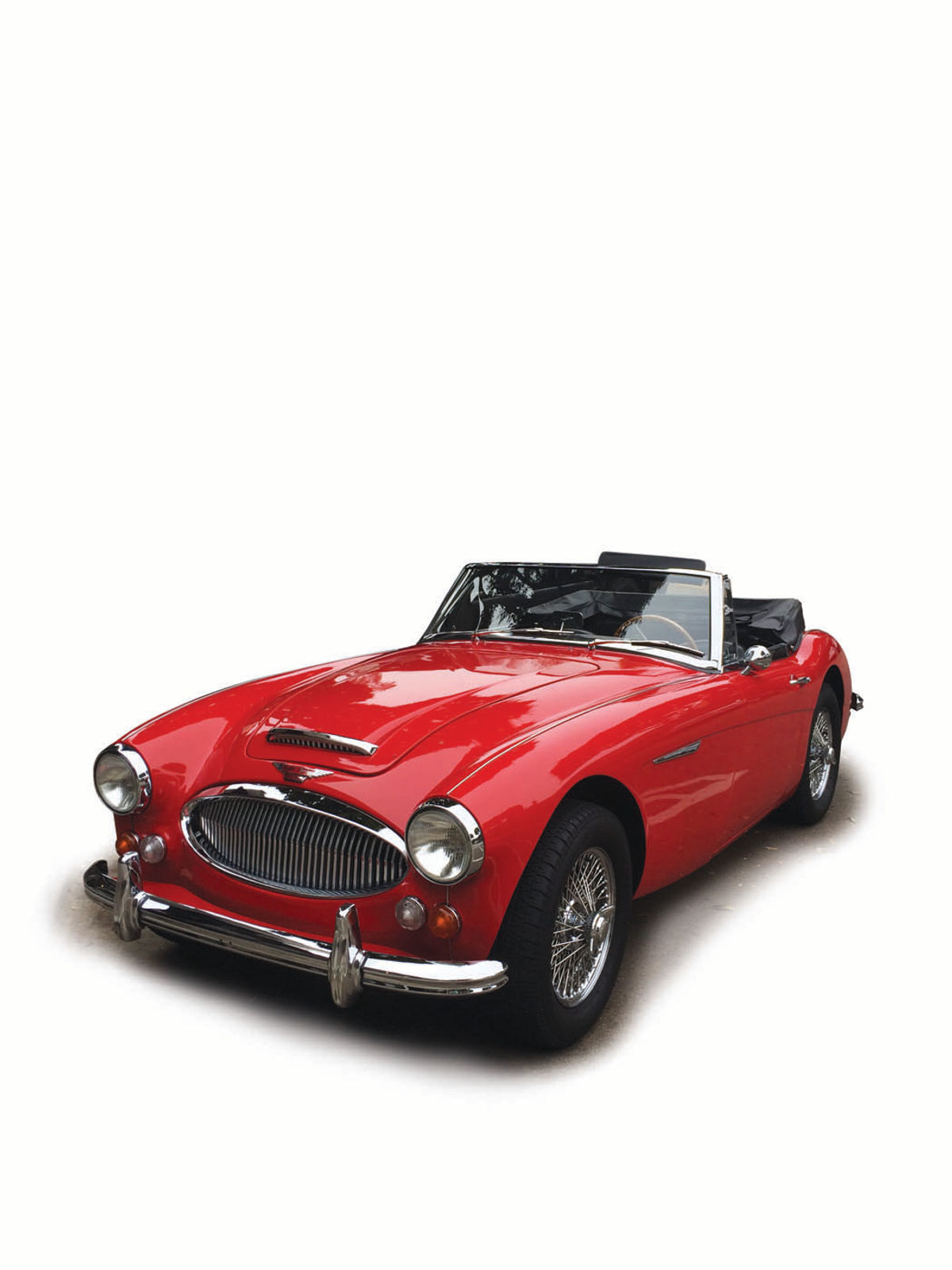 This car seemed to be in immaculate, pristine condition, which I've found to be the norm for most cars in Southern California, especially in the greater Los Angeles area.
Of course, I had to stop and take some photos of this gorgeous AustinHealey. While I was snapping some photos, the owner walked out of a nearby store and got in. He clearly saw me taking photos of his car and gave me a friendly smile. No doubt he's used to having people admire his car.
I did get to briefly talk to him, although he seemed like he was in a little bit a hurry so I wasn't able to get much of his history with the car. However, he did say that he had had it for a long time and had lots of fun driving it. Whether or not the owner restored his special sports car is unclear but he certainly did take great care of his Austin-Healey.
What a fun car to take for a drive out to the beach in Southern California! I do seem to spot a lot of vintage vehicles while at the beach.
Chevy 3600 Pickup
This Chevy V-8 equipped Stepside has been in my grandma's neighborhood in Long Beach, California, since before I can remember. It has always been parked outside, either on the street or in the driveway, so every time I go to visit her, I see it. I've only seen the owner out once though.
I have always thought this Chevy looked like such a cool truck with it's classic looks, so this time when I was visiting, I made sure to take some pictures of it.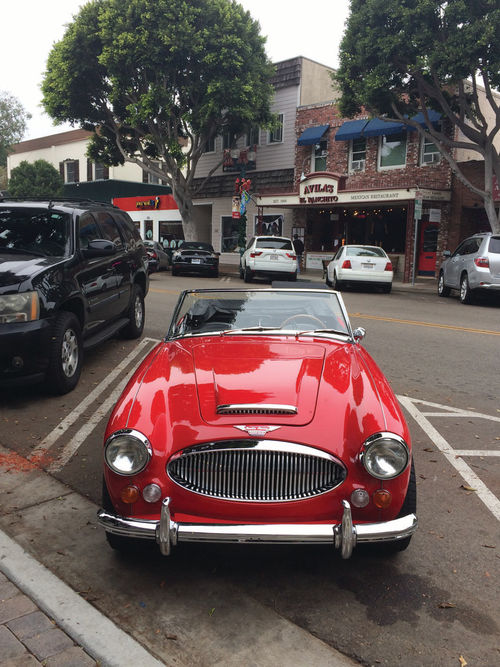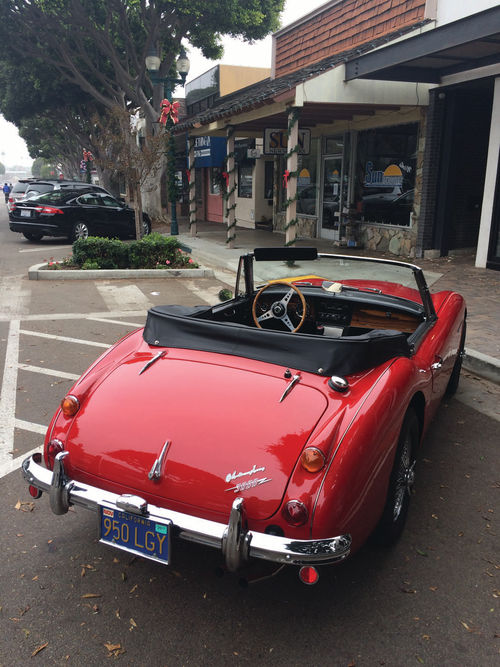 The truck seems to be in original condition and even sports a Historic Vehicle license plate which I haven't seen very often. (What I usually see on classic cars are personalized plates with witty messages.)
This truck does has some visible wear and tear on the outside, so know it has definitely been driven and used well by the owner, probably for many years. But even with some peeling paint and roughness around the edges, it is still such an iconic classic truck. Perhaps the owner or a buyer will restore it in the future?
It certainly does jump out at me though every time I drive through my grandma's neighborhood.
I can remember riding my bike around the neighborhood when I was younger, making circles around the block, and always seeing that red truck every time I turned around that section of the street.
It has become a sort of landmark for me and I'm sure it has the same effect for the residents of the neighborhood. You don't see too many bright red Chevy trucks like this anymore, especially ones that are still being driven and used by the owners.
I do hope I continue to spot this Chevy every time I go to visit Grandma; I just couldn't imagine her neighborhood without it. (Photos of this Chevy are on the following page.)
Ford Bronco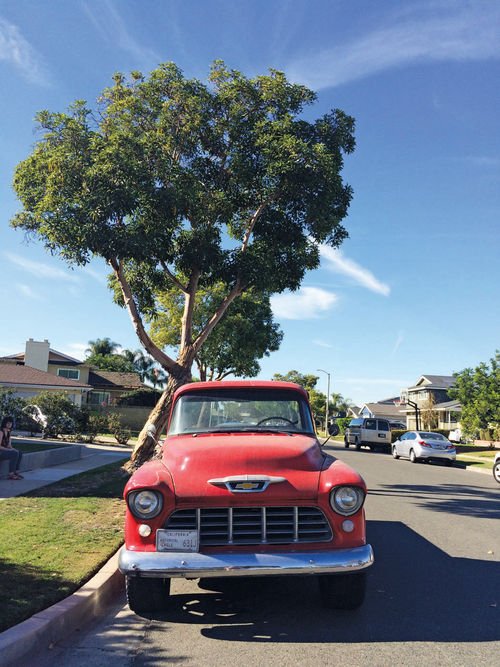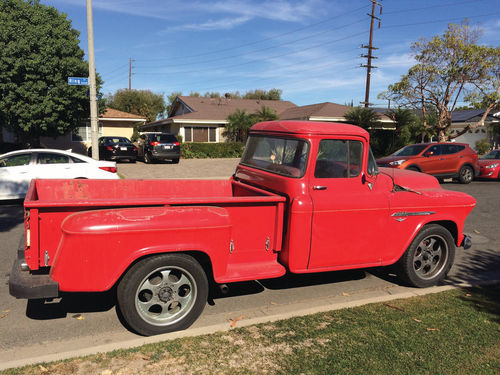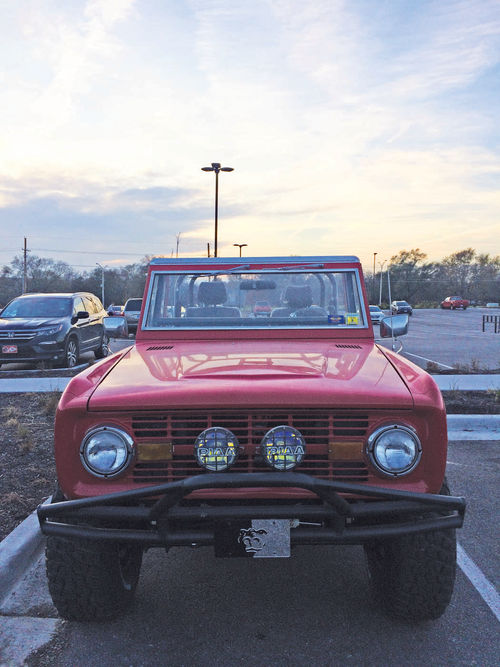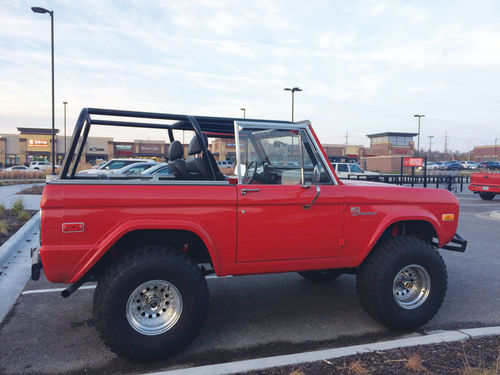 My mom, Judy Sipple, spotted this bright red Ford Bronco in the grocery store parking lot in Overland Park, Kansas. Spotting classic cars in good condition is somewhat more rare in Kansas than it is in Southern California, so this was a very welcome find, and hard to miss with its eye-catching red color!
Grocery store parking lots oftentimes are great places to spot classic cars (and snap photos of them).
This Bronco was in great condition and looked like it was made for some off-roading fun with its large tires, lifted body and extra headlights. Plus the heavy-duty bumper and roll bar sets it in a different class of off-road vehicles. This car has clearly had some adventures in its time!
I have always loved off-road worthy vehicles and there's no shortage of various Jeeps and trucks around that fit the off-road bill, but it really is a treat to see a vintage one. Even better to see one that has been cared for so well.
It is hard to tell whether this Bronco has been restored or not, but the owner definitely has added onto it to make it more off-road worthy. (My dad has done similar add-ons with his 1984 Jeep CJ-7.)
I like to think the owners have had some great memories and stories about adventures they've had in their Bronco, and will continue to have more adventures in their car.
Now...Calling all fellow car spotters and vintage vehicle enthusiasts: if you have also had some bright red classic cars jump out at you, send in your photos to us here at Auto Restorer!
We would love to see what you've discovered
in your local grocery store parking lot or perhaps you've discovered a classic car in your own neighborhood!
It's always a pleasant surprise to come across a unique find when you're least expecting it.