"Car-Spotting with Traci" takes a different route this month as "Car (Parts) Spotting with Traci." Here we explore United Pacific Industries, which creates and manufactures parts for 1932 Ford Trucks and Coupes as well as 1966-77 Bronco parts.
United Pacific Industries, located in Long Beach, California, designs, manufactures and supplies automotive parts and products for not only heavy-duty trucks but classic cars as well. They use state of the art technologies, which I was fortunate enough to witness in action, to produce a range of over 20,000 products. With over 30 years of experience, they truly are passionate and dedicated about providing only the best automotive products and connecting with car and truck enthusiasts. Not only do they focus on quality and innovation, but United Pacific's products are also hand assembled in the United States.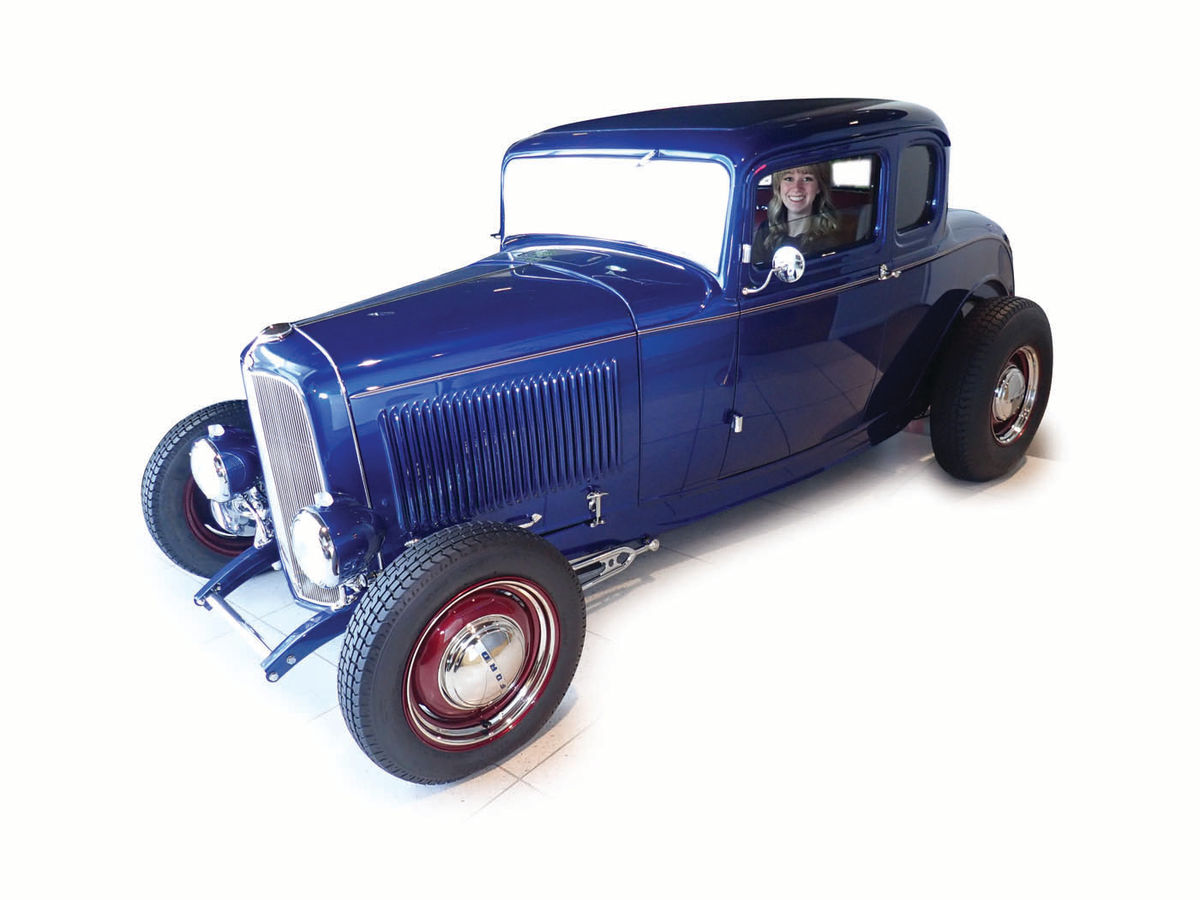 Their warehouse, which I recently toured, is truly amazing. United Pacific is able to fill and ship orders quickly thanks to their large inventory thus making them able to readily fulfill the needs of their customers. My tour guide, Crystal Gutierrez, the marketing specialist at United Pacific, showed me around, answered all of my questions, and most importantly, let me take photos of anything and everything so that you can have a sneak peek into one of the leading manufacturers of both heavyduty truck and classic car parts – an unusual combination.
Why classic cars in addition to semis and heavy-duty trucks? The founder of United Pacific just so happens to be passionate about classic cars, especially Fords, and wanted to create parts and products for restorers to save them time and worry when they're in the process of restoring or rebuilding their vintage vehicle. David Odegard, director of research and development, developed the '32 Ford five-window coupe steel body, replacement panels, the '32 Ford truck cab and replacement parts, and also developed United Pacific's unique line of LED lights.
While Crystal and I walked around, I was able to witness everything from packaging and shipping to that hand assembly that United Pacific prides itself on. I can certainly tell you that United Pacific and its team of employees strive to provide only the best for their customers.
A Little About Heavy-Duty and Semi-Truck Parts
Although my main focus during my tour of United Pacific was the classic cars, I was impressed to learn that they also provide an extremely wide array of parts and products for semi-trucks.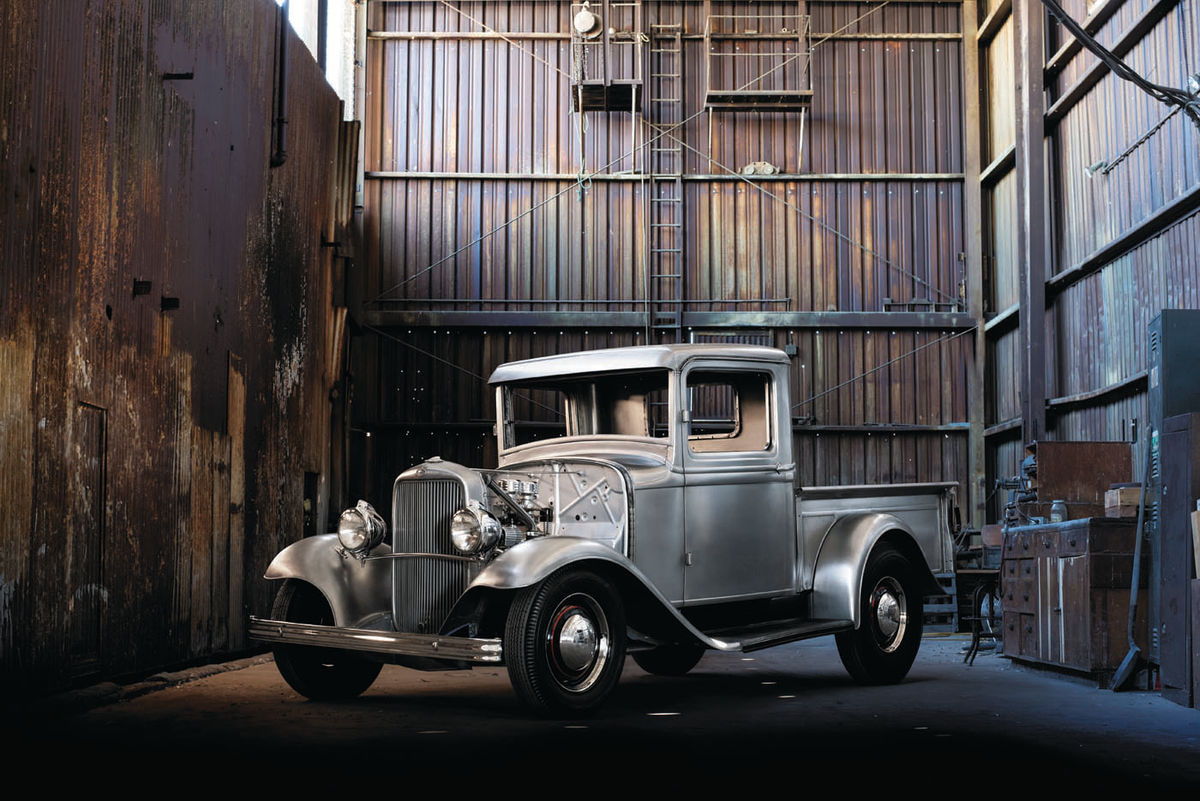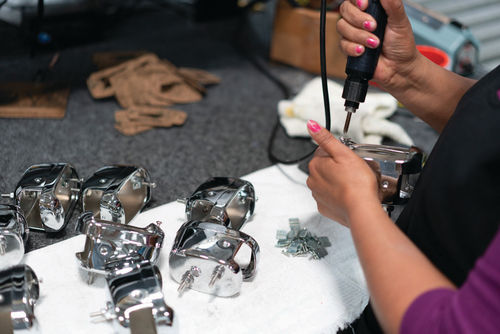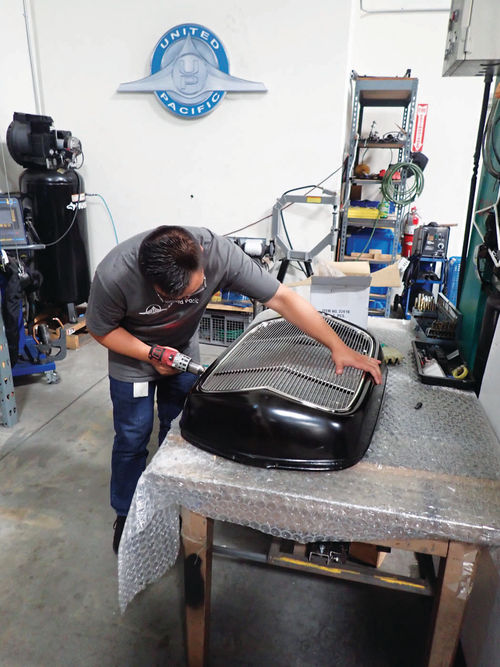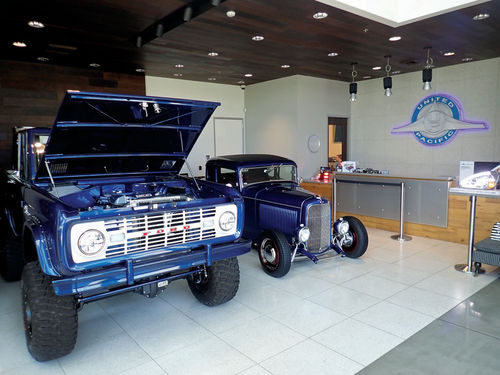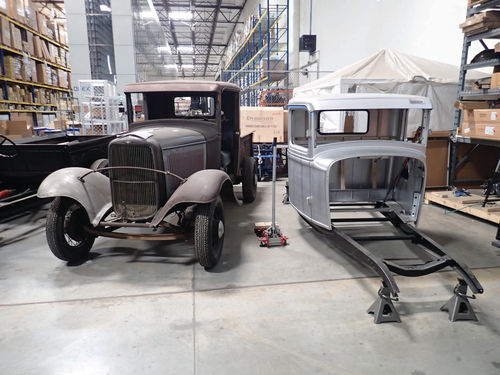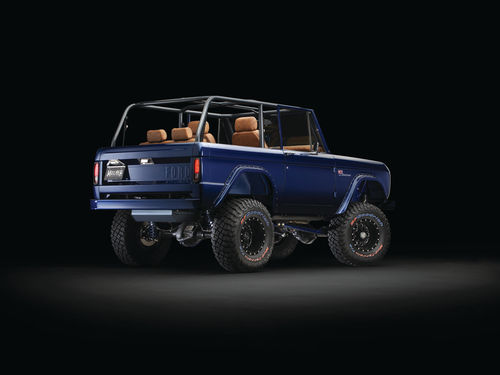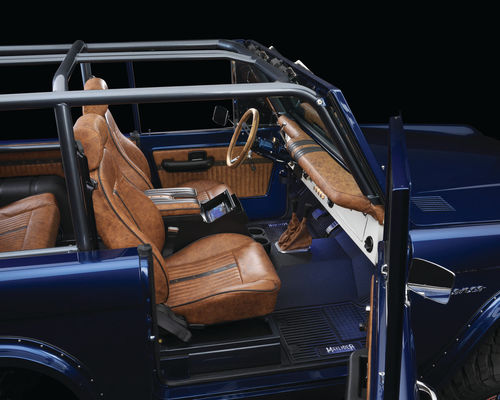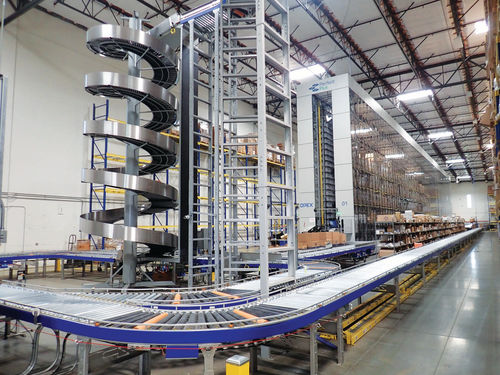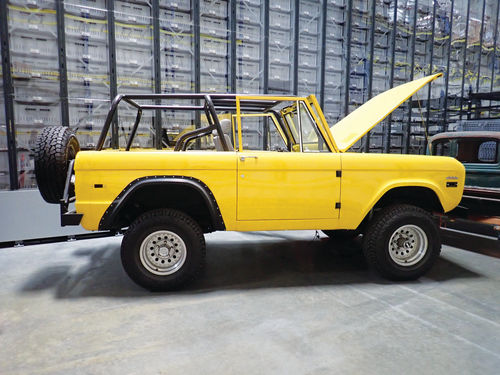 Everything from steering wheels, gearshift knobs, light bars, bumpers, hub caps, steps, toolboxes, mirrors, mud flaps, fenders, grilles, and LED lights (even LED turn signals!) are available for the customization of your truck. Headlights include blackout projection options with standard or amber LED light bars, which can really make a difference for those long drives through the night. The sky is seemingly the limit with the interior customization. You want flames on your steering wheel, chrome spinners, and an LED gearshift knob? You got it. (The LED gearshift knobs, which come in four colors, are actually unique to United Pacific.) If you're in the market for customizing or upgrading your truck, check out United Pacific's website for a complete list of everything they offer for semi-trucks. The only problem you'll have is trying to decide what look and style you want – there are so many options and combinations!
1932 Ford Trucks and Coupes
Since the owner of United Pacific is a 1932 Ford enthusiast, it only made sense that his company would start to design and create 1932 Ford parts. They started with the fivewindow Ford Coupe and eventually expanded into the 1932 Ford Truck. Are you wondering how on earth they are able to replicate these classic cars exactly as they were in 1932? United Pacific was able to find these 1932 Ford parts, which were devoid of rust, scan them in to their computer system and then create exact replicas. (United Pacific was able to secure three identical 1932 truck cabs for this process.)
The computer scanning process goes through a special computeraided design/ computer-aided manufacturing (CAD/CAM) program and then blueprints are created from those scans. This CAD/CAM system ensures that the replicas will be identical to the original parts. The blueprints and the fit of the part are checked against the on-screen tooling and then finally, the steel dies are made. United Pacific has a milling machine that cuts these die shapes and then the dies are cast in steel. A hydraulic press is used to remove any wrinkles from the steel and a laser is used to trim these stampings. Lastly, the parts are placed into a beat machine to shape the steel completely into its specific part. All parts receive a number and parts are available for individual purchase.
United Pacific goes the extra mile when creating their classic car parts. They use 18 gauge steel because the 19 gauge steel, which Ford used in 1932, is not common today, and the 18 gauge is actually a little thicker than 19 gauge. United Pacific uses nearly the same welding and manufacturing process as Ford did in 1932. United Pacific uses spot welding and TIG welding for their process; Ford used spot and arc welding but arc welding is not able to be duplicated currently. A computer program monitors and measures the strength of the spot welding so that there is guaranteed consistency with all spot welding done at United Pacific. When United Pacific wanted to expand their line into the first generation of Ford Bronco (1966-1977) they used this same process.
The '32 Ford parts and truck cabs from United Pacific are an exact replica, down to each and every rivet. David Odegard, director of R&D, wanted to create these classic car parts exactly as Henry Ford did it – no shortcuts and only the highest quality materials plus the time and care of hand assembly. Each part is designed to work seamlessly with other parts for the same vehicle.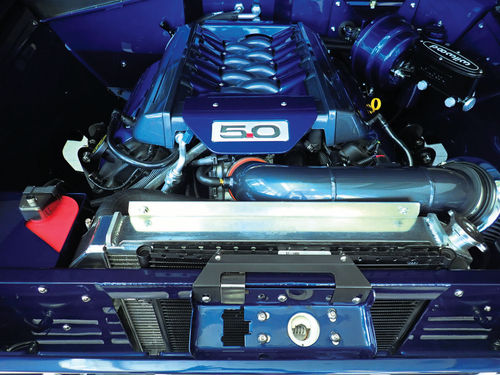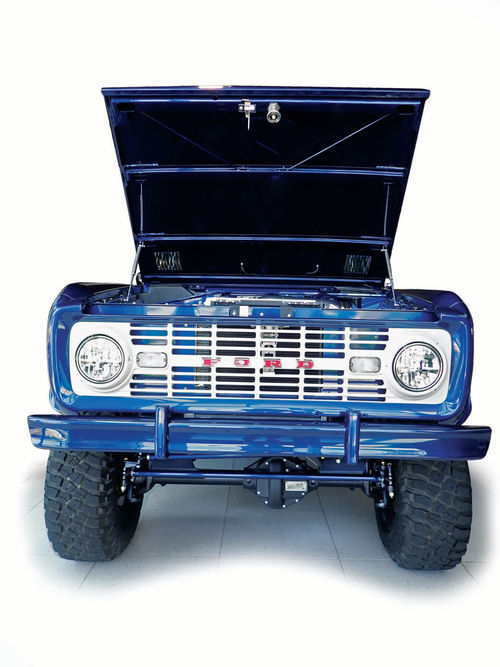 Two of the products, which I found particularly fascinating for the trucks and coupes, are the '32 Ford Coupe stainless steel grille insert and the complete '32-'34 Ford truck cab body shells. Both of these are exact replicas using the process mentioned previously of scanning, die cutting and stamping, then hand assembling. For the truck cab, the steel door shells have the outer skin and inner support and the cowl top panels as well as the sub-rail are both coated with United Pacific's trademarked Classic-Coat Weldable Primer. For the coupe grille, the stainless steel is available with and without crank holes and every inch of the grille has been recreated exactly as the original. (For more information on these, visit United Pacific's website.)
There is one modern advancement that United Pacific created for their classic cars. The signature LED lights in headlights, taillights, turn signals and mirrors is something that United Pacific integrated into these vintage vehicles and gives them that little modern style, while still maintaining the classic look and feel of the vehicle.
I was given the opportunity to sit in the '32 Ford Coupe that is on display in the lobby. The interior was stunning: perfect red leather seats to contrast the deep blue paint plus a gorgeous dashboard, steering wheel, and you have to love being in a car with manual roll-down windows! Definitely a step back in time in the best way.
1966-1977 Ford Bronco
If you're an off-road enthusiast (or if you just enjoy driving a Bronco) and need some replacement parts, consider United Pacific. They manufacture 1966 to 1977 Ford Bronco parts, which are identical to the originals. This saves Bronco owners the time and effort spent searching for an adequate replacement part (not to mention a part that is in good shape and not corroded or rusted) to restore or rebuild their Bronco.
Some of their Bronco products include hoods complete with washer holes and vents, grilles without the Ford logo, a separate Ford logo letter set for the grille, bumpers, fenders, firewall assembly, radiator parts, windshield parts, door shells and skins, lights, and so much more. (Check out their catalogue or their website for a complete list.)
A few offerings that I thought are particularly interesting are the door shells and the Firewall Kits that United Pacific created for the Bronco. The door shells, which come individually for either the right or the left door, have all the original '66-77 details and contours so that they will be a perfect fit for your '66-77 Bronco. United Pacific prides itself on its manufacturing expertise and the Bronco is no exception: the door shells are all die stamped and have been thoroughly tested to make sure that they will be your '66-77 Bronco's match.
The Firewall Kit, which also has the original details and contours from 1966, includes left and right kick panels, upper and lower dash panels, a cowl lower panel and left and right dash panels. This kit is also made of high-quality steel and the panels are coated with a primer that can be welded so that you can weld them before installing any of these panels in your Bronco. Everything that United Pacific creates is designed with the customer in mind and making your rebuild or your restoration a streamlined, stress and frustration-free process.
Upon my arrival, when I entered the main lobby, there was a Ford Bronco right there on display next to the Ford Coupe. Of course, I needed to check it out and my tour guide, Crystal, opened the hood and doors for me so I could get the full experience. It had beautiful brown leather seats and a stunning blue paint job to match that Ford blue engine. It really looked like it had just stepped out of time. I was able to have a seat in the driver's side behind the wheel as well, and although I've been a Jeep enthusiast forever, I could definitely see myself taking one of these off-road and having a blast driving it!
For More Information…
Be sure to check out United Pacific's website at www.upauto.com for a complete list of products for their 1932 Ford Trucks or Coupes, 1966-77 Broncos, or any of their heavy-duty or semi-truck products! Also, check out their other products for other classic cars – you can explore Ford Mustang products and 1967-74 Chevy products as well! United Pacific Industries is really one to consider for component design and innovation.