Browsing Through John's tool chest
It's Time for Another Venture Into the WellStocked Tool Collection of This Auto Restorer Contributor.
Miniature Low-Torque Wobble Air Ratchet
In the 1970s Snap-on made a lowtorque 3/8" drive air ratchet model #FAR101, delivering 12 foot-pounds of torque. Anyone who is familiar with the tool remembers its exhaust had its own distinctive sound. If one of these ratchets was being used in a garage you would know from a distance just by its sound.
I had one from 1976 until it finally gave up several years ago, and unfortunately Snap-on no longer offered the needed repair parts. I miss that low torque ratchet, and recently noticed one marketed by the Astro Pneumatic Tool Co. #1119. It's extremely compact, listed as 5 ½" in length; is rated at 16 foot-pounds of torque at 90 psi; and has a wobble drive. Photo E shows the compact ratchet and Photo F shows a close view of the wobble drive. This along with the small overall size allows the tool to function in confined areas. It would appear well-suited for spark plugs in tight locations. While you may still need to initially loosen those tight fasteners with a standard ratchet and it won't eliminate the need of the standard air ratchet, you can certainly find plenty of opportunity to put it to use.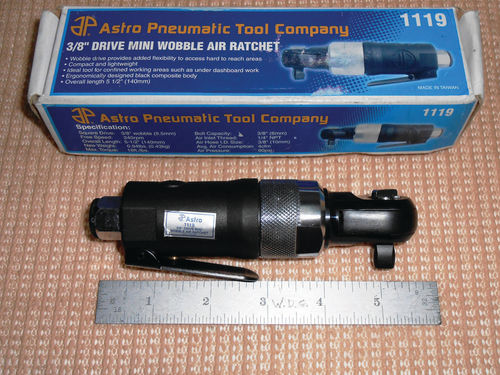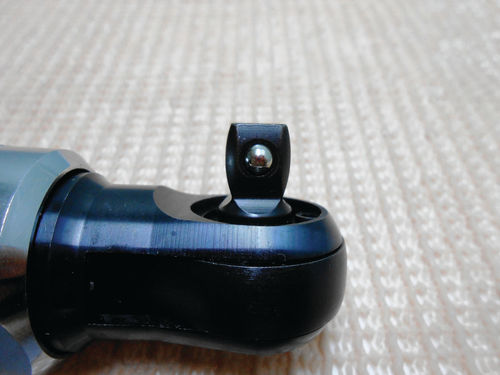 The tool comes with a 1-year warranty, is made in Taiwan and was purchased from www.nationaltoolwarehouse.com for $50.96. I found it atseveral additional sources including Amazon where it went for $46.50.
Craftsman Specialty Tool Set #94717
Photo G shows this 5-piece set. It includes a 9" long scribe/pick tool, oval inspection mirror, telescoping magnetic pick-up tool, spring-loaded tool for starting slotted screws, and a spring pressure tool for starting both Phillips & Torx screws. All except the scribe tool have pocket clips on them.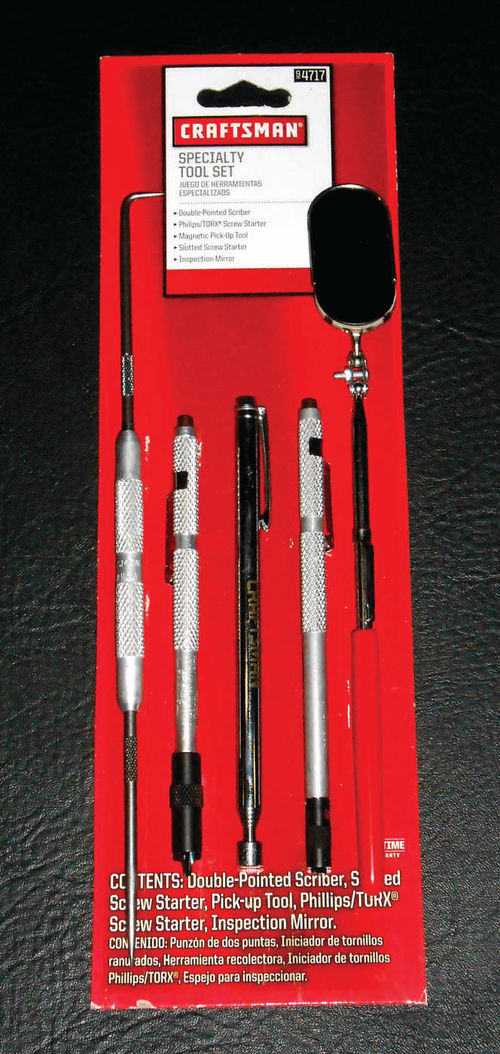 The use of most of these tools is obvious, but here are a few additional notes:
The telescoping magnet is the size of an ordinary pen, is rated to lift 1½ pounds and has a working length of 5 5/8" to 25 9/16".
If your vehicle's ignition is equipped with points, the spring-loaded tool for starting slotted screws is extremely helpful. Photo H shows the business end of the tool. Simply twist the end of the tool until it locks, and then line it up with the screw slot and push it. As seen in Photo I, it will now hold the screw securely allowing it to be started without the worry of dropping the screw. The opposite end is equipped with a magnet. The tool for starting Torx and Phillips screws is engaged with the screw by pulling the collar back and allowing the ears to spread open as shown in Photo J. This too has a magnet on the opposite end. Both of these tools are limited to starting screws only. Once started, switch to a normal driver tool for tightening. These tools are USA made and available from Sears for $17.99.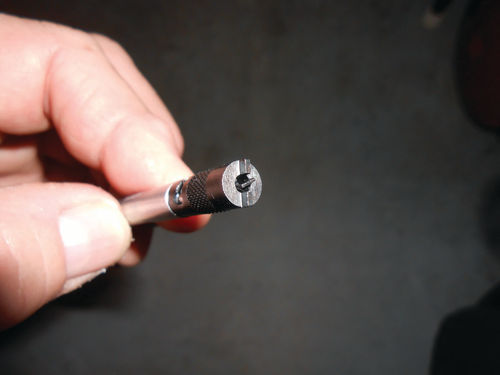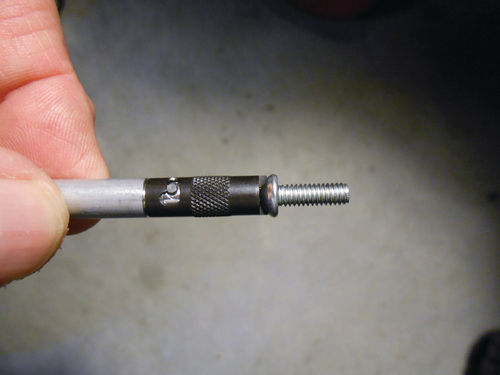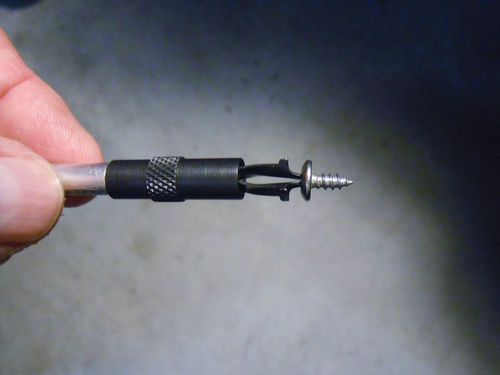 Abrasive Cleaning/ Stripping Wheels
If you own a handheld grinder, adding a couple of these silicon carbide EZ Strip wheels made by CGW (Camel Grinding Wheels) to your inventory is a good idea. Those shown in Photo K have a 7/8" center hole, but they also offer a 4 ½" wheel with the 5/8 -11 thread mount, as well as 7" versions of both. Here is their description: "Quickly remove rust, scaling, oxidation, paint, sealants, and other clogging materials. Use on stainless steel, steel, aluminum, titanium, nonferrous metals, fiberglass, stone & wood."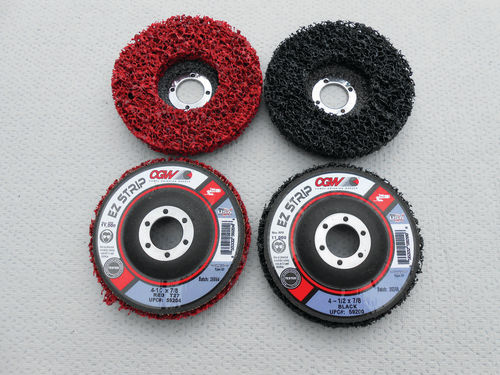 The black EZ strip wheel #59200 (Enco #328-1563) is considered coarse, but can provide a satin finish. The Red wheel #59204 (Enco #328-1567) is listed as extra coarse, more aggressive and has a longer life expectancy. Typically I use them for removing rust, both heavy and light, and prepping surfaces for welding by removing mill scale and paint. The open, "non-woven" design you can see in Photo L will gradually wear down as it's used, but won't load up with material. If you have ever used any of the similar arbor-mounted wheels available at Wal-Mart, these cost a little more, but last considerably longer and remove more material in less time. These are made in the USA and are available from www.use-enco.com. Red is regularly priced at $9.40, while the Black is $9.19. Frequently Enco runs them on sale, or offers across-the-board discounts and free shipping. If you don't mind emails from them, get on their mailing list to take advantage of the sales.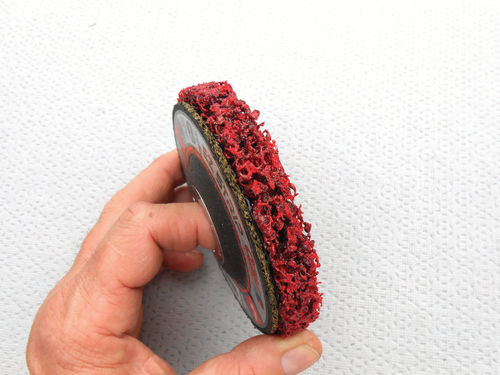 Air Hose Manifold
Occasionally when working under the hood of my car I find the need for a second air supply hose. This certainly doesn't happen that often, but if you only have one connection at your compressor, you could have a problem. Not too long ago while replacing the valve stem seals on an engine, one supply hose was needed to fill the cylinder with air and support the valves. Needless to say it had to remain connected during the task, but a second supply hose was required for using an air ratchet. Sometimes you may just need to switch back and forth between two separate air tools, whereas having them both connected to separate air hoses is a big time saver.
A quick and simple solution is to use a manifold. Photo M shows mine complete with coupler fittings. The manifold itself is just the machined piece of aluminum. After all, there are many ways it could be connected using different style couplers. This one is set up so that if you're working a distance from the air source it can be connected to the long supply hose and then yield multiple hoses at that point. Photo N shows the quick-connect nipple on the end and gives you a better view of the manifold itself.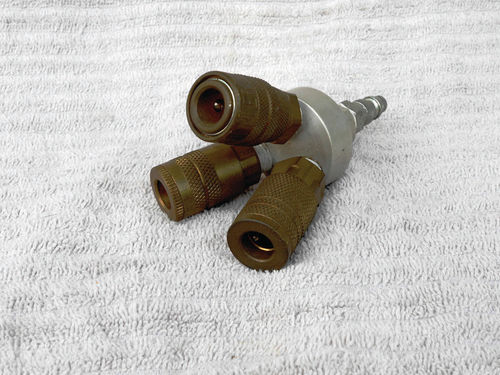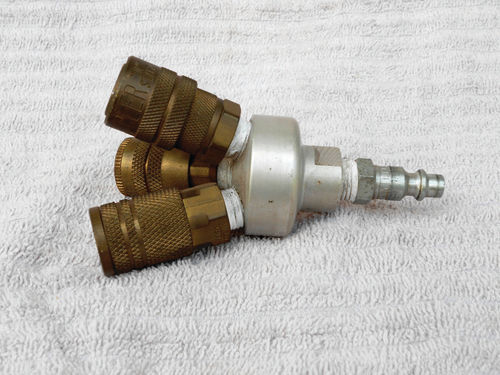 Depending on your setup and the size of your work area, you might choose to secure the fitting to your compressor or steel air supply line, making it a fixed connection. This is set up with three supply couplers, but a plug could be fit into one of the outlets reducing it to two if preferred. For that matter I don't believe I have ever used more than two.
These are available from most tool suppliers, and a search online will show they come in many shapes and sizes, so make sure you know the size of your pipe fittings. Certainly most if not all are made in China or possibly Taiwan. Northern Tool shows one made by Milton, model #S-685-6 (their item #159321) for $12.99 and Harbor Freight shows a Central Pneumatic #68195 for $8.99 which appears to include the couplers.