WORKING WITH '' THE NEXT GENERATION''
This Model A Ford Club Has a Program Designed to Interest Young People In Vintage Vehicles… Members Work With Teens On Model A Restorations.
Editor's note: For a little over a decade the Adirondack A's Model A Club based near Albany, New York, has conducted a program where club members work with local youths in the restoration of Model A project cars hoping to pique the youths' interest in vintage vehicles. We've looked in on this program a few times in the past but it's been awhile so we thought we would catch up with our club contact, Hank Ashton, and see how things have been going. We also plan to check on their ongoing progress from time to time. So let's turn it over to Hank for an update:
Well, it has been awhile since I have written about our program so let me go back to the beginning and bring you up to date.
We started in 2008 in a room at the Saratoga Auto Museum in Saratoga Springs, New York. We built our first project, a 1930 Model A Ford Huckster, starting with just a rolling chassis. Our club voted to keep this build as our first and use it as a rolling billboard for our club and youth program.
Our next project took place at Jack Byrne Ford in Mechanicville, New York. We were space-limited at the museum but not so at the Ford dealership. We started with a frame and built a 1930 Model A Boattail Speedster. It was all Model A with the exception of the boattail which was cedar. The speedster was sold, as well as others that followed, to keep our program solvent.
The next project was a 1929 Model AA stake side 1½-ton truck. After that came a late 1931 Model A Roadster Deluxe and that was followed by our fifth project, a 1930 Model A Roadster Deluxe.
Our current project, which began in September, is a 1931 Model A Sport Coupe.
We also have a 1930 Model A fourdoor sedan and a rolling chassis 1929 Model AA waiting in the wings.
Why, you ask, do we only work on Model A Fords? Well, we are part of the Model A Ford Club, but beyond that, parts are readily available and a Model A provides us with metal working, wood working, and mechanical education opportunities.
A Gathering of Teenagers… and Mentors
We open our program to any youths, ages 13 to 18, within a 50-mile radius of our base in Clifton Park, New York, and we meet every other Saturday from 9 a.m. to 3 p.m. We have around 15 teens taking part in each restoration and have had at least one girl in each session. We also allow our past students to visit and take part in the restoration when they are home from college.
The program is free to the students and we provide the tools, safety equipment, educational handouts, mentoring, and lunch. Our mentors are volunteers and receive no payment for their services. Each mentor is assigned to lead a particular area of the restoration, such as the frame, engine, body, interior, etc. We also have a safety officer and roaming mentors to help whenever needed.
We do have set rules and the first is no electronics while at the program site. We want them to hold tools, manuals and parts…not their cell phones.
Filling a Need
We started this program because the local schools have dropped their industrial arts programs and shop clubs that they used to have.
So now we meet with interested students and we tell them, show them, and let them apply what they just learned, all under a watchful eye.
As in the past, when we work on our current project all parts will be checked for safety, items will be replaced, the engine and driveline rebuilt, new brakes installed and basically we will end up with a new car. We still clean and paint the chassis like they did at the Ford plant. All of this is done under our mentors' watchful eyes but work is performed by our students.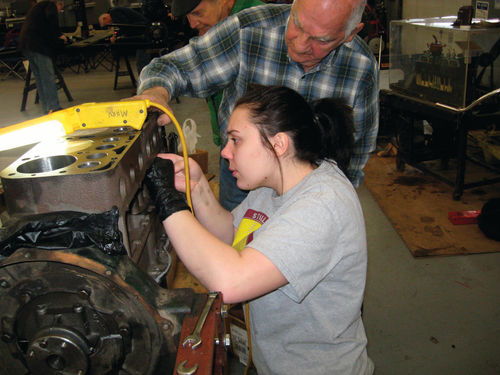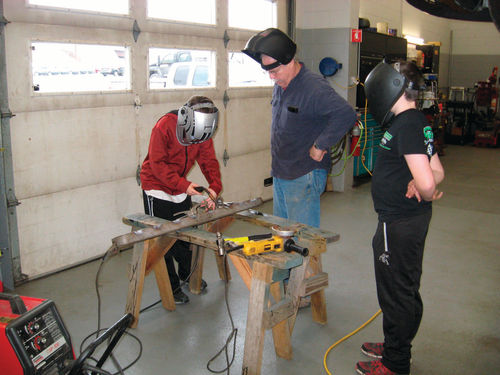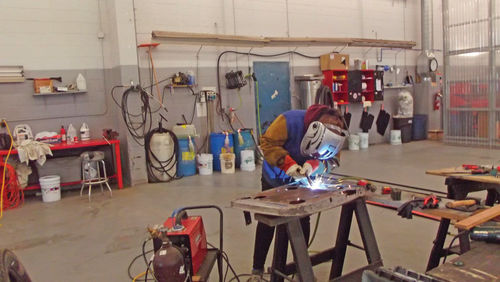 They all receive hands-on education with the charging and electrical systems of the Model A. This time they will learn how to use a multi-meter and get to keep the one they use in the class. We teach basic electricity, metal work, mechanical work, wood working, body work, welding, brazing, painting and even how to drive a Model A, if they have a license. We also give them a voice in the restoration process. If we don't know the correct original paint, we give them and the mentors a color chart and we vote and select a color combination from that vote.
Do the students work on every facet of the restoration? No. One of our members does our powder coating at his place of business. Another has a body shop and does our finish top coat body painting. Another member re-babbitts the engine bearings and does the engine machine work.
The rest is done by our team; they even recover the seats. The club president and I install the convertible tops but the students restore the top irons. The interior is installed by the students but before the front kick panels are put in place they are dated and signed by the students and mentors.
We also have a mentor who is in charge of photography. He documents each session. Our club president's daughter selects from our favorite pictures and makes a DVD with background music. The new owner receives the DVD, some other pictures, and a group photo with the car, students and mentors.
There's Much Positive Feedback
Maybe one in each group of our students will aspire to work in this field and the others will go on to college, specific trade schools or the armed services.
But while they're in the program you overhear them telling their parents about what they learned and are proud of what they have learned and accomplished that day. A parent comes to you and thanks you for bringing his child out of his or her shell. One parent came to me and thanked us because his son now has an attention span of more than a few minutes.
I warn you, once started it's hard not to be bitten by the bug. It does take some money and you have to have what we call "partners" such as business folks, civic groups, local museums and other car and truck clubs.
When we finish a project, we do try to show it off by taking it to shows, parades and other community functions, along with the students who were involved. We always try to show off our Huckster truck as well.
Everywhere we go we receive praise, donations, parts, and sometimes even a rolling chassis or whole car. The car may be in pieces but we don't care. Our students will spend the first two sessions tagging and bagging the parts.
And with our projects we never know what type of challenge to expect next. For example, on the late '31 project we installed a restored gas tank; a pristine 1930-style gas tank. That was a major problem. We were lucky enough to locate the correct 1931 tank.
We'll Help You Get Going
I hope I have given you an adequate overall view of what our program is, does and accomplishes. Our motto is "Be cool, stay in school" and "Clean mind and dirty hands."
As you can see, we have found that there are young people out there that enjoy working with their hands and want to continue in our hobby. It is also our hope that people in the hobby like us, across the country, will see articles like this and want to start their own programs.
Any questions can be directed to us at Adirondackas.org or sent to our club at:
Adirondack A's Model A Ford Club, P.O. Box 1246, Clifton Park, NY 12065.