When You're In the Market for a Belt Grinder…
There are Many Details to Consider When Selecting a Machine. So We Talked With a Pro To Give You Some Shopping Tips.
While it may seem that a belt grinder—a machine that rapidly spins an abrasive belt—is a pretty generic item, there can be many detail differences between the models offered. So to help you sort through the available options, we spoke with James Krier of Burr King Manufacturing about factors to consider if you're considering a belt grinder for your home shop. (Burr King has been in the finishing products business since 1951.)
Some of the things to keep in mind when shopping is that the belt sizes can vary in both length and width, and come with different abrasives. The electric motors that spin the belts can have different power ratings. The number of wheels will vary from one machine to another. The machines can be set up for different types of use including contact wheel, slack belt and platen grinding. Some machines will offer adjustable belt tensioning, positive belt tracking and quick-beltchange options. Some grinders run at a single speed and others are variablespeed models.
There are belt grinders for knife makers and wet grinders that are especially good for lapidary, galls and other special finishing operations. Machines such as a probe belt grinder are good for working with exotic materials such as turbine blades.
Many of Burr-King's products are for industrial applications, but the company's X400 belt grinder is aimed at what Burr King calls a "Prosumer"—a new category for the company that aims at the borderline between professionals and experienced hobbyists. The X400 has a 1 hp motor, operates on 120 volts (some machines require 220) and has an MSRP of $1563. Krier said it's a "professional grinder at a consumer price."
But rather than get too far into the specific characteristics of a certain machine, we asked him about general features a hobbyist should look for when considering the purchase of a belt grinder. Here's his advice:
Features to Consider
Quick Belt Change—A rear wheel quick-change assembly makes belt changing a quick and simple operation. One good design provides a handle to lift and button to press in the center of a quick-change knob. Then you pull the handle forward to release tension and remove and replace the abrasive belt. With its ratchet design, the quick-change mechanism should provide a positive and variable belt tension for loose belt and contour work.
Safety Guards—All grinder and buffing machines should be equipped with full safety guards that protect at pinch points (where a person can be caught between a stationary object and moving object or between moving parts) and at belt track areas. The guards should be designed to permit easy access for the rapid change of belts and buffing pads.
Belt Tracking Adjustments—Make sure the grinder has a tracking knob to let you achieve positive tracking of the belt on the contact wheels. You should be able to move the belt right or left on the wheel while the machine is running. The tracking device should be easily accessible to the operator.
Contact Wheel Grinding—Contact wheel grinding is the most aggressive type of grinding and should be used when the removal of heavy amounts of stock is necessary. You'll want to look for high-quality aluminum contact wheels with elastomer "tires." The contact surface of the tire should be made of bonded neoprene with a plain or serrated (for better air cooling) surface. Special narrow wheels are also nice to have.
Back-Up Platen and Work Rest— Look for grinders that include a back-up platen. These provide a large surface area for flat grinding. You'll want a platen that can be removed when not in use and a grinder that then allows you to reposition the guard to cover the pinch point. You'll also want a grinder that has a work rest that is fully adjustable to any angle on the back-up platen or contact wheel. It should be able to move below the contact wheel when not in use. Two- or three-horsepower motors are recommended when the back-up platen will be used to remove heavy stock.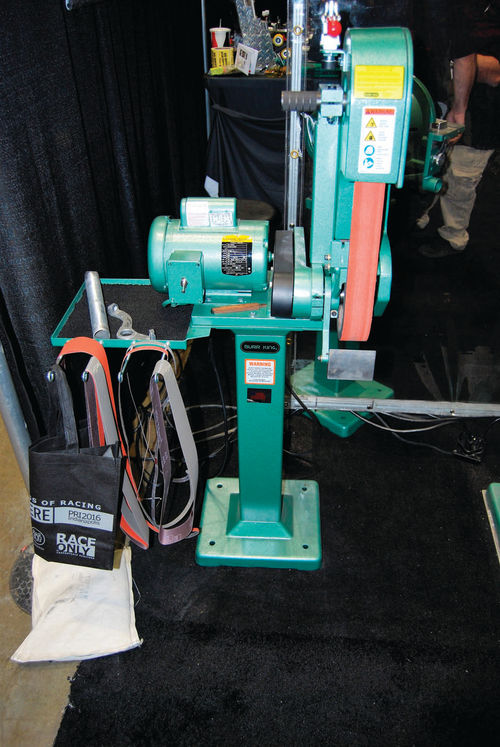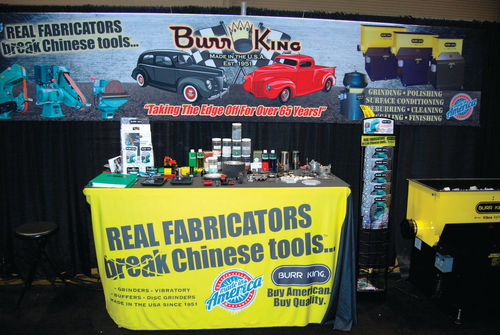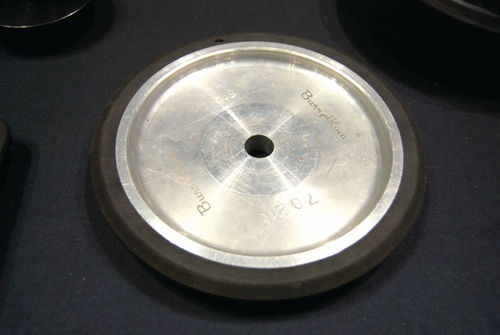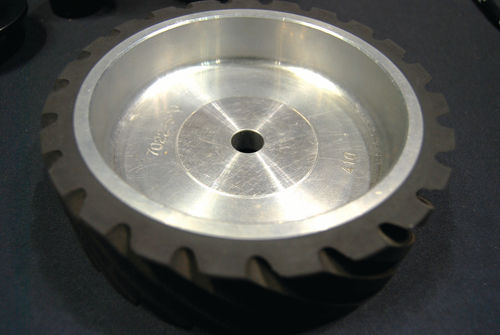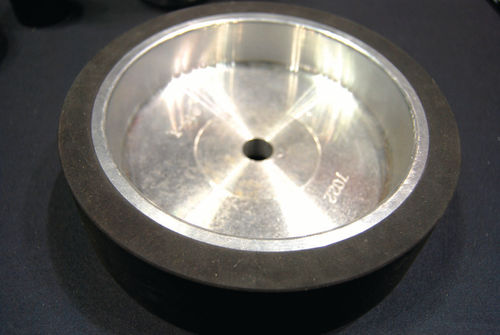 Contour and Loose Belt Grinding—If you're buying a threewheel belt grinder, look for one with large enough throat clearance to provide a big working area for contour and loose belt grinding, polishing and de-burring. Check to make sure that slack grinding and loose belt grinding can be performed at the same time with no special setups.
Narrow Belt Grinding— An optional narrow belt wheel will hold a narrow abrasive belt (probably ½-inch wide) for tight radius and loose belt grinding.
Nylon Wheels and Adaptors— Optional wheel adapters can economically convert your grinder to a nylon-finishing machine capable of graining, polishing and de-burring operations for special applications.
Grinders and Buffers—You'll be yards ahead with a grinder that can readily accept flap wheels, nylon wheels, buffing wheels, wire wheels and pneumatic wheels through the use of inexpensive adapters.
Contact Wheels—The utility of your belt grinder can be enhanced by purchasing one that comes with a variety of contact wheels or by making sure that a good selection of these wheels is optionally available for your machine. The wheels come in many widths, diameters and hardness and with different face geometries. Some are better for light-duty work and some are designed for heavy grinding.
Abrasive Belts—You are going to need to replace worn out belts and you'll want to have different types of belts for different jobs. It goes without saying that you should make sure that various belts are available for the machine you want to buy and make sure they will still be available next year or five years from now.
Dust Collection Systems—Dust collection systems are sold separately, but check to see if the belt grinder you're buying is designed to work with a specific dust collection system. That's always recommended. Dust collectors should include a silencer and spark boxes.
Dust Scoops—Optional dust scoops are another benefit in keeping the dust caused by the grinding operation under control. Full warp and partial wrap dust scoops are available.
Resource
Burr King
1220 Tamara Lane Warsaw, MO 65355 | Burrking.com