Studebaker—The Complete History
ALTHOUGH THE TITLE says this is "The Complete History" of Studebaker, it's actually more than that. It's a look at the workings of the auto industry itself and a portrait of how a start-up company can be built into a major player, falter, make comebacks, slide…and then slowly fade out of existence.
Mention the Studebaker name and for many people the images that come to mind are of the '53 Starlight and Starliner hardtops and coupes or the sporty Golden Hawks of the late '50s.
But this is a company whose roots go back a half-century before the automobile became a presence in America. It was started in the 1850s by members of the Studebaker family who began as blacksmiths and built their business into the largest producer of horse-drawn wagons and carriages in the country. Around 1898, the Studebaker coachbuilders started building car bodies for the Electric Vehicle Co. which produced electric taxis, and from there it moved further into the automobile business by manufacturing the Studebaker Electric car starting in 1902. Gasoline cars followed, the company liquidated its farm wagon business and by 1924 it ranked sixth in auto industry sales.
But with the onset of the Depression, Studebaker went into receivership. World War II revived the company with orders for bomber engines, trucks and personnel carriers. The post-war years also were hot for the automotive companies and Studebaker had some of the most distinctive-looking cars ever produced, but it suffered from some major manufacturing glitches, poor product quality and labor problems. Then, competition became brutal in the '50s and '60s, and even a well-received car like the compact Lark was hammered in the marketplace when a host of other compacts became available. A merger with Packard only helped to pull the two struggling companies down quicker, and in December 1963 the company shut its South Bend, Indiana, plant, leaving it with only one other plant in Hamilton, Ontario, Canada. The Hamilton plant closed in March 1966, having built a little more than 2000 cars that year.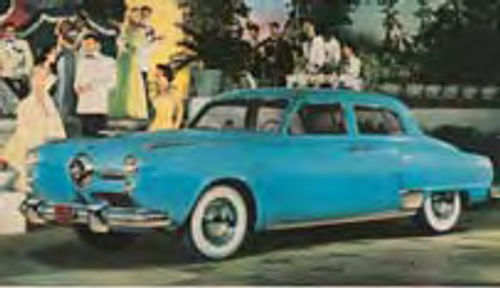 The moral of the story, of course, is that even major automotive companies can hit a brick wall. So when you're reading this book, it's more than likely that two things will come to mind. First, while you're looking at the array of attractive cars and trucks depicted in the numerous factory and current photos, you may well decide that you'll have to own a Studebaker some day. And second, as the domestic automakers continue to post multi-billion-dollar losses, you might find yourself pausing to consider just what the future holds for Detroit. —Ted Kade
Motorbooks—400 First Ave. North, Suite 300, Minneapolis, MN 55401; www.motorbooks.com; ($40)