SEARCHING FOR " FAMILY" MEMBERS
This Torino Was One of a Dozen Built for a Giveaway Program Nearly a Half-Century Ago. Now the Owner's Trying to Find Its "Relatives."
I was built on Nov. 8, 1969 in San Jose, California; one of 12 identical 1970 Ford Torino GTs produced for a holiday promotion at Sears stores.
From the factory I was sent to Paul Clark Ford in Yuma, Arizona, where I was presented to the local Sears contest winner, Annalee (Ruth) Spain and her husband, Charles, who was stationed at the nearby Marine Air Base at the time.
I have been an Arizona car ever since and have had no rust or accidents. I have never spent the night in a body shop and have never been repainted. All of my major components are original although I had a valve problem a few years ago and was parked for a while.
Charles passed away some time ago and Ruth later married my "stepdad" John who recently rebuilt my engine and now I am as good as new although I am going on 47 years of age. That is getting up there in car years I am told, but even so I still run like a one-year-old. I have taken home awards from several car shows over the last couple of years so I must not be that bad of a "looker" either.
But now that I'm getting older I'm interested in learning more about the status of my 11 siblings who were built with me as a group.
Here are some things that I have been told about them…
A Holiday Surprise
We were all identical Bright Yellow 1970 Ford Torino GTs with 351 Cleveland 4-V engines, close ratio toploader 4-speeds with Hurst shifters, black vinyl interiors with bucket seats, sports roof, laser stripes, air conditioning, power front disc brakes and heavy duty suspension.
In November 1969 Sears, wanting to bring customers into their stores for the Christmas season, advertised 12 drawings in different locations. The promotion was widely publicized on TV and in local newspapers. Sears ordered the 12 identical Torino GTs from Ford for the first-place prizes. The drawings were held on Dec. 6, 1969 and I've heard that I was the only one given away in Arizona.
Ironically, Ruth had entered the drawing as an afterthought. She had gone into the Sears store in Yuma to apply for Christmas seasonal work.
After turning in her job application she saw the display for the car drawing. She filled out the contest form, stuffed it into the box and pretty much forgot about it. Then on December 9 she heard a knock at her door and there stood Paul Clark, the Ford dealer, and a representative from Sears. They told her that she had won the 1970 Ford Torino and to come with them to the dealership to claim her prize…ME!
Here she was, a 19-year-old mother of one and expecting her second child, her husband in the Marines, living in a mobile home and now owing a brand-new car—for free!
The Search Is On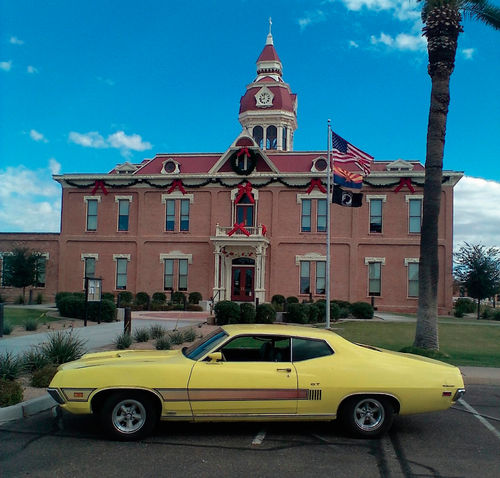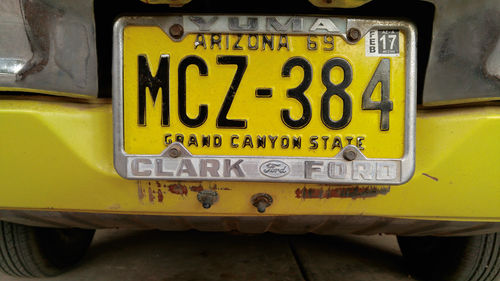 For some time now I have been trying to find the locations of my identical siblings. I have found a copy of the promotional ads with the original entry form from the Yuma Sun and the Arizona Republic newspaper archives. I also found a Yuma Sun photo dated Dec. 11, 1969 showing the Sears representative and Paul Clark presenting my keys to Ruth and Charles.
Now stepdad John would like to get information from anyone who may have owned or known any of the owners of this Torino family. He'd like to hear from anyone who knows anything to do with the drawings or the Torinos.
If we don't hear something soon, John said we might try the "milk carton" approach and put my picture on an oil can.
Editor's note: For more on this Torino, see the March 2016 and April 2017 issues.