IF YOU'VE EVER wondered whether money—lots of it—can truly buy happiness, read this book and be ready to ponder the question once again.
For example, consider the 1937 Ford roadster on this page. A '37 roadster is quite rare as only 1250 were made by Ford and they've had 72 years to disappear off the face of the earth. When the owner of this car acquired one of the remaining few, he took it to Roy Brizio Street Rods in South San Francisco and asked that it be turned into a resto rod. He wanted it modified and updated in some ways but he also wanted to retain a fairly stock appearance for the car.
As you can see, the car kept its stock look, right to its dark blue paint which was described as a "stock type" color. The dash was freshly wood grained and the original instruments kept their place. There's even a banjo steering wheel and the interior was finished in beige leather in "simple, old-style patterns." As for changes, a rebuilt '39 three-speed transmission with Lincoln gears was placed in the car, the front axle was replaced with a dropped I-beam and a front sway bar was added too.
Oh, and under the hood you'll find a blown V-8 flathead that was built by H&H, the flathead specialists in La Crescenta, California. It's been bored and stroked, has two 97 Stromberg carburetors and wears a polished Navarro aluminum manifold and heads.
Most of the other cars featured in this book look much more like the street rods you're accustomed to, such as the copper metallic '32 Ford Fordor on page 5 of this issue. But even if you aren't a major fan of rods, I think you'll enjoy seeing the level of detailed work that went into these cars and is clearly evident in the exceptionally clear and bright photos throughout the book.
Roy Brizio literally was brought up in the industry as his dad Andy was a rod builder himself. Along the way, Roy has acquired clients such as Vic Edelbrock, Baseball Hall-of Famer Reggie Jackson and rock star Eric Clapton, which helps to explain the levels of rodding perfection achieved with these vehicles.
As someone once said, "If you think money can't buy happiness, you're shopping in the wrong stores."
Ted Kade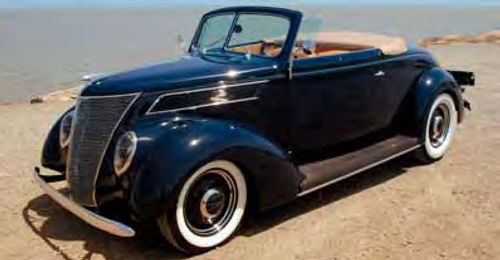 Motorbooks—400 First Avenue North, Suite 300, Minneapolis, MN 55401; motorbooks.com; ($35)