Parts sources for bigger trucks
Question: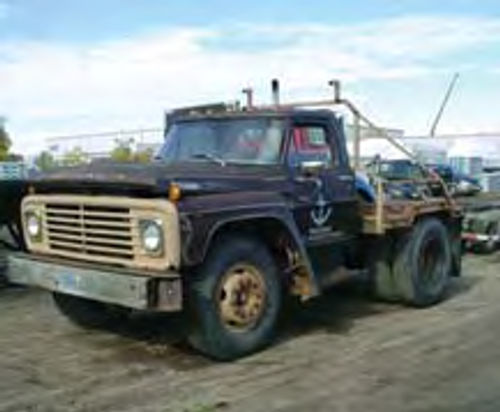 I have recently purchased a 1967 Ford F-750 truck (seen above). This truck runs well when it gets gas and I am currently rebuilding the carburetor. It has been shortened—it was used at a marina to move boats around the boat yard and it is ugly. It has a single rear axle. I know larger trucks are not a focus of the magazine, although you have featured a few, but I am wondering if you know of any sources for parts, manuals or any other information about my truck? The truck has a 361 CID engine and Holley carburetor. I am finding out that parts are hard to come by and am hoping you have some suggestions.
Answer:
Many of the mechanical parts needed to keep your F-750 in running order are actually available from your local better stocked auto parts stores and some items are even still offered by Ford.
But when it comes to interior parts, body sheet metal, trim items and the like, there is virtually nothing available that's identical to what the truck originally came with. Depending on the parts needed and your willingness to deviate from original configuration, you can often utilize replacement parts that function well but don't look exactly correct.
Your best bet for parts that are no longer available new is salvage yards. There are a number of well-stocked yards that deal in large truck parts in various places around the country. Spalding Auto Parts spaldings.com), Gill Mike Auto & Truck Parts (574-2678086), and Big 3 Truck and Auto Salvage big3truck.com) are three examples.
As far as manuals or other literature pertaining to your truck is concerned, a logical place to start is with the big literature dealers, including Walter Miller (autolit.com), Johnson's Auto Literature (autopaper.com), and Ken McGee Auto Literature (kenmcgeeautobooks.com).