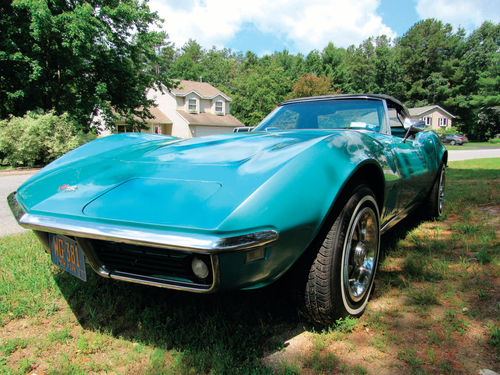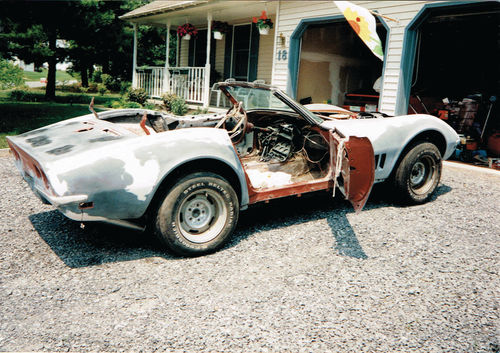 When a Dedicated "Fanilow" Receives a Restored '68 Corvette from Her Husband, What Else Would She Call Her New Ride…
My wife, Sue, had always wanted a Corvette. But with two kids in college and one knocking at the door, we had to wait. That didn't stop us from looking though. Well, the time came and we actively sought out a Corvette to restore. Maybe a driver and then restore it or maybe a shell or one that's all done. She wanted a t-top, fourspeed, 350 or larger engine and colored green. As you can see from the photos, it's green, but it's a roadster with a small block 327 and an automatic. She named the car "Mandy." You guessed it; my wife is an avid Barry Manilow fan or a "Fanilow" as they're called.
A Three-Year Search
We started looking in the early 1990s and purchased Mandy, a 1968 Chevrolet Corvette, first year of the C-3 series, about 1993. It took about 18 months to restore. When we first saw her she was back on the frame but that was about it. A frame-up restoration had been started but the owner traded it in on another Corvette that was completed. This Corvette was a restored rolling chassis. The running gear had either been checked out or rebuilt.
The seller also had another '68 roadster, a big block with the correct carbs, but we couldn't afford the package deal. I now kick myself for not buying the matching car. Instead, we struck a deal and this Corvette was ours.
I returned to the owner with a 24- foot enclosed rental truck. We rolled the car off his flatbed and into the rental truck for the four-hour ride home. We also filled the truck with a new Al Knoch interior and top plus many new and used parts. When unloaded, the car and parts filled a two-car garage.
The undercarriage had been restored with new brake and fuel lines, shims, paint, etc. The body was sanded down to the fiberglass and showed no previous damage. The underside of the hood did show that someone had a backfire without the air cleaner on and a scorched mark was found. There was no charring, just a discoloration. The interior was empty, except for the wiring harness. All the parts were inventoried, sorted and put away for safekeeping. It was time for a plan of attack.
We Got It Moving… and Stopping
I installed the steering column, driveshafts, exhaust, master cylinder and battery. Checked on all the numbers and they did indeed match. I had only checked the engine, VIN and registration previously. Most of the parts were new. All fluid levels were correct and I bled the brakes.
Now, this is where we have a tale of two restorations. Auto Restorer was running an ongoing restoration of a 1967 Corvette at the time. Whether a 1967 or 1968, the methods should be close to the same and I followed along. I'm an amateur, shade-tree kind of restorer, so this was helpful to me, especially when bleeding the brakes. "Bleed them while the car is level for best results" said the article. How right they were.
I followed their pre-start recommendations and soon had a running, yard-driving and stopping Corvette. This made it easier to work on in the driveway or just moving it around. By this time, I was sold on Corvettes and Auto Restorer. The car did come with a large binder full of pictures of all the components, descriptions, build sheets, etc., which helped immensely, especially when it came to wiring and all the vacuum hoses.
Time for Body Work and Painting
I didn't have a heated garage at this time, so when winter arrived in Upstate New York some of the restoration stopped. It was a good time to look through all the catalogs and order the parts needed for spring. The smaller parts that needed to be restored where taken to my mentor's garage and restored there. He had heat and enjoyed my help on restoring a Model A Ford he was working on. Sometimes having another motorhead around helps when things go wrong or don't fit right. There are those times when your arms aren't long enough to reach a bolt, washers, nut and wrench at the same time or hold something in place while doing so.
Spring arrived and it was time for body work. I fitted the headlight covers and hood, and put new hinge pins in the door hinges. They really didn't need them but they came with the car. Then I fitted the doors.
I spent a lot of time sanding and filling little pinholes. I did have to repair a crack in the package tray that covers the top when it's down. I fitted that and then took it off. I used a recommended epoxy primer on the car and then sanded that smooth.
It was time to pick out the paint color. It's my wife's car so I took her to the body shop supply store and had the owner flop the paint books in front of her. She picked out the color and ordered it. A week later the car was painted. The next week the wet sanding began and then my friend buffed it out. All this was completed following the techniques shown in AR articles.
Once done, all the pieces were installed on the car. This is all being done while still working full time, taking time out for family (the youngest was now in college), working around the house, going to car shows and taking vacations.
When winter sent its reminder that he was on the way again we moved Mandy to a warmer garage. The wiring, dash, carpet, seats, top, lights and bumpers were all installed. The convertible top is fun to install if you are an octopus. Again, AR helped me through it. The wheels should be painted silver but my wife wanted them to match the car. That was done; new tires purchased and installed, and center caps and beauty rings were installed.
Then spring arrived and it was time for Mandy to go home. While my wife was at work we put Mandy in her side of the garage and placed a sign on the garage door stating "Corvette Parking Only." I know, that's a little goofy but we were just trying to be cute. Now when she comes home she always hits the garage door opener a half-block away so when she reaches the driveway she sees Mandy in her spot.
A Family With "Personalized" Cars
The rest is history. Again, all the little tricks, facts, warnings, etc. that AR supplied me with through their articles were priceless. I always felt we were restoring Corvettes together.
I'm sure that by now you have noticed that Mandy doesn't sport a Corvette color, as noted, her wheels are the wrong color, and the rocker panel is also the wrong color. All our cars have that little personalized touch and Mandy wasn't built to flip or be perfect. My wife likes her the way she is. Also, if you read the VIN, Mandy is supposed to be a bronze on bronze car. Again, it made it simple to make it Sue's car.
It's More Than Just a Vehicle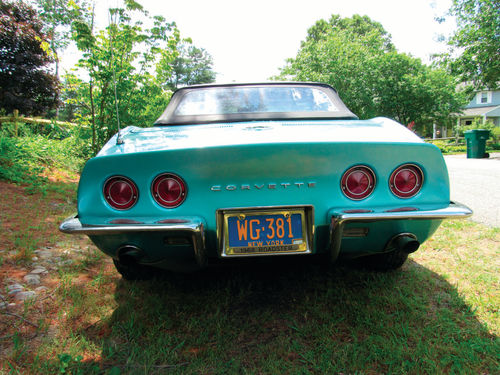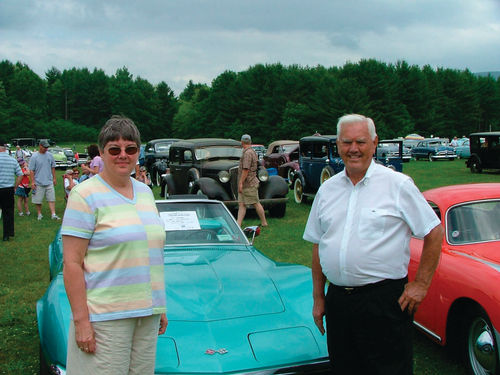 Books, magazines and people have an influence on those restoring cars and trucks. AR helped me every month or so, Corvette guys were a great help and books regarding the restorations of the 1968 Corvette helped too. One author stated that, "if you restore your 1968 Corvette correctly it will still have a rattle that you can't find when you drive it." Mandy still has a rattle you can't find, just as he said. Corvette guys reminded me to always have a towel in the car in case you get stuck in a rain storm as they all leak.
There are so many side stories when it concerns a restoration. Firstyear generation Corvettes have parts that only fit that car. I had new sun visors but no one stocked or made the pins to attach them to the header. As luck would have it, I attended a car show that attracted many cars from other states. While there I admired a restored 1969 Corvette roadster and talked with the owner. The conversation moved to the restoration process and the sun visors. He told me he had been given a box of pins and one pair didn't fit his '69. He sent them to me and the rest is history…I have the correct pins.
One author who talks about the years and values of Corvettes stated that, "the value of the first-year car, such as the 1968, is low at this time, but I think it is a real sleeper and will increase in value over time." Well, it has, but the real value, whether high or low monetarily, actually lies within the heart of the owner. I think it says something that Sue and Mandy have been together for over 23 years and Sue won't part with her.
She still looks good after all these years, and so does Mandy.