My 1955 Ford Courier Business Hauler
He Had Always Wanted a Sedan Delivery and Now Needed a High-Profile Hauler for His New Business. This Turned Into a "Win-Win" Situation.
I am a former airline pilot and my wife is a flight attendant for an international airline (currently on disability leave). We met in 1984 at WestAir/United Express in Chico, California. She was a flight attendant and I was one of their pilots.
In late 1984 she designed our first set of wings; a flight attendant wing for WestAir. A year later, the wing business became a part-time job for us. It even helped pay some of the bills. We would do our normal flying jobs, land, get our messages from an answering service and call our customers. Diane would design a wing or two for some small airlines and I would do the hustle and sell wings to future customers.
Up until 1994 it was thought of as a part-time business; maybe more of a hobby.
An Unexpected Career Shift
Then in 1994 I had colon cancer bad. After 20 years and close to 18,000 hours of incident-free flight time I was forced to "hang up my spurs" and quit flying. Thus California Wing Specialties became a full-time business for me, while Diane "flew the line."
Why did we get into the pilot/attendant wing design business? I ask myself that almost every day when I hear: "Bruce, where are our wings?" "Bruce, are they done yet?" "Bruce, the wings are gold NOT silver!"
A Need for an EyeCatching Vehicle
After years of building our business you would be amazed at who our customers are! But one has to make sure one's business is continually noticed by people who want to buy wings for their flight crews. So why not buy a neat old car to drive to the conventions? People ALWAYS notice neat old cars! Right?
I have always wanted to own a sedan delivery. I've owned Mach 1s, a '28 Model A Ford, a '30 Model A pickup, a Lincoln Zephyr flathead dune buggy, a 1940 Mercury 8, and I am the original owner of a 1970 Torino Cobra Jet. But I've never had a sedan delivery and owning a business that "needs" one is the perfect excuse to give to the wife and use as a business tax deduction!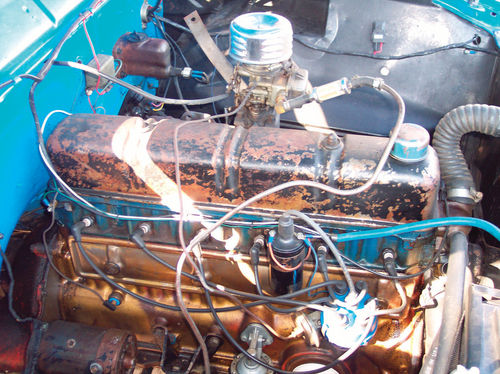 Thanks to classified ads, the search was short. It ended in 1997 when I found a 1955 Ford Courier at Moore's Antique Wrecking Yard in Rapid City, South Dakota.
The owners at Moore's showed me the delivery. It had that sick green Ford liked to use, a cracked windshield, and was missing the carb. (Why are all of the carbs missing off of any car you find in a wrecking yard?) It had a few dents, maybe a little rust, but everything else was there.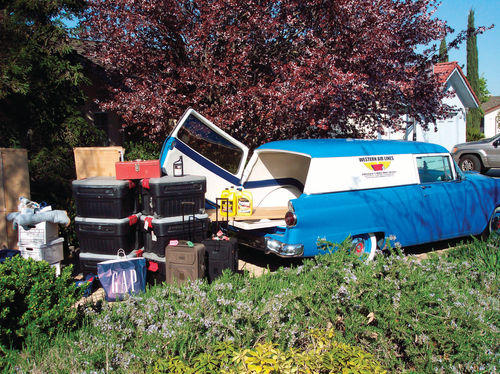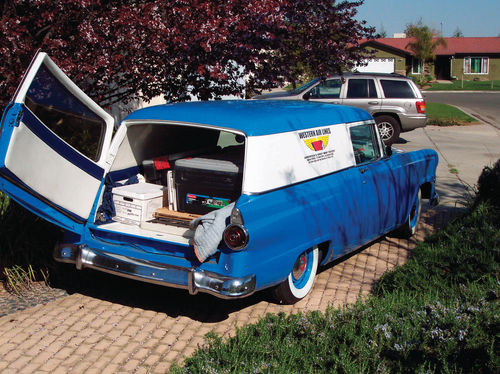 I made a deal with the Moores and three weeks later the Courier was sitting at Classic Interiors by Stitch in Fresno, California.
My intention was to restore the delivery to the point where I could drive it to aviation shows and conventions plus attend the occasional car show.
So I got an $8000 loan from my credit union to use in the car's restoration…and away we went!
The Project Begins…
The 1st person I contacted was Rod White, the owner of Rod White's Automotive Services. I tore out the old gas tank and got a new one. Replaced the fuel lines and Rod stuck a singlebarrel carb on the original 223 I-6 engine. After a little coaxing, she fired right up.
I cleaned everything out of the car; mostly old carpets that someone had used as a bed. I pressure washed the entire delivery. Tons of mud, straw, you name it, came out of that thing!
Next it was body and paint time. In early 2000 I contacted a metal man to help me replace the floor pan and all the metal from your knees down. The doors, hood and rear door were in good shape so we only had to replace the rust.
In late 2000, I met a young man who was a "hungry painter." He needed the experience and something he could show body shops as proof of the work he could do. I had the paint equipment he needed to use; paint guns, spreaders, sanders, etc. and the two of us prepped and painted the car within two months. The Courier was painted a "grabber" blue and white. The blue was actually a code that Ford used for 1955 Fairlanes and Victorias.
Now it was time for upholstery and glass. In 2001 I found a "mom and pop" upholstery shop. I was pressed for time for a convention where I wanted to use the Courier as a part of our display.
I ordered carpet but got Chevy carpet, not Ford. Finally I got the right Ford carpet.
I ordered door and vent window glass, and it too was wrong. I received glass for a '55 Ford F-100. The glass was $150 and came from Michigan. I called the glass company and they said they would send me the right glass overnight and told me to throw away the glass they gave me by mistake. No way. I went ahead and returned the wrong glass to them.
The upholstery shop I used was a bad joke. "We will get your car done in three weeks," they said. It sat in a corner for five months. Then, when the shop owner needed money to buy an old van for his business, he got my job done in a week and demanded I pay him $1500 in cash. I wrote him a check instead.
I missed doing the convention. Matter of fact, I had to miss two of them because of the broken deal.
A Much Better View
So, what's left? A windshield. It is not wise to drive a car with a crack running the full length of the windshield. Stitch told me to contact a Fresno company called Cheap Glass. Fearing the worst, I asked the lady who answered if they had a windshield for a Ford Courier. The lady laughed and said, "We have them for the 1955 Ford Fairlane. It's a taller glass than the Ford Victorias, but the Fairlane glass is the same size as the Courier. Our installer will be over at Stitch's shop before the end of the day."
Two hours later they had installed a perfect 1955 Fairlane windshield and the cost was only $100!
Getting Noticed At Shows…
I drove the Courier to some of the local shows, but 2001 was shot as far as using it for the conventions.
It is a little cruiser, gets great gas mileage and can haul a big load, but, boy oh boy, did she whine when she went over 55. Having a factory 4:11 rear end will do that and makes for interesting driving on Hwy 99. I made three trips from Fresno to Reno and Las Vegas each before I finally got an original '55 Ford factory overdrive transmission installed in her. Now 65 mph is an easy cruise.
Like I said, the intention was to use her as a company car, and she has no problem filling that request. She's done the Women In Aviation, and the Airborne Law Enforcement Association conventions in Reno. She's gone to Las Vegas about three or four times for the National Business Aircraft Association, three times to Long Beach, California, a dozen times to Pleasanton, California, to sell parts, and once I drove the Courier to Portland, Oregon, as part of our company display for the Airliners International convention. That time the local TV crews filmed the delivery and barely mentioned the rest of the convention!
…And Drawing Attention On the Road
I went to our local sign maker and had them make two signs for our Ford. On the passenger side of the delivery I had advertising for Western Air Lines, "The Only Way to Fly." (My wife was a former Western flight attendant.) On the driver's side panel, I have our company information, with our 800 number. You would not believe how many times someone will start to pass us on the road, see the 800 number and my cell rings! "Nice car! We just passed you!" I love it!
If I Could Do It Again…
Now, what would I do differently if I could start over on this project?
I would never have changed the wiring from 6 to 12 volts; the gauges have never worked the same. I would buy radials instead of bias tires. Next time, I'd change out the heater core before it leaked on the nice, pretty, new carpeting!
And to keep my wife happy, I might spend a little money for air conditioning. That I-6 engine is a tough one; it can handle the extra load from an a/c system.
As for my $8000 budget? We came close, real close.