Lessons Learned From a Model A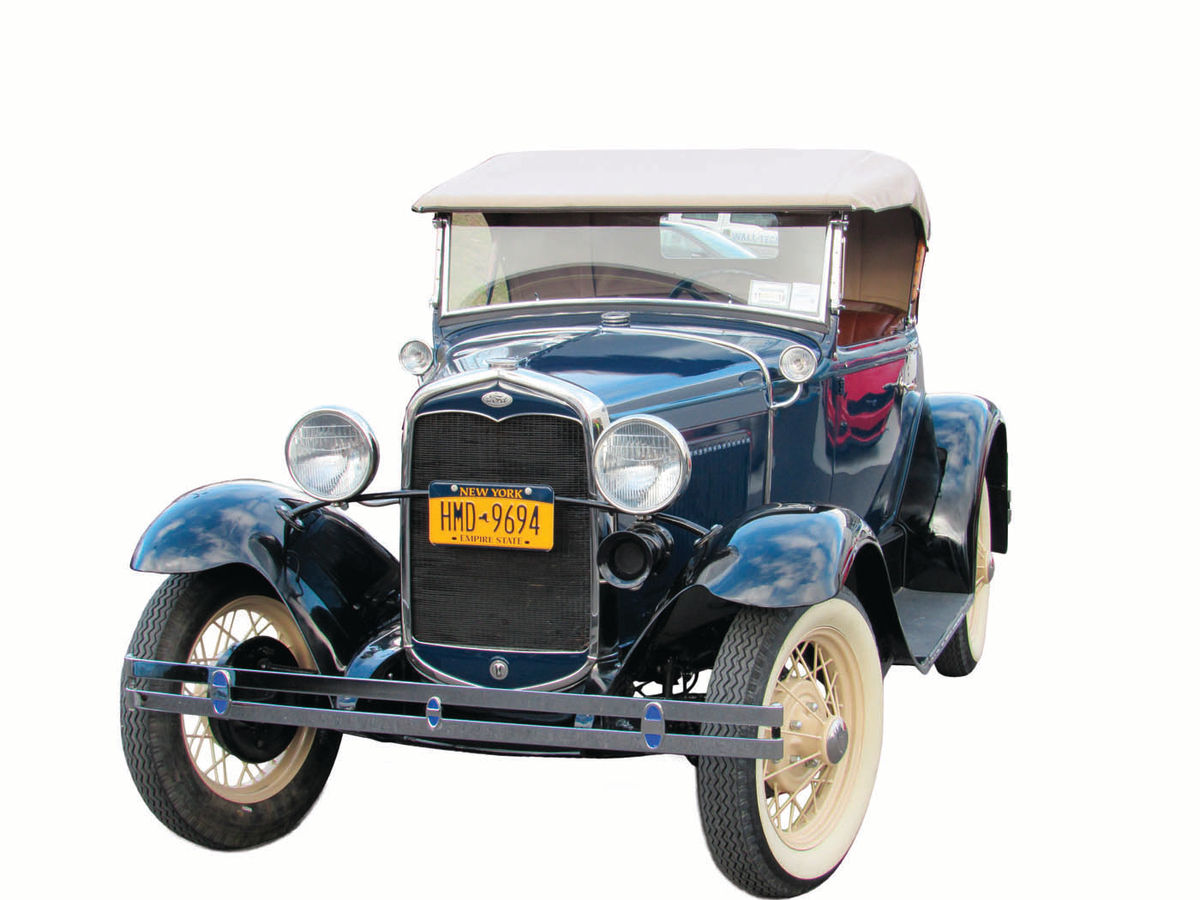 Veteran Club Members and Teenagers Have Worked Together for Years Restoring Model A Fords. It's Been a Valuable Experience for All Involved.
It has been awhile since we've talked about our special restoration program, so I think it's time we brought you up to date. We are the Adirondack A's Model A Ford Club, a regional club near Albany, New York, that restores a Model A about every 18 months.
There's nothing all that uncommon about a club restoring vehicles, but what's different about our approach is when we do these projects we work with twelve to sixteen young people, ages twelve to seventeen.
We provide the vehicle, tools, safety equipment, handouts and lunch. The young people, both boys and girls, form a group; learn by using a handson technique, and form short- and longterm goals.
The model of our program is to restore a Model A, show it off at schools, local parades and car shows, and then sell it so we can put the money back into the program and finance another project.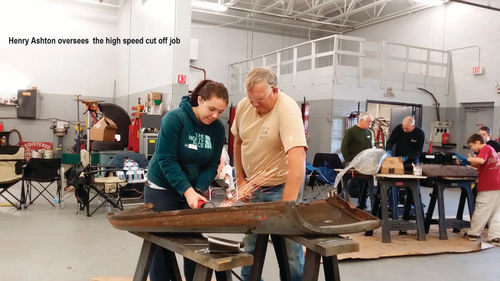 And while teaching and learning restoration skills are important, the program is more far-reaching than that. We emphasize staying in school, getting their hands dirty, learning the history of the project car, safety, working with others, setting goals, time lines and cost estimates…and friendship. We do everything together. We work together, take breaks and have lunch together. We also set aside a time at the end of the day for cleaning and accounting for all of the tools.
The last time we appeared in Auto Restorer, our group had completed a 1930 Huckster truck and a 1930 boattail Speedster.
Our first project, the Huckster, started with a 1930 Model A rolling chassis and we built the Huckster body out of white oak. Once finished, it was lettered with the name of our club and the youth project. We kept this truck as a club vehicle and use it for program recruitment purposes, attracting donors and for community service.
We then had a frame, front end, and rear end donated (1930) and decided to build a boattail Speedster.
We got a cowl, hood, radiator, radiator shroud and started building. We mocked up a body from strips of heavy cardboard and tape and decided to leave it fenderless. We then obtained an engine and transmission.
We built the framework of the body with plywood and covered it with strips of red oak. We designed the headlight brackets and a local foundry cast some side steps (one-off) for ease of entry as we provided no doors, believing that would result in a sleeker look.
Once finished, the Speedster was sold to a man in Hilton Head, South Carolina, and he promptly took it to a concours show and won. The certificate and plaque were donated back to our club and are quite a source of pride for us. His son now owns the car in Charlotte, North Carolina, and is the hit of his neighborhood.
From the Sleek Speedster to a Truck
When last we appeared on these pages, we were preparing to restore a 1929 Model AA 1½-ton truck and I'll pick up the story from there.
We have completely restored the AA, showed it at area schools and at a national truck show in Pennsylvania. It was sold and we turned our attention to restoring a late 1931 Model A Roadster Deluxe.
We'll get to the roadster in a minute, but first let's talk about our third build, the 1929 (late) AA 1 1/2-ton stake side Model A truck. ("Late" has a different meaning to us. Henry Ford, as we well know, carried over a lot of parts from his previous years' vehicles. Our AA stake truck is a "late" 1929 vehicle. It's registered correctly as a 1929 but it's sporting 1930 sheet metal, axles, transmission and wheels. The "early" 1929s had lighter weight running gear and wheels.)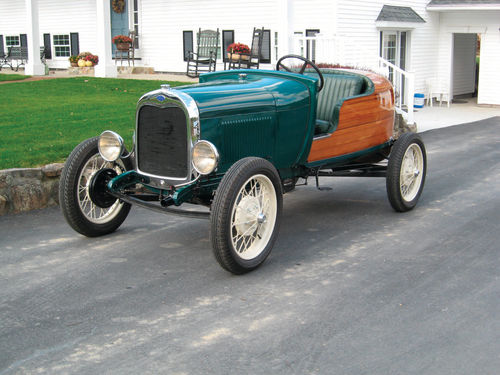 We obtained our stake truck through a sealed bid auction with the Antique Truck Club of America (ATCA). The truck had been willed to the ATCA by the estate of a Vermont man and I had suggested that we buy it.
As we drove to pick up that project vehicle, no one had seen the truck but me and I had only seen a photo. I was sweating bullets until we arrived. The truck was in better shape than it had seemed in the photo. We now had her in our possession.
We decided to gather the mentors before that date, go over the truck, take pictures, and see if it would run. We checked for leaks, turned it over, and after some coaxing, it fired up. She blew a nest and a mouse out of the exhaust but ran. The right rear brake drum was bad and was replaced.
Now it was ready for a restoration involving mentors and students, and the truck was taken to the site where we do our restoration work, Jack Byrne Ford in Mechanicville, New York.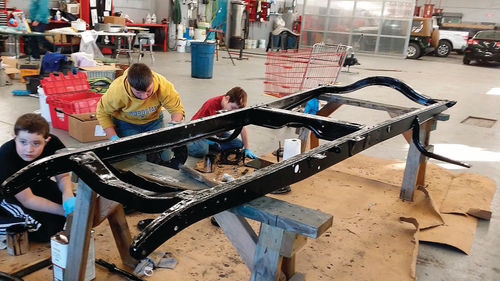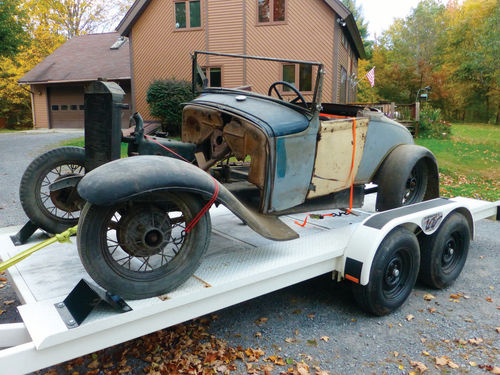 In two work weekends the truck was reduced to a pile of parts. Small parts were cleaned, bagged and tagged. Larger parts were cleaned. Numbers were found and logged. The VIN was even photographed.
Every part was examined before painting and replacement on the truck. If there was any doubt as to its ability to work properly or safely, it was replaced.
The list of new and restored parts is very lengthy but they are accurate. Whatever we found attached to the truck, such as the big tow rings at the rear, we left as original. Not one piece of this truck hasn't been handled, cleaned, thrown away, replaced, re-used, painted, greased, upholstered, planed, sanded, stained, varnished, welded or otherwise subjected to someone's scrutiny.
The cab, chassis, fenders, running boards, side boards, hood, transmission, wheels, axles, rear member, flat bed and attaching hardware are original. Anything that had to be replaced was done so with authentic replacement parts, some hand-built. The wood on the flatbed floor is Southern Yellow Pine, just as Henry Ford ordered. The original exterior color was found, matched and painted just like when it came from Detroit.
As noted above, Henry Ford was switching production of the AA model to a heavier truck and started in late 1929. This "late" truck has a 1929 cab and radiator shell, 1930 gas tank, 1930 axles, wheels, 4-speed transmission, and some other little unseen parts that actually came on the full-production 1930 AA trucks. But she is registered as a true 1929.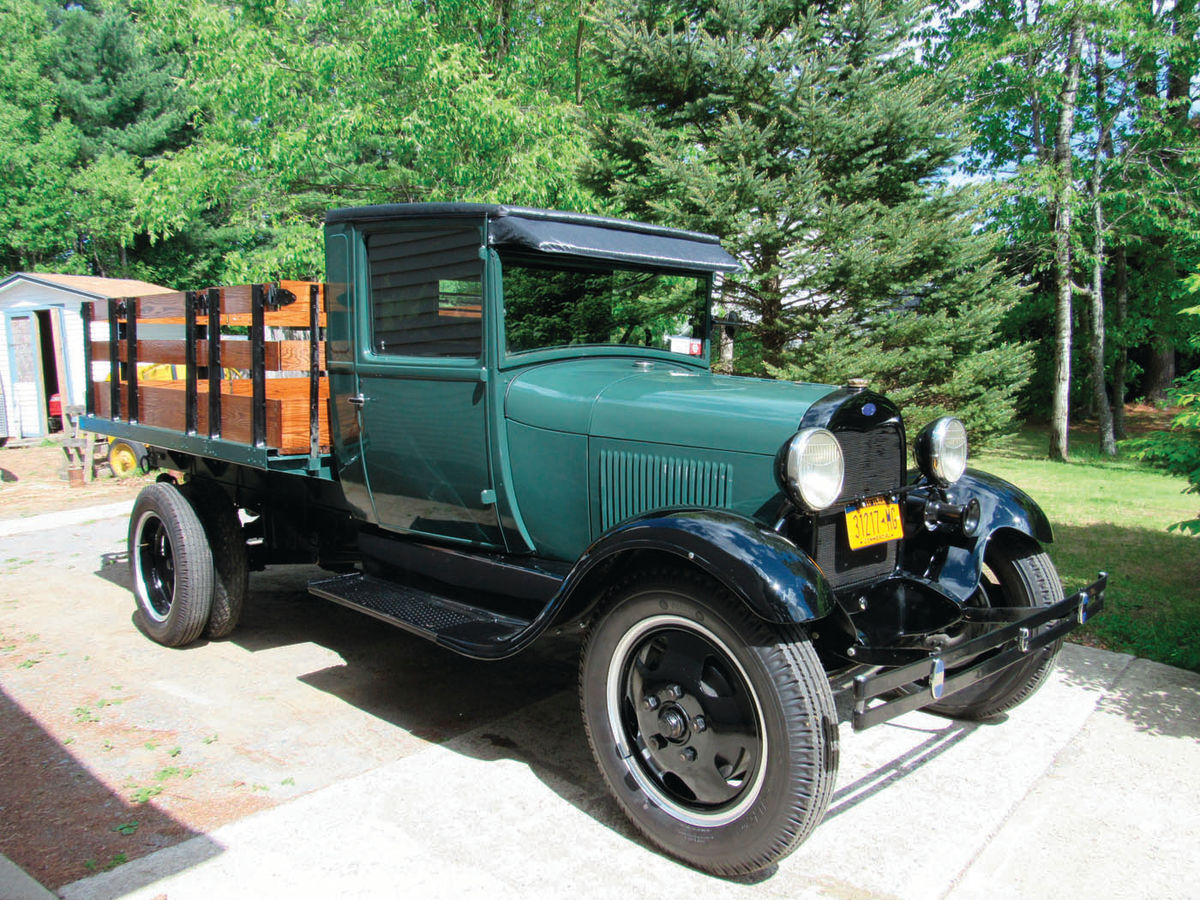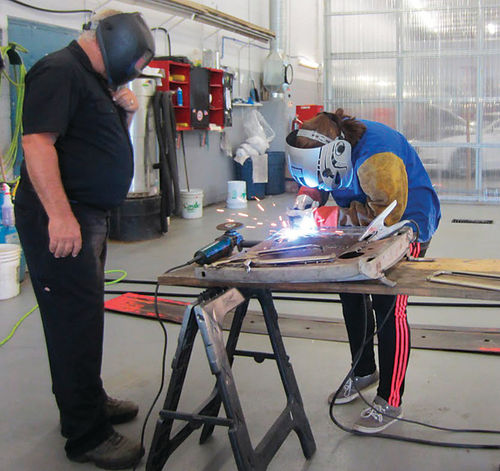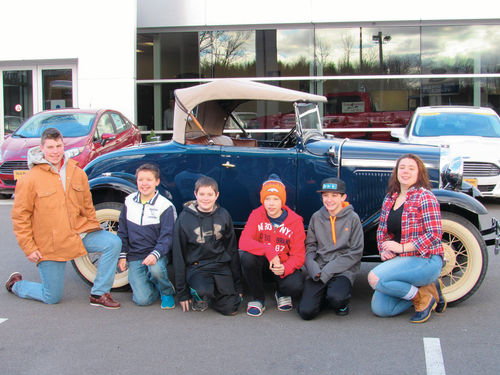 We took the truck to the ATCA National Show in Macungie, Pennsylvania, and while we didn't take top honors, we created quite a stir. The ATCA gave us a special award and presented us with a plaque, certificate and original Moto-Meter, and gave a show t-shirt to one of our students who attended.
The truck was purchased by a retired state policeman and remains in the area. As a bonus, he since has become a member of our club and is a very enthusiastic member to boot.
Turning to a Sporty Roadster
A local collector then offered to sell us the above-mentioned roadster. He told us he had health problems and couldn't restore it, so we purchased it with the help of a benefactor. The car is a 1931 (late) Model A Deluxe. It was a pile of parts and we bit off a big bite this time. Some was restorable, some wasn't. We could only use the motor as a boat anchor because it was cracked so badly.
We tore this one all apart also. When we got to the point that we could hang the fenders we noticed something was wrong. One fender looked too long. Had our body twisted that far out? No, it was the wrong fender. Fortunately, a member had the correct one and we were back in business. LeBaron Bonney, the auto upholstery company (lebaronbonney.com), donated the upholstery and top and what a nicecar we had when it was finished.
We will show this car off, take it to parades, shows and schools and then place her for sale. Then we will move on to our next project in September.
Next Up…a Sedan
I have only seen our next project vehicle once and it currently is in storage. It's a 1930 or '31 Model A fourdoor sedan and is on the frame but was under restoration. One of our club members had the vehicle and when he passed it was in his will that our youth project program should have it.
We plan on hauling it out this spring, inventorying it and checking to see what we have to do and not do. That way we'll know what to expect this September and get a head start on obtaining the extra parts and people we need.
A Very Worthwhile Endeavor
Our youth program has been a lot of work but also been very rewarding.
In the beginning of a build year the young people generally are frightened of everything that makes noise, produces fire or they guess might hurt them.
After mentoring them using the power and air tools, along with safety guidelines, they overcome their fears. I have found that when I need a torch to heat or cut something, need a belt sander or want to MIG weld something, the young ladies will push a boy out of the way to use them. The young men seem to gravitate to the engines, running gear, painting and air sanders.
We do get some hurt feelings and some are a little shy at first but by the finish of the restoration all is well, and that applies to the mentors too. We all learn.
Our mentors range in age from their 40s to the 80s. Watching the young people learn and work together with their mentors is something to see. Mentoring and working with young people that are teenagers is beyond words. It's very hard to describe but you can sense their desire to learn and transfer what they learn to their hands. You can see it in their eyes and actions.
Our students tear everything down, tagging each piece, learning how it works and why, cleaning, painting and re-assembling the good and the repair parts. The engine, transmission and rear end are all re-assembled and installed in the freshly restored chassis. The body is repaired, primed and placed back on the chassis. They do all of this under our supervision. They set their goals for the day and if they complete those goals they start on something new. It isn't uncommon for us to tell them it's time for lunch or to end the day and they ask for a few more minutes to get that one last thing done.
At the end of the day they enthusiastically tell their parents what they accomplished, what they learned, and what they have planned for the next build day. The feedback to us from the parents has been positive.
A Lasting Effect…
Our club members are a mixed bunch of souls with a common interest, Ford Model As. The mentors of our youth program come from all walks of life and love what they do. Some are professional teachers while the rest of us are policemen, mechanics, machinists, engineers, lawyers, businessmen and spouses. Most of us are retired. We actively search for new members but I think all groups have this same problem.
Time has slipped by and we need new blood. Fortunately, some of our students have become members.
We realize that our students may not go on to become mechanics, bodymen, etc., but they will not be as afraid to take on any future projects and goals, no matter if they are current school classes, work in future schools or advanced studies. They will have other careers but they will also know how important their restoration project was to them as they sit on school boards, museum boards and perhaps taking part in auto and truck clubs.
We do think that a few of our students may wish to enter the automotive field and we have a small scholarship fund for them if they apply for it.
We encourage other clubs and organizations to start a program like ours or on a smaller or larger basis. Clubs are welcome to contact us at PO Box 1246, Clifton Park, NY 12065.
In our area, our schools have dropped the courses we knew as "Industrial arts" programs. We try to fill that void.
By the way, cell phone and other electronic device use is not allowed during a build day. Opposable thumbs are meant to hold tools, steering wheels, a firm handshake, books, pizza, hotdogs…and homemade cookies.