IT'S TIME FOR A HOLIDAY VISIT WITH STROKER MCGURK
Years ago when you were in school, no doubt you spent most of your time deep in your textbooks and once in awhile you'd read Time or Newsweek to keep up on current events.
And then, on very rare occasions, you might turn to a car magazine for a few minutes before your attention drew you back to your studies and schoolbooks.
But during your brief forays into automotive literature, if you happened to be perusing Hot Rod or Rod & Custom, you may well have come across a dedicated cartoon rodder by the name of Stroker McGurk.
Stroker was the creation of Tom Medley, a rodder himself in the early days after World War II who initially penned his cartoon hero for the second issue of Hot Rod magazine in 1948.
Stroker's automotive intentions were always good but he seemed to often encounter difficulties along the way such as the time he installed a blown engine in his rod only to have it actually "blow" at the drag strip starting line or when he decided that he needed a parachute to keep his car from running past the end of the strip's pavement. The 'chute stopped the car in time but it also pulled the rear axle and differential from under the vehicle.
But along with eliciting smiles from magazine readers, clean-cut Stroker and his antics were designed to combat the post-war image of hot rodders as outlaws and troublemakers. Stroker and any of his like-minded rodders definitely did not fall into either of those negative categories.
In fact, if you look at some of the images on this page, you'll see that Santa Claus himself is a rodder and is appearing behind the wheel of a '34 Ford hot rod in a drawing created by Tom Medley and presented on a t-shirt being marketed by Tom's son, Gary.
The image of the gleeful St. Nick peering out the window of his Ford with flames coming from the car's dual exhaust and smoke issuing from the large rear tires first appeared on a holiday card that delivered season's greetings decades ago.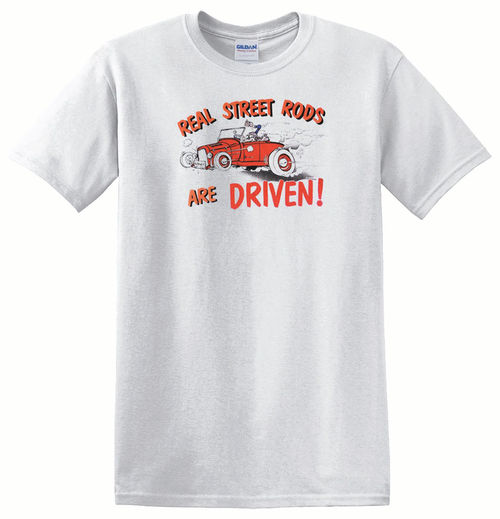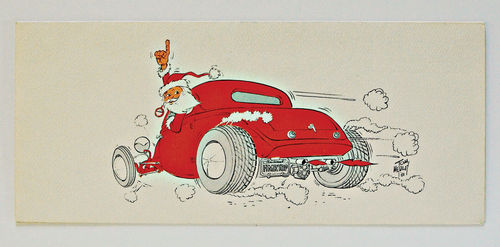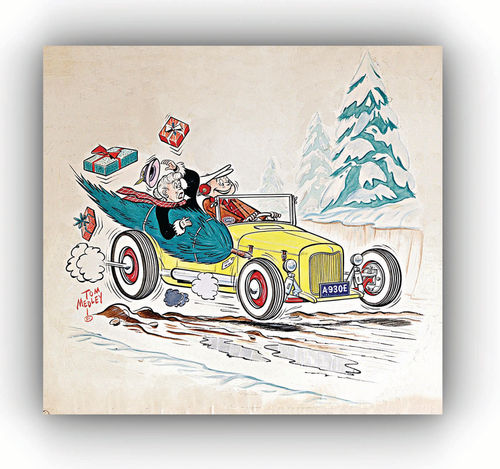 Now, if you'd like to be wearing one of these Stroker/Santa shirts when you make your grand entrance at your car club's holiday party, Gary Medley says the Santa tee is available in white, red or black, in sizes S-M-L-XL-XXL and is priced at $29.95 plus shipping.
Gary said that each shirt is custom printed per order, and is available exclusively at strokerbymedley.com— "along with a host of other Strokerrelated goodies, including decals, prints, and model kits."
Getting back to Stroker, he made his presence known from 1948 through 1965 and also put in a few appearances in the '80s. Stroker's creator wrote from experience, having owned vehicles such as a Volksrod, a T-bucket-style body on a VW chassis, and a '40 Ford Coupe street rod. Furthermore, while Tom Medley served as publisher of Rod & Custom in the 1960s, he helped create the first Street Rod Nationals to promote the use of rods as drivers. In fact, one of his illustrations shows a rod racing along accompanied by the words "Real Street Rods Are Driven!"
Medley was known for his sense of humor and even when his '40 Ford was nearly destroyed by fire, he was heard to comment "I always wanted a '40 with flames."
Fortunately, the beloved car was restored and he was reunited with his Ford a short time before his death in 2014 at age 93. –Ted Kade, Editor