IT'S THE FORD PICKUP'S 100th BIRTHDAY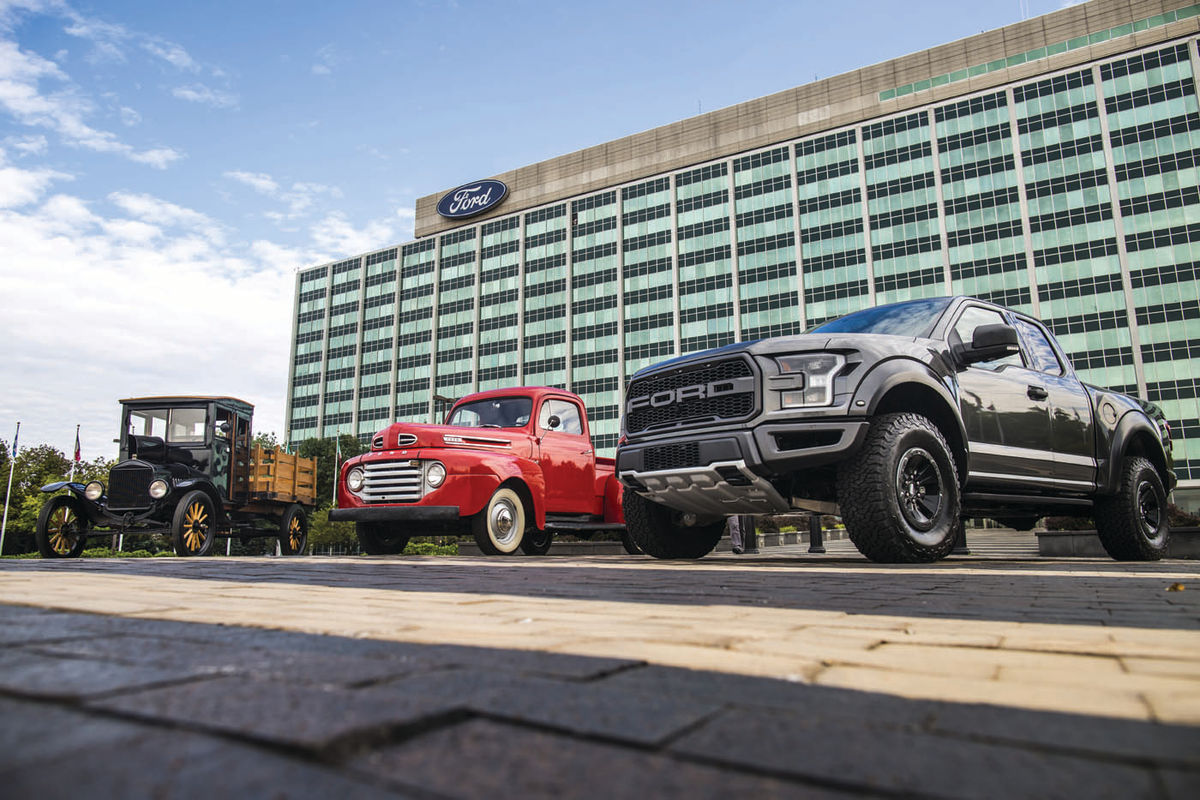 The F-Series Has Been America's Best-Selling Truck for Four Decades and Accounts for Tens of Millions of the Vehicles on Our Roads. Let's Take a Look at How Those Trucks Have Changed Over the Past Century.
They are among the most popular vehicles on the road today and when you think about it, they are called upon to perform a greater variety of automotive functions than anything else on four wheels. Some are destined to spend their lives hard at work, serving their owners anywhere from construction sites to oil fields to the nation's farm lands. Others spend their years hauling loads and working hard as well, but they're involved in recreational duties...pulling a travel trailer, a boat or an ATV secured in back. Still others are purchased as daily drivers and equipped with all the creature comforts you would find in a luxury sedan. Owners pick them because they like the style, image and feel of the vehicle and they seldom haul anything other than the road dust that collects between trips to the car wash.
What else could we be talking about but the pickup truck, a domestic icon that still stands above any competitor from any manufacturer anywhere else in the world.
Specifically, our focus today is on the Ford pickup and Ford trucks in general because the FoMoCo haulers recently observed their 100th birthday.
Filling the Need to Haul
In July 1917, some nine years after he introduced the Model T, Henry Ford presented the Model TT which the company describes as their first "purpose built" truck.
When you think about it, it made perfect sense for Henry to branch into the trucking business. After all, he saw the Model T as a utilitarian vehicle and when customers asked for something that could haul heavier loads for work purposes and deliveries, Henry figured a modified T was just what they needed.
The Ford TT retained the Model T cab and engine but rode on a beefier frame capable of carrying a one-ton payload. Henry envisioned this vehicle as one that would be completed by the owner to suit his personal needs. The owner would outfit the chassis with a bed, cargo area or other add-on that provided the functionality needed to get his work done in a more efficient manner. The day of the pickup as a driver was still decades in the future; the TT was a modern alternative to the horse-drawn wagons that were in common use at the time.
When introduced, the TT carried a factory price tag of $600 and 209 of the revolutionary vehicles were sold that year. But the idea quickly caught on and for 1925 you could buy a pickup with a cab and body. By 1928, some 1.3 million Model TTs had found buyers and just as the Model A had replaced Ford's T, the company replaced the TT with the Model AA which was based on the Model A and had a more-capable 1.5-ton chassis.
Introducing a Truck for Work and Personal Use
In addition to its added hauling capacity, the AA also provided a look at a facet of the pickup market that would further develop in decades to come. "Model AA trucks in particular had a certain class to them," said Ford historian Bob Kreipke. "Customers could use them on the farm, yet still take them to church on Sunday."
Like the Model TT, the AA was sold as a chassis and cab but it was offered in two lengths and with new powertrain and axle options.
In 1933, Ford replaced the AA with the "even more capable" Model BB with many of them outfitted as freight and mail vehicles, ambulances and stake trucks.
Two years later, Ford brought out the Model 50 pickup, equipped with the Ford Flathead V-8.
Off to War and Back to the Civilian Market
By 1941, Ford had sold some four million trucks, and changing over to production for World War II brought a great deal of experience in building heavy-duty truck chassis and four-wheeldrive carriers.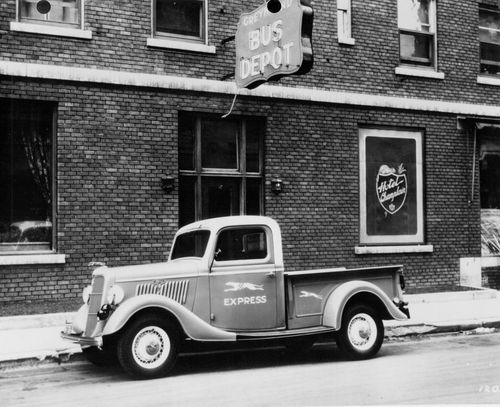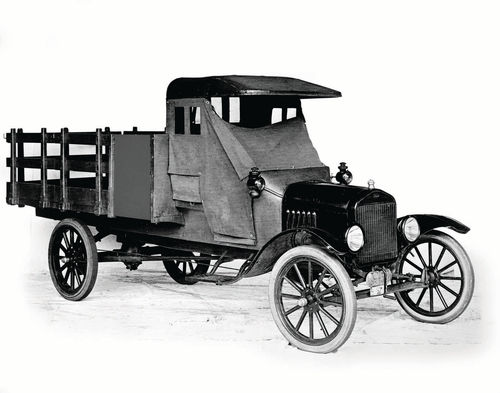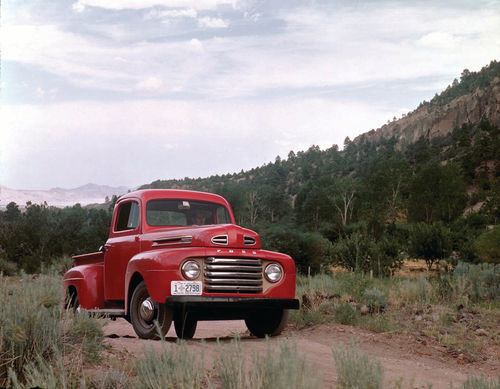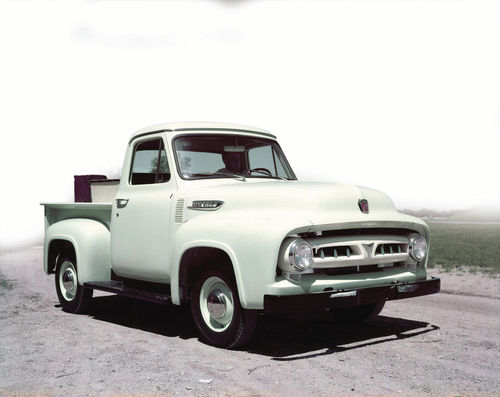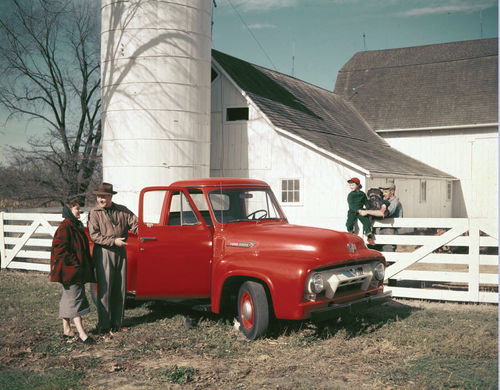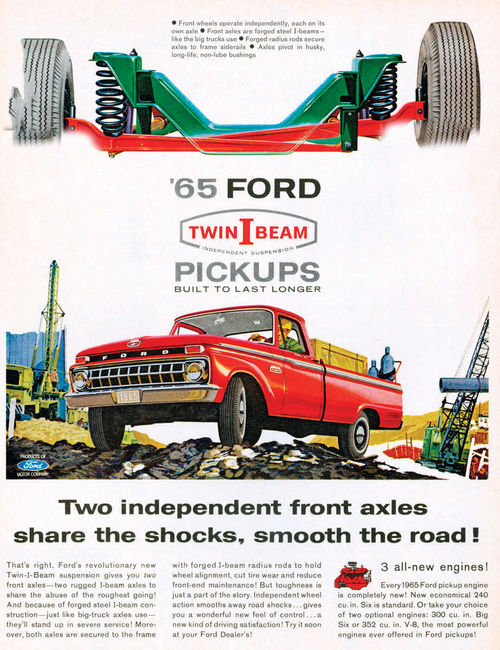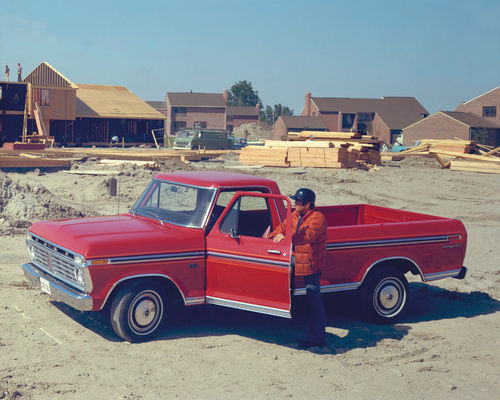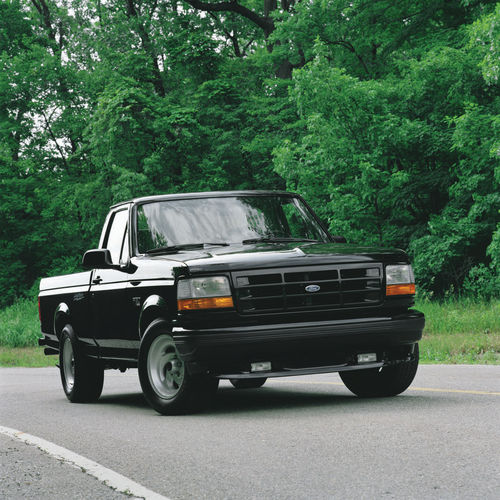 Then the return to civilian production after the war brought with it an expanded and diversified market for trucks of all sizes.
"After the war, a lot of rural Americans moved to urban and suburban centers looking for work, and many took their Ford pickups with them," said Ford's Kreipke. "Ford saw this as an opportunity and began work on the next generation of trucks for 1948, what came to be known as F-Series Bonus Built trucks."
This first-generation F-Series covered Classes 2 through 7— from the half-ton pickup, now called the "F-1," to the much larger F-8 cab-over-engine truck.
Enter the F-100
With the arrival of the second-generation F-Series for 1953, Ford increased engine power and capacity, and rebranded the series.
The F-1 became the F-100, while F-2 and F-3 trucks were blended into the new F-250 line and the F-4 became the F-350. The big Class 8 trucks, meanwhile, became the company's C-Series commercial truck unit.
Trucks Taking On Car-Like Features
As the company moved through the post-war period, its trucks started to look less utilitarian and were now available with features that had previously been found only on their car siblings, such as two-tone paint, automatic transmissions and improved heaters and radios.
Also consider that the nextgeneration 1953 F-100 had a lower and wider cab, integrated front fenders and a more aerodynamic design. And inside, standard features included armrests, dome lights and sun visors.
Built Ford Tough
Moving through the '60s, Ford introduced practical features such as its Twin I-Beam front suspension that came out in 1965, and also moved forward in the comfort and image areas with features such as power steering and brakes and a lower chassis profile.
In 1974, the larger SuperCab option featured more comfortable seating for those who wanted to use their pickup as a work and/or family vehicle.
A year later Ford dropped the F-100 pickup in favor of the higher-capacity F-150 and in 1977 the company introduced the slogan "Built Ford Tough," which Ford says has become "the F-Series brand promise to its owners and the mantra for Ford's entire truck team."
Moving Upscale and Downsizing
Premium-edition trucks, such as those with the Lariat package introduced in 1978, carried even more comfort features such as air conditioning, leather trim, and power windows and locks.
In 1982, Ford introduced its own compact truck, the Ranger, which the company said it offered "in diverse markets around the world."
While Ford stopped Ranger production for the U.S. in December 2011, it continued to sell the smaller trucks in those other "diverse markets" and now says an updated Ranger will be available in the States for the 2019 model year.
Continuing to Evolve
More high-end trim came with an expanding lineup that included the King Ranch, Platinum and Limited model trucks. Among their special features were heated seats, premium leather-trimmed seating and sunroofs.
But changes weren't limited to looks and comfort as Ford brought its EcoBoost V-6 engine to the pickup line in 2011 to provide the improved fuel economy that's expected even in a truck these days.
Then in 2015 Ford brought out the industry's first lighter-weight, highstrength aluminum-alloy body for the F-150.
But at the same time that Ford was working on improved fuel economy, it also brought out the F-150 Raptor, a purpose-built truck for off-road performance enthusiasts. And the company didn't stop there. Today's second-generation 2017 F-150 Raptor is equipped with a 450-horsepower EcoBoost V-6, a 10-speed transmission and a Terrain Management System with an electronic-controlled transfer case and differentials.
Get Behind the Reins and Wheel
Considering the incredible changes that have taken place in the truck industry over the past century, an interesting thought comes to mind.
Give this a try… Picture yourself as a person who started out hauling goods with a horse-drawn wagon in the early 1900s and then moved on to a Model TT shortly after they became available.
Now place yourself behind the wheel of a modern pickup with every amenity available such as those described here. What do you suppose would impress you the most…the power, the handling, ride comfort, nice seats, the A/C and stereo system…
Or now that you've read this article, would you figure that yes, you're glad you aren't dealing with horses any longer or muscling a TT down the road, but while modern trucks may be fine for some people, you'd just as soon be driving a nicely restored F-1 or maybe a '53 F-100.
It would be interesting to take a readers' vote on that one.