The Racing Life of
WHEN PAUL NEWMAN and Robert Wagner were cast as Can-Am, NASCAR and Indy drivers in the 1968 film "Winning," director John Frankenheimer decided that it would cheapen the movie if the two Hollywood stars just sat in stationary vehicles while track action played on a screen behind them to simulate their involvement in the big-time races.
Instead, he decided that they would have to look, act and drive like professional race car drivers…and actually drive hard for the cameras.
To achieve that level of realism, the film's honchos brought in pro racing instructors Bob Bondurant and Roger Ward.
Let Robert Wagner tell you what happened next:
"You could tell, right from the beginning, that Paul got the look of eagles in his eyes," Wagner related years later. "You could see the start of his passion for the whole sport and the racing life. We had to learn to walk, talk and drive like racing drivers, and we did it. The only difference was that he absolutely loved it, and I was scared (expletive deleted). We were running a hundred and forty, a hundred and fifty miles per hour down the front straight at Indy. I always thought the cars were going to fly apart, but he couldn't stick his foot further into it. If they had lights on the track, he'd have been practicing at night."
This, of course, wasn't the start of the famed actor's involvement with cars or performance vehicles for that matter. As a young man, he drove a 1929 Model A and a 1937 Packard. In the '50s, he turned to VW Beetles but was dissatisfied with their performance. So, his mechanic dropped a Porsche engine in the VW, added Porsche brakes up front, sway bars, Koni shocks and Dunlop tires…and Newman became a happy Beetle driver.
But while he already had been a person who enjoyed time behind the wheel, it was his involvement in that '68 racing film that got the track life in his blood, and hence the name of this book, "Winning, The Racing Life of Paul Newman."
Written by motor journalists Matt Stone and Preston Lerner, the book traces Newman's involvement as an amateur and professional driver where he met with considerable success in a range of cars and venues, even though he got started in his 40s, a time when many racers are ready to hang up the helmet. He also participated successfully as a team owner. His partnership with Carl Haas in Newman/Haas Racing produced a number of CART/Champ Car titles during 25 years of Indy car racing.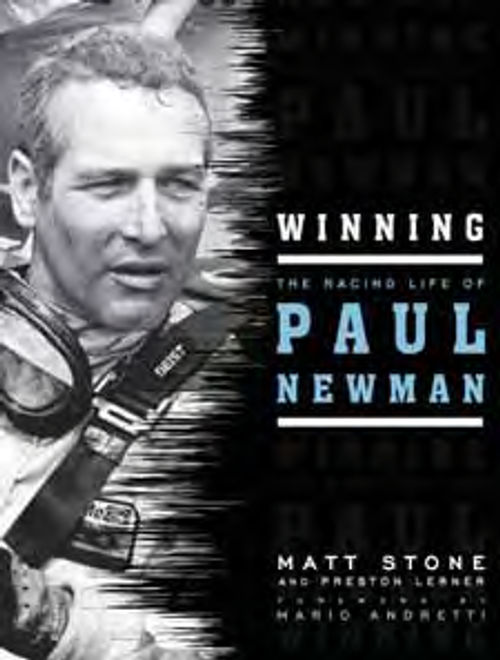 The story is told through numerous photos of Newman and his various rides along with commentary from racers, owners, engineers and mechanics who worked with "PLN" (Paul Leonard Newman) as he was identified on his helmets and cars. In addition to the above narrative provided by Robert Wagner, the roster of folks offering insight regarding Newman's racing career includes the likes of Mario and Michael Andretti, Bob Sharp, Dan Gurney, Bobby Rahal, Danny Sullivan, Christian Fittipaldi and Lyn St. James.
What comes through in the commentaries is that despite his fame, Newman didn't join the racing crowd to be adored as a celebrity, but to be accepted as a fellow participant. He was a guy who preferred being in the pits instead of lounging in a luxury suite at the track, a fellow who was known to show up at times trailering his car behind a motorhome. And, along with that, he was a very good driver.
As rival racer St. James put it: "I was so impressed with his driving. He hit every apex, coming down the hill like clockwork every time, on a perfect line. He was good, and he was consistent."
He also exhibited extraordinary longevity as a driver…perhaps because he got such a late start in the sport. In any event, his final race victory came on Sept. 29, 2007 at Lime Rock Park when Newman won his class in a 25-lap sprint race with a best average speed of 101 mph. He was driving a red, white and blue Corvette bearing the number "82," his age at the time.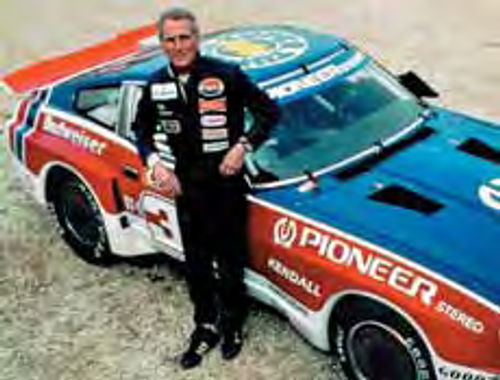 The following year the Corvette received numerous updates and its number was updated to "83" as well. But by that time, its famous driver had been too weakened by lung cancer to get behind the wheel. The car was still waiting, ready to hit the track again, when PLN passed away on Sept. 26, 2008. —Ted Kade
Motorbooks—400 First Ave. North, Suite 300, Minneapolis, MN 55401, motorbooks.com; ($30)