From the Meet to the Street
Can You Go to a Major Swap Meet and Gather Enough Parts to Build a Vehicle? This Group Arrived With Some Basics… and Took It From There.
Everyone knows that it can take years to turn a long-neglected vehicle into a roadworthy driver. But what if it could be accomplished in about four days? That might pique the interest of some people who are considering a try at the hobby, now wouldn't it. Hagerty, the folks who specialize in insurance for vintage cars and trucks, decided to show that a quick build could be done, and undertook the project at last fall's massive swap meet in Hershey, Pennsylvania.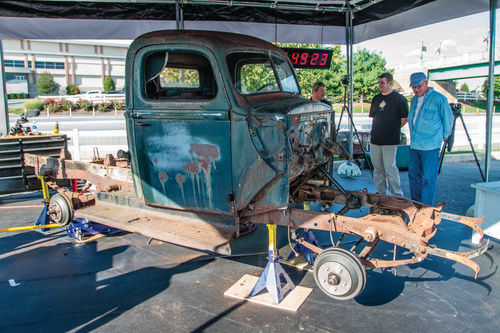 In less than 100 hours, a team of four Hagerty employees built a 1946 Ford pickup relying heavily on parts they secured at the meet. And while the "Swap to Street" vehicle won't be garnering any concours best-of-show awards anytime soon (it hasn't been repainted), it was driven 700 miles from Hershey to Hagerty headquarters in Traverse City, Michigan, and will be making several show and driving appearances this year.
Granted, the Hagerty employees didn't just drop in at the meet with some tools and a parts list in hand. Before leaving Michigan, they had secured a cab, front clip and frame and had refurbished the vehicle's brakes and suspension.
Here's how Hagerty described the donor vehicle as it was found: "Despite its wheels being buried six inches in the soil behind a barn in northern Michigan, the truck rolled out of its slumber surprisingly well. It had no engine, and had been sitting outside for decades. At first glance, the truck was in better shape than expected. The body was solid, the glass was good and it had a natural patina."
Along with trailering the truck's cab, clip and frame to Hershey, the build team also purchased basics, such as fluids and filters, from an auto parts store. But every other part was sourced from the meet, and the build took place on the meet grounds, in front of an audience.
To get some personal insight into how this all came about, we spoke with two of the involved employees, Matt Lewis and Davin Reckow. Here are some of their comments:
Where did you get the idea for this type of promotion?
We had just gotten back from a swap meet and said something about there being enough stuff available at a big show like Hershey to build an entire vehicle out of swap meet parts. Soon after that, I was involved in some meetings with our marketing people. I suggested building a vehicle at the show from parts sourced at the meet. As far as what was available out there, we just started looking. It wasn't like we had arranged things ahead of time. And the crowd helped a lot. Honestly, we had people stopping by (our build station) and telling us where they had seen a part we needed or that they knew of a guy who had one.
The truck originally was from Michigan?
Correct. From everything we've found on it we don't know that the truck ever left Michigan before the trip to Pennsylvania. It had a front plate from 1962 that's a Michigan plate and the title we received is from 1957 in Maple City, Michigan. The truck itself is a 1946 model. We did wind up with a later flathead; an ABA of the type used from 1949 to 1953. I believe it's a 1952 engine. The bed is a 1952 as well. But everything fits. Ford wasn't changing things drastically from year to year during that time.
Was the project easy or hard or somewhere in between?
It was somewhere in the middle leaning toward hard. It was such an incredibly short timetable. At no point did we feel that we were rushed to cut corners, but we were working all of the time. Fortunately for us, Hershey has a Quiet Time at night because so many people camp out there. So, we had to shut down at 10 or 11 p.m. and couldn't come back until 7 in the morning.
What did you start with?
Surprisingly, a lot of this truck was good. Whoever decided to store it was nice enough to coat every moving part with grease. So, after we chopped all the grease off, everything was in surprisingly good shape. For example, the steering and the lever shocks were functional. We just reused the lever shocks that were on the truck.
When you fixed rust, did you do all that at Hershey?
Yes. Woodward Fab got involved in the project at Hershey by helping us make a lot of the panels we needed. We brought a big piece of sheet metal for them and Davin is a welder. So, he made the panels, he put the bends in them and then he welded them into place. He also cut out the rust. That all happened at Hershey. (Woodward Fab is a metal fabricating company based in Hartland, Michigan. Visit woodwardfab.com or call 800-391- 5419 or .)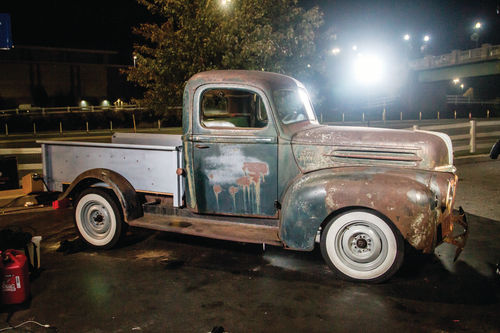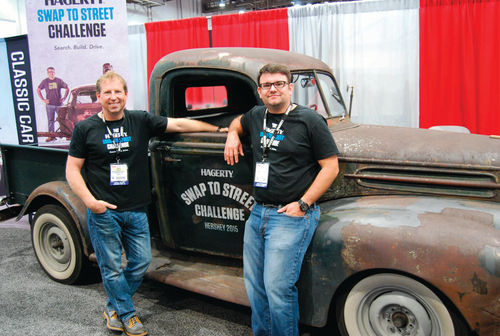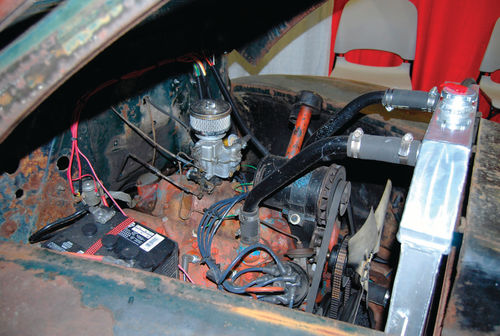 Did you rebuild the whole driveline?
No, we actually found it. A gentleman stopped by at Hershey and said he had an engine on a stand at his nearby home and we could start it up to watch the oil pressure and temperature. It was quite out of tune, which was one of the things we had to take care of the morning we took off for home.
And you drove it home from the meet?
Yes. We had a few–I'll say understandable–hiccups along the way. A used fuel pump failed on us. And we had what was a used coil that started shorting out to ground. We replaced those two parts and did a small tuneup in the parking lot of our hotel in Youngstown, Ohio. Away we went after that and the truck has been going strong ever since. It gets about 15 mpg and it chugs right along at 60 mph with its flathead eight and three-speed stick shift.
Staying on the Road
Hagerty said its "Swap to Street" Ford pickup has a full schedule ahead of it this year. In addition to being featured in several DIY videos throughout the year, the company said, people had the opportunity to see it driving around Florida during the Amelia Island Concours weekend in March and it will be involved in more than 2000 miles of rallying across the country during the 2016 Great Race (San Rafael, California, to Moline, Illinois) on June 18-26.