Ford's Limited Edition Anniversary MUSTANG
In Honor of a Half Century of Mustangs, Ford Is Building a Few Very Special Pony Cars. We Wonder How Many Will Ever Get Their Tires Dirty.
WE'VE TALKED A good deal about the 50th anniversary of the Ford Mustang this year, so we figured we also should give you a close-up look at the special Mustang 50 Year Limited Edition that Ford will be building "to honor five decades of Mustang heritage."
"When Mustang was approved for development more than 50 years ago, I don't think anyone imagined it would spawn such a dedicated base of fans around the world and still be in production today," said Bill Ford, executive chairman, Ford Motor Co.
But, hey, not only is the Mustang still in production, it continues to be very popular with car-buying enthusiasts, so why not produce a special edition to observe this milestone in automotive history.
The Mustang Limited Edition model run will be held to only 1,964 cars to reflect the year that the famous pony first appeared in showrooms. As for market details, Ford has only said that the 50 Year Mustang will go on sale this fall and no price has been announced. But you can bet that the cars will be snapped up quickly and many will be trailered to climate-controlled garages where they can sit while their owners keep checking to see how much the special vehicles have appreciated in value. After all, no need to be overly hasty and send them off to major auctions before their bottom line seems to have maximized.
A Special Car Both Inside and Out
Based on the all-new 2015 Mustang GT fastback with performance pack, Ford said the 50 Year Limited Edition "is designed to provide customers with outstanding performance and a unique appearance that will be instantly recognizable on the road."
This special-edition Mustang will come standard "with nearly every available option," the company said, with the only choices available to customers being color — Wimbledon White or Kona Blue — and a six-speed manual or automatic transmission. Both colors are exclusive to the limited-edition car.
Ford noted that Wimbledon White was the color sprayed on Mustang serial No. 0001, a car that was first sold to a Capt. Stanley Tucker in April 1964.
Interestingly enough, however, the company now says that wasn't the first Mustang sold to the public.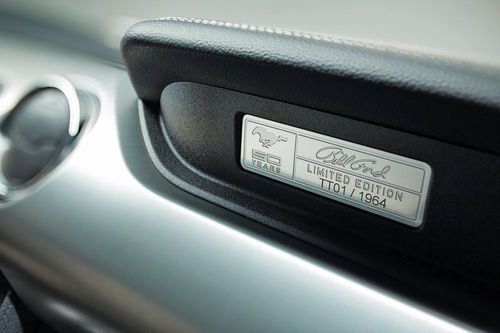 Instead, a young Chicago schoolteacher named Gail Wise "made history" when she became the first Mustang owner in America, Ford said. What makes this example unique, the company explained, is that Wise bought her Mustang on April 15, 1964, two days before the car was set to go on sale. A mix-up at the dealer resulted in her making the very first retail purchase of a Mustang.
Unlike many people who sold their early Mustangs only to later wish that they had held onto the cars, Wise still owns her pioneer pony and fondly recalls those early days of Mustang ownership a half-century ago. "There was a middle school attached to our elementary, and the boys fawned over the Mustang," she remembers.
A Modern Limited Edition With Some Retro Touches
While no one will mistake the 2015 Mustang or its Limited Edition companion for the groundbreaking car that entered the market five decades ago, Ford has taken some steps to tie the new Mustang in general and the Limited Edition in particular to its original pony car predecessor.
"The new Mustang blends a muscular, contemporary shape with design cues that define it as quintessentially Mustang," said Moray Callum, Ford vice president of design.
"The 50 Year Limited Edition adds details that set it apart from other Mustangs, while hearkening back to the 1965 original.
"Chrome trim was much more prevalent on cars in the 1960s than it is today, so we added some discreet highlights for the grille, side glass and tri-bar tail lamps," said Callum. "The darker Kona Blue provides a particularly striking contrast against the chrome."
Chrome bezels surrounding the base of each of the three tail lamp blades take inspiration from the original 1962 design proposal by Gale Halderman that became the basis for the production model that debuted in 1964. The three individual lamps on each side of that design were combined into a single tri-bar lamp cluster for production, but the original concept has returned five decades later.
In addition, the Mustang 50 Year Limited Edition will be the only 2015 model with a large faux gas cap badge on the rear fascia — echoing the gas caps found on and often stolen from the first Mustangs — with 50 Years added to the GT designation on the current trim.
Another visual element that won't be found on any Mustang but the Limited Edition is the louvered rear quarter-windows. Unlike the external louvers on the quarter-windows of the 1965 fastback, the new windows are comprised of layered sheets of glass built with a construction technique developed for this car.
Now, Let's Get Behind the Cashmere-Stitched Wheel
Once inside the Limited Edition, folks will immediately know that they are getting up close and personal with a special car.
The aluminum trim that spans the double-brow instrument panel gets an axel spin finish (a variation on engine turning) different from other 2015 Mustangs, plus there's a special serialized 50 Year Limited Edition badge on the passenger side. Each badge will be individually etched at the Flat Rock, Michigan, assembly plant where Mustangs are built.
The Limited Edition is the only 2015 Mustang with a cashmere-stitched, leather-wrapped steering wheel. The stitching is also used on the instrument panel, shifter boot, center armrest, door inserts and seats. The seats feature exclusive two-tone cashmere and leather upholstery with the Mustang 50 Year logo.
Furthermore, limited-edition cars will be equipped with loop-carpet floor mats with cashmere stitching and suede binding not available on other Mustangs.
So with all of those special touches, both inside and out, who could blame buyers if they aren't at least initially reticent to even depress a seat cushion or two and put their dirty shoes on the loop-carpet floor mats' suede binding.
But those who do opt to throw caution to the wind and turn the ignition key will be rewarded with quite a driving experience, the company said.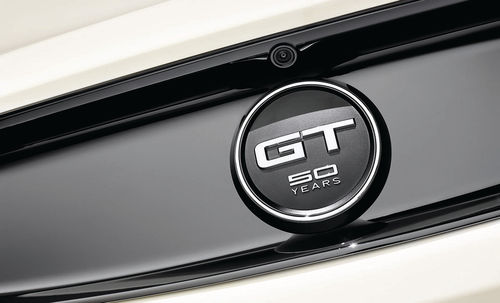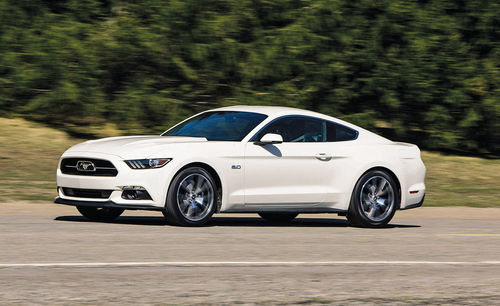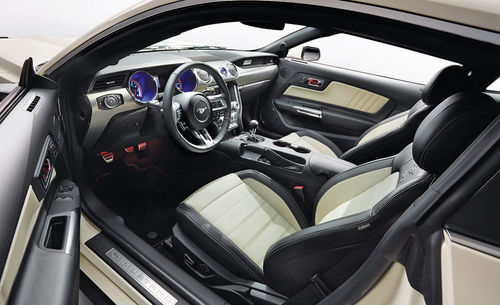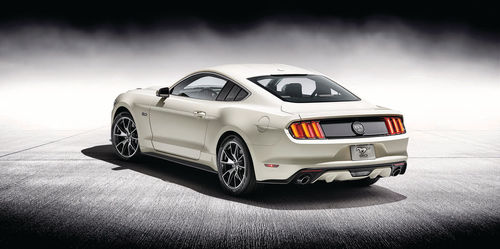 A Car That's Meant for the Road…
"Mustang fans love to drive their cars, even the rarer examples of the breed, so we built this Limited Edition from the best-performing 2015 Mustang available — the GT fastback with the performance pack," said Dave Pericak, Mustang chief engineer. "While some collectors will undoubtedly stash this car away in a museum, those who choose to hit the open road will get a world-class sports car that can run with the best."
Every 50 Year Limited Edition Mustang will be powered by an upgraded 5.0-liter V-8 engine rated at more than 420 horsepower and 390 lb.-ft. of torque. The aforementioned performance pack included in the cars' build sheet adds six-piston Brembo front brakes and 19-inch alloy wheels with high-performance Y-speed-rated Pirelli P-Zero summer tires.
The 19-inch alloy wheels feature a Y-spoke design reminiscent of the chromed steel wheels offered on the original Mustang 50 years ago. The front wheels are 9.0 inches wide with 255/40R tires, while the rear wheels are 9.5 inches wide with 275/40R tires.
Those who don't like to work a clutch will be pleased to hear that the 50 Year Limited Edition is the only 2015 Mustang that will be available with a combination of an automatic transmission and the performance pack. When equipped with that six-speed automatic transmission, the special Mustang will get a limited-slip rear differential with a 3.55:1 final-drive. Customers who opt for the six-speed manual will get a Torsen differential with a 3.73:1 final-drive ratio.
The company said the 50 Year Limited Edition cars will be among the first 2015 Mustangs built as production begins later this year. And when the special cars arrive at the dealerships, one more extra touch to be found with each of the Limited Edition Mustangs will be an owner's guide…in a leather portfolio emblazoned with the 50 Year badge.