Feature Restoration 1949 Ford F-4 Stake Truck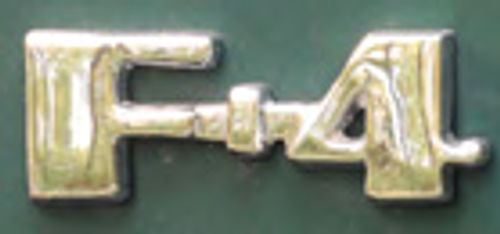 It May Look More Like a Show Truck Than a Hauling Vehicle. But It Still Could Be Called On for a Day's Work.
A SMALL AND very basic wooden boat played a key role in Larry Puchalski's decision to buy and restore the 1949 Ford F-4 shown here.
"We went to a boat show up in Clayton, New York," Puchalski recalled. "I'm a member of the antique boat museum and I have been forever. We were up there and this guy came in and he had an old wooden boat that he was trailering behind this old car of the same vintage. I told my wife 'we need to do that with a truck' and I've got a 1951 plywood boat from Sears. It was a kit from Sears; my dad put it together in 1951, a 12-foot-flat-bottom wooden boat. I told her 'we've got to find something that would match that era wise' and that's how the '49 came in."
Not long after, the Ford showed up with a "for sale" sign along a road not far from his Covington Township, Pennsylvania, home. Some work had been done on the truck and it was fairly complete, and since it was big enough to carry the boat, it had the potential to be a good match for its intended use.
"You don't get the fun of trailering it, but you slide it in," Puchalski explained. "Back then, they would've done that. They would've just turned the boat backwards, slid it in, thrown a rope over it and that would've been it."
That was in July of 2009 and the nine foot Bonus Built Body was almost ideal for hauling his rowboat. The length, obviously, is a little short, but at a 39.5- inch loading height, it requires only a reasonable lift for a small—meaning a relatively light—boat and based on Ford's sales material, the body can certainly handle it.
A Body Built Like a Bridge
Ford described the platform as having "heavy bridge-type construction with steel framing riveted to steel cross girders. Body sills fastened to girders with steel brackets. Gusset plates reinforce all corners of frame. Seasoned hardwood floor, protected and interlocked by steel skid strips bolted to girders—tightly sealed—warp-proof."
Clearly, Ford believed that this body could shrug off anything short of a direct hit by an asteroid and the F-4's V-8 would work hard to handle the loads it was likely to carry. The only problem with that line of reasoning is that not all F-4s were V-8s; Puchalski's F-4 uses the 95- horsepower, 226-cubic-inch six. The difference isn't as much as it might seem, given that the 239-cubic-inch V-8 is rated at 100 horsepower, but it does make the truck a little unusual.
It Needed Some Work
Engine differences aside, when Puchalski found his F-4, recognizing all of the strengths that Ford had cited required imagination. It had been painted and it sort of ran, he said, but there was more to be considered.
"The breather," he said, "smoked just as much as the exhaust did. It ran enough that I got it on the trailer and I got it off the trailer here. That was the only place I ran it. I ran it around the yard one time and it just died on me. That wasit.
"The back bed was there—no stake body or anything like that—but the back bed was on it and the fenders and hood. Complete to that point."
If it hadn't quit in his yard, would it have been drivable?
"No," Puchalski said. "Too many bro- ken springs, and front end parts that were not good… It didn't have brakes. Other than that, I guess, yeah, it would've been drivable."
Even without mentioning the kingpins and the steering box-rebuild that it needed, his description is enough to explain why the truck had to be stripped almost to its frame.
"I took the whole front clip off, took the doors off," he said. "The only thing I left mounted to the frame was the cab. The cab mounts stayed just because I didn't have a real place to put the cab. All of the glass was out. I disassembled it down to the point where the cab was sitting on the frame…
"The frame was good. I welded up a few spots as far as holes that were unnecessary, (from) things that were attached over time. I think at one time, it had some other kind of box on it. I'm not sure, but you could see where something had been bolted in. And I didn't do all of (the holes) because I didn't want to do all of them. I wanted it to still have some of that nostalgia.
"For the (surface) rust, it was all sand- blasted. There was nothing that was rusted through."
The four-speed transmission needed bearings, he said, but not much else. A new clutch and pressure plate joined a resurfaced flywheel and the rear needed seals. And there also were those broken springs.
"I took all of the springs off, "Puchalski said, "took them down to (a spring shop) and had them replace all of the broken ones. I had to find the bushings and the pins."
The broken springs were proof of hard work—if not necessarily abuse—during the truck's service life and Puchalski knows at least some of the loads it carried.
"Isaw a picture of that truck," he said, "with a skid of oak boards stacked up on the back of it, higher than the cab."
Multi Engine Rebuilds
Carrying enough weight to break springs on both axles makes it less surprising that he uncovered evidence that the engine was rebuilt more than once.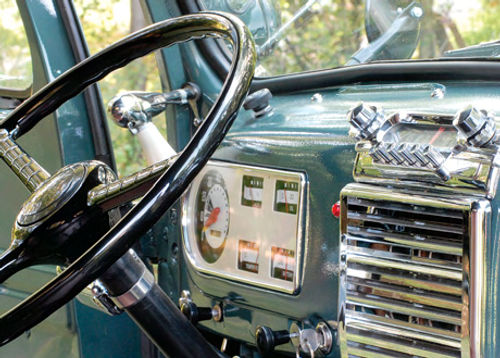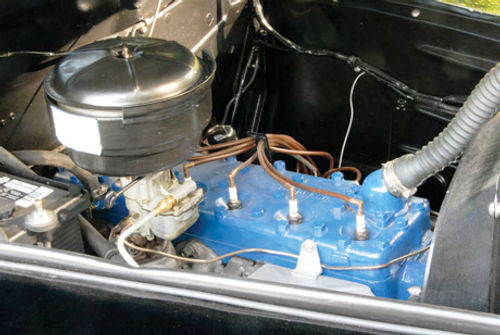 "Several times," he said, "because the pistons were at .060" over and the crank was at .030" over. "You can't go any more. We couldn't bore the wall another .010" or .020"; it was going to be that close to the water jacket. I would've had to sleeve it and then there's really no way to sleeve it without regrinding the whole top of that piston chamber and getting the sleeves custom-made."
Finding another block, a complete engine or anything in between would've been easy if the truck had a V-8, but dealing with the straight six was something different and slightly complicated. The process began when word of mouth led to an engine in what amounted to a private scrapyard.
"I got it on a pallet," Puchalski said. "I didn't know whether it would've run or not. I just wanted parts out of it. That one seemed like it had really low mileage; it probably could've been rebuildable with no problem. To still see standard bearings when it's 60 years old, yeah, it couldn't have had too many miles on it."
The pallet engine gave up its block, crankshaft and camshaft, he said, but received new pistons and even some components from the six which had come with the truck.
"Mycovers,my head,"Puchalski Said, "and I had that re-milled because it had a water leak. It had a lot of water leaks along the head."
1949 Ford F-4
GENERAL
Front-engine,rear-drive, staketruck
ENGINE
Type Inline six-cylinder flathead
Displacement 226 cu. in.
Bore x stroke 3.30in.x3.40in.
Compression ratio (:1) 6.8
Carburetor Single-barrel downdraft
Power 95hp@3300rpm
DRIVETRAIN
Transmission Four-speed manual
SUSPENSION & BRAKES
Front Leaf springs
Rear Leaf springs
Brakes(f/r) Drum/drum
STEERING
Recirculating Ball
MEASUREMENTS
Wheelbase 134in.
Maximum GVW 10,000 lb.
Tire Size 7.00x 18.8in. dual
The original radiator was boiled out and some minor leaks repaired, he said, and both the starter and the generator were rebuilt. Some diligent searching produced a new water pump that Puchalski said is better than the original, but the new fuel and oil pumps he bought are exact duplicates of those that Ford installed at the factory. The engine received modern valves, guides and seats so that using modern unleaded gas would be worry-free and then there was the carburetor; Puchalski said that a box of three produced enough good parts to assemble one that was then rebuilt.
Where's the Varnish?
All of that work, of course,still left a lot to be done. Puchalski used oak and hard maple for the stake body's wood components and used galvanized fasteners there while most of the other bolts are of stainless steel.
"There's a definite reason for that," he said, "because stainless and oak are not compatible. A lot of people think that if you use stainless, it's 100-percent great, but stainless just rusts to hell in oak. It's the acid in the oak, once it gets moisture to it. If you're in a perfectly dry environment, you can put stainless steel in with no problem. It's not that oak doesn't like stainless; it's that oak/water and stainless don't agree."
The stake body's hardware came from several vendors and once completed, the wood was oiled with Deks Olje, a product designed for wooden boats.
"Linseedoil'sgreatandthisstuffprobably takeslongerto put on," Puchalski Said. The only thing with linseed is that you keep on getting that oily feel to it. With the Deks Olje, 90 percent of it goes away.
"To bring it back to the finish of the day I put that oak on, it's a simple thing of 600-grit sandpaper and a can of Deks Olje. You just go over it with the 600, re-oil it and you're done.
"I've had people look at the truck and say 'why didn't you varnish it with that shiny polyurethane?' It's just not the look I want. It's like my not using the metal stake-body stakes. I have a complete set, brand-new, and I don't like the look and I don't like the fact that they rattle. I used all hard maple."
Except for those at the rear, he said, the stakes won't be coming out. Although they could be removed, each was made to a precise fit, an approach that he followed throughout the stake body.
"Every one of my boards around the whole outside," Puchalski said, "has a number stamped into the end of it, a letter and a number, because I assembled the entire thing and then I had to take it all apart. And all the boards look the same."
When the time came to make the deck, he looked at one of his other 1949 Fords, a slightly larger F-5 with a stake body.
"I made mine exactly the same," he said, "because they made them reversible. You could flip them. The only things that actually hold them down are those stainless steel strips. The boards can move back and forth."
Million Dollar Cab Comfort
Reversible boards should ensure a long life before replacement and that fits with Ford's touting of the Bonus Built stake body's general toughness, but the same literature that speaks of "heavy bridge-type construction with steel framing riveted to steel cross girders" also points out that "easy chair comfort cushions the miles. Seat cushion and back assembly adjustable fore and aft 3 inches on rollers, finger-tip control. Seat back inclination independently adjustable. Thick rubberized hair padding, individually pocketed coil springs and scientifically designed cushion contours make the finest standard truck seat ever built."
The seat wasn't everything, as the company put it: "Ford invested over one million dollars in new production tooling to provide drivers new comfort and roominess. The Ford Million Dollar truck cab is bigger in every way. Wider! Longer!Taller!Drivers of the new Fords are through squeezing in and out of restricted doorways. Ford cab doors are wider. Foot room between the seat riser and pillar has been increased considerably. There's headroom, too, and plenty of it. There's comfort and neatness in the full interior trim, the handsome upholstery. There are easily read instruments, a sun visor, ashtray and husky hardware. All are encased in a weatherproof, all-steel structure designed to perpetuate the proved long-life superiority of Ford Trucks."
The last sentence is a big claim, but asking a truck—Ford or any other—that actually spends its life on the job to go on for 60 years without deterioration is a big demand. Simply put, Puchalski's truck needed bodywork.
"The front fenders were typical," he said, "rusted out at the bottom along the running board, rusted out at the nose. It has split fenders; there's an apron on the bottom. The apron was rusted and the upper part was rusted at the joint. Most of it I cut out and welded in new sheet metal, but I did have to fix a few spots with liquid metal because I just couldn't bend another piece in there. I don't like using any more filler than I have to. I bought some fenders from out west, cut pieces off of them and welded them on here. Both of the fenders that are on this truck are the ones that came with it. The aprons on the bottom? I got one apron that was in better shape than the one I had and I used that, but the other apron I fixed.
"The grille's not the grille that came with this truck. I've got five or six grilles and this one was better, plus they had the chrome strips on the front and I didn't want the chrome strips back. It's more of a working-class truck and not an 'I'm- going-to-look-pretty' truck. That's what I wanted and I didn't want to have to fill the holes from the old chrome strips. The headlight buckets I had to change out because they were rusted away."
The cab floor was rusted, too, as were the cab corners, the door sills and the door bottoms, but Puchalski said that the door hinges were probably the truck's worst problem.
"The hinges were getting tired and the pin that was in each hinge was just worn and frozen," he explained. "And you can't replace those hinges; you either build what you need or drill it and re- bush it. I could forge that if I needed to, but I wound up drilling them and re-pinning them. I re-bushed them and put new stainless pins in, but getting the old pins out was an absolute horror story.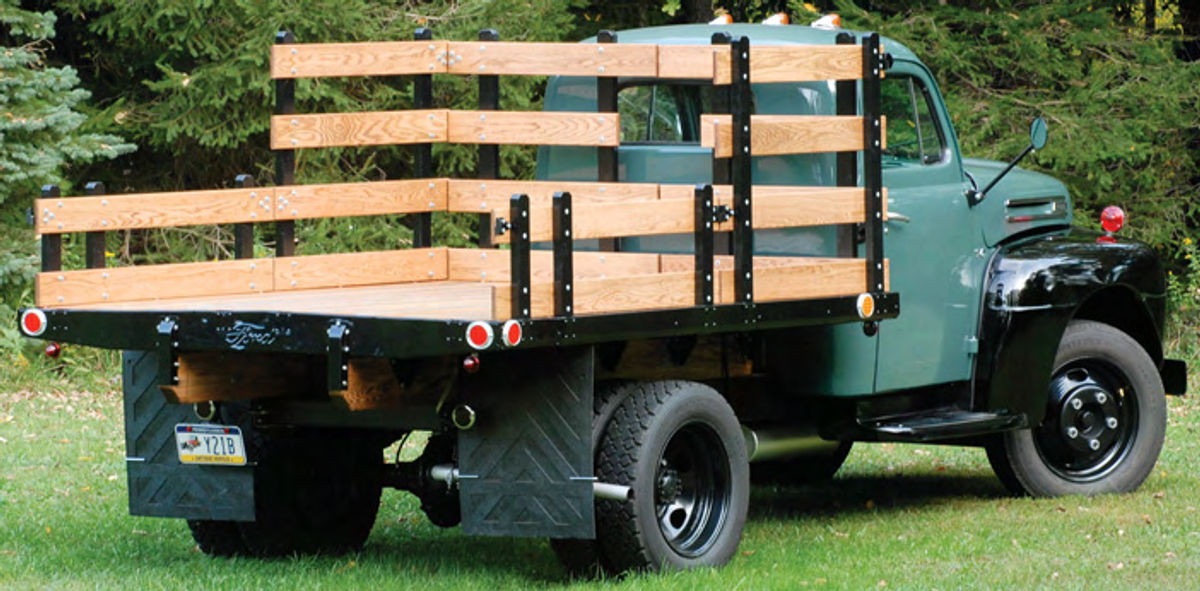 "I have a hinge tool—a great tool, a hinge-pin-remover—and it does work, except that on a '49, it won't work on the top hinge. The tool is built a little too fat to get close enough to the sheet metal of the door. To get it out of the door, that's riveted in from the factory and it'd be almost impossible. I've never seen a replacement set of hinges for one of those doors. You're going to have to re- skin the door to do it and at that point, you might as well just find another door." Inside the cab, that seat with the "easy chair comfort" appeared to have been rebuilt as many times as the engine for its adjustment was in poor condition. Puchalski agreed that Fords aren't the only trucks in which the seats deteriorate, but he did come up with a fix.
"I think a lot of the problems with the Fords and their seat mechanism," he said, "is in the fact that there's no bracing for sideways motion. It's just two sides that come down and they bolt into the seat. Your whole adjustment is on those rails. The whole seat frame can go back and forth. You just make a brace, put the brace in there and it takes a lot of the stress out of the seat. That's what I did."
Once that was done, the seat was reupholstered as was the rest of the cab. There's not a lot of upholstery since it's a truck and the additional piece of good news is that despite the F-4's size, its cab is identical to that of a pickup and upholstery is therefore available. Glass also interchanges with that of the smaller trucks, but only the driver's window in the F-4 was replaced. It came from another of Puchalski's 1949 Fords.
"It took me three days to put the door together on the driver's side," he said. "The other one I did in a day because I did the driver's side first. The fortunate thing was that I had a couple of them lying around."
A Handmade Radio Bezel
Door hinges and windows might have been difficult, but when it came to the cab, they weren't alone as Puchalski said that the dashboard was among the most time-consuming phases of the entire restoration project.
"The instrument cluster was just shot," he said. "It was all rusted and nothing wanted to work. I wanted it to look just like the one they put in at the factory and it took me weeks."
He disassembled and tested the gauges and then made new faces for them. Next, he installed a radio and since a bezel was nowhere to be found, he fabricated one from a blockout plate.
"I sat here nights, took my time, made a couple of tries at it," he recalled. "You have to cut it at an angle because the radio's in at an angle. The plate actually has to help hold the radio."
Now, It's a Crowd Pleaser
Once the truck was complete, natu- rally, it was time to road test everything from the rebuilt engine to the newly installed radio. But the ride turned out to be a short one.
"I broke down," Puchalski said. "We went half a mile. I wound up with the local cop behind me with his lights on so that nobody would hit me. We would get it to go about 150 to 200 yards and then it'd stop again.
"It was the gas tank. I'd had the gas tank out, cleaned the inside, ran a sealer into it to seal it all up and it just didn't work. It plugged right up."
It actually could have been worse, but thanks to a racing fuel filter mounted on the frame, whatever came out of the tank never made it as far as the sediment bowl.
"It just shut down the fuel," Puchalski said. "I got it back over here in the garage…ordered a fuel tank and had them express it in. I switched it out and the truck hasn't had a problem since."
The real first ride went much better. "We got in it here and went just about five miles and had an ice cream," Puchalski said. "We parked the truck in the parking lot and all the people were coming over."
That sort of reaction isn't uncommon. Those driving other trucks notice it on the road, he said, even when it's being trailered, but the Ford draws as much attention when it's parked. And seemingly everyone has some kind of connection to a truck like it and shares their story with him.
"'My grandfather had that,'" people tell Puchalski. "'We had a truck like that on the farm. That was the first thing I ever drove.'
"Yeah," he said, "it happens a lot."