Celebrating New & Vintage Mustangs
We've Seen The 50th Anniversary Mustang Before Its Birthday… But That Won't Put the Brakes on Major Anniversary Parties
ALTHOUGH FORD HAS already lifted the curtain on the all new 50th Anniversary version of the Mustang, that's not going to keep people from holding some major birthday parties for the famous pony car in mid-April, the time when the original Mustang was introduced in 1964.
While a number of folks expected Ford to pull the tarp from the redesigned 2015 Mustang on April 17, the day that the first of the breed went on display at the New York World's Fair a half-century ago, the Blue Oval people managed something of a surprise by showing pre-production models of the new galloping horse in early December.
As you've no doubt already seen, the new Mustang Is a mixture of the unexpected along with numerous "expectations confirmed" that had been discussed in anticipation of the car's arrival.
The New Horse
Among the expectations for those awaiting the updated Mustang were that the new car would have the basic flowing lines of the Ford Fusion including the company's signature "sharkbite" front fascia and trapezoidal grille. Take a look and you'll see that the Ford world-car design is there, an important step in FoMoCo move to sell Mustang in markets around the globe, including "key parts of Europe and Asia."
At the same time, it was expected that Ford would apply a number of Mustang styling cues so that the car would have an instant recognition factor. And yes, a number of those cues were included, starting with the "long sculpted hood and short rear deck" but "with contemporary execution." The new car also marks the return of "the Mustang Fastback, only this time with a sleeker profile enabled by a more steeply sloped windshield and rear glass." And, naturally, it wouldn't be a Mustang without its three-dimensional, tri-bar tail lamps with the more-modern sequential turn signals.
As Ford summed it up, they have arrived with an "all-new sophisticated design clearly inspired by 50 years of Mustang heritage evolved to attract a wider array of customers and expand global market availability."
Another expectation was that Mustang would get an independent rear suspension for the first time in its history, which it did. Included are new aluminum rear knuckles which help reduce unsprung mass for improved ride and handling.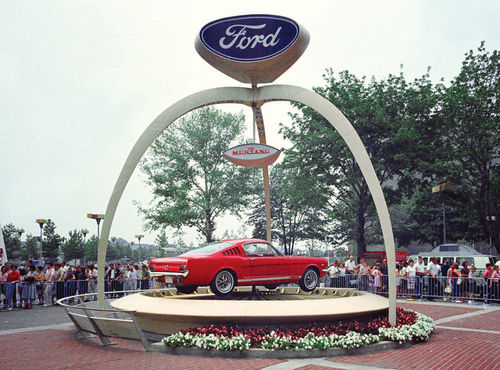 The suspension system up front is new as well, with a new perimeter subframe that will help to stiffen the structure while reducing mass. The new double-ball-joint front MacPherson strut system also enables the use of larger, more powerful brakes. "This is expected to be the best-stopping Mustang yet," Ford said.
Good stopping power will be a necessity because unlike the first Mustang of 50 years ago which came with engines ranging from a 101-horsepower inline six to a 164-horsepower 260 cid V-8, the new Mustang's engines will run in the 300-400 horsepower range.
Among the powerplant choices are an upgraded V-6 and V-8 along with an all-new 2.3-liter EcoBoost® engine which Ford says "brings state-of-the-art technology to Mustang."
The Mustang GT will carry the latest edition of the 5.0-liter V-8, now with an upgraded valvetrain and cylinder heads, that will yield more than 420 horsepower and 390 lb.-ft. of torque. A new intake manifold improves low-speed breathing for better fuel economy, idle stability and emissions, the company said.
The Mustang 2.3-liter, four-cylinder EcoBoost® engine will use direct injection, variable cam timing and turbocharging to deliver a projected 305 horsepower and 300 lb.-ft. of torque.
Meanwhile, even the "standard" 3.7-liter V-6 is expected to churn out at least 300 horsepower and 270 lb.-ft. of torque.
A 21st Century Pony
Other features on the new Mustang that weren't even imagined when the first pony entered the showrooms include various electronic assists such as the available Selectable Drive Modes where a driver can tap toggle switches on the console to adjust steering effort, engine response, and transmission and electronic stability control settings to match driving conditions. And the Mustang GT includes standard launch control that enables drivers to achieve smoother, more consistent high-performance starts by helping to avoid drive-wheel spinning and over-revving of the engine.
At the same time that Ford was updating the Mustang, however, it came at least as something of a surprise when the company said that its pony would retain its rear-wheel drive configuration. To be certain, rear-drive has been a part of the pony's personality and competitors such as the Camaro route power through the back wheels, but many months ago when Ford started talking about how its redesigned Mustang would be part of its world car program for a global market, it seemed that front-drive would be included in the package.
Equally surprising, however, was the fact that Ford threw a major launch party in December 2013 for a new car that won't be available until later this year. There were major media introductions in six cities on four continents while top executives toured the TV talk shows touting the virtues of their new product. Yet if any consumers became excited as a result of all this hype and ran down to their local Ford dealership in a lather, they would have found a 2014 Mustang available for sale, and not the all new car that was the subject of breathless reports on TV, the Internet, radio, newspapers and magazines around the world.
It would seem Ford at least would have waited until the Mustang's Golden Anniversary in April to start firing the corporate cannons…
Plans for Some Major Parties
But even though most of the mystery is gone from the new Mustang, there are some major "birthday celebrations" in the works that will be celebrating the car's half-century on the road and not just the fact that an updated version will be joining the group.
For instance, Ford and the Mustang Club of America plan to hold simultaneous anniversary events at two locations at separate ends of the country from April 16 through April 20.
The celebrations, which will include a wide range of activities from car cruises, ride-and-drives and track exhibitions to exhibits and live band performances, will be held at Las Vegas Motor Speedway and Charlotte Motor Speedway in Concord, North Carolina. Furthermore, the events will be open to everyone, not just Mustang owners and Mustang Club members.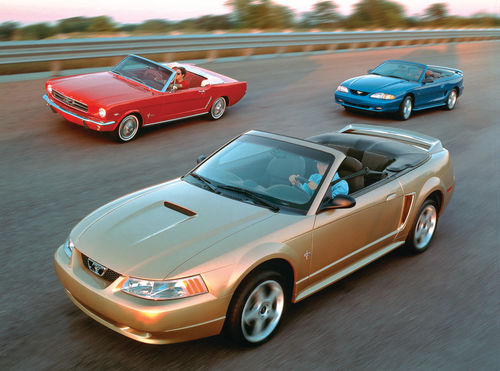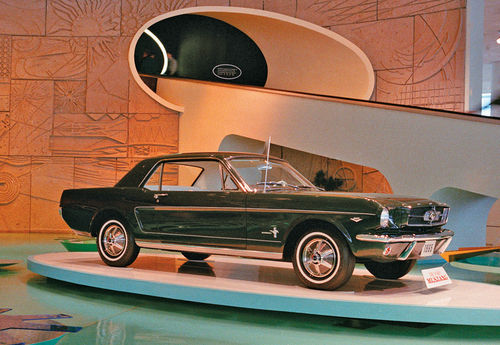 "Working closely with Ford, we want to make the official Mustang 50-Year celebration the most important car event of 2014," said Ronald D. Bramlett, Mustang Club of America, executive director of the Mustang 50th Birthday Celebration. "We hope everyone who loves this iconic car will join us to share their personal Mustang story.
"Whether you love modern or vintage Mustangs, Shelby or Boss, racing or cruising, a new fan or have been enjoying the lifestyle for years, we'll have something memorable for everyone at both locations."
While details are still being worked out, the tentative schedules for both locations are:
• Wednesday, April 16 — The first official day of the Mustang 50th Birthday Celebration will feature vendors and exhibits as pony drives (aka car caravans) and members arrive.
• Thursday, April 17 — With April 17, 1964 acknowledged as the official birthday of the Ford Mustang, Mustang Club of America will conduct opening ceremonies followed by a host of activities. Fans will enjoy a birthday celebration complete with cake and everyone singing "Happy Birthday." Track time, Ford ride-and-drives, hot laps and other interactive activities are planned. Car displays, vendors and special exhibits will all be there to celebrate Mustang's 50th.
• Friday, April 18 — The event will be in full swing with track events such as road racing, drag racing and other interactive driving events. Car displays, vendors and special exhibits will be on hand. MCA will have a themed dinner with entertainment.
• Saturday, April 19 — Festivities will follow the same pattern as Friday. The evening will feature the Saturday Night Banquet, with guest speakers and entertainment.
• Sunday, April 20 — Easter Sunrise Services will be offered at both tracks. There will be parade laps around both speedways, and other memorable activities and photo opportunities will fill the day. MCA will have closing ceremonies in the afternoon. For more on the plans as they evolve, visit the event website, http://www.mustang50thbirthdaycelebration.com/ and the MCA website, http://www.mustang.org/.
Among other highlights already firmed up for both venues will be a display of Mustangs from each of the first 50 model years, from the cars that came off the line in April 1964 to the latest from Flat Rock (Michigan) Assembly Plant.
And by the way, when the 2015 models do start to come out of Flat Rock they'll all honor the car's 50th anniversary milestone with a badge on the instrument panel that includes the galloping pony logo and the words "Mustang — Since 1964."