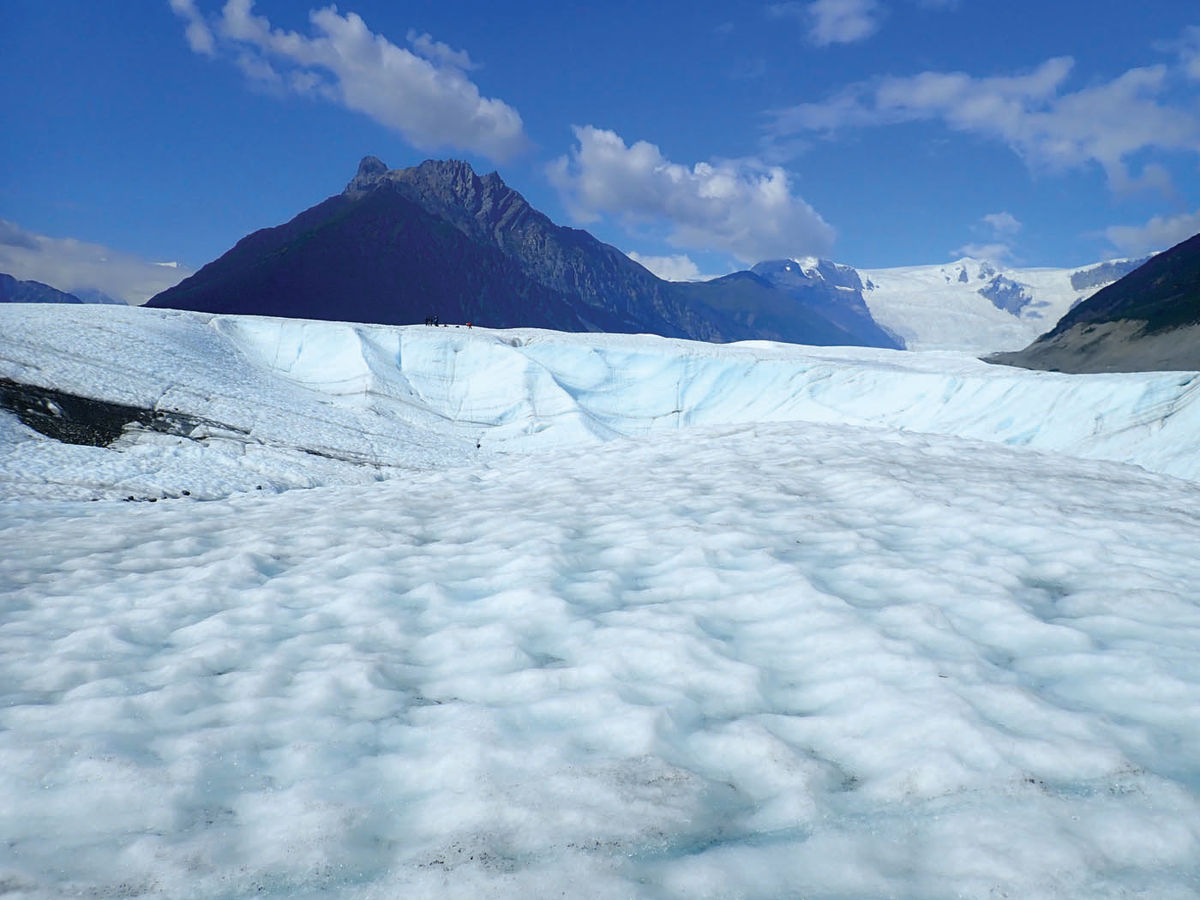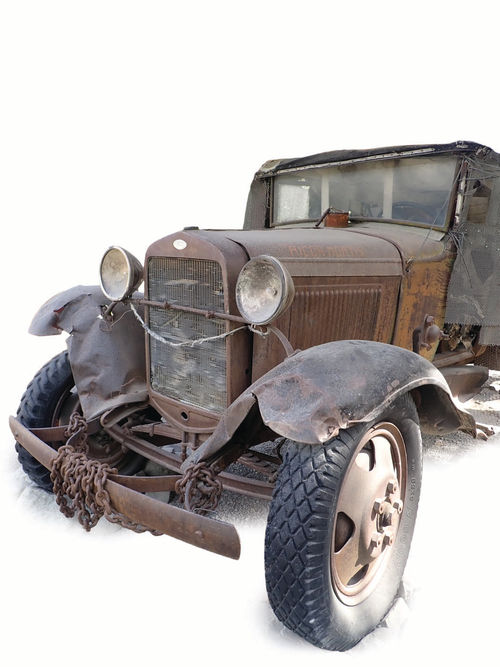 Car Spotting with Traci takes a trip up north to the last frontier for some unusual classic car and truck finds.
When Alaska comes to mind, some may think of snow and ice, bears and wolves, or perhaps of gold mining or the aurora borealis. Dog sleds may seem like they would be more prevalent than classic cars here. However, it might come as a surprise to some to learn that there are numerous unique and fascinating vintage vehicles just waiting to be discovered.
This past summer I ventured to the last frontier to visit family. It was only my second time traveling to Alaska, but it was just as beautiful as I remembered. Mountains that put the Rockies to shame, glaciers that stretch so far they disappear over the horizon, and lush forests with running rivers.
Exploring McCarthy and Kennecott
After spending a few days in Anchorage, my family and I flew in my cousin's plane to the lovely town of McCarthy. (If you've ever been to Alaska, you know that a lot of people have planes since it is the only way to access certain areas and towns.)
There we explored the neighboring town of Kennecott (also spelled Kennicott), which was an old mining town and is designated as a National Historic Landmark. Many of the town's buildings have been restored so that you can explore them, such as the original general store, and feel as though you have stepped back in time to an early 20th century copper mining town.
McCarthy and Kennecott border the Wrangell-St. Elias National Park and Preserve, hosting some of the most stunning views of glaciers and mountains that seem to touch the sky.
Of course, with any historic mining town, there's bound to be a historic vehicle here and there, and McCarthy and Kennecott certainly delivered on the classic car frontier.
A Truck Called "Rigor-Mortis"
First of the classics in this car spotting expedition was a vehicle named "Rigor-Mortis." Rigor-Mortis is a "bush truck," a one-of-a-kind vehicle built by a man named Jim Edwards. Jim Edwards was a local pioneer, a sort of jack-of-all-trades, an inventor, and one of McCarthy's longest-living residents.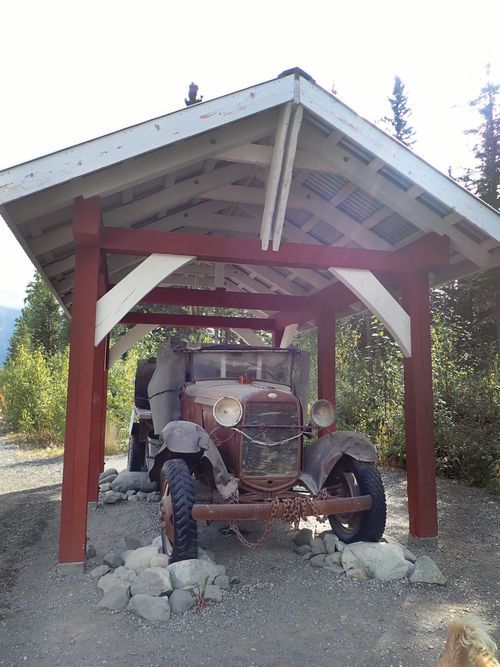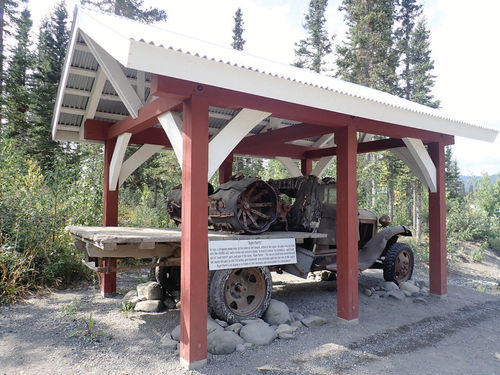 Edwards came to the McCarthy and Kennecott region in 1953 via a "cat train" over the Copper River and Northwestern railway (CR&NW). The Alaska Trail Blazer, referred to as the "cat" or "cat train" was able to transport hundreds of tons of supplies over mountain passes and rivers in any season. It was a caterpillar-style (hence the shortened nickname "cat") tractor train, which was revolutionary in transportation of supplies to the miners.
In desperate need of a vehicle that could endure the harsh terrain and seasons, Edwards built Rigor-Mortis out of various car parts he came across and dubbed the vehicle with its unique name. This unique vehicle served Edwards quite well over the years, with its last run being in the 1990s. Rigor-Mortis is now on display near the river as a tribute to Edwards' genuine resourcefulness.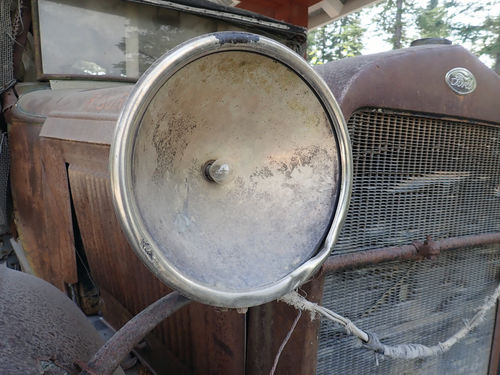 A Historic Hotel Is Home to Another Piece of History
Nearby in the center of town in McCarthy is a historic hotel called Ma Johnson's Hotel. Ma Johnson's is a fully restored hotel with rooms that you can actually stay in.
Although we did not go inside the hotel, a little research on this landmark building revealed that each of the rooms features historic artifacts, handmade quilts, and has no TVs or telephones. This is to give you a true feeling of what it might have been like in the 1920s in Alaska.
The front of the hotel was very nice, but what really caught my eye most was the Model A Ford parked right out front. Spotting a classic car such as this with a historic hotel really made me feel like I had stepped back in time.
A Different Type of Restoration…
Another interesting vehicle I spotted was a very old farm truck, which had been restored into a garden! Although the vehicle definitely was not drivable and had probably been out of commission for quite some time, it was beautifully rustic.
The entire bed of the truck had been converted into a flower garden. It just goes to show whatever you can dream up for your vehicle, you can make just about anything happen with the right resources.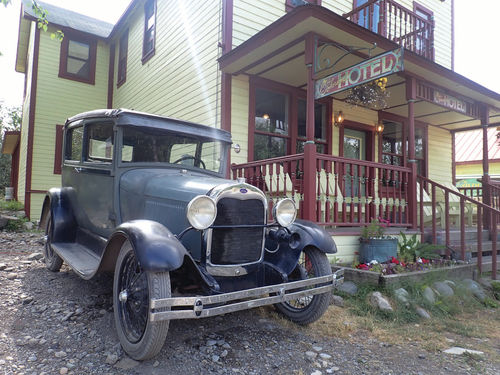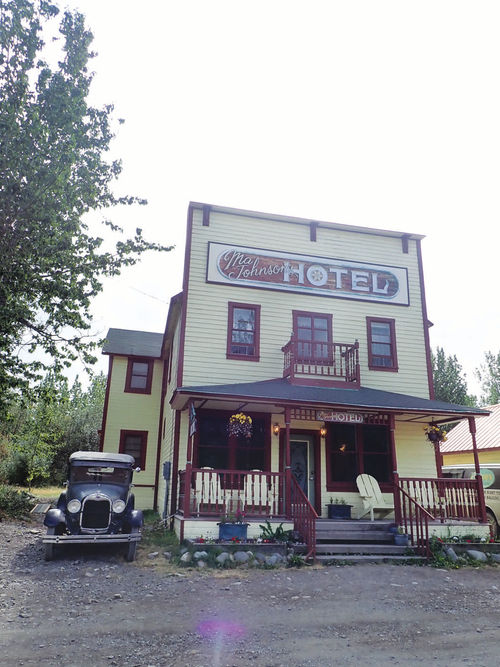 Another Interesting Find with a Quirky Touch
Just across the street from Ma Johnson's Hotel and the Model A was a very different vehicle than the classic Ford. A giant sort of army-type truck, complete with a trailer, was parked directly across the street. I had certainly never spotted anything quite like this and had to investigate this vehicle further. It certainly looks like it could traverse the artic tundra with no problems at all – plenty of tread on those tires and lots of ground clearance.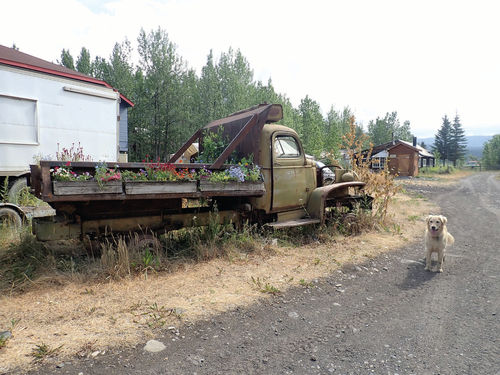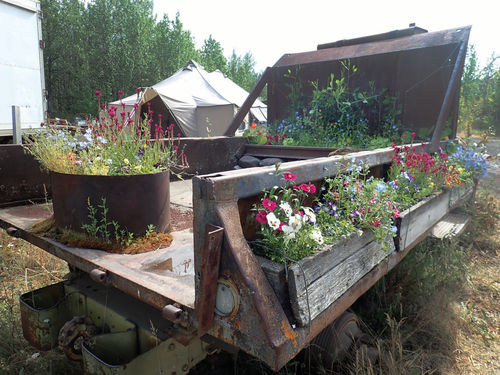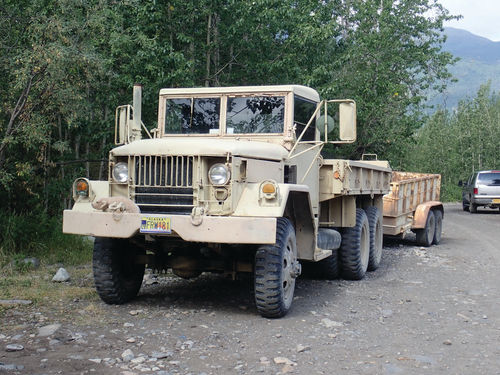 I couldn't help but notice one particular feature on this vehicle that was strapped to the front bumper: a small stuffed animal, perhaps a seal? A quirky and fun addition to an otherwise formidable-looking vehicle.
A Trip to Remember
Every trip and vacation is a chance to spot new classic cars and trucks and this trip up north was no exception – Alaska pleasantly surprised me with a variety of vintage vehicles, many with their own unique story, that were just waiting to be photographed. Of course, hiking across a glacier and exploring the wilderness was a thrill, also. If you have your own vintage car or truck story, perhaps even similar to "Rigor-Mortis," send in your photos and your experience; we'd love to see what unique cars you're spotting!
Resources:
• http://wp.mccarthylodge.com/accommodations/majohnsons
• https://alaskahistoricalsociety.org/alaska-trail-blazer-the-cat/
• https://www.adn.com/alaska-life/we-alaskans/2016/09/04/
the-life-and-times-of-jim-edwards-the-can-do-genius-ofalaskas-lost-decades/